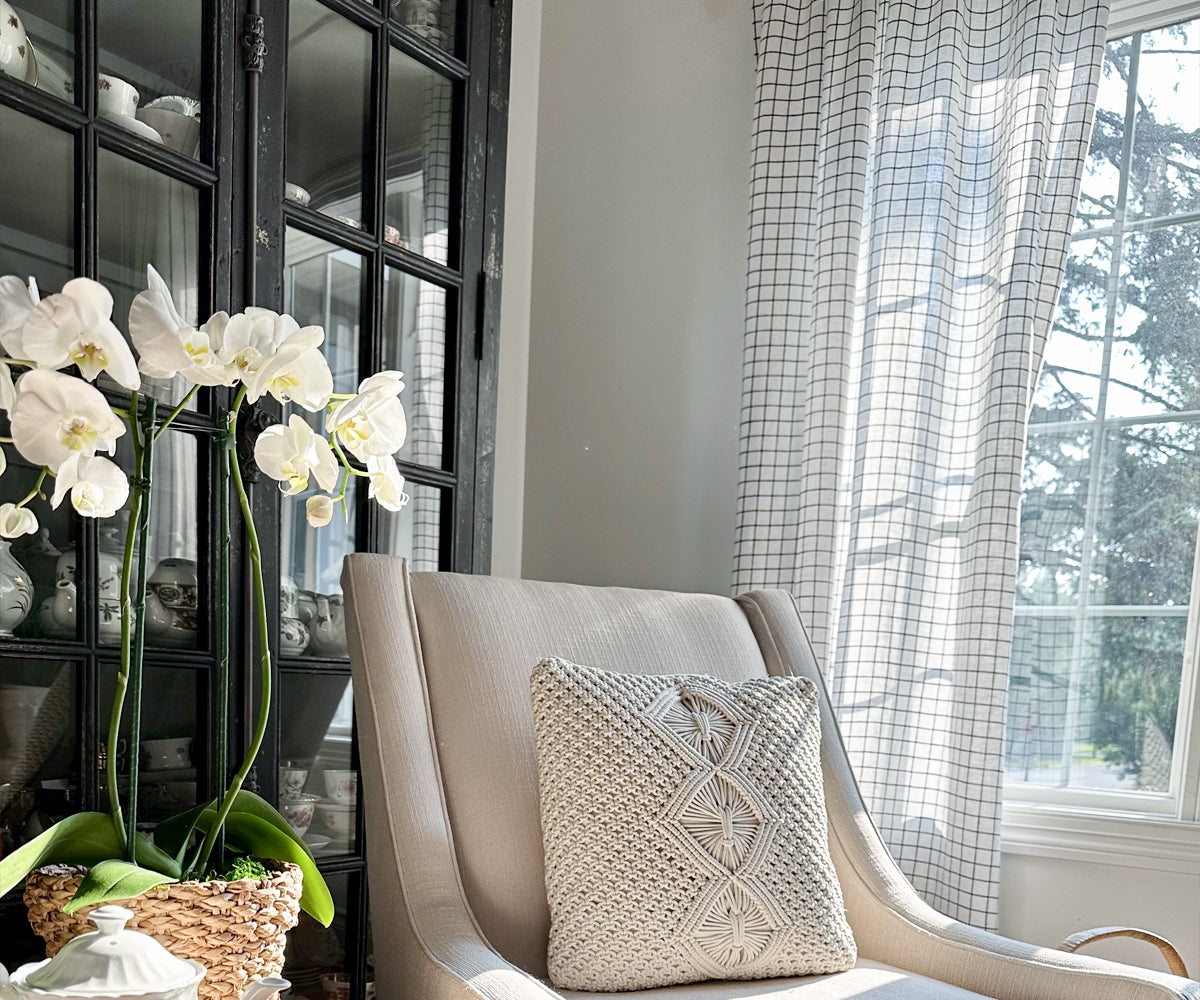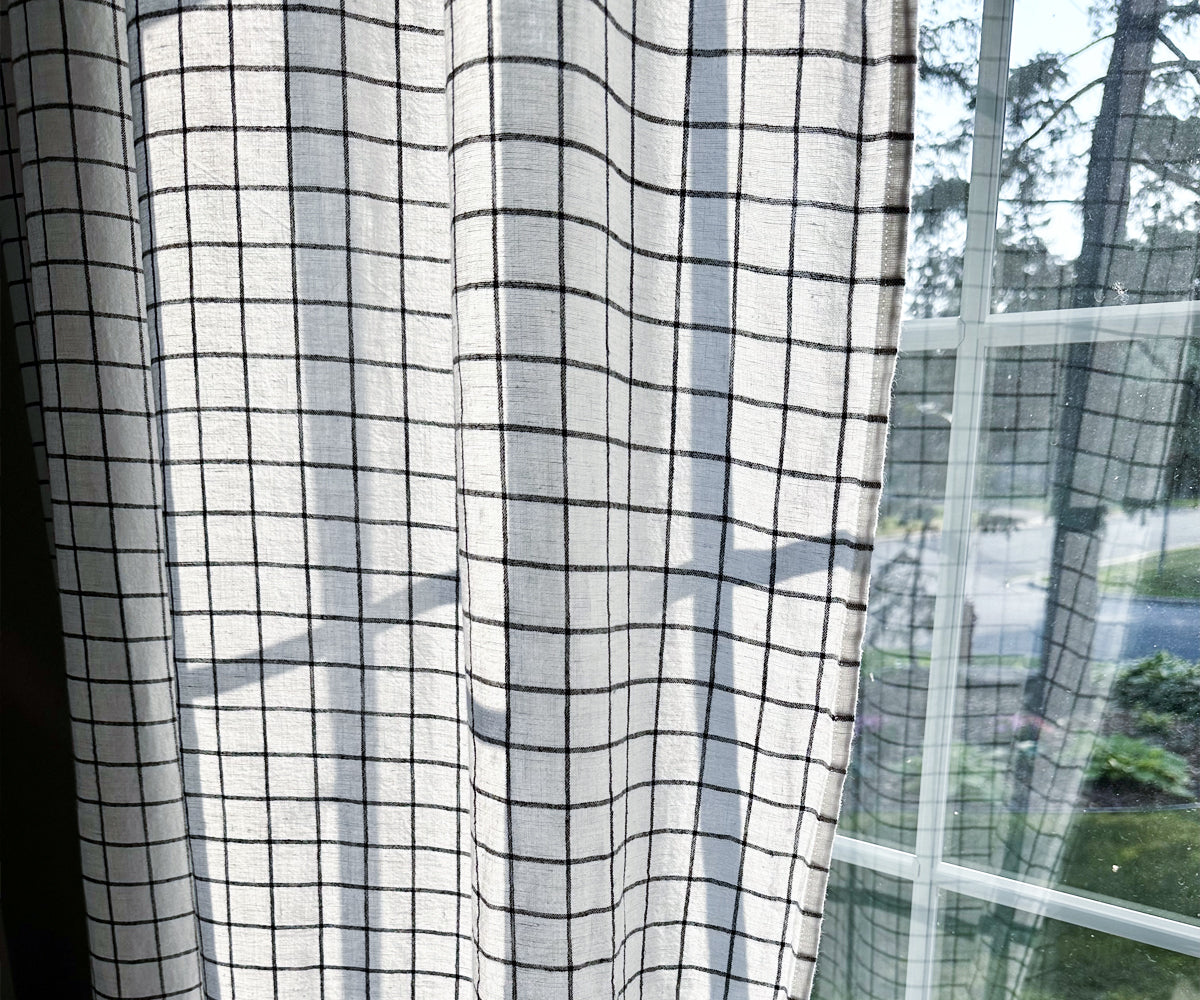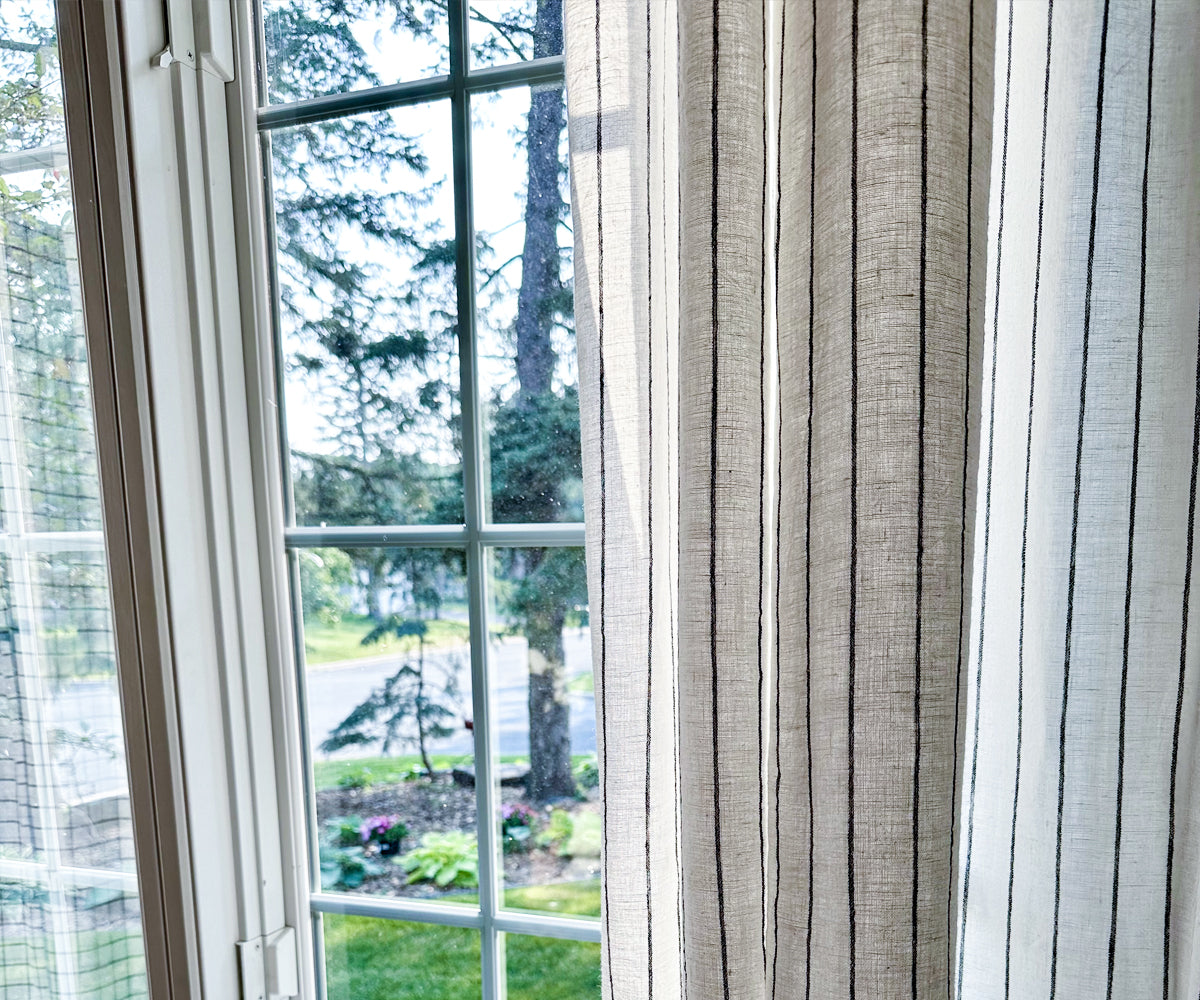 Linen Curtains
Product Details
Linen Curtains:
Sustainable white linen shower curtains are available in various patterns and sizes 63 x 84" or 63 x 96" inches.

Amplify the natural beauty of your living space with our exquisite range of white curtains.

Classic white curtain complement any decor as a perfect window dressing.

Our collection includes stunning sheer and blackout styles.

Refresh your living room with our white living room curtains designed for convenience and charm.

Our privacy curtain ensure privacy while adding a luxurious touch to bedrooms and bathrooms.

We offer an expansive range of black and white striped great for door or bay windows.

hookless shower curtain available to accentuate your white shower curtain, enhancing overall room aesthetics.

Boast a boho-chic vibe with our black white curtains designed to softly filter light while maintaining privacy.

The sophisticated designs of our strip curtains can generate an environment of peace and serenity.

For a pop of color, check out our  linen curtains, perfect for bringing character into rooms and eco-friendly.

Why wait? Transform and elevate your home's elegance with our diverse range of linen curtains
Dimensions & Easy Care
Dimensions
63 x 84"

 inches

63 x 96" inches
Care and Maintenance
Machine wash at normal temperature

Tumble dry on a gentle cycle

Warm iron as needed

Imported.
Shipping & Return
Shipping

Standard USPS free shipping.
Order processing time: 1 to 2 days. Orders will be delivered within 6-8 days.
Return & Refund

Merchandise must not be worn, washed, or altered.
Returns are accepted within 60 days of delivery.
For any questions contact customerservice@allcottonandlinen.com.
Refunds will be processed within 1-2 business days.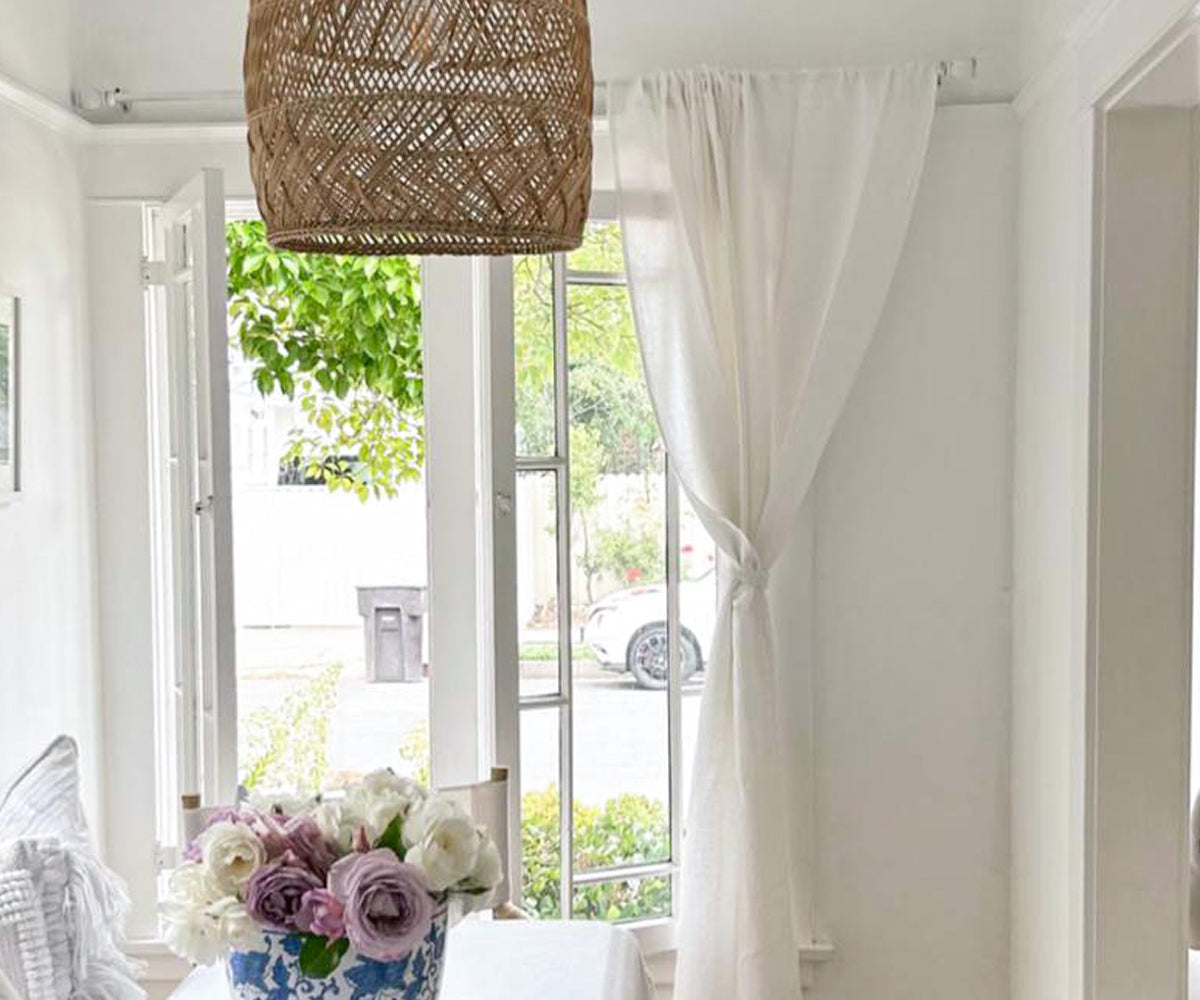 Linen Curtains
These 100% linen curtains are perfect for adding a touch of texture and warmth to any living space, including the living room window curtains. Available in 63 x 84" and 63 x 96" sizes, they're perfectly designed to suit both standard windows and bay windows curtains. Particularly suitable as curtains for bathroom windows due to their durable linen material, they can even function as a shower window curtain. These linen curtains are the perfect way to add a subtle sense of elegance to your home
Uses of Linen Curtains
White linen curtains are a luxurious and timeless addition to any home. Ideal for both bedroom and living room settings, they bring a refined edge that is hard to match. Serving as stunning white bathroom curtains too, their breathable fabric helps regulate the temperature. These white curtains block out light while adding beautiful texture to a room, offering a versatile design advantage. Whether you need bedroom curtains, living room curtains or even bathroom curtains, our white linen curtains are a natural fit. Add warmth and comfort to your spaces with our versatile linen curtains!
Favorite Line Curtain
I adore the white border on the cotton linen curtains, it adds such an immaculate touch to any room. These curtains are perfect for adding a pinch of brightness to your living space or bedroom. I particularly love the subtle texture of this linen weave, elevating its aesthetic. I can confidently say these curtains are my absolute favorite from my gifted @AllCottonandLinen collection!
Great quality true to colors.
I've used in two of my rooms. Picture show natural and linen in colors Not a snagging material. Soft texture I choose my colors wanting to keep it natural adding color with decorative decor.Soft airy in keeping it casual or if your wanting a little more on the upper scale it can be done with these linen curtains. Colors are true to color.
Great curtains
These are perfect great color and look! They look more expensive then they were !! I would recommend!
Beautiful sheer
Filters the light in my dining room just enough my plants can enjoy but it's not blinding.
Need For Linen Curtains
Effortlessly elevate your living space with our versatile privacy curtains, specifically our linen shower curtains collection. Impressed by enduring charm and sophistication, these curtains are suspended from stylish shower curtain hooks that uplift modern decor design.

Temperature-Controlled Comfort and Elegant Shower Curtains:
Our collection favors linen material, promising temperature-regulated comfort all year round. From rendering a breezy subtleness during the summer heat to acting as a warm shield in winter cold, these luxury curtains for your living room and other spaces serve in all seasons.

Enhanced Versatility for Each Room:
Pondering alternatives for bedroom window curtains or considering luxury curtains for your living room? Our linen collection has something for everyone. Our privacy curtain filters soft light to curate a cozy environment.

The Modern Touch of a White Shower Curtain:
Consider our white shower curtain intricately crafted in linen for a chic yet contemporary look. Pair it perfectly with a farmhouse shower curtain to achieve a refreshing and inviting aesthetic.

Size That Accommodates You:
Ranging from 63-inch curtains to 96-inch curtains, we have all you need. These curtains extend elegantly, maintaining privacy and establishing sophistication. Let our decorative curtains breathe life into your parties and celebrations like Valentine's and Halloween.

Ease of Use and Care:
Our bead door curtain glides smoothly, and our hookless shower curtain liner installs without trouble, promising practical elegance at your doorstep.

From Farmhouse Charm to Innovative Modernity:
If you're inclined towards rustic elegance, our farmhouse shower curtain may entice you. For trend enthusiasts, we offer modern shower curtains, particularly the bead door curtain – a unique pick for any room. You might also love our themed Valentine shower curtain or Halloween shower curtain, ensuring breathable fabric that is more than just pretty.

Spectacular Pairings:
Pair our clear shower curtain with linen or customize a long shower curtain with decorative elements for that perfect accent that portrays the best shower curtain combination.

A Blend of Sustainability and Signature Style:
Our curtains signify durability, sustainability, and inherent charm. You can choose from privacy curtains, door window curtains, contemporary modern shower curtains, or even playful Valentine and Halloween shower curtains that balance quality and aesthetics.

Blend of Fashion and Function:
Whether as privacy curtains, bedroom curtains, or curtains for the living room, these deliver the perfect mix of fashion and functionality. They not only cater to your size preferences but also serve a diverse set of aesthetic preferences.

Embrace your home decor with curtains that resonate with your style, taste, and needs while upholding our promise of quality and charm. It's time to welcome these elegant shower curtains and transform your room today!