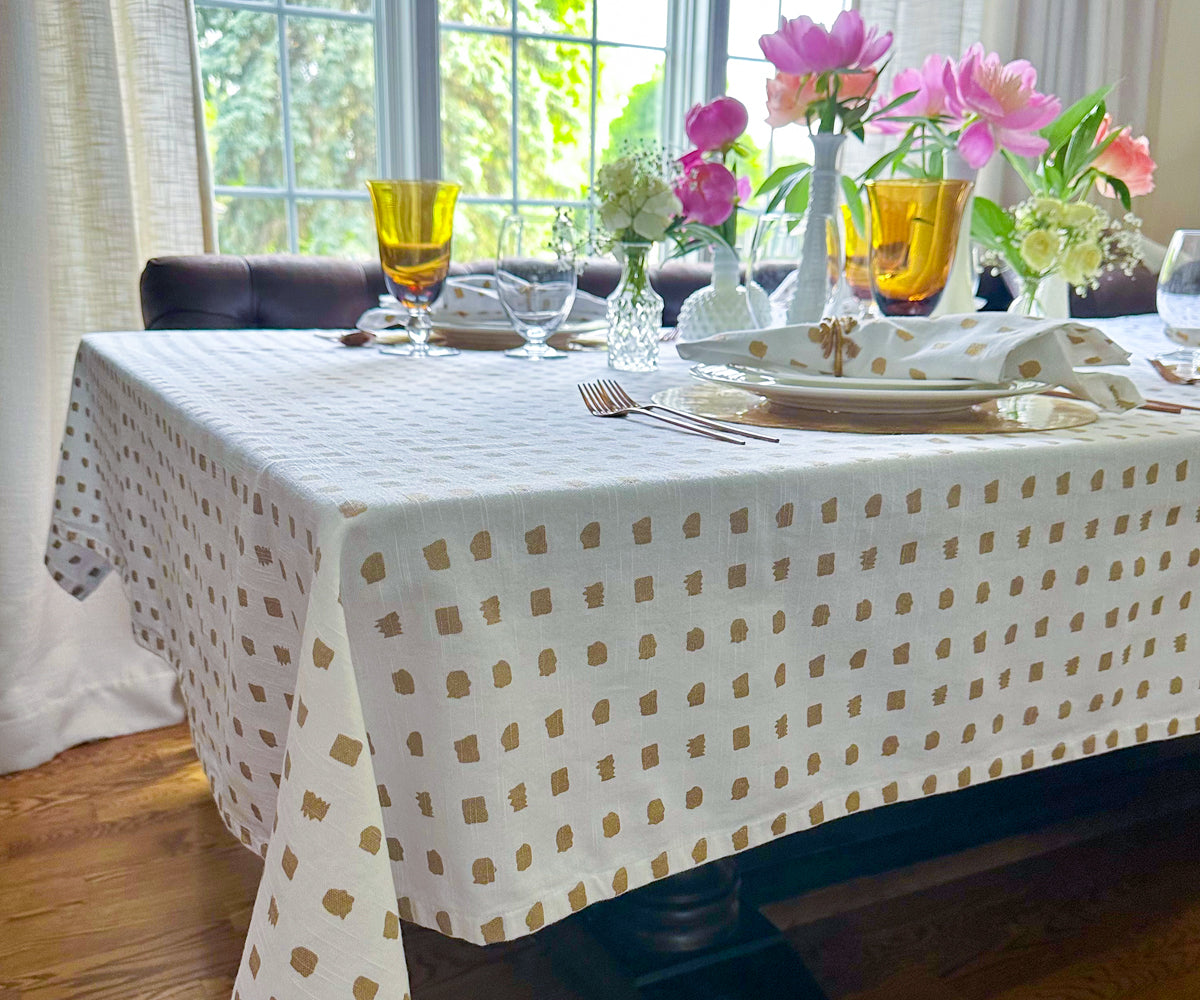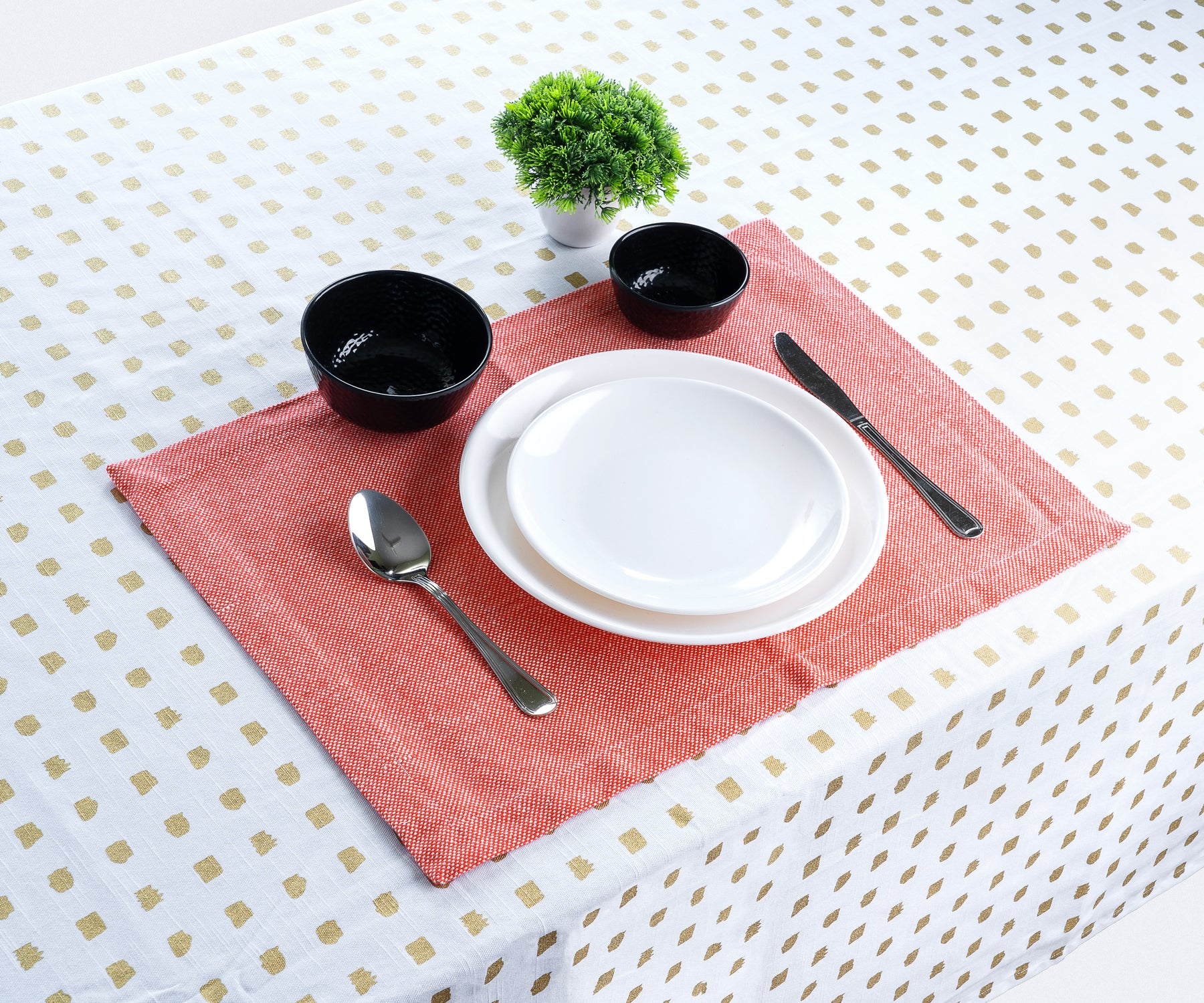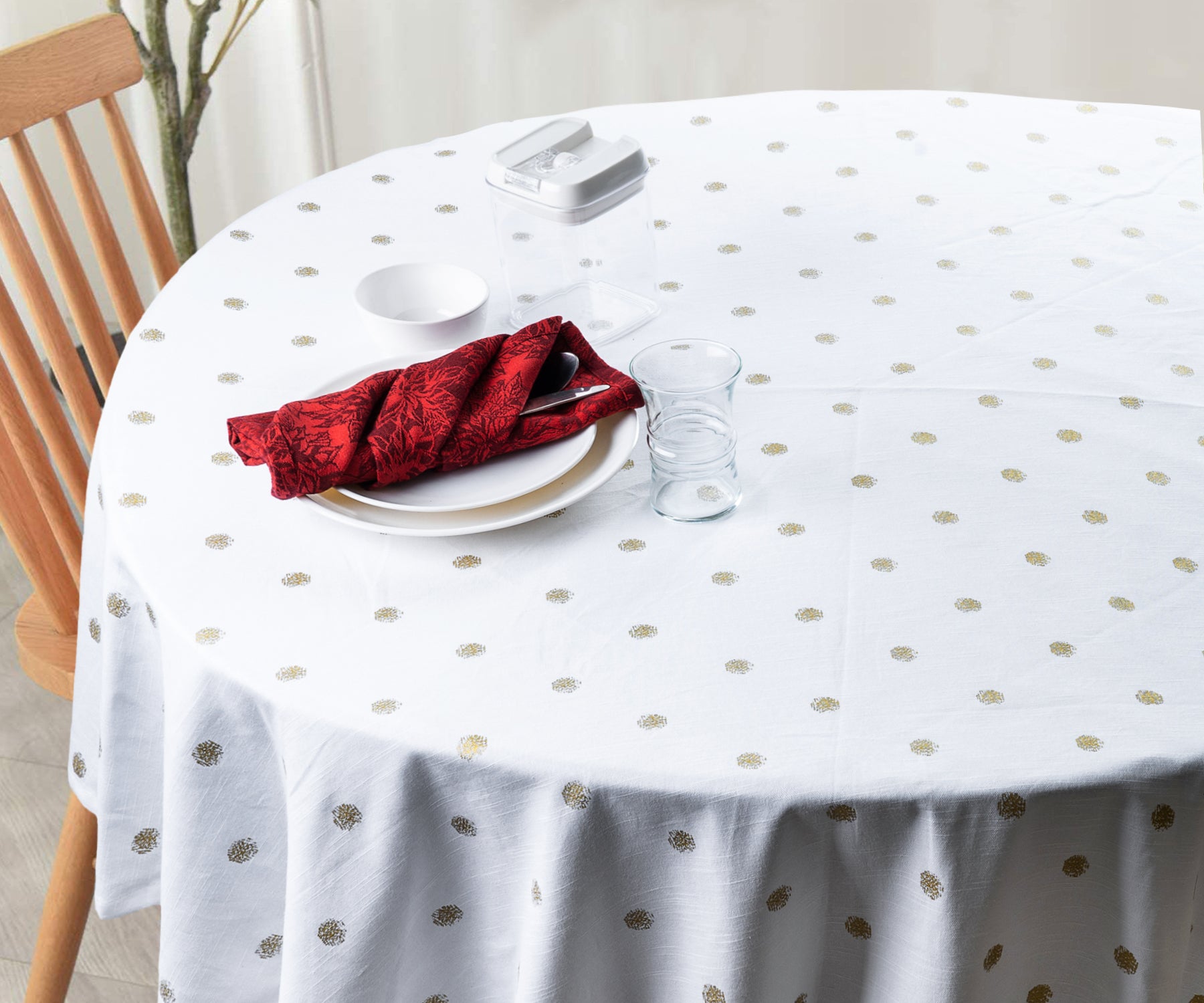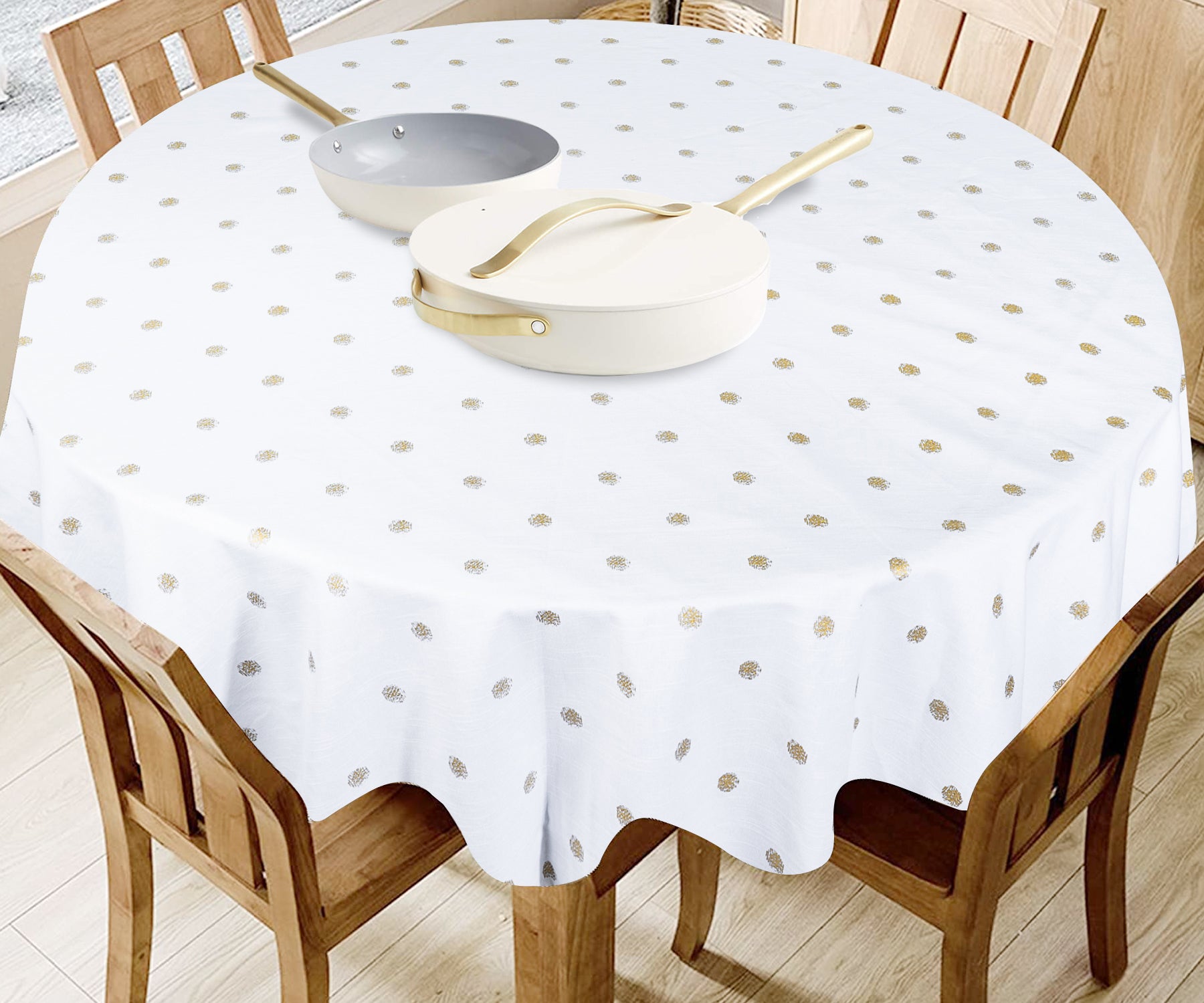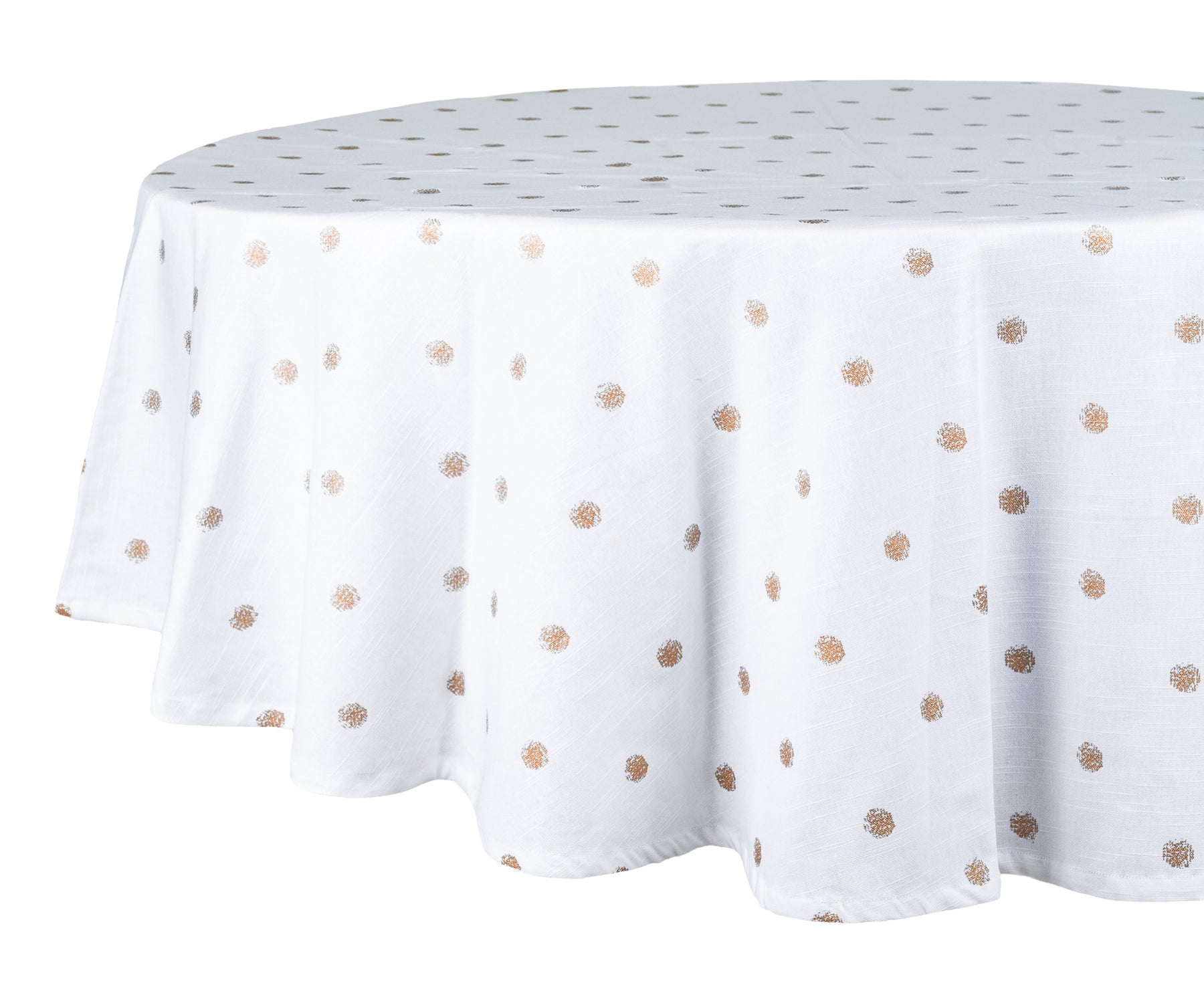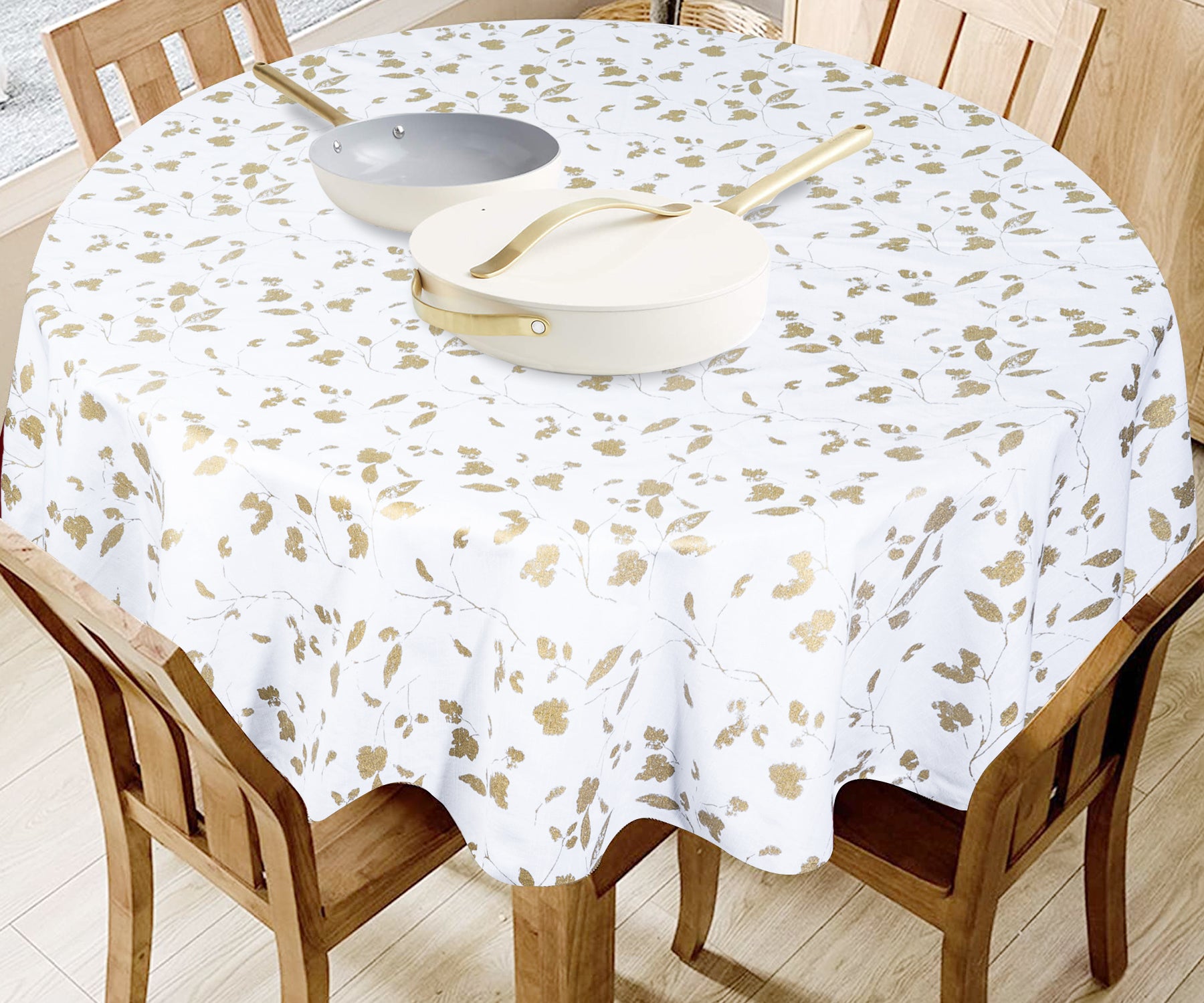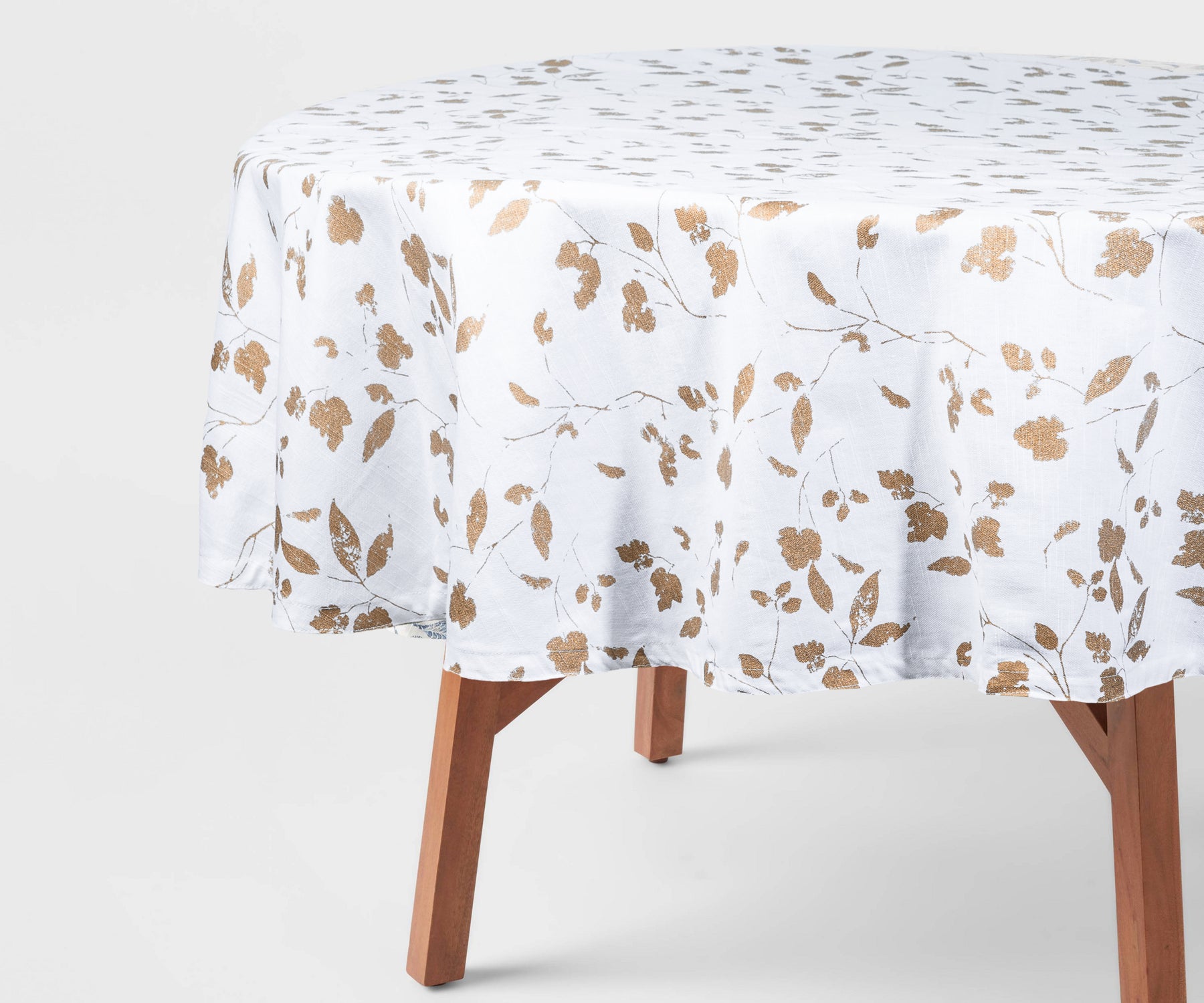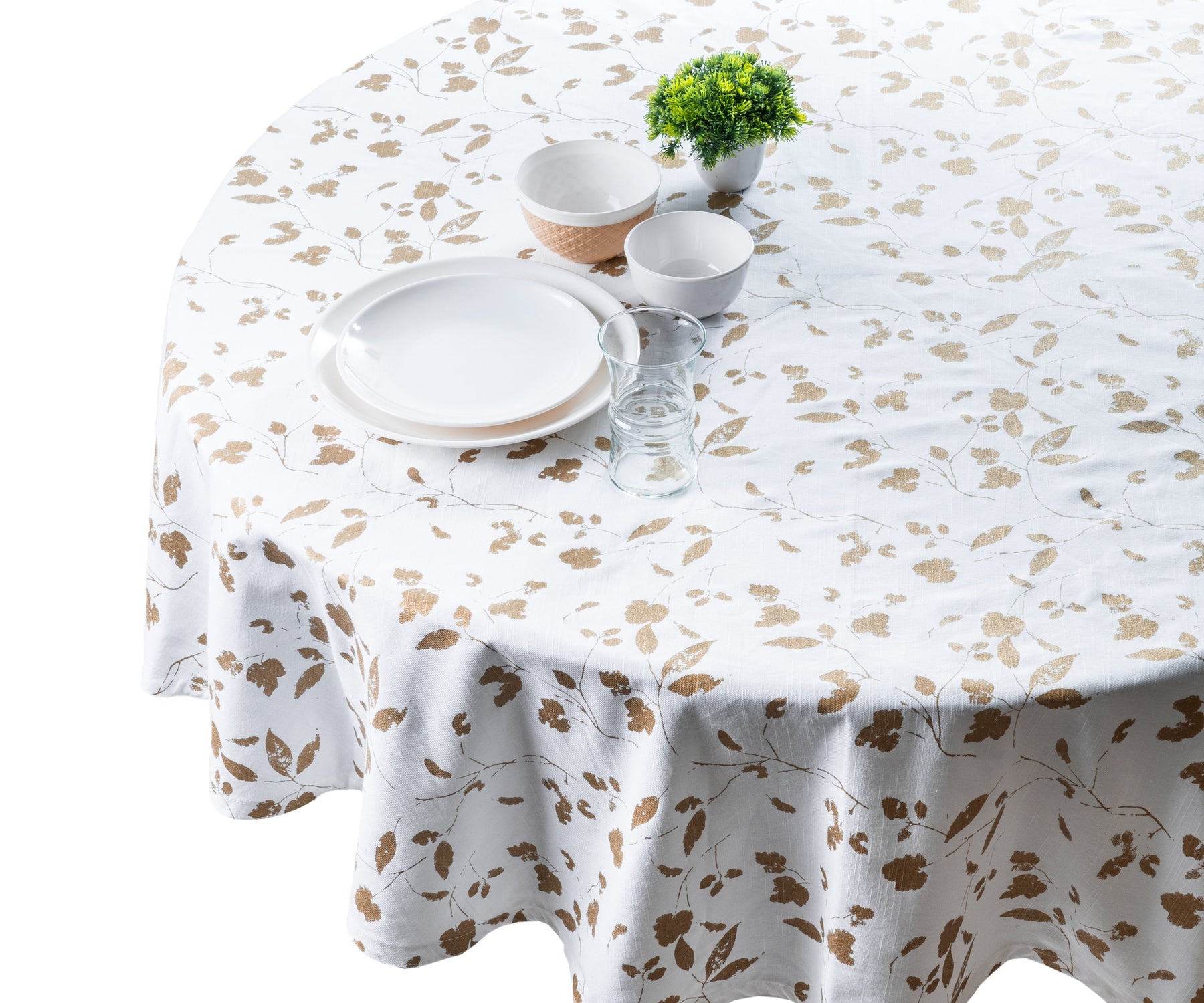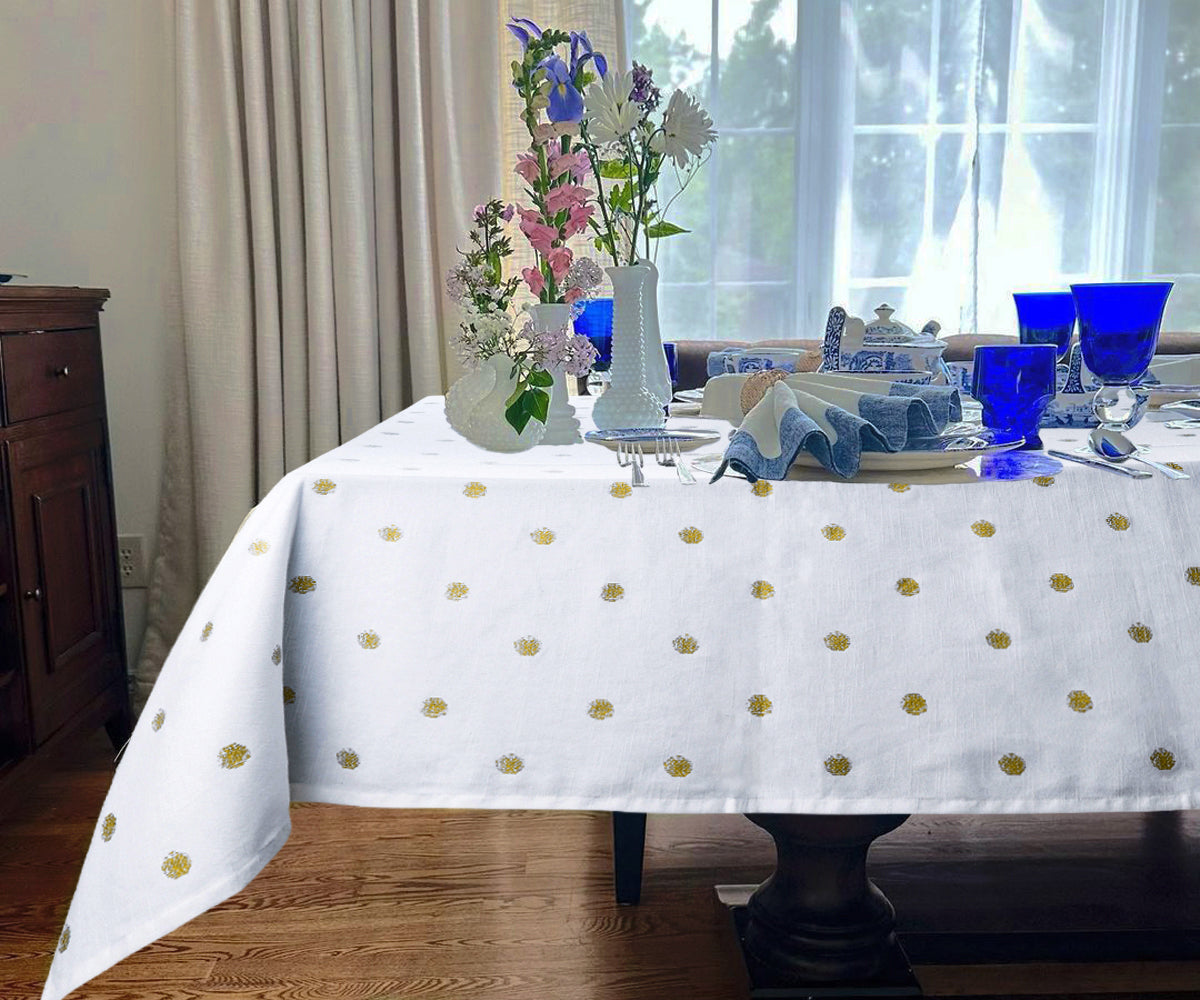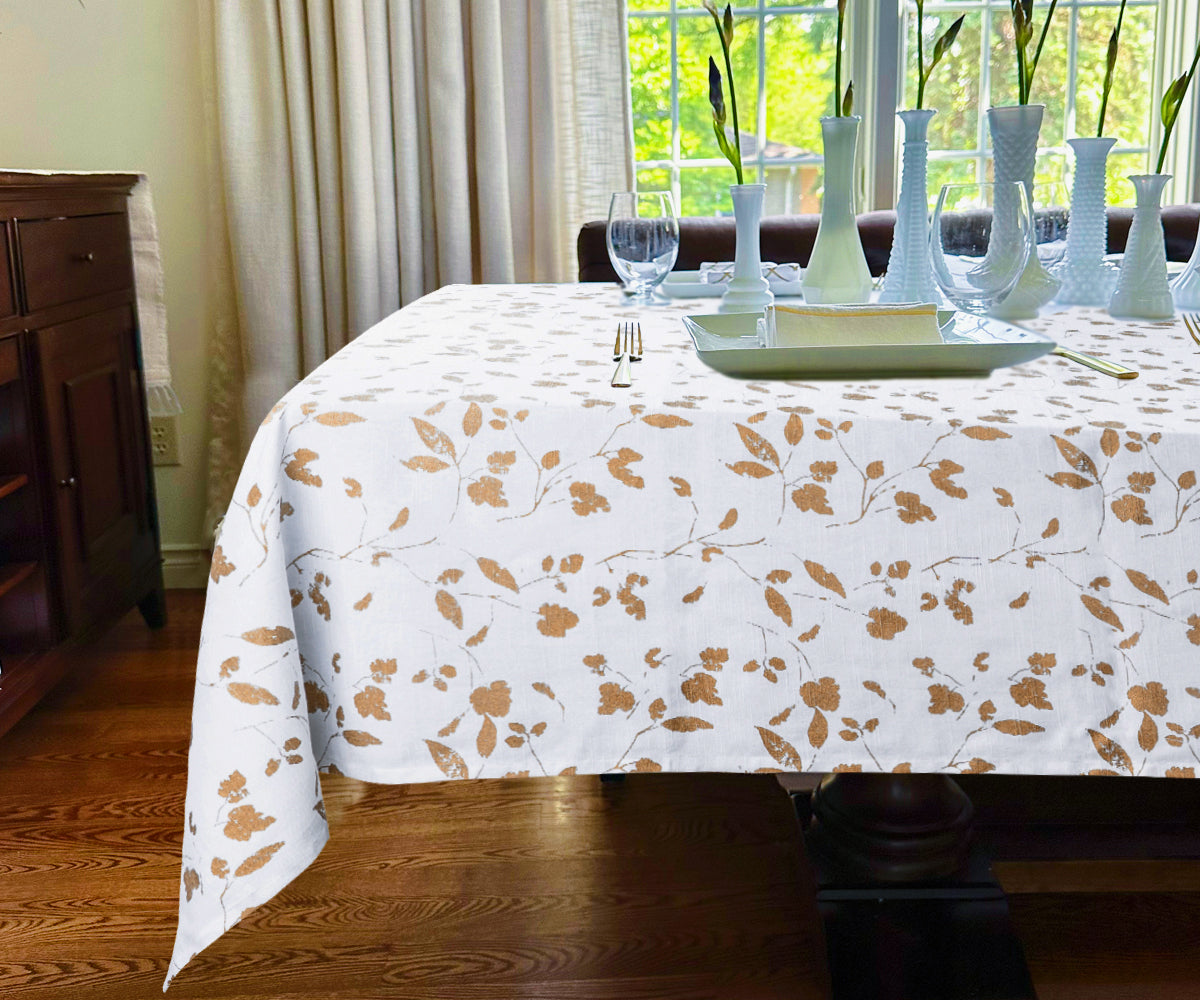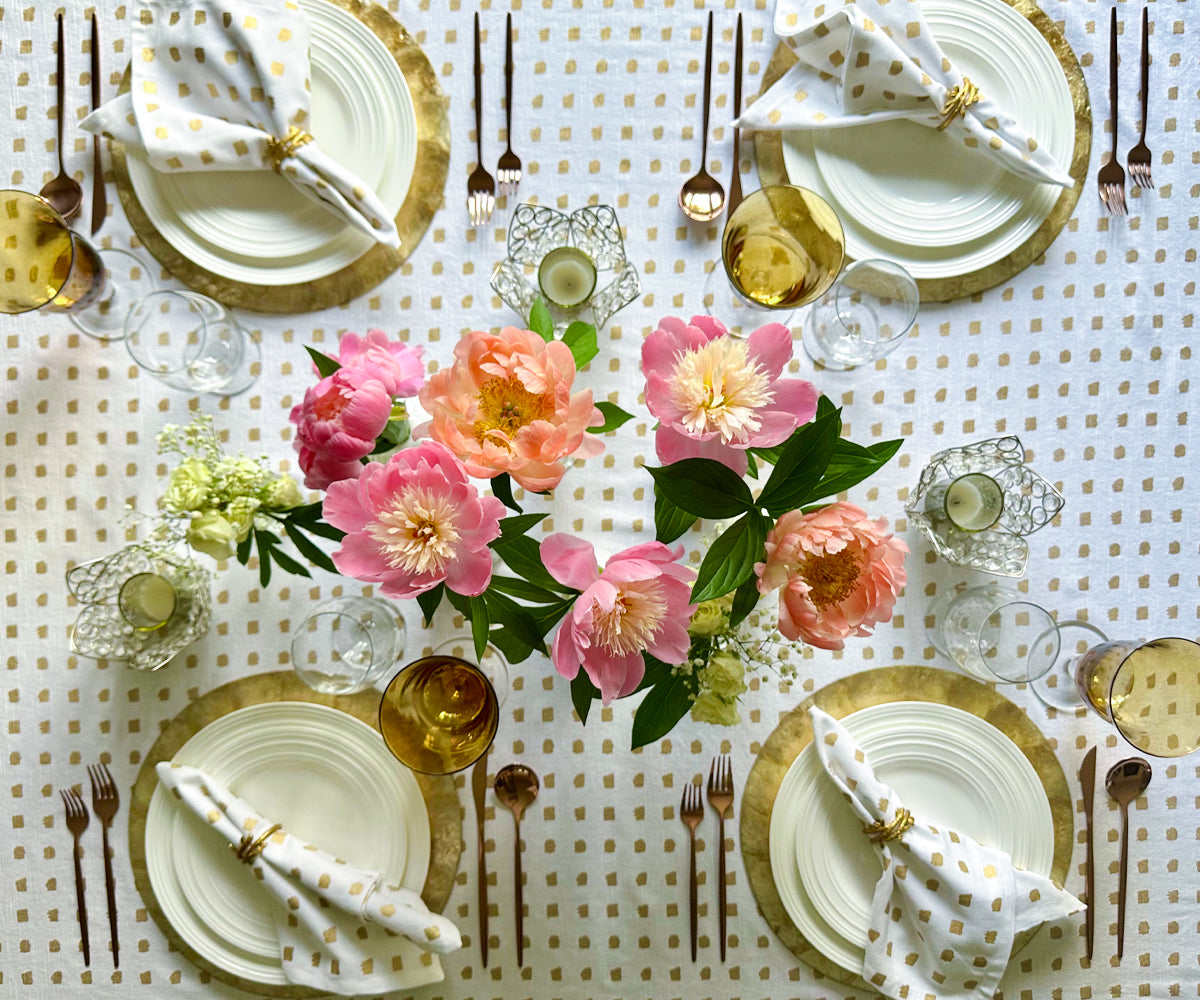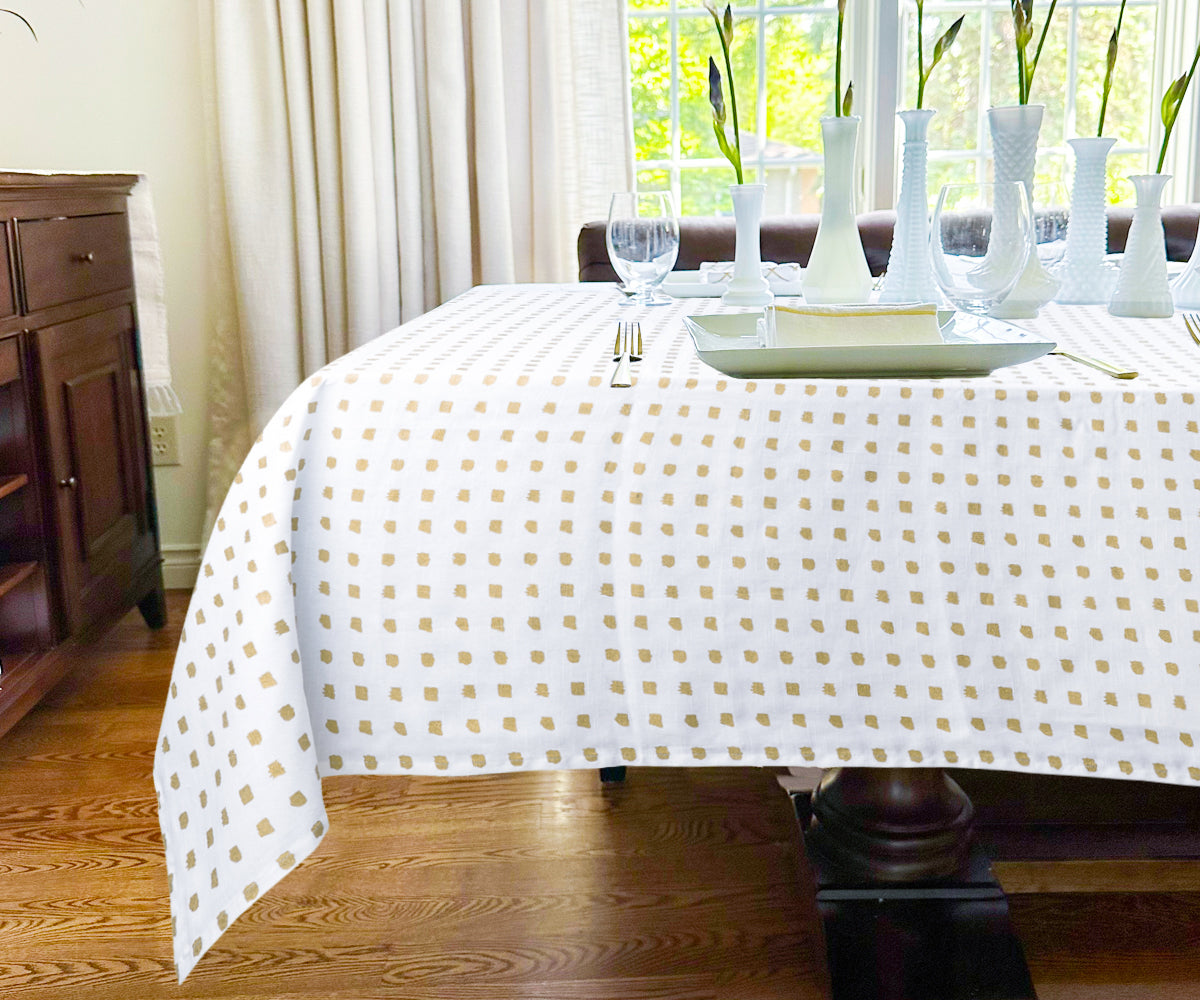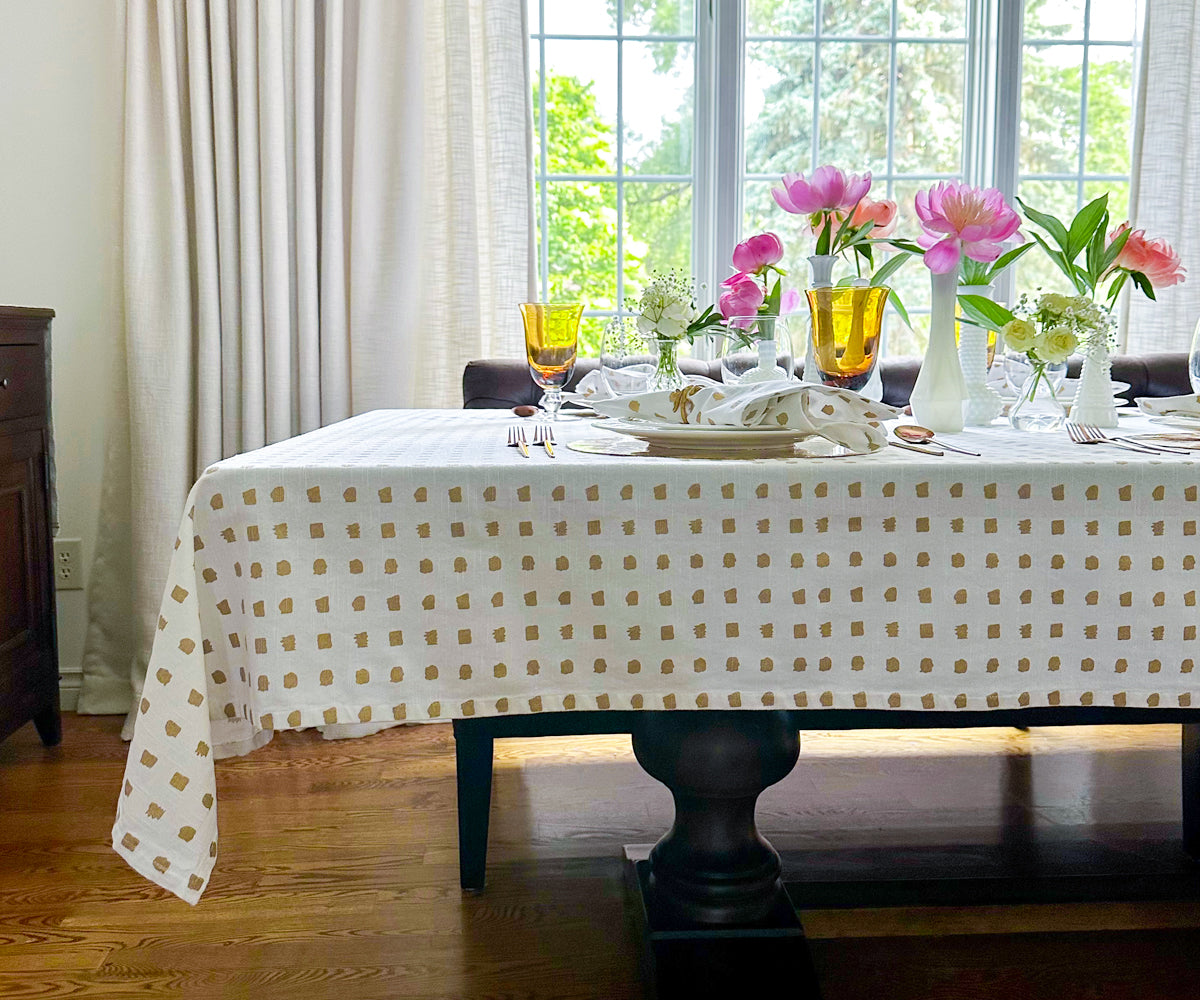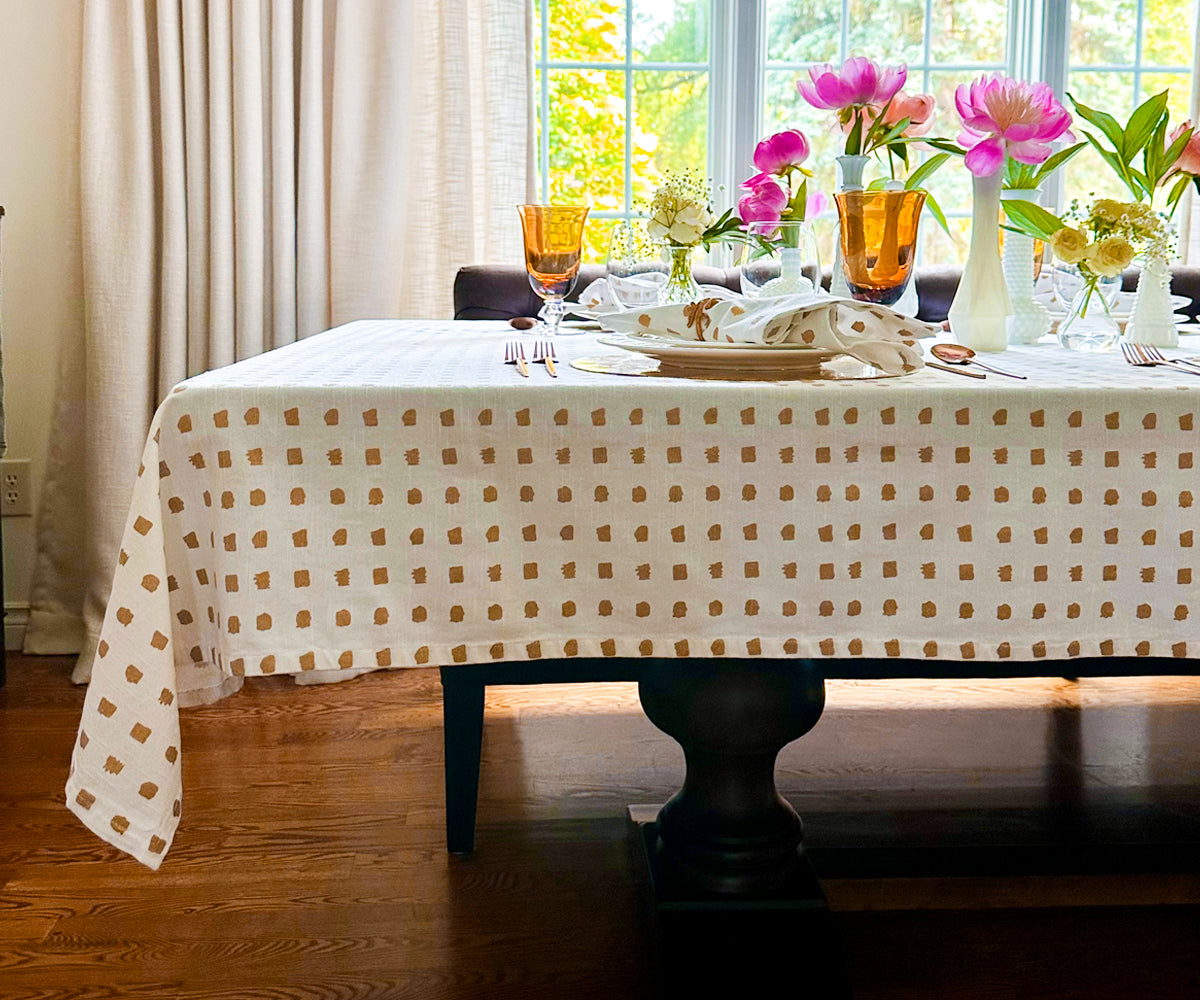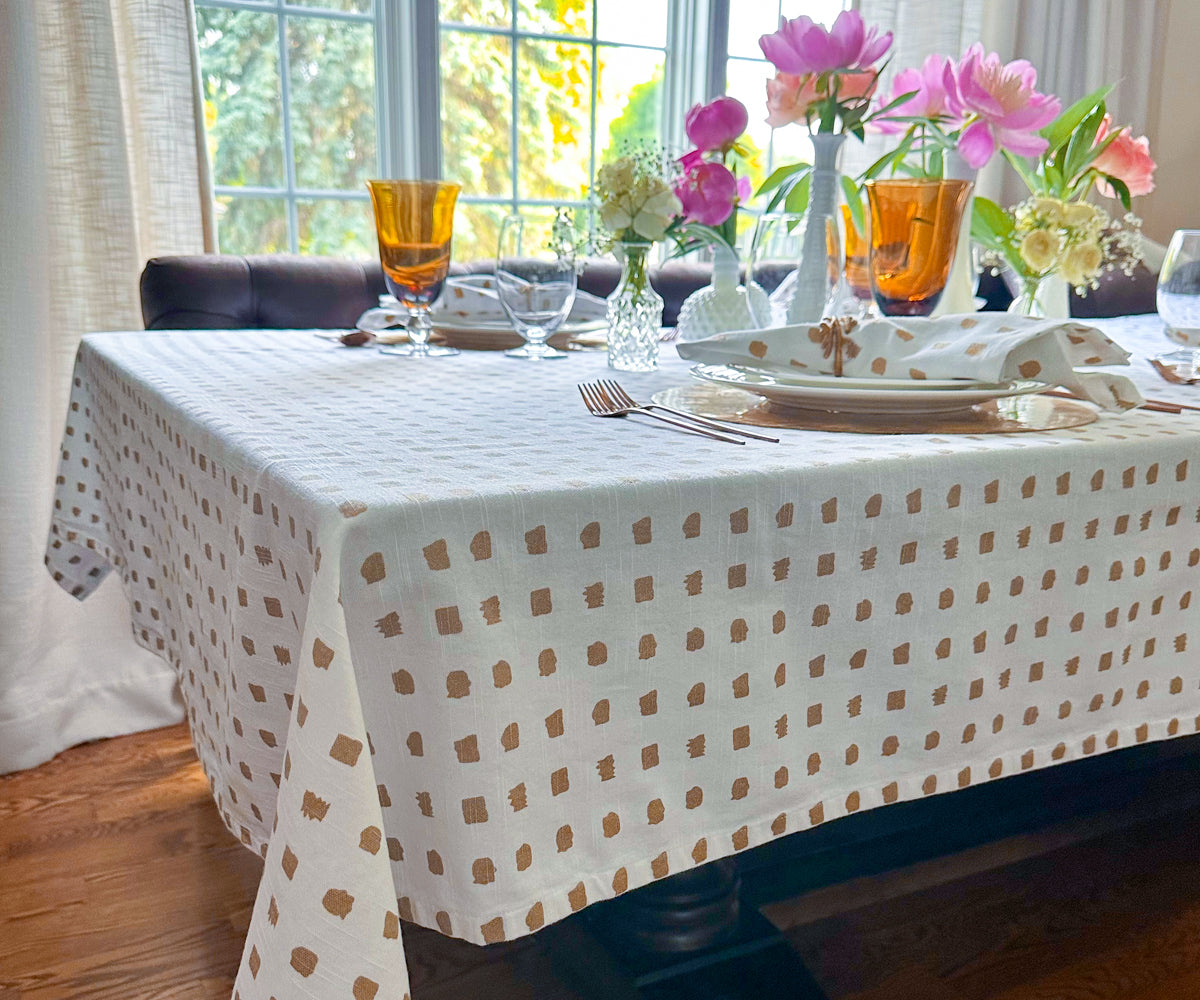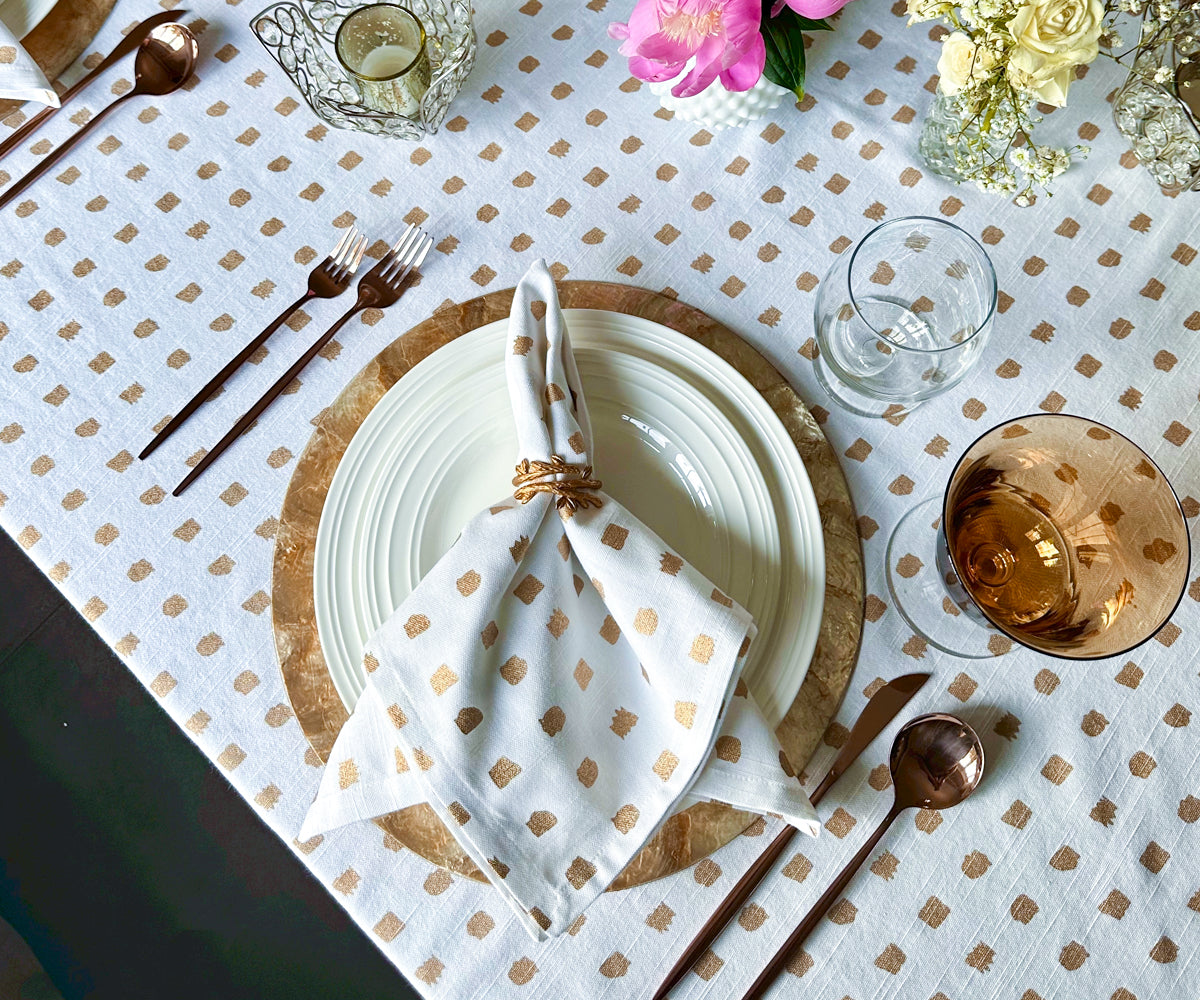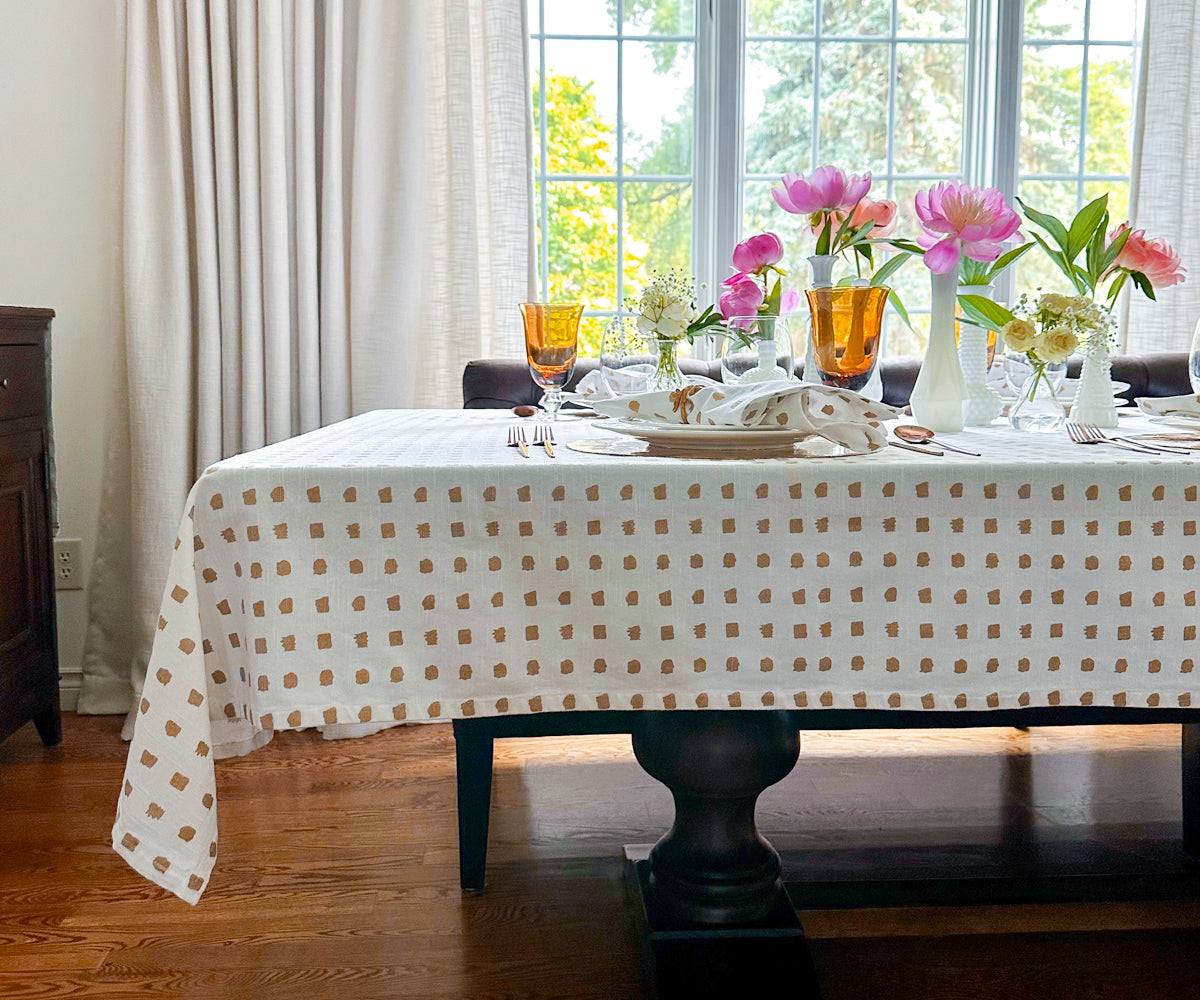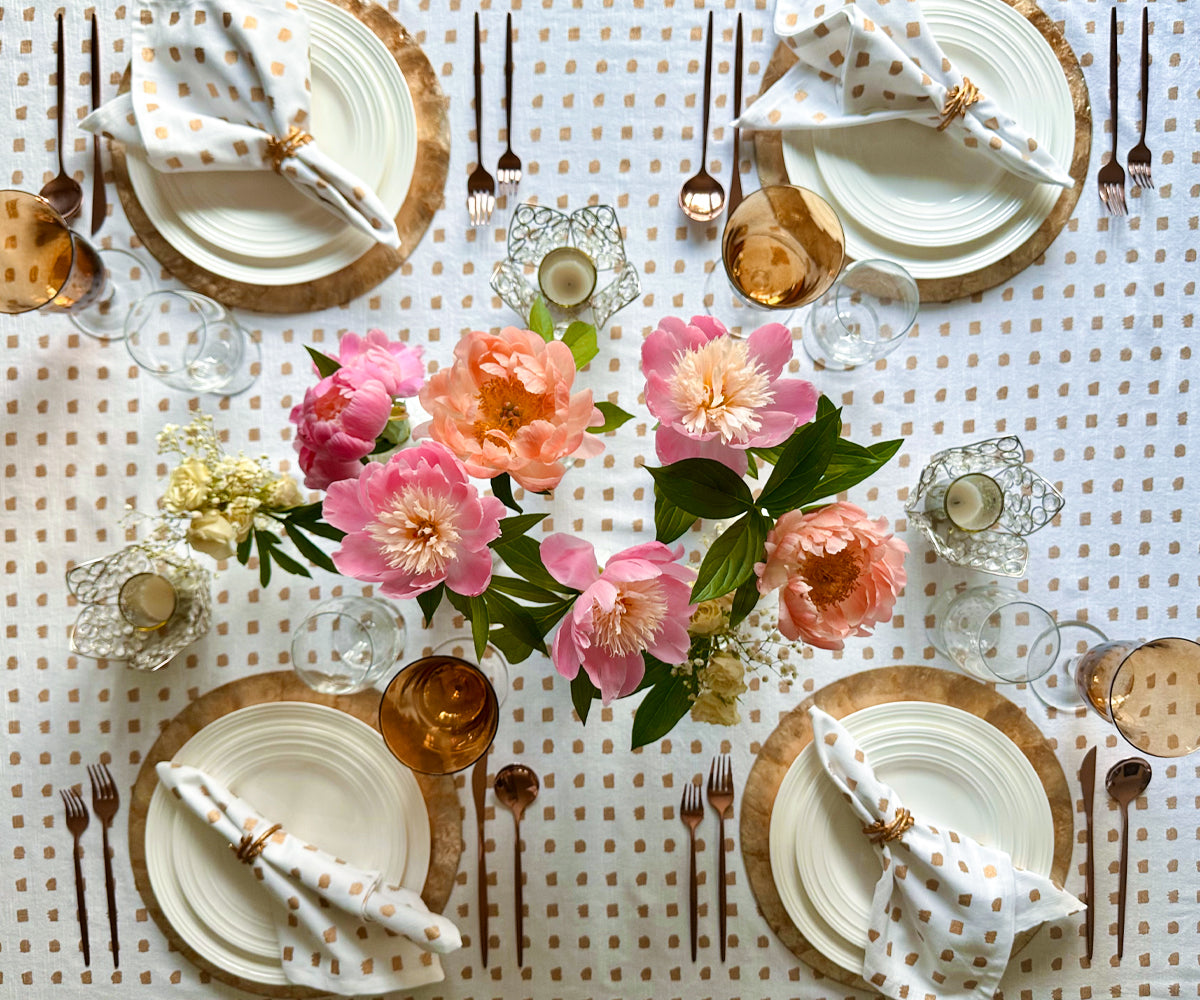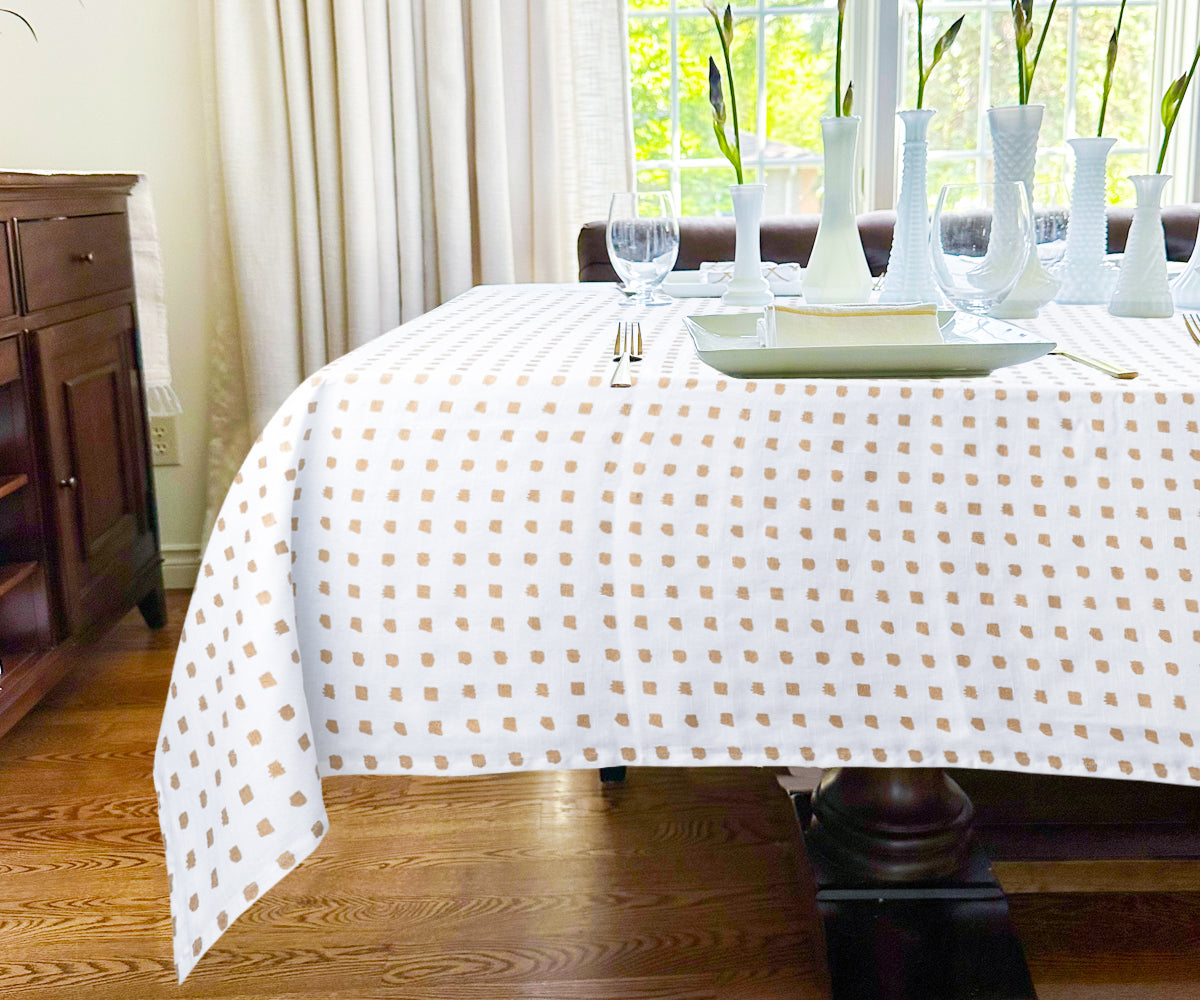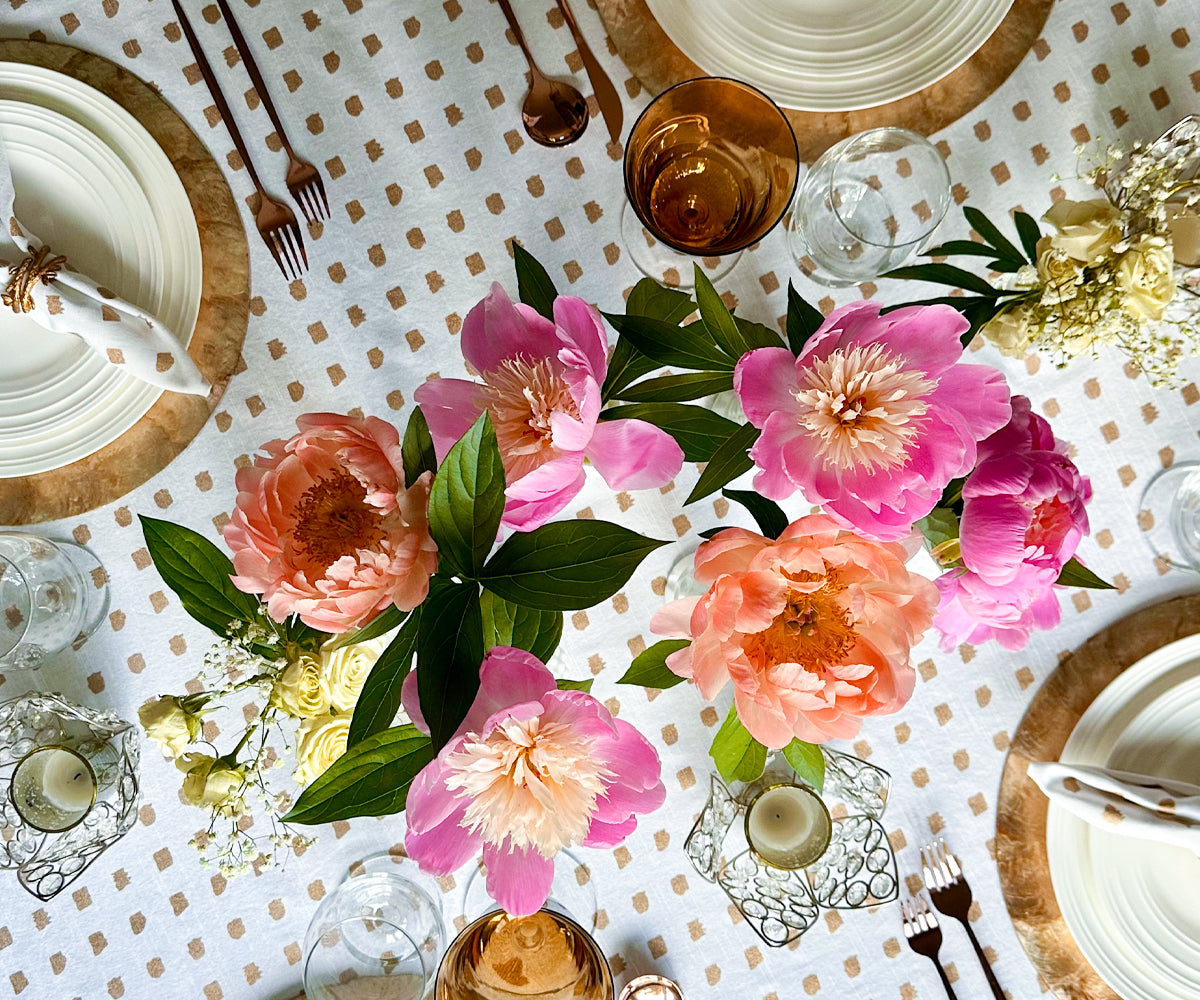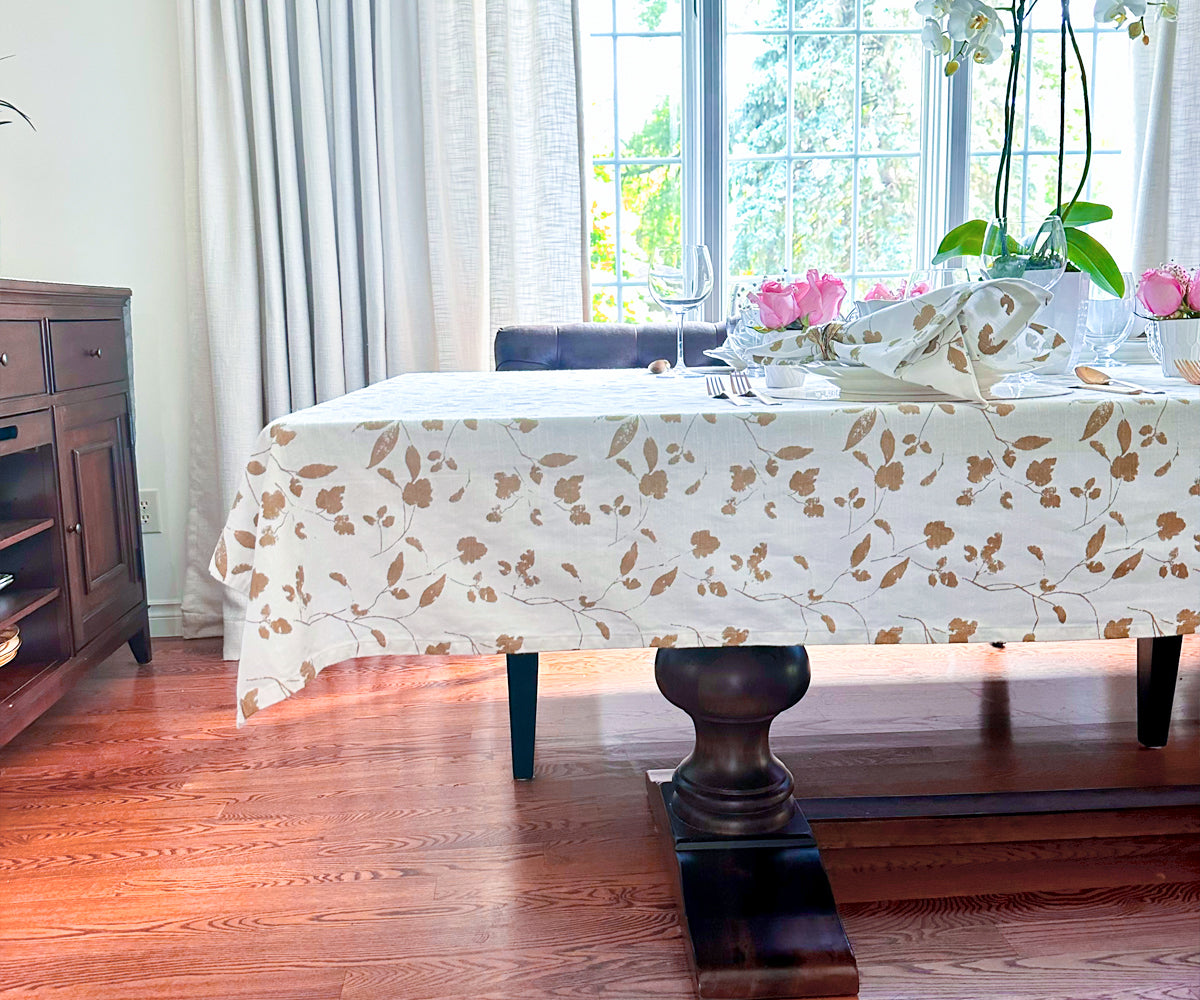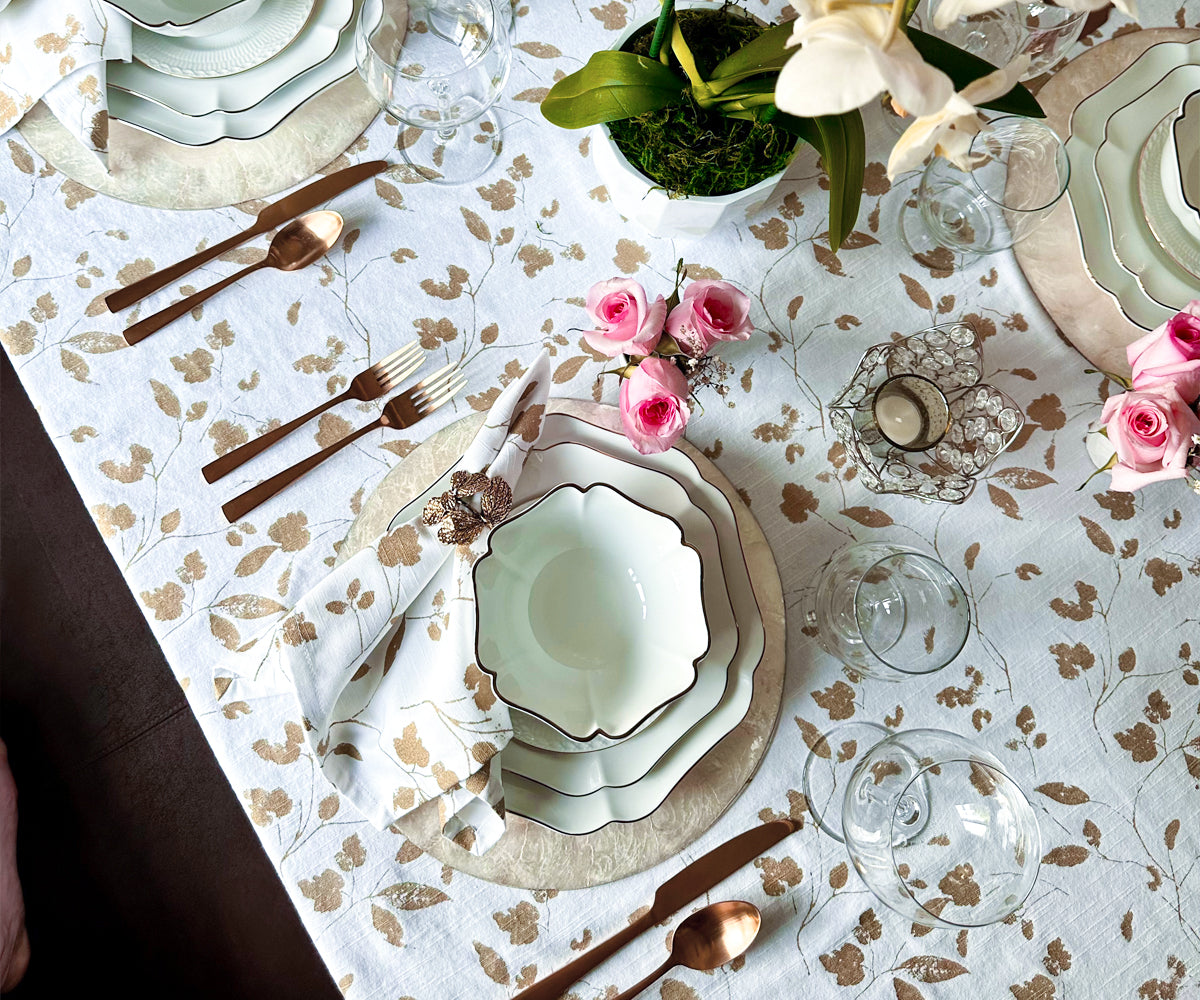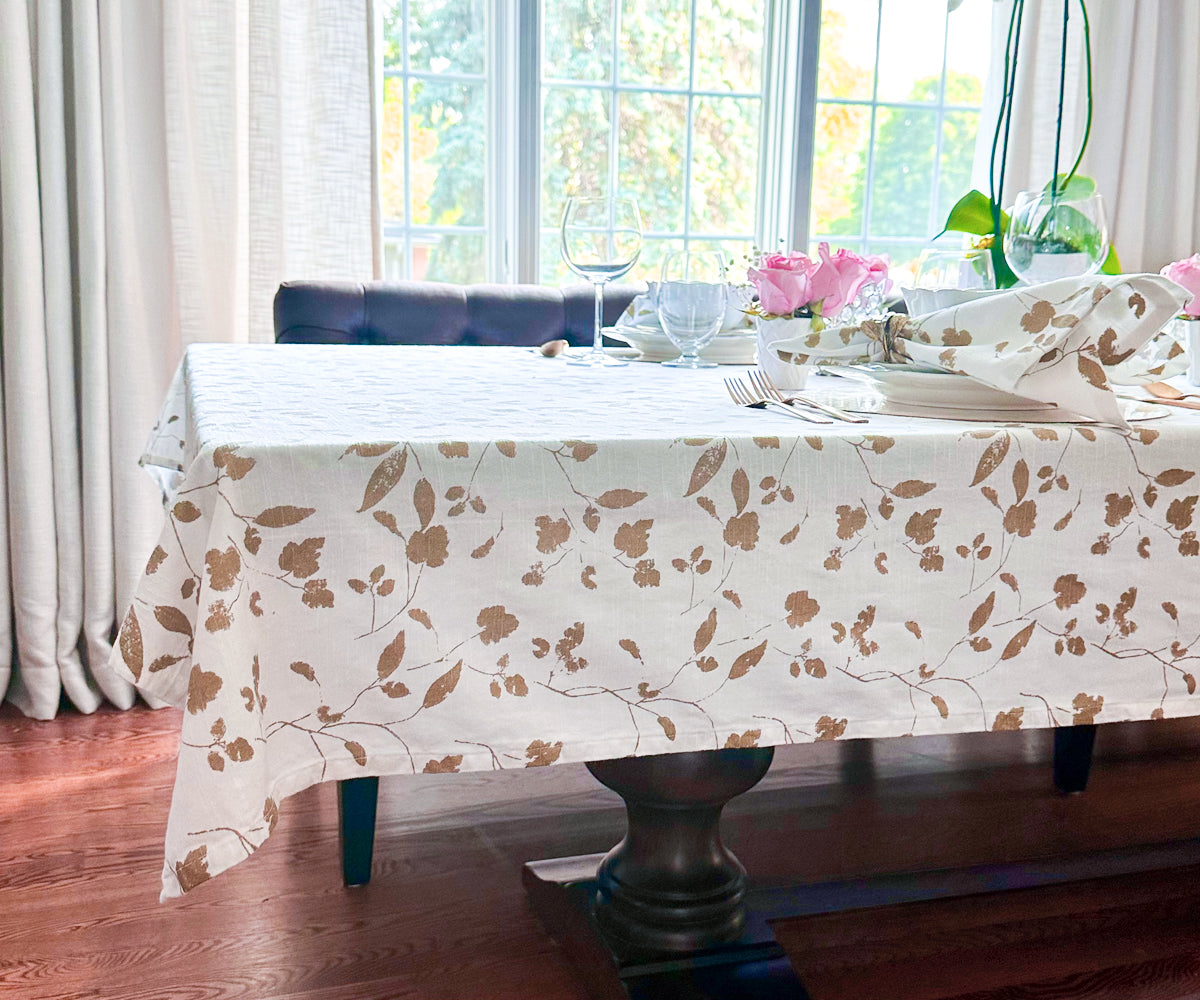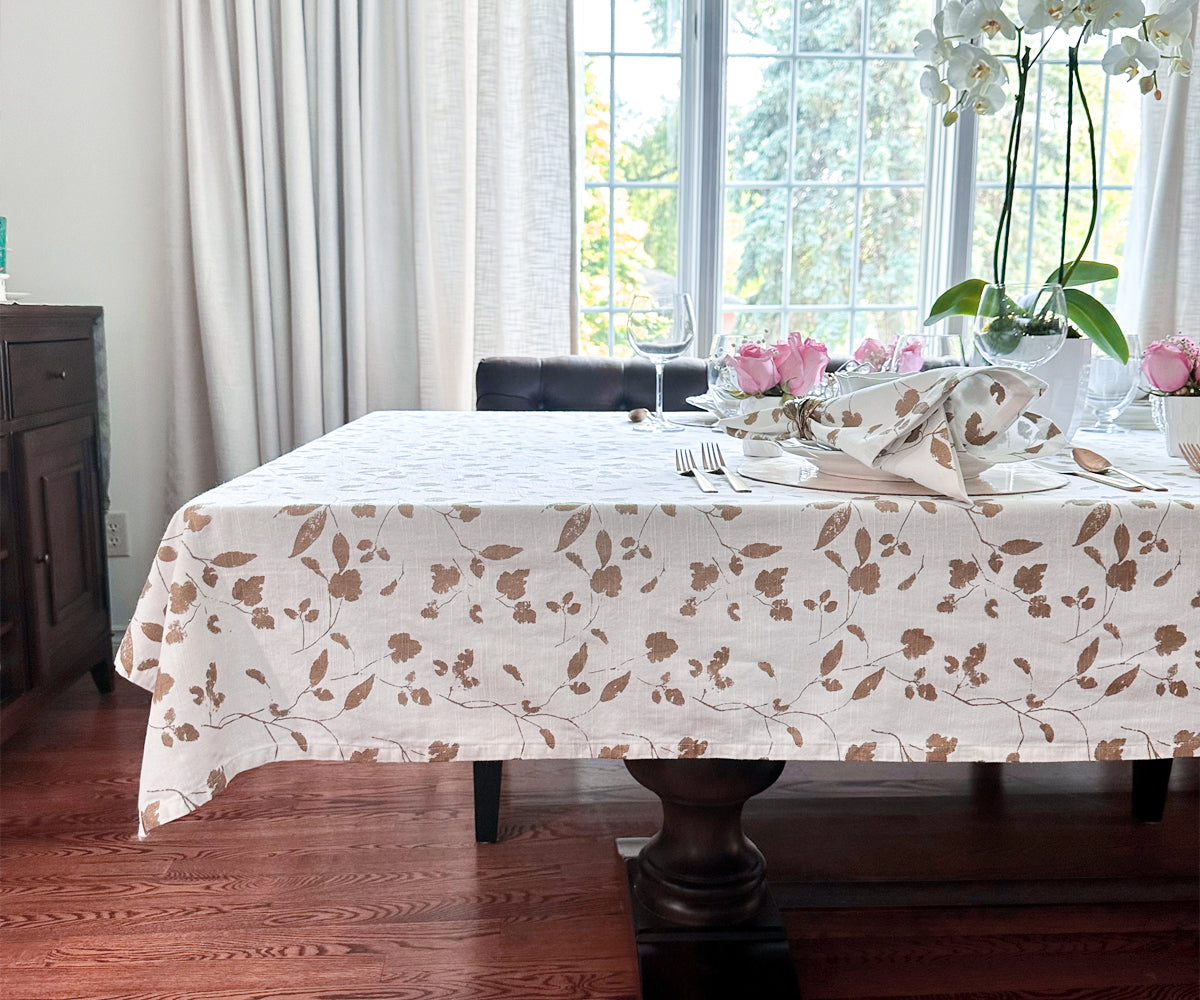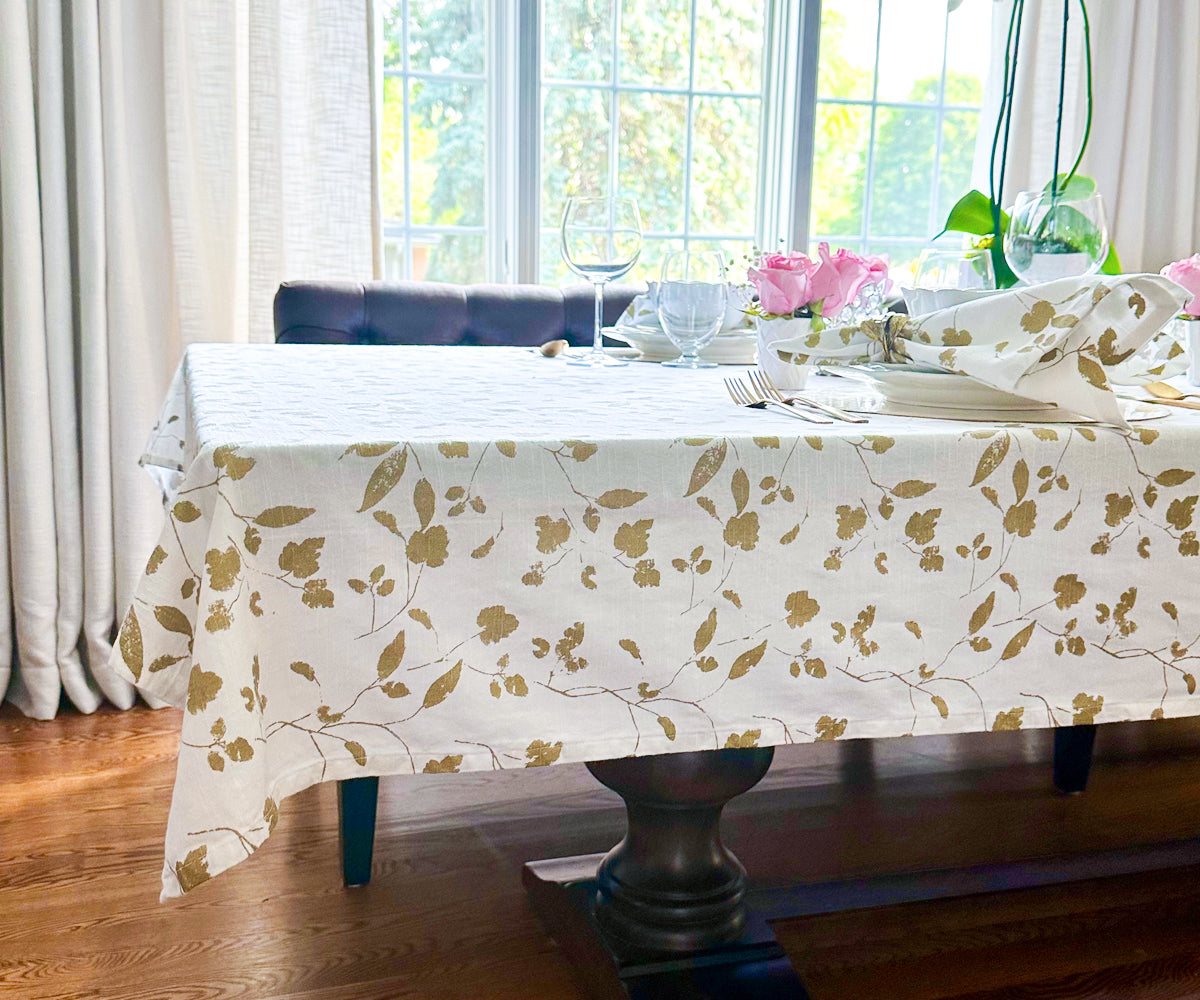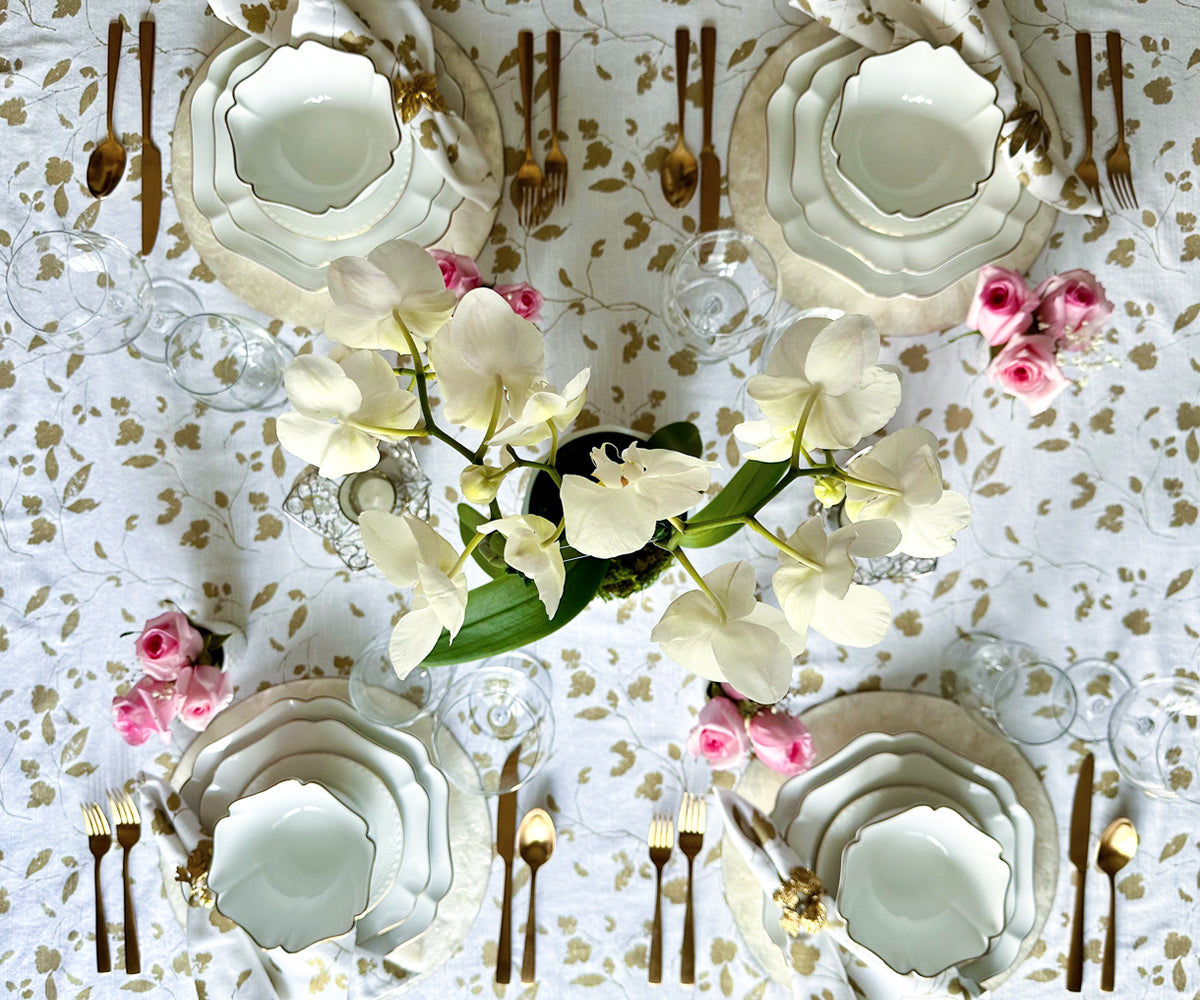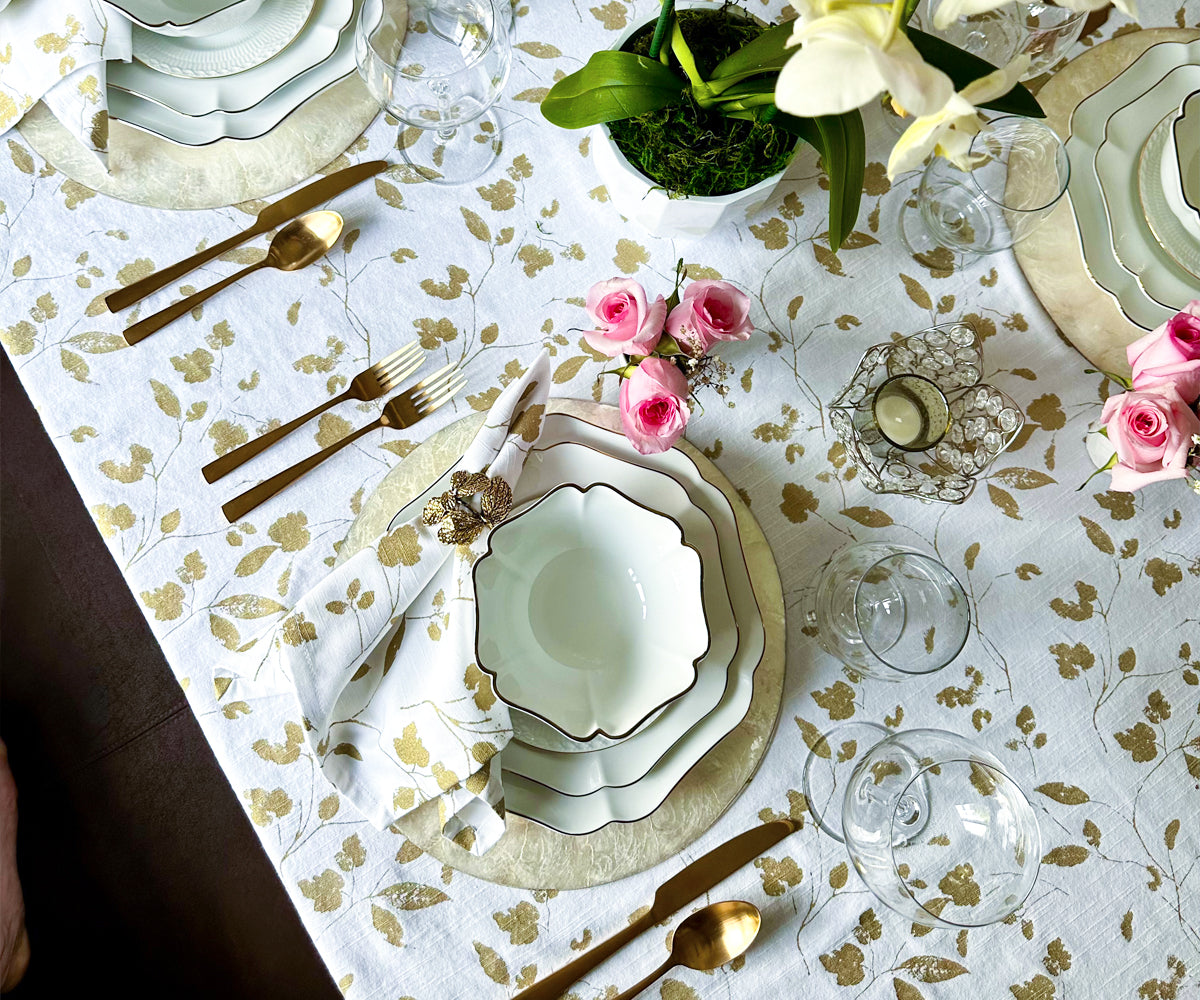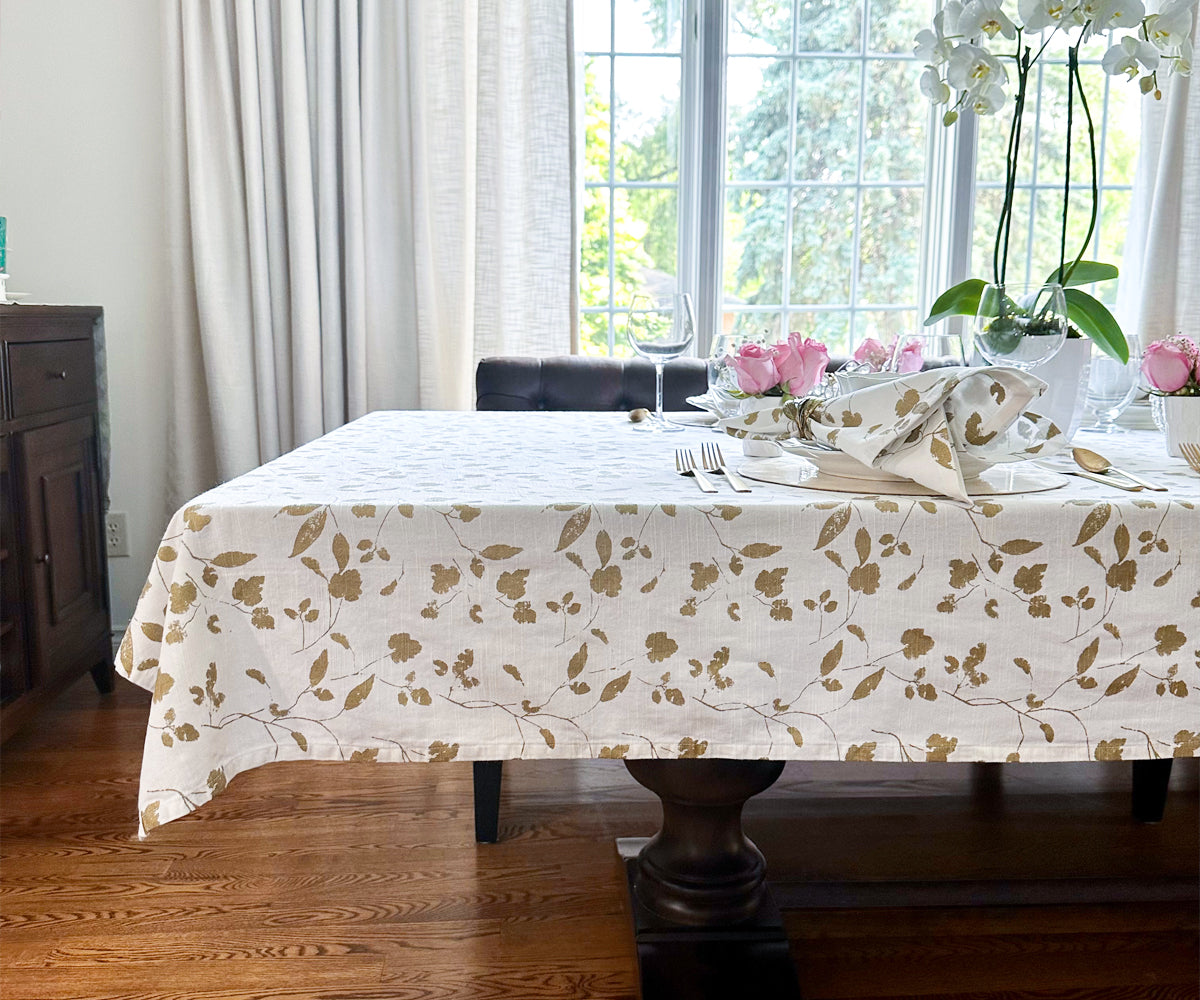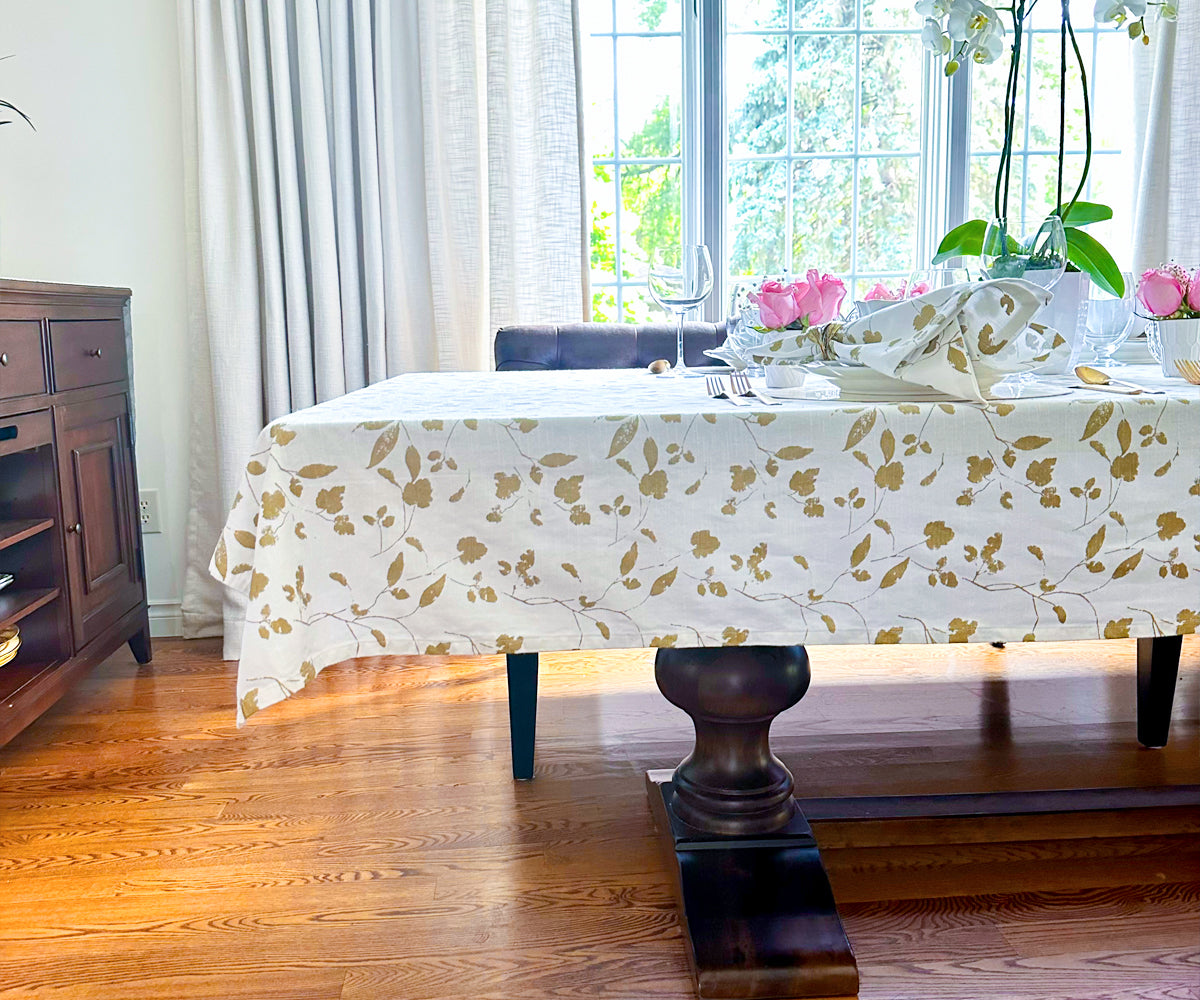 White TableCloth - Metallic Printed
Product Details
Wedding Tablecloth

:
Elevate events with our party tablecloths. Made from 100% cotton in 63" Round & 60" X 98" Rectangle sizes. Shimmering elegance for enchanting gatherings!
Available in captivating colors - Gold, Copper, and Silver our holiday tablecloths are a versatile addition to your table decor. It perfectly accommodates 6-8 people, making it ideal for hosting memorable occasions.
Not limited to just gold, we also offer a pristine outdoor tablecloth option in a rectangular shape. Our white rectangle tablecloth is elegantly designed to enhance any setting with its refined look.
Discover creativity with our captivating fabric tablecloth collection. Perfect for Christmas, Halloween, and Thanksgiving, adding a unique flair to your dining and outdoor settings.
Pair with buffalo check napkins and placemats. Try the country stripe tablecloth and pair it with striped placemats and country stripe runners.
Dimensions & Easy Care
Dimensions:
Overall: 63" Round &  63 x 98" Rectangle.
Available Sizes:
Care and Maintenance

Tumble dry on a gentle cycle

Iron at less than 40-degree Celsius

To avoid creases do not leave the tablecloth in the dryer for long
Shipping & Return
Shipping

Standard USPS free shipping.
Order processing time: 1 to 2 days. Orders will be delivered within 6-8 days.
Return & Refund

Merchandise must not be worn, washed, or altered.
Returns are accepted within 60 days of delivery.
For any questions contact customerservice@allcottonandlinen.com
Refunds will be processed within 1-2 business days.
Needs for White Tablecloth
A white tablecloth with metallic printing enhances elegance and sophistication in dining or event setups.
Metallic printing utilizes metallic ink or foil to create shiny, reflective designs on the fabric.
The metallic elements highlight patterns, motifs, or designs, adding a luxurious and eye-catching element to the table decor.
These prints add elegance, shine, and visual interest, making the tablecloth suitable for formal events and special occasions.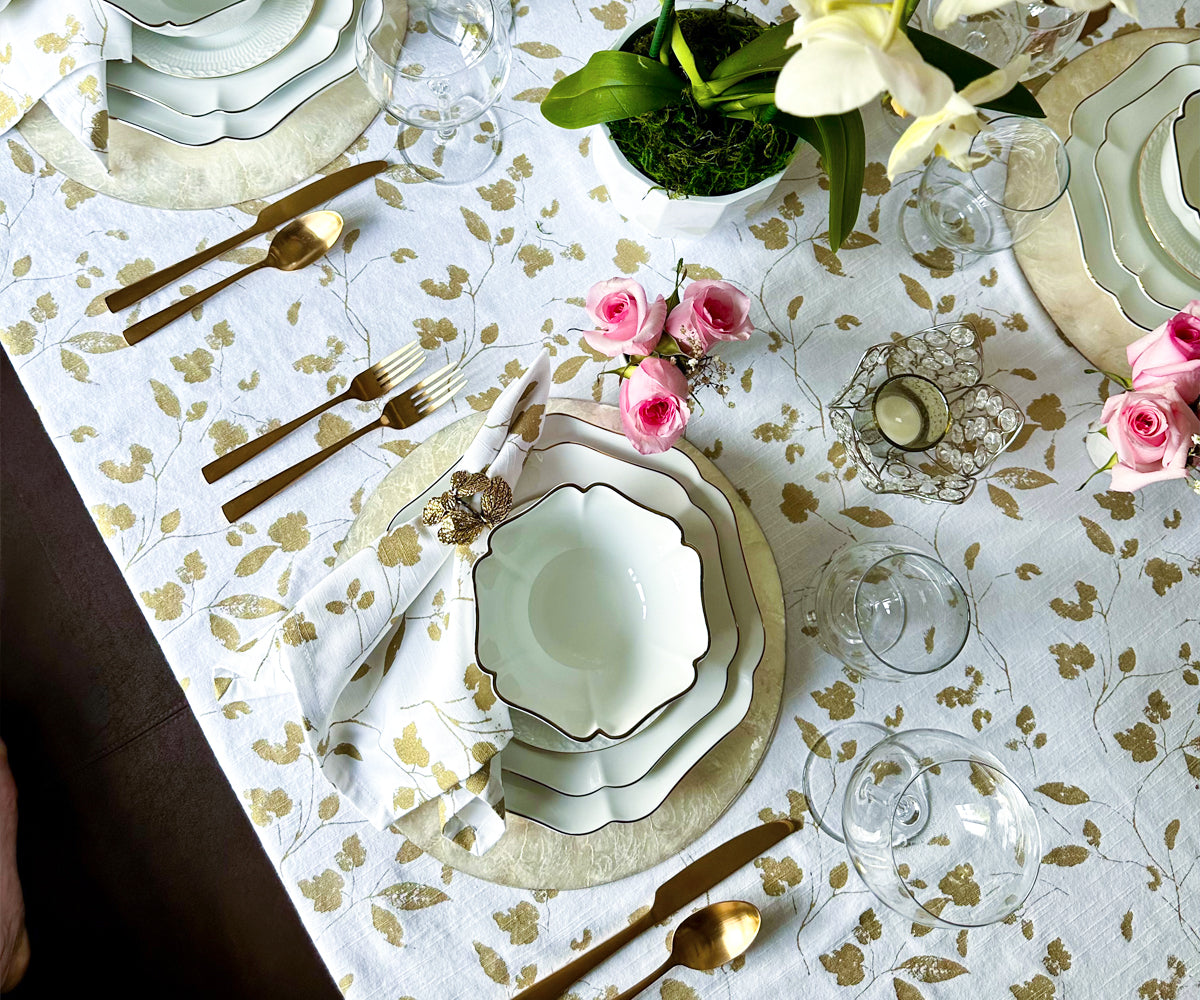 White Tablecloth
A white tablecloth offers a timeless and classic backdrop, suitable for any occasion, adding a clean and elegant touch to the table setting. It provides versatility and a sense of sophistication, making it a go-to choice for both casual gatherings and formal events.
Uses of White Tablecloth
A white tablecloth provides a clean and classic backdrop for any table setting, suitable for both casual and formal occasions. It helps protect the table surface while adding a touch of elegance and creating a visually appealing dining atmosphere.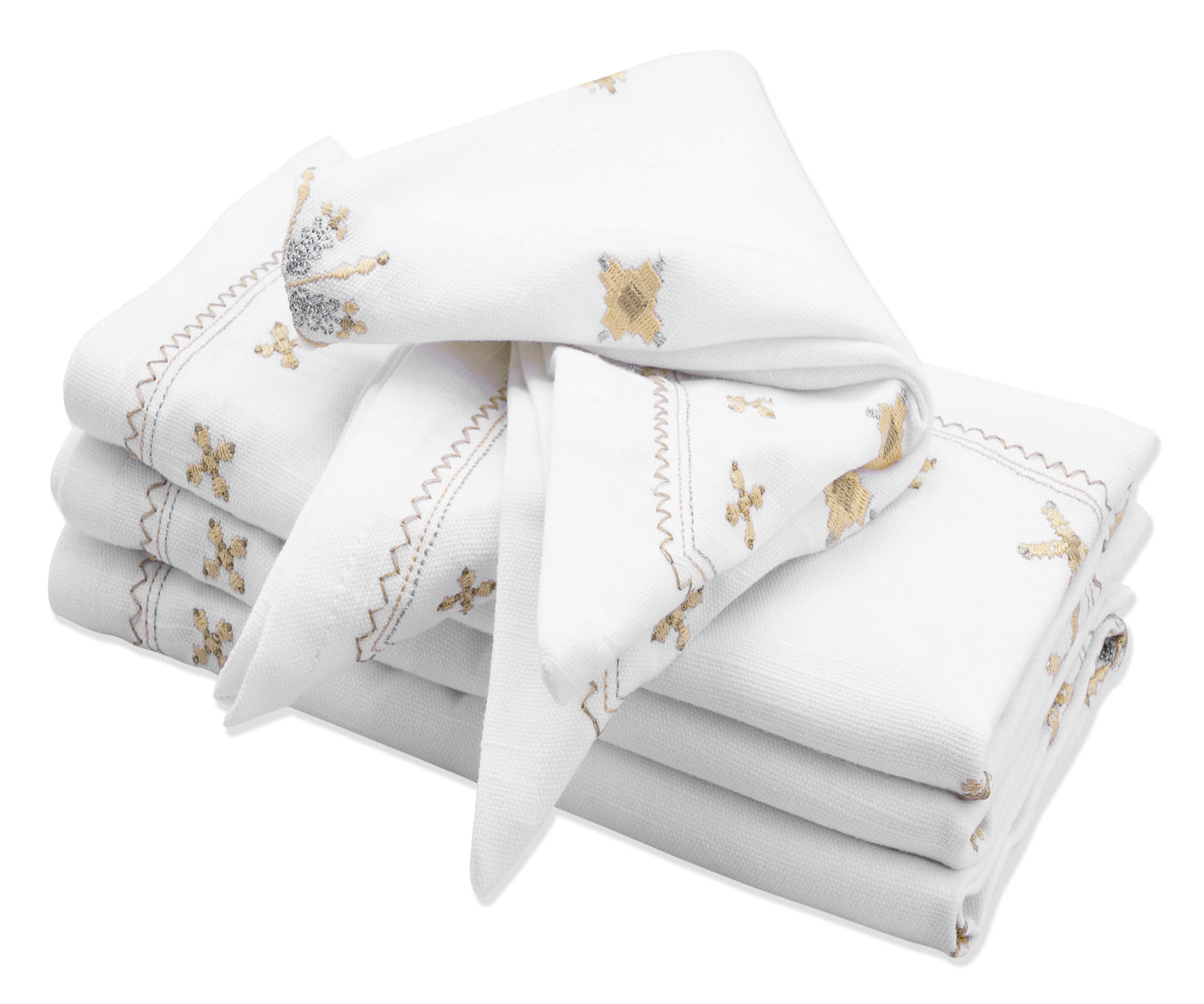 Cotton Printed Napkins
Cotton printed napkins offer a charming and decorative addition to table settings, combining the softness and absorbency of cotton with delightful printed designs for an enjoyable dining experience.
Subheading
Uses of Cotton Printed Napkins
Cotton printed napkins bring a touch of personality and style to table settings, perfect for adding a pop of color and visual interest while providing a practical and eco-friendly alternative to disposable napkins.
They are suitable for 60" x 98" Rectangular tables and can comfortably accommodate 6-8 people, making them ideal for hosting memorable occasions and festive gatherings.
Our captivating fabric tablecloth collection is available in these enchanting colors to add shimmering elegance to your table decor. Explore other tablecloth variants for color and pattern choices.
While the outdoor tablecloth is not waterproof, its 100% cotton composition offers a refined look for outdoor settings.
Certainly! Enhance your table setting by pairing our tablecloths with placemats or experimenting with patterns like country stripes for a creative touch.
Our fabric tablecloths are versatile and perfect for various occasions, including Christmas, Halloween, Thanksgiving, and others.
Me encantaron y son un material encantador
Son un materiar fuerte me encantaron graciassss
Great quality
I use this product for a baby shower. They work great!
Amazing quality!
Surprising quality for the price. Very thick and easily washable. Was able to steam and wrinkles out of it in less than 2 minutes!
Good quality.
This is a 6ft table I bought 70×120 inches ivory color. Good quality. The size is perfect too just a little long from the sides.
High quality, gorgeous color