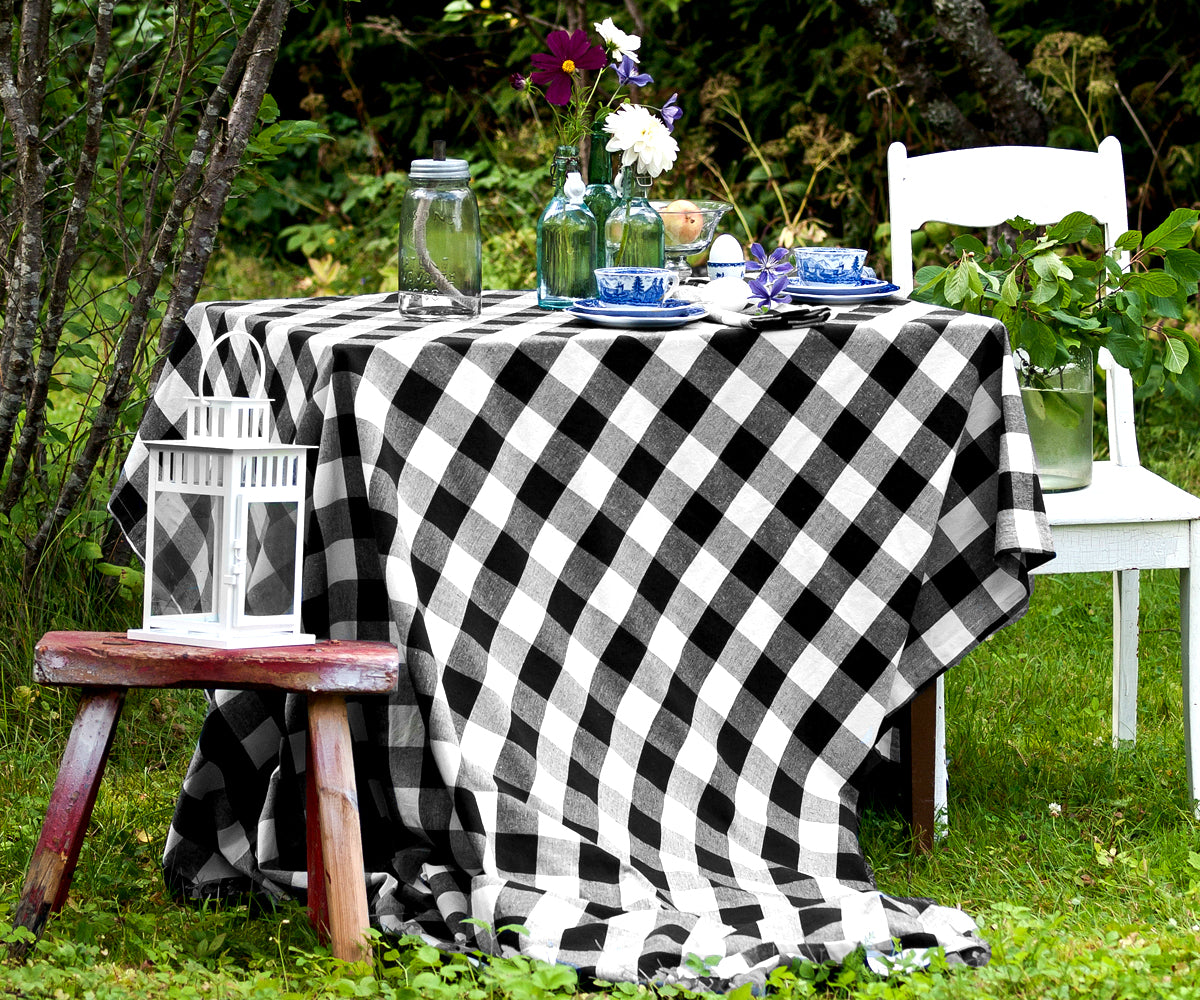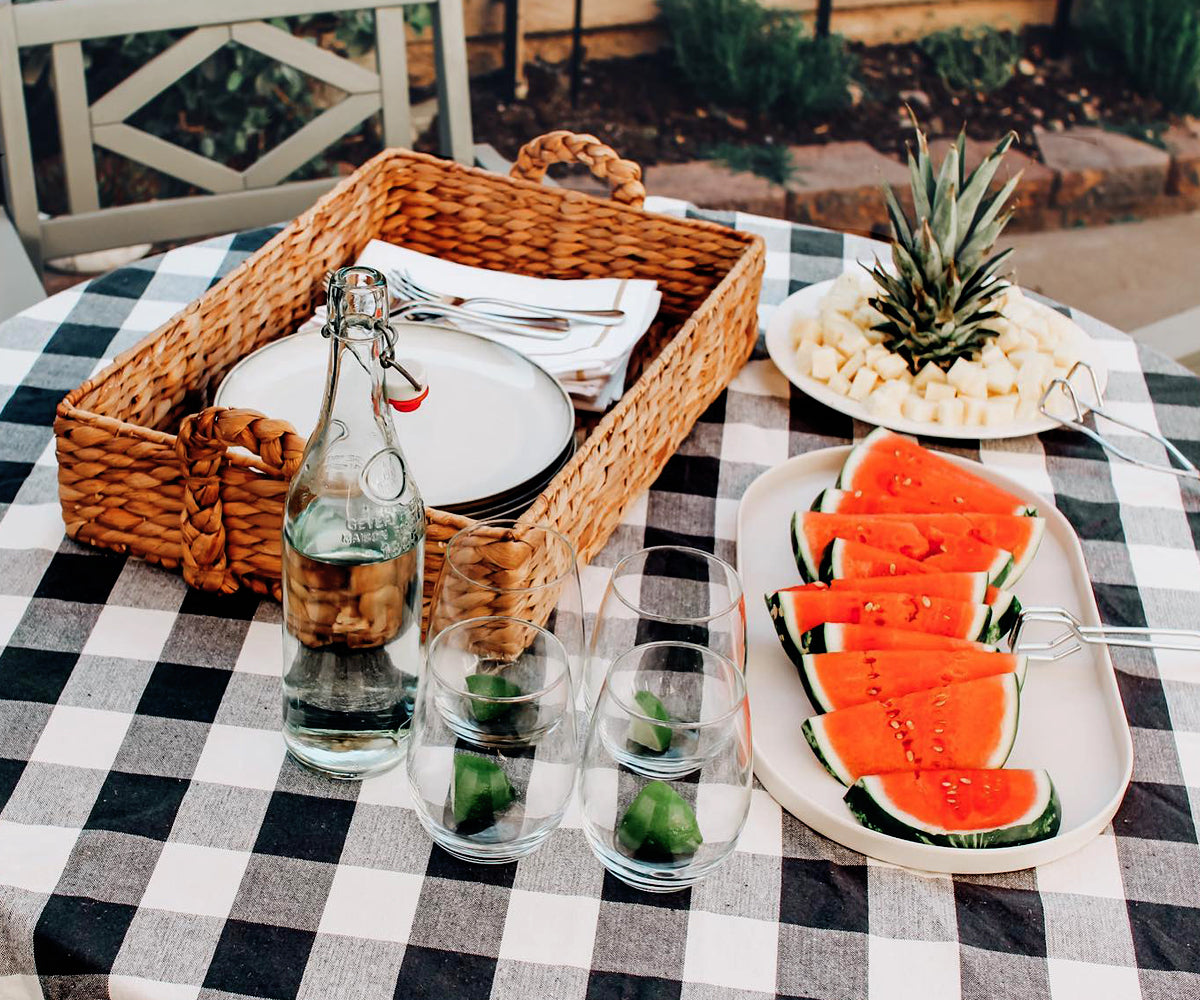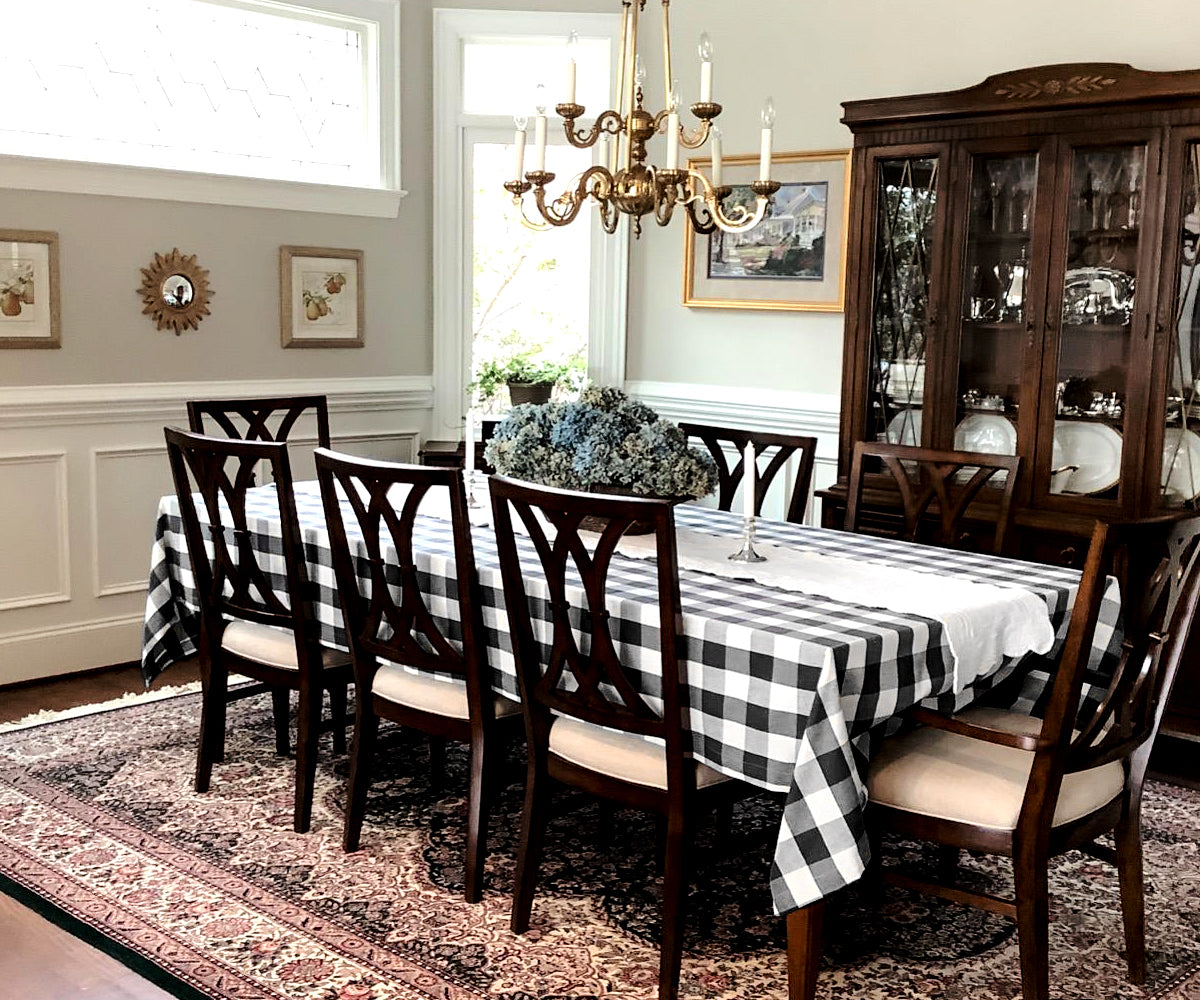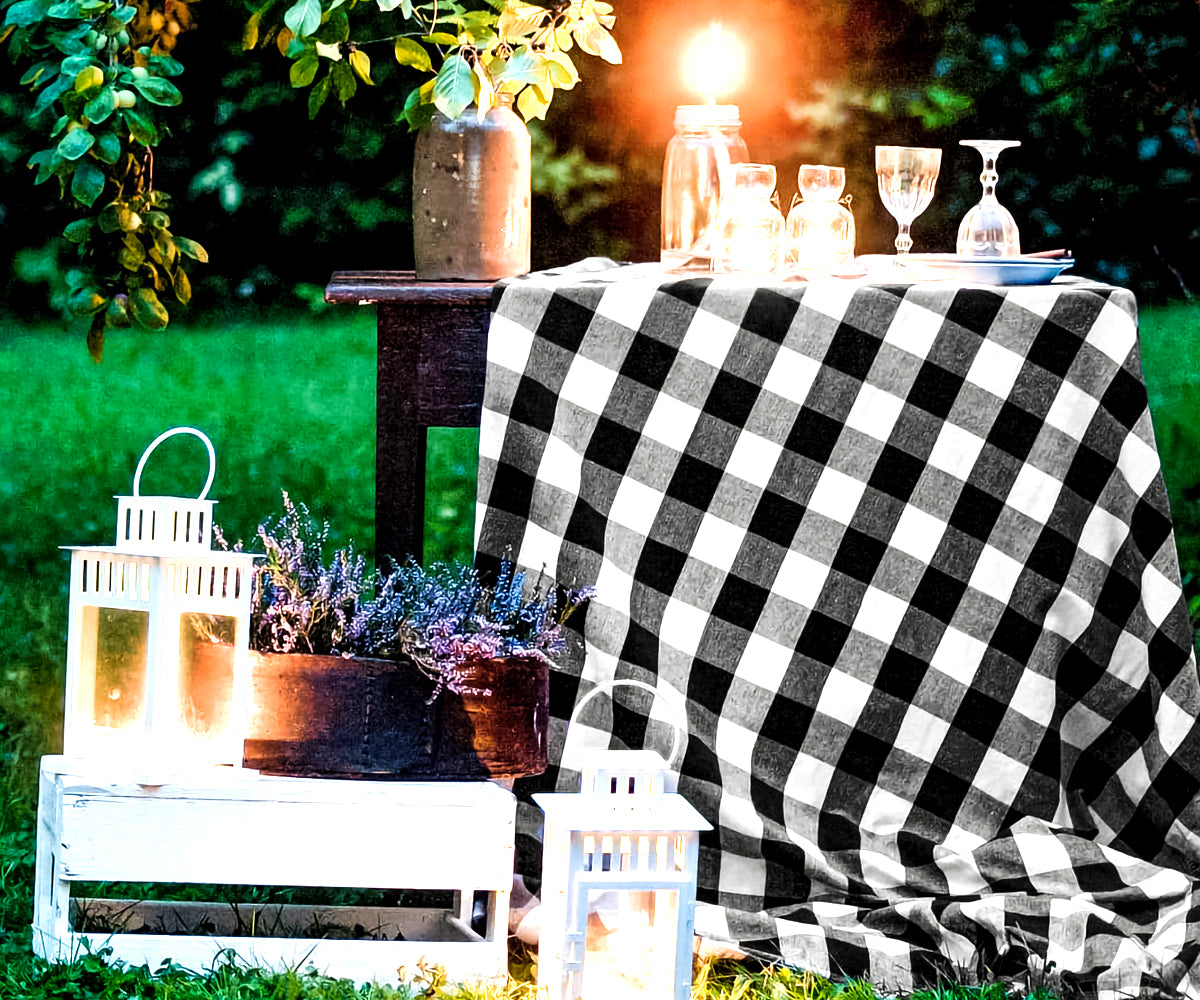 Black Tablecloth
Product Details
Plaid Tablecloth

:
Made from 100% cotton, our

black cloth tablecloth

boasts durability and softness. With reinforced stitching and hemming, our

black tablecloth

will maintain its high-quality wash after wash

.


Available in 

sizes

 

63x88", 63x109", and 63x126" with 2" checkboxes, to fit various table dimensions.


Our

black and white tablecloth

is designed with a classic plaid pattern and comes in various colors.

Our cloth 

tablecloths are a versatile design suitable for both casual and formal occasions.




Coordinates well with a variety of table settings and decor styles.

Our rectangle tablecloth adds a touch of timeless charm to your dining experience and is perfect for everyday meals, festive gatherings, and outdoor picnics.
Dimensions & Care
Dimensions:
Available Sizes & Colors:
Care and Maintenance

Machine wash in normal-temperature water

Tumble dry on a gentle cycle

Iron at less than 40-degree Celsius

To avoid creases do not leave the tablecloth in the dryer for long
Shipping & Returns
Shipping

Standard USPS free shipping.
Order processing time: 1 to 2 days. Orders will be delivered within 6-8 days.
Return & Refund

Merchandise must not be worn, washed, or altered.
Returns are accepted within 60 days of delivery.
For any questions contact customerservice@allcottonandlinen.com
Refunds will be processed within 1-2 business days.
Needs For Black Tablecloth
A black cotton tablecloth is a versatile and bold choice, fulfilling various needs in both casual and formal settings.
Its deep hue exudes sophistication, instantly transforming any space.
For formal events, it serves as an elegant backdrop, enhancing the overall aesthetic and allowing tableware and decorations to pop.
In more casual settings, a black plaid tablecloth adds a touch of modernity and creates a sleek, contemporary atmosphere.
The color's ability to conceal stains makes it practical for busy households or high-traffic dining areas.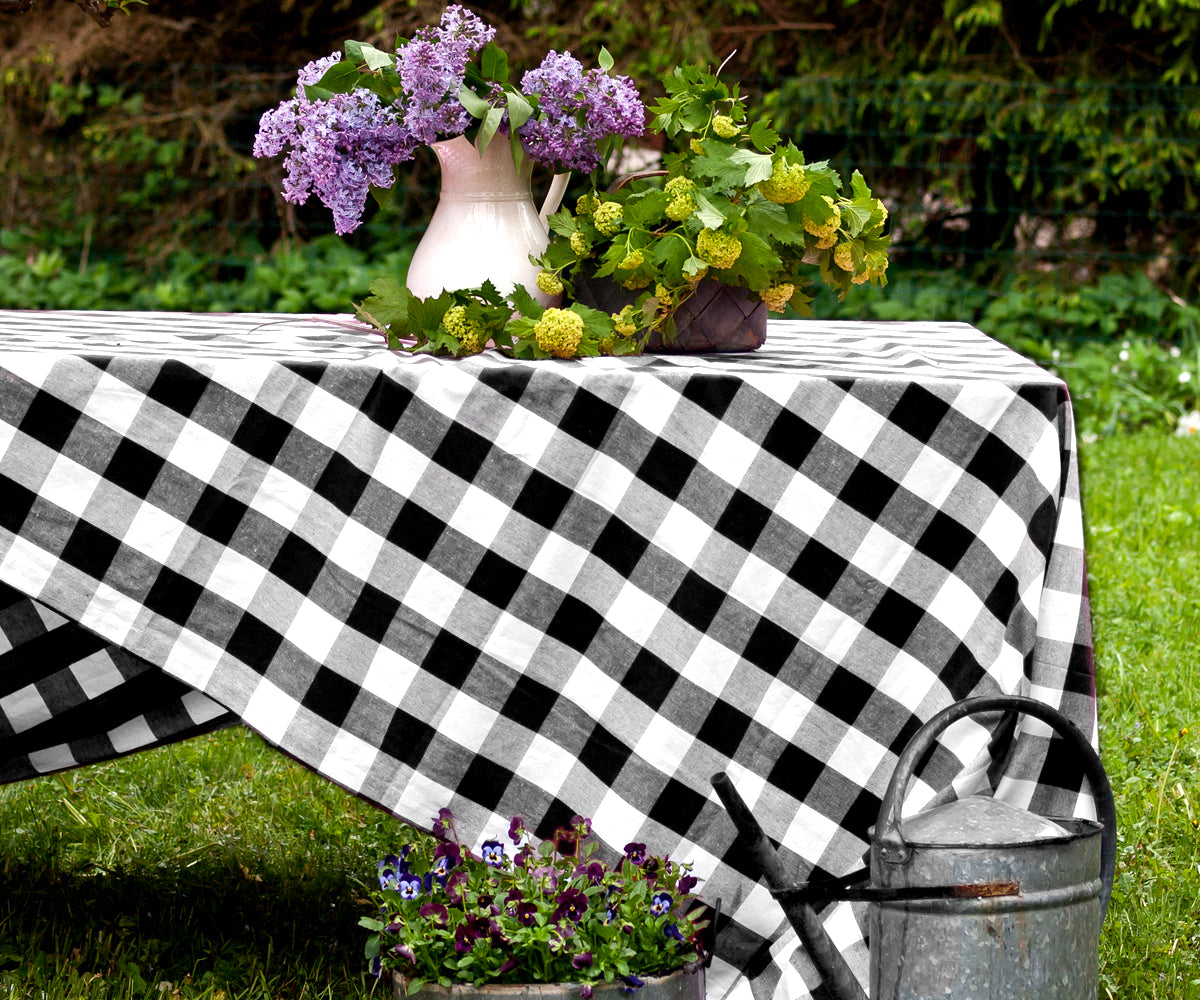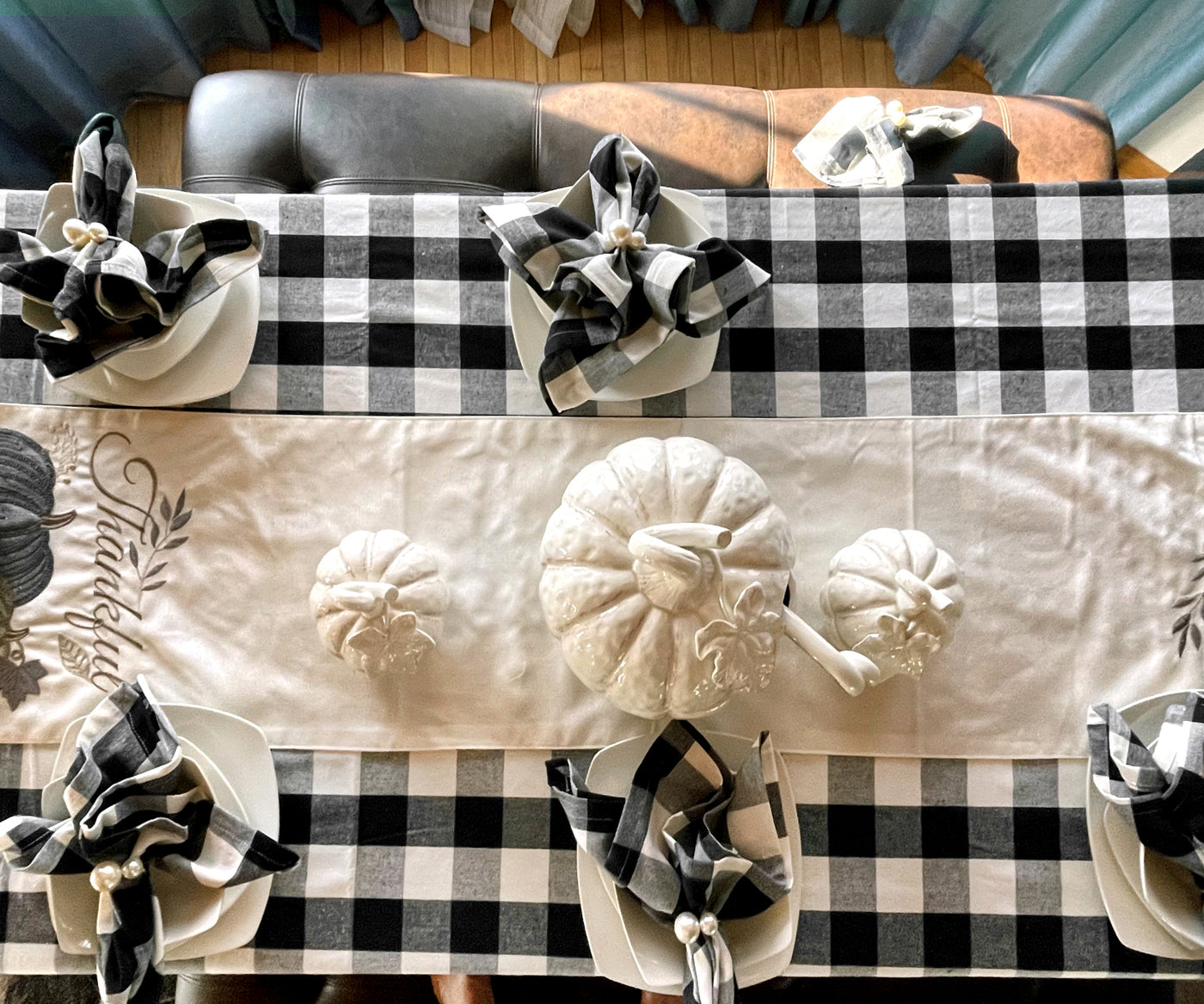 Black Tablecloth
Sleek and versatile, a black checkered tablecloth adds instant sophistication to any setting, perfect for both formal events and modern everyday dining.
Uses of Black Tablecloth
A buffalo plaid tablecloth is a versatile canvas, lending elegance to formal dinners and a modern touch to casual meals. Its sleek design complements various decor styles, making it an ideal choice for both special occasions and everyday dining, adding sophistication to any setting.
Frequently Asked Questions
For a 10-foot table, the recommended tablecloth size is typically around 120 inches long. We offer tablecloths in sizes 63x88", 63x109", 63x126" to accomodate different requirements.
Yes, black can be an excellent tablecloth color, offering a sophisticated and modern look. It provides a sleek backdrop that complements various table settings and allows other elements to stand out.
A tablecloth typically hangs about 6 to 10 inches over the edge of the table. This overhang provides an elegant and practical drape while preventing the cloth from hanging too low and interfering with chairs or causing a tripping hazard.
Machine wash the tablecloth in cold water with similar colors, and tumble dry on low. Avoid using bleach, and iron on a low setting if needed. The reinforced stitching ensures durability wash after wash.
Absolutely! The versatile design of our cloth tablecloth makes it suitable for both indoor and outdoor occasions, adding charm to your dining experience.
Yes, our black and white tablecloth comes in various colors to suit different preferences and decor styles. Explore our collection to find the perfect shade that complements your aesthetic.