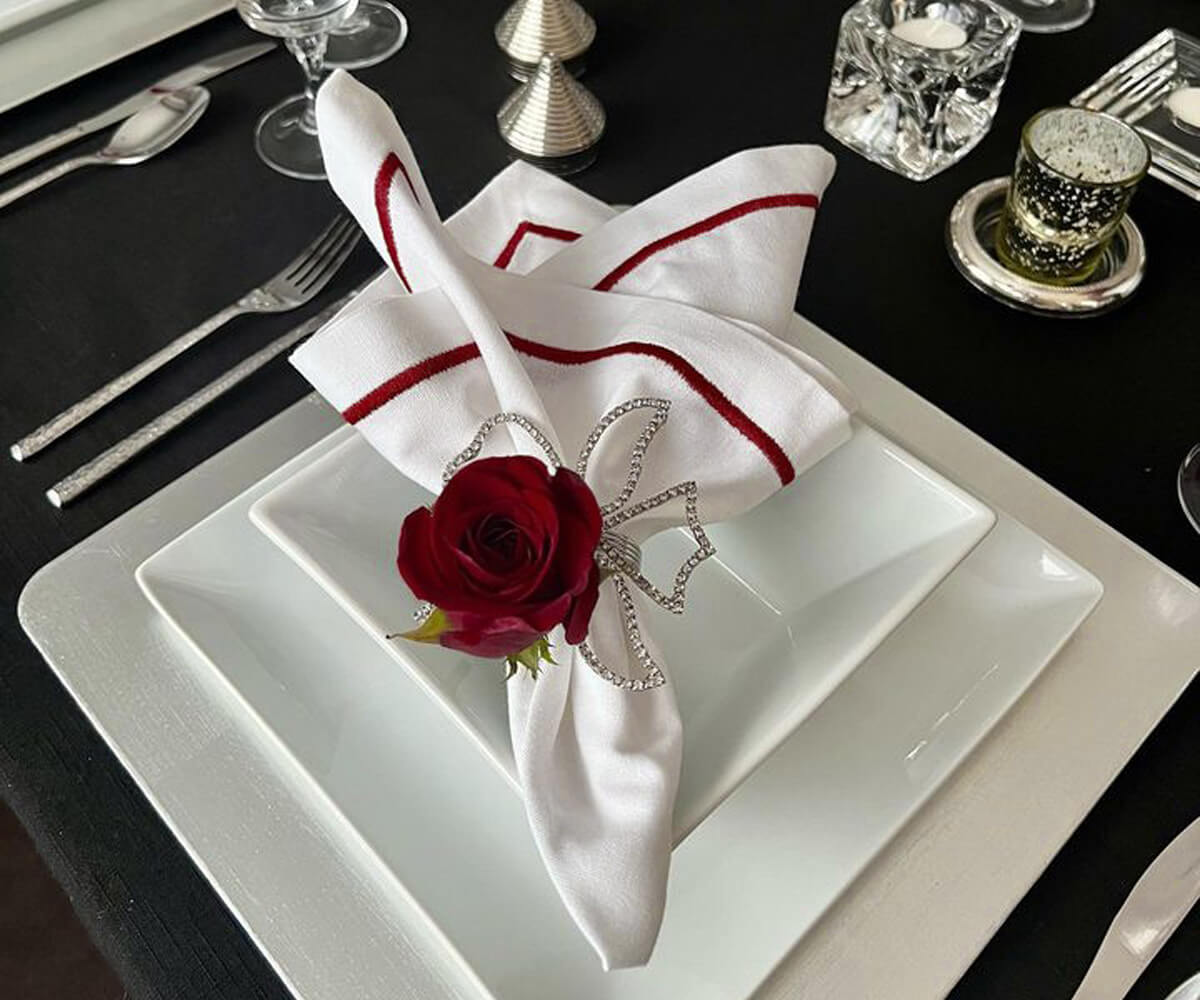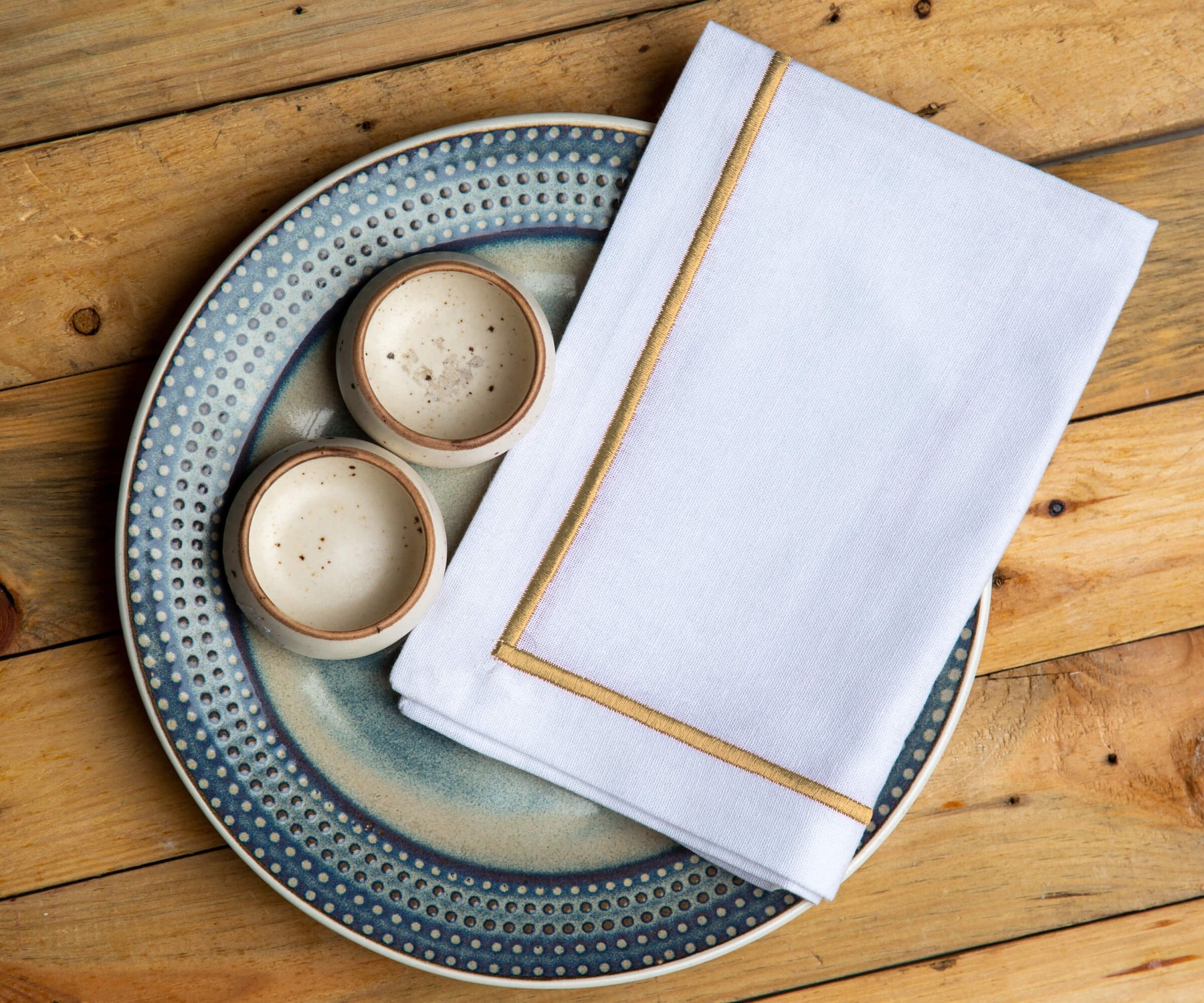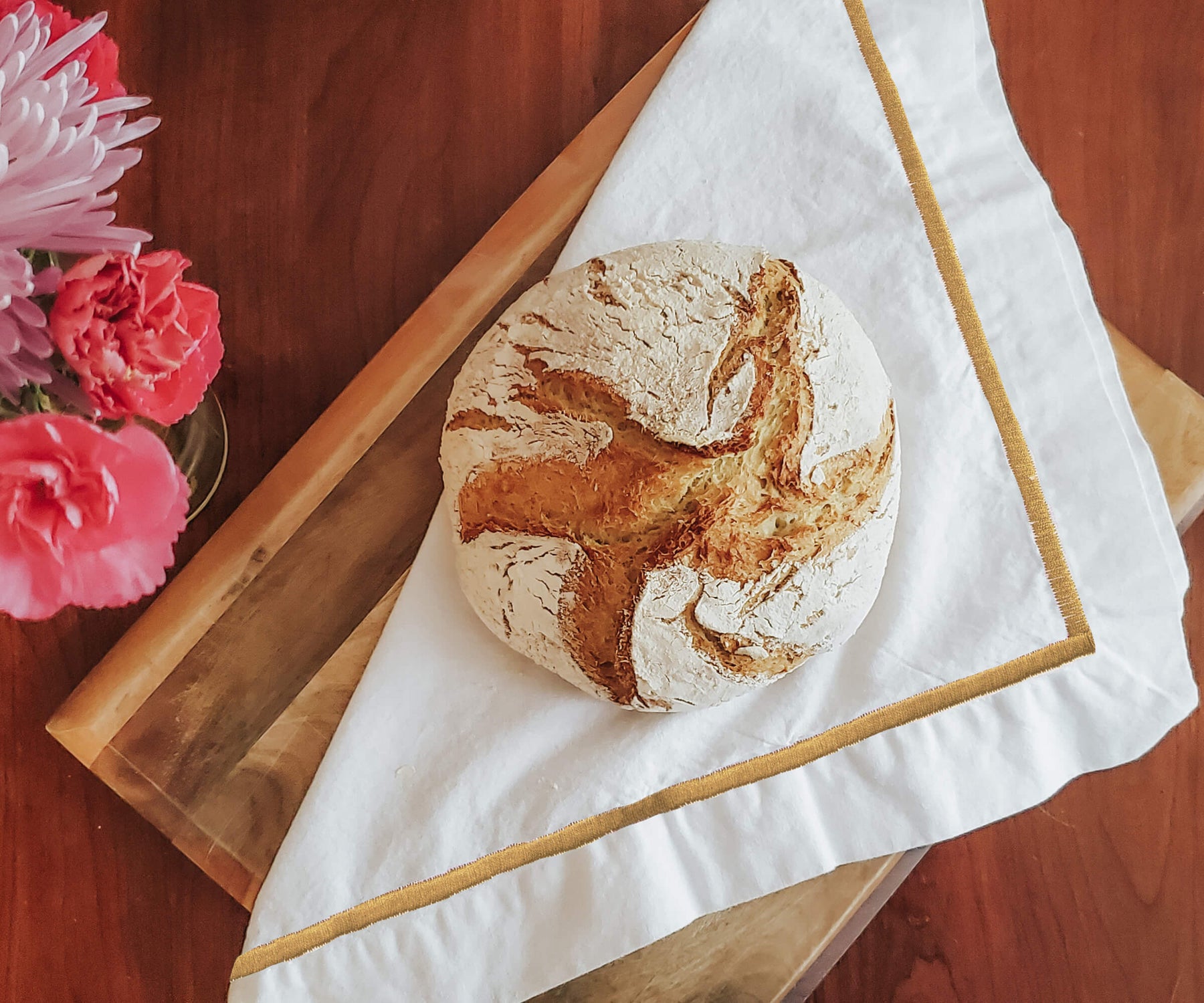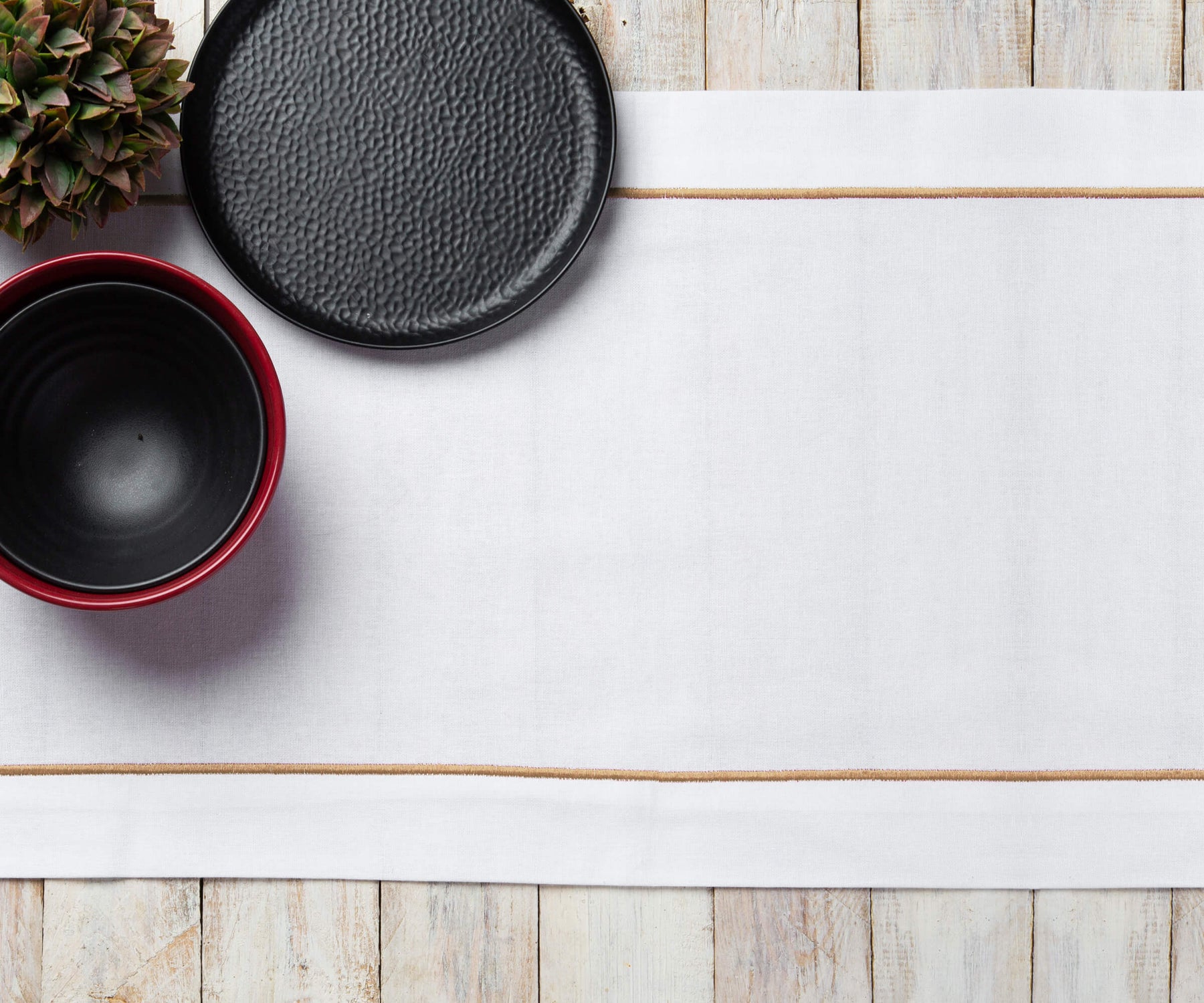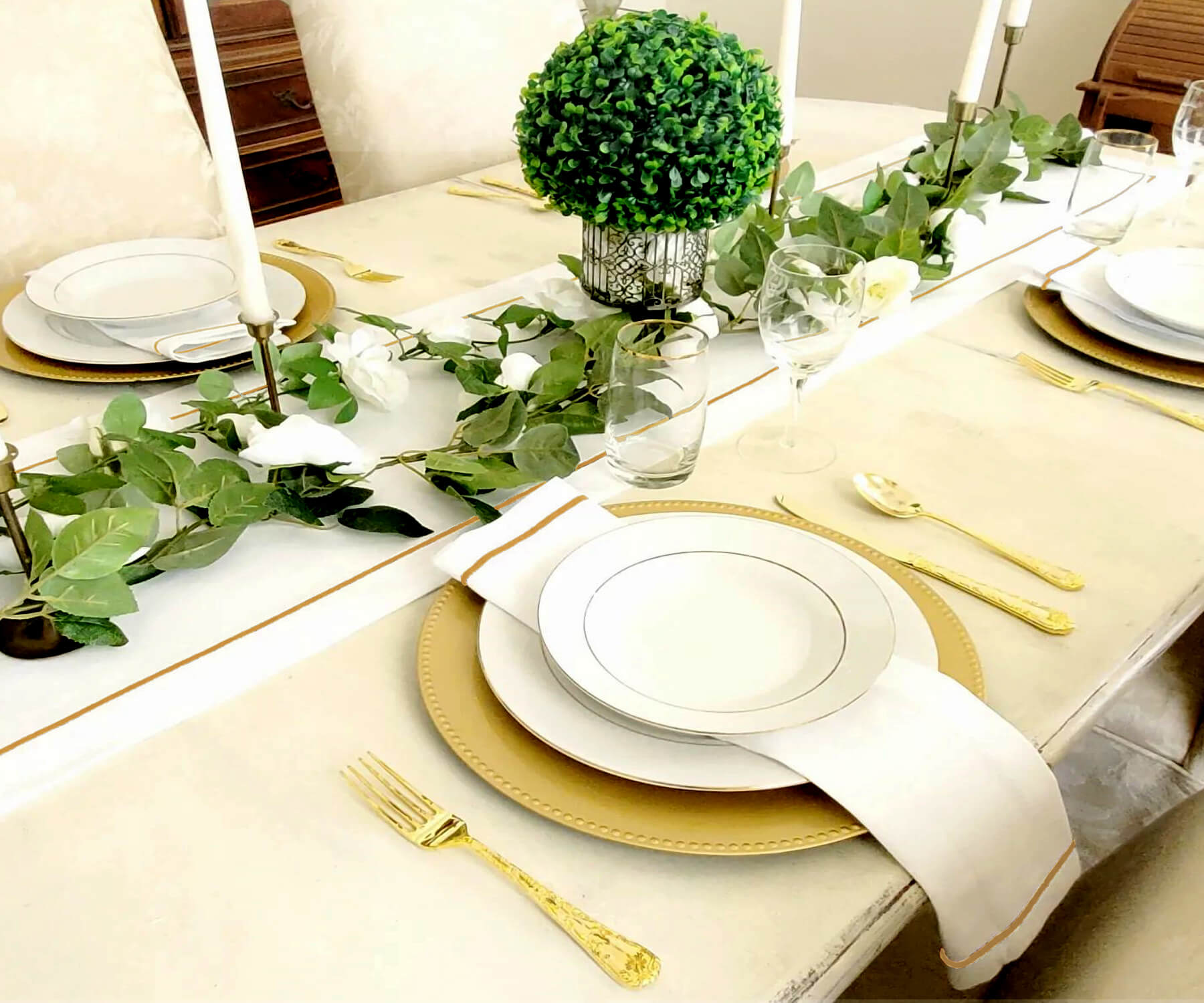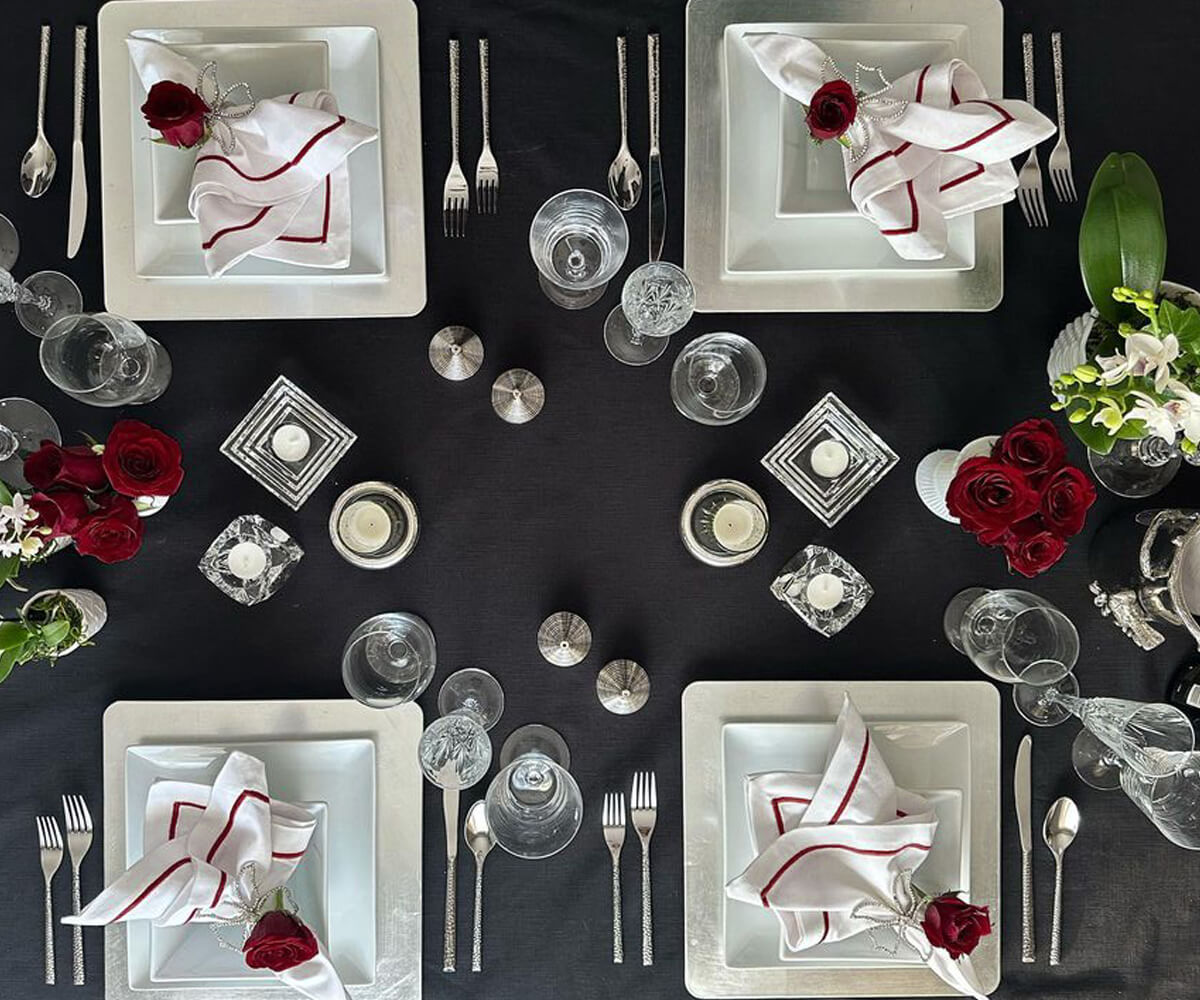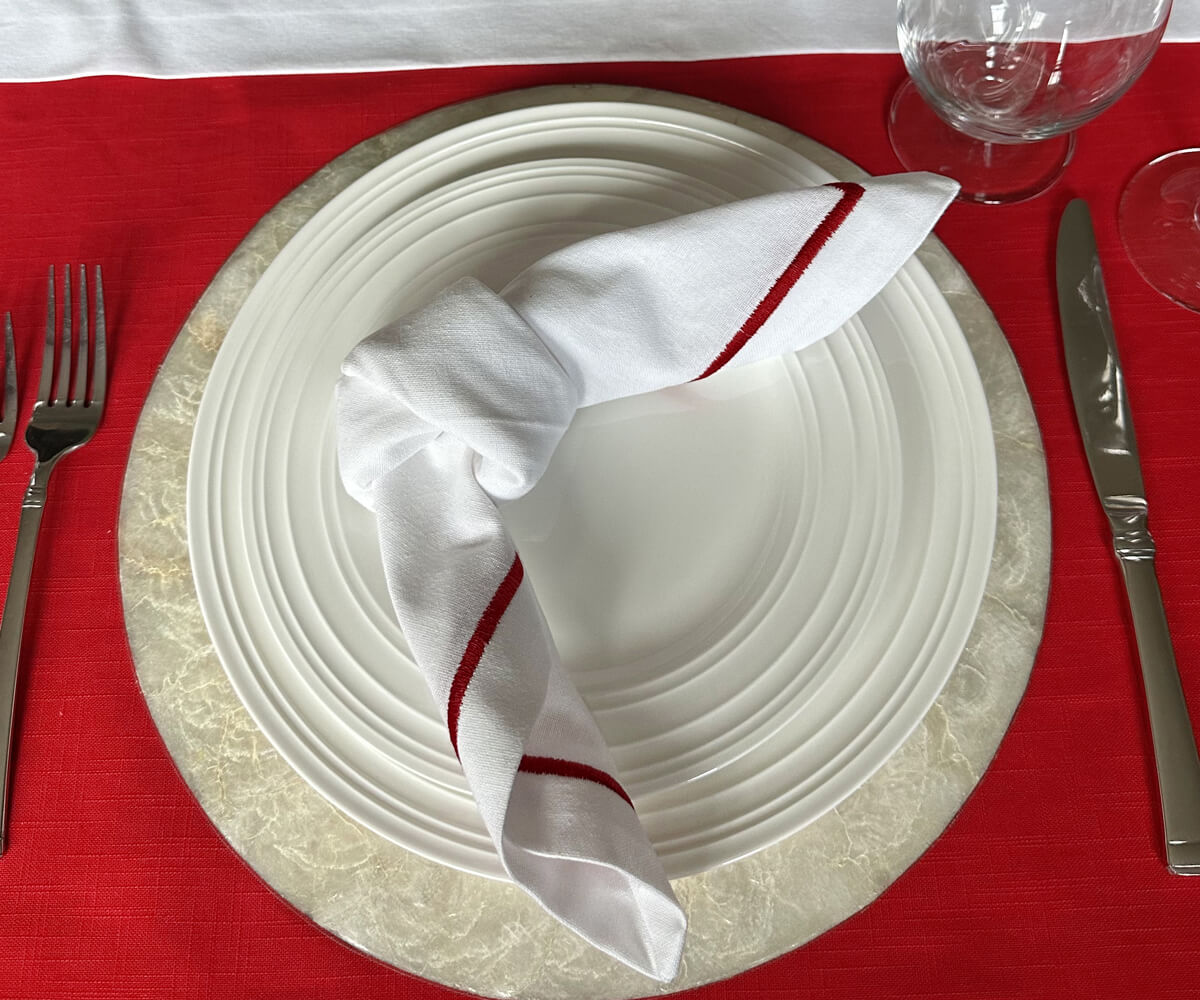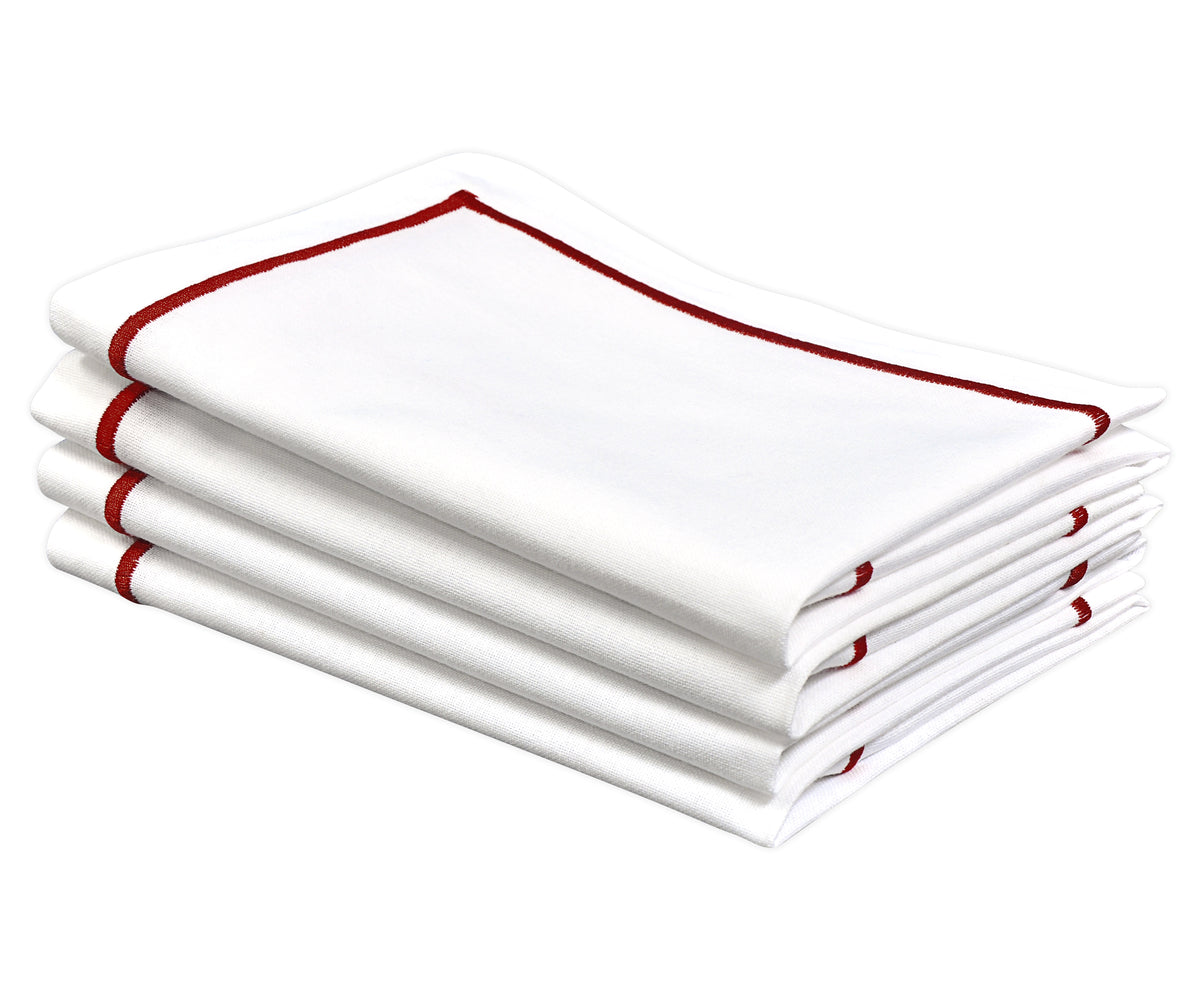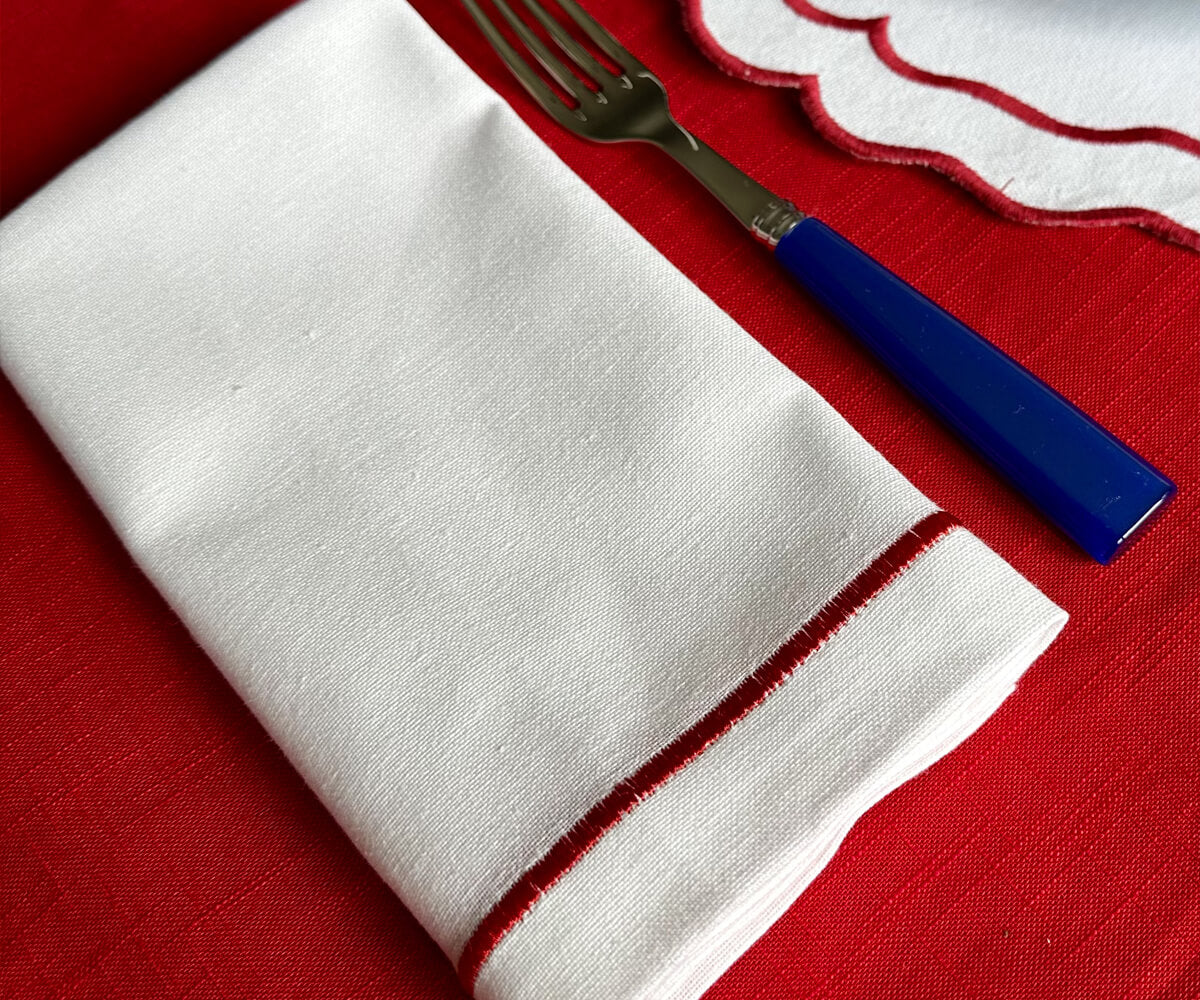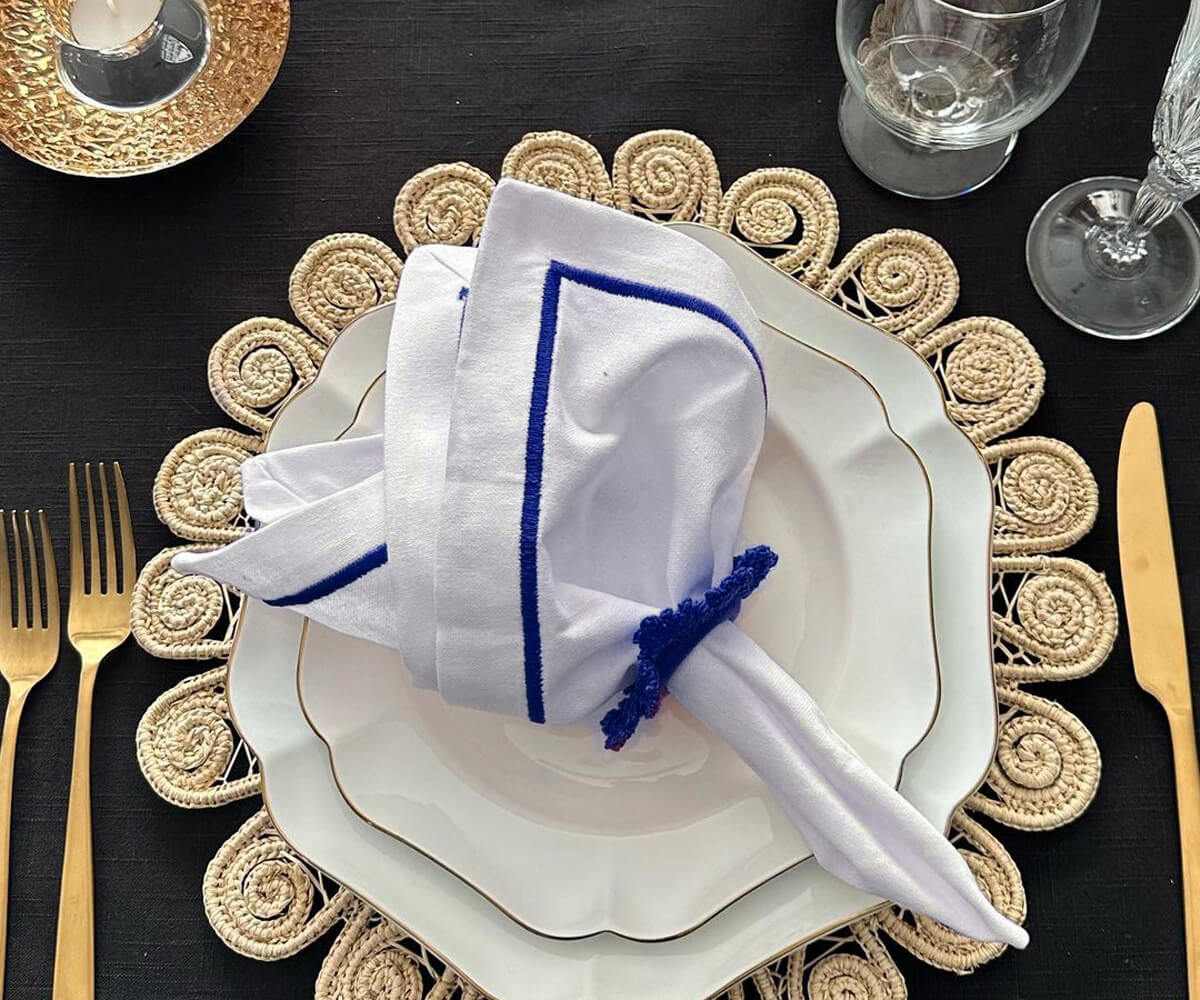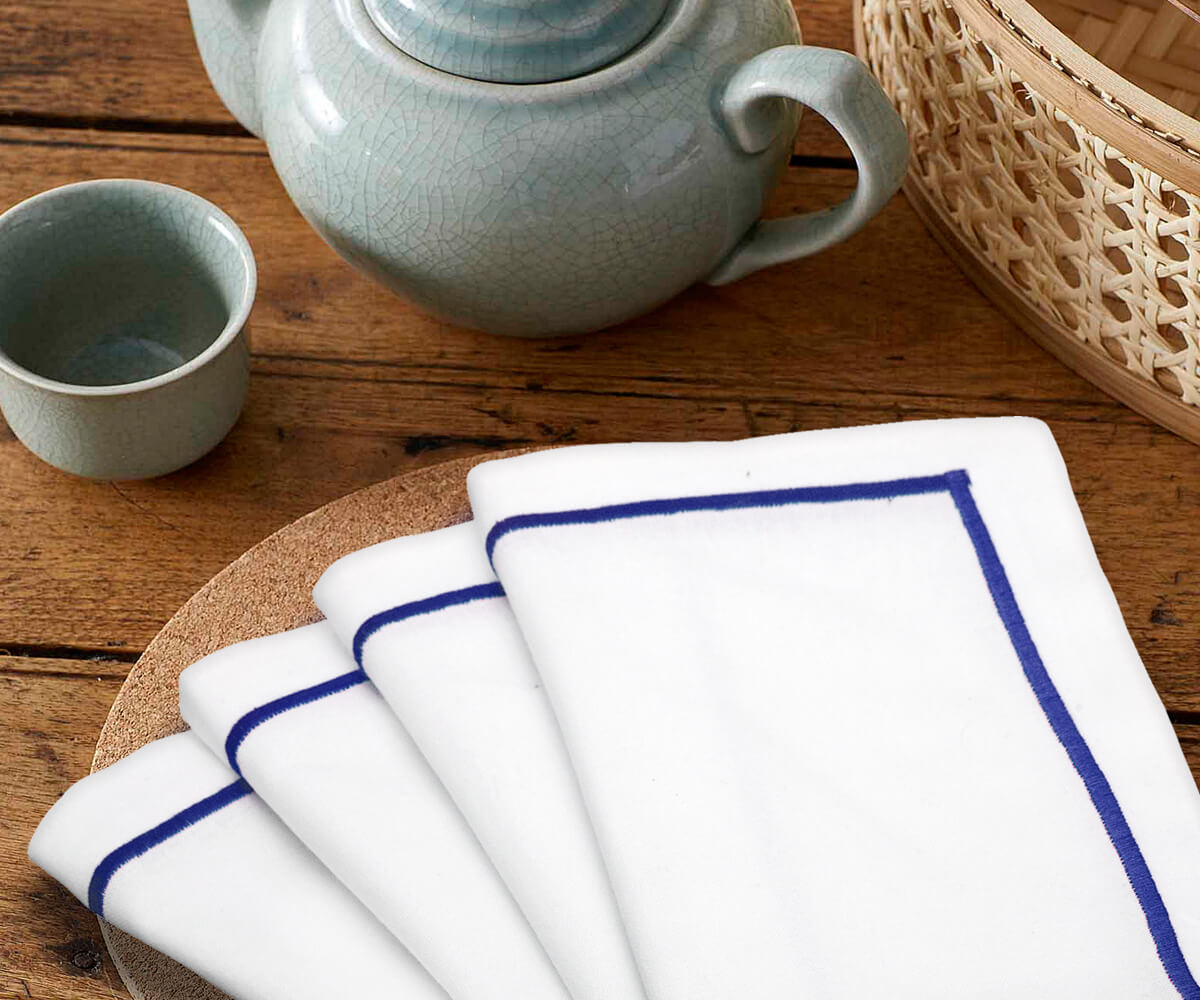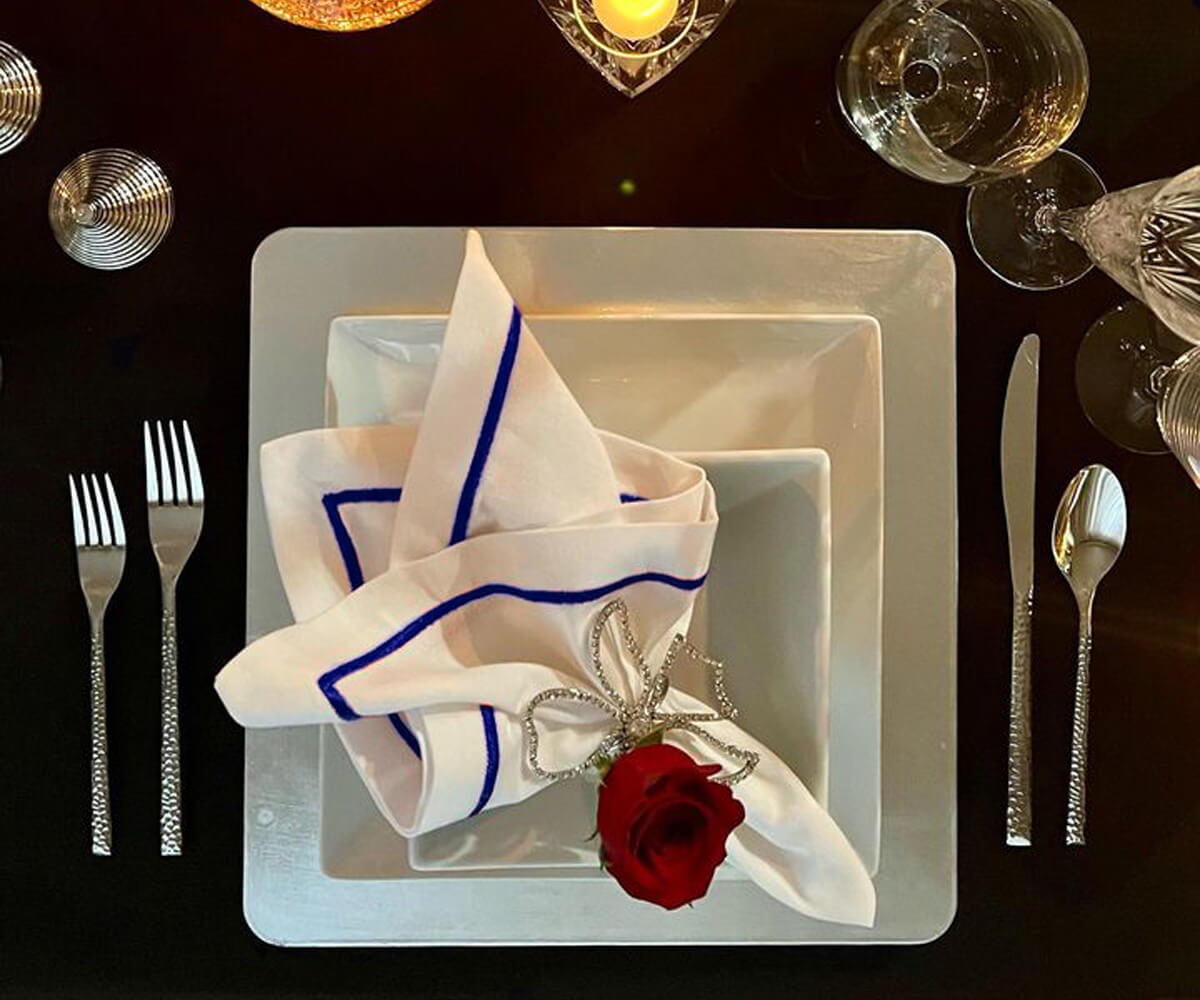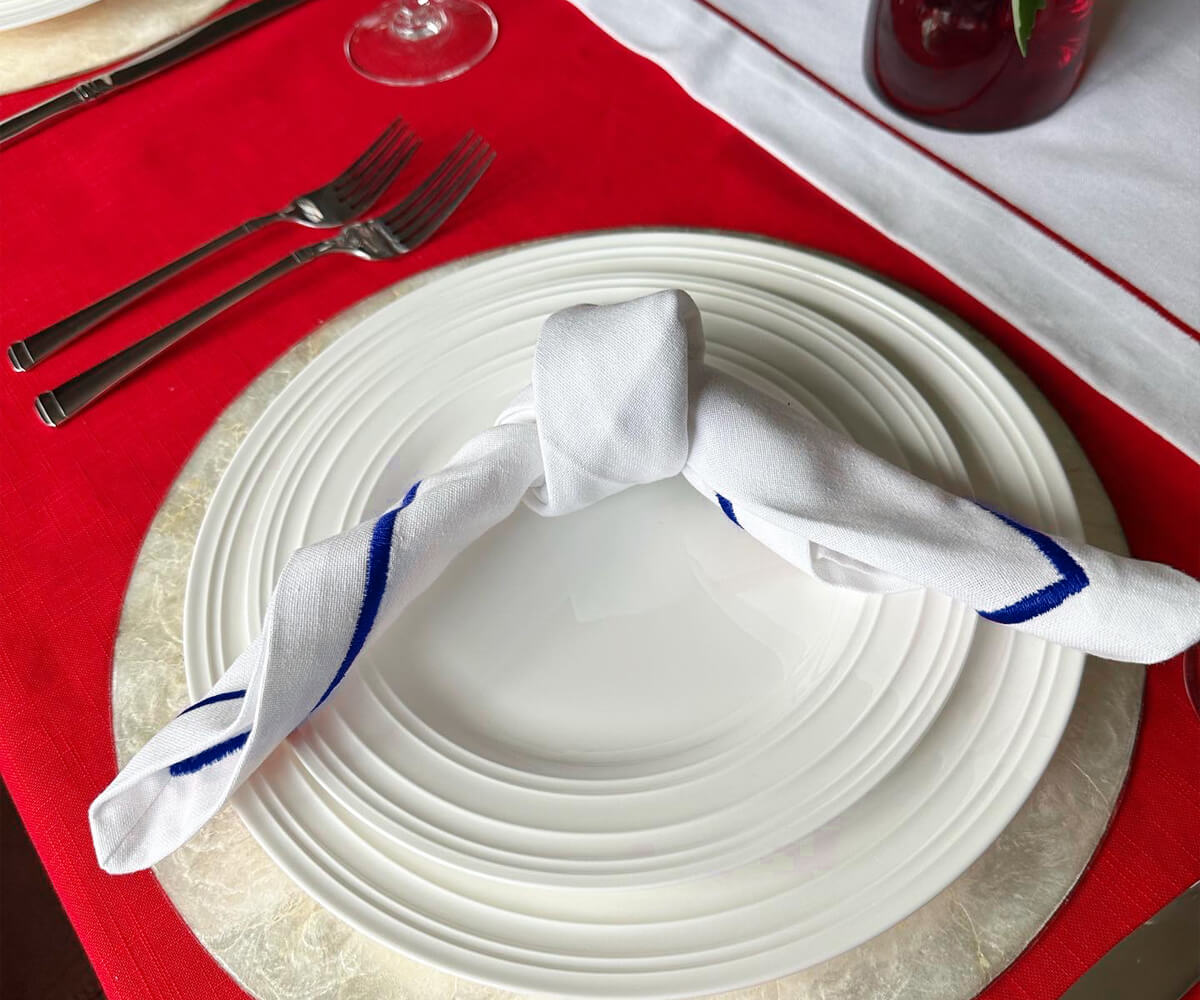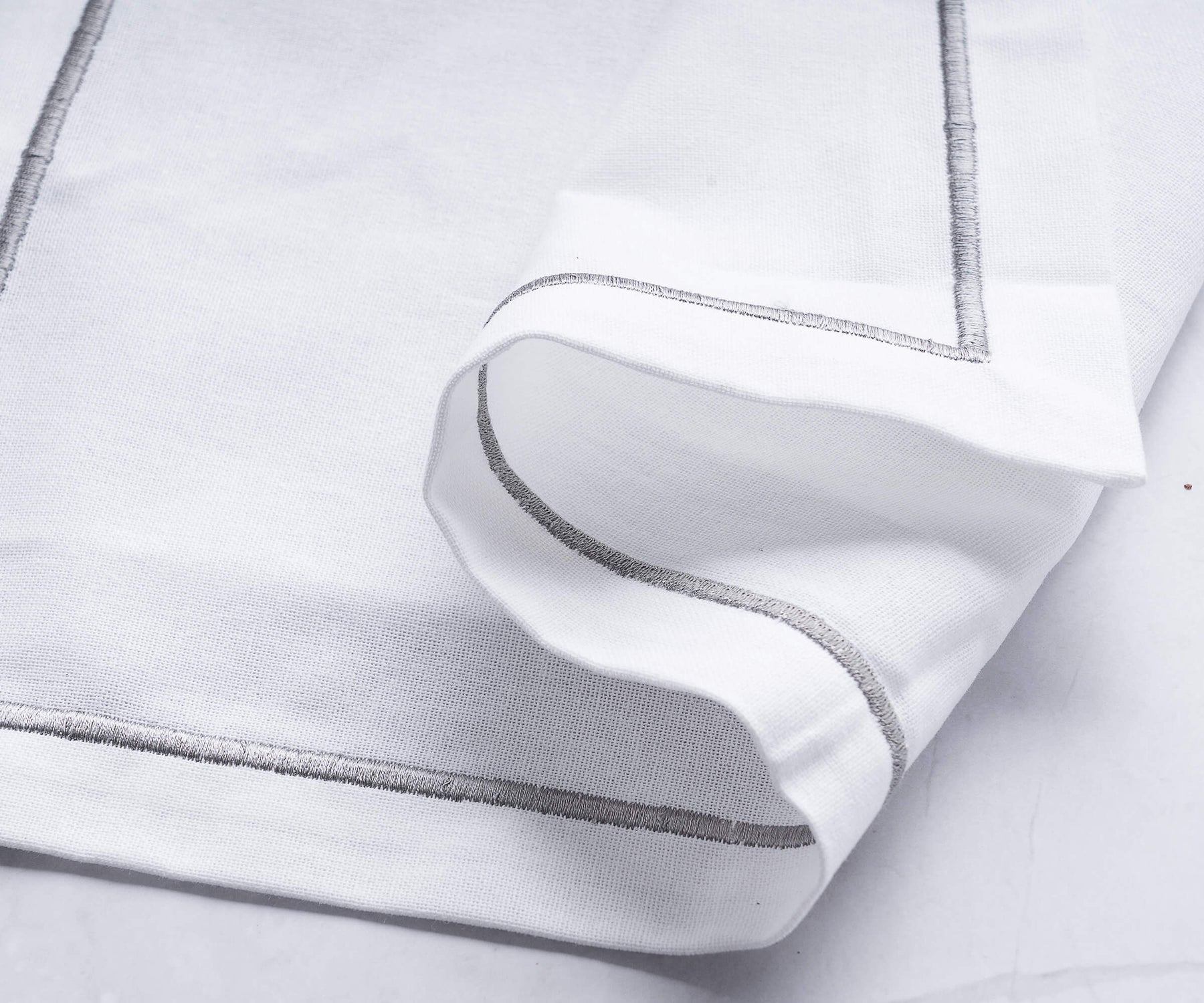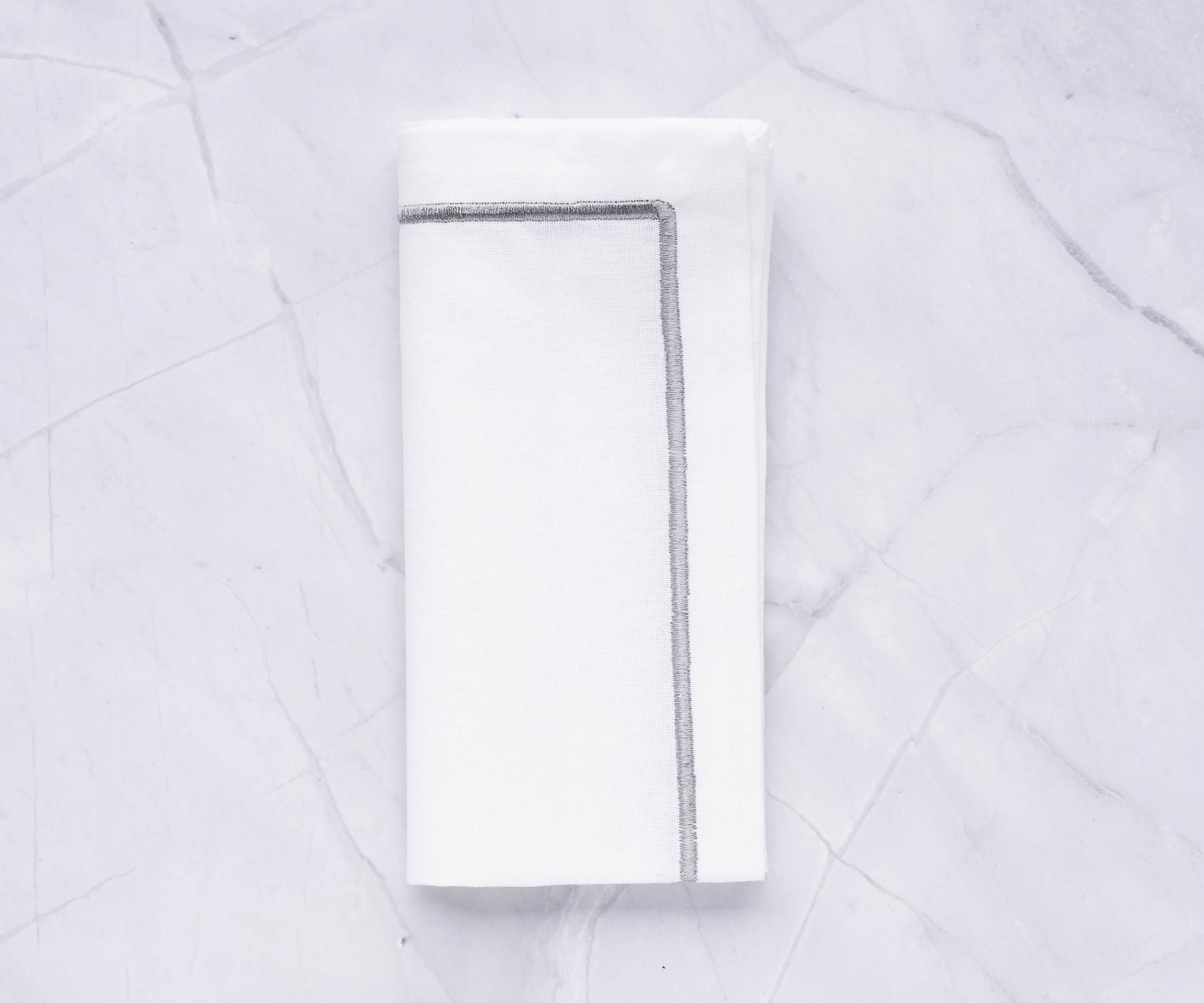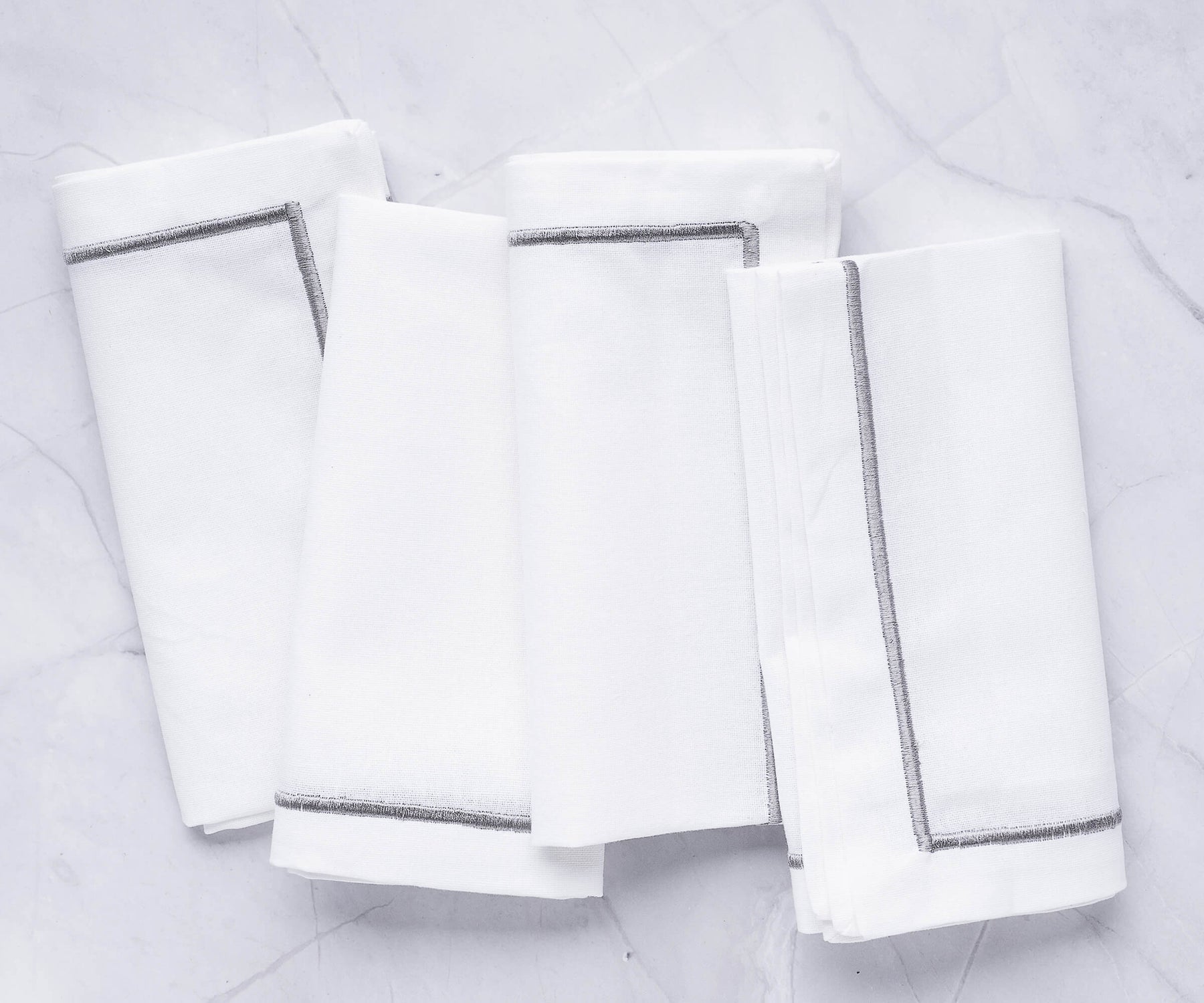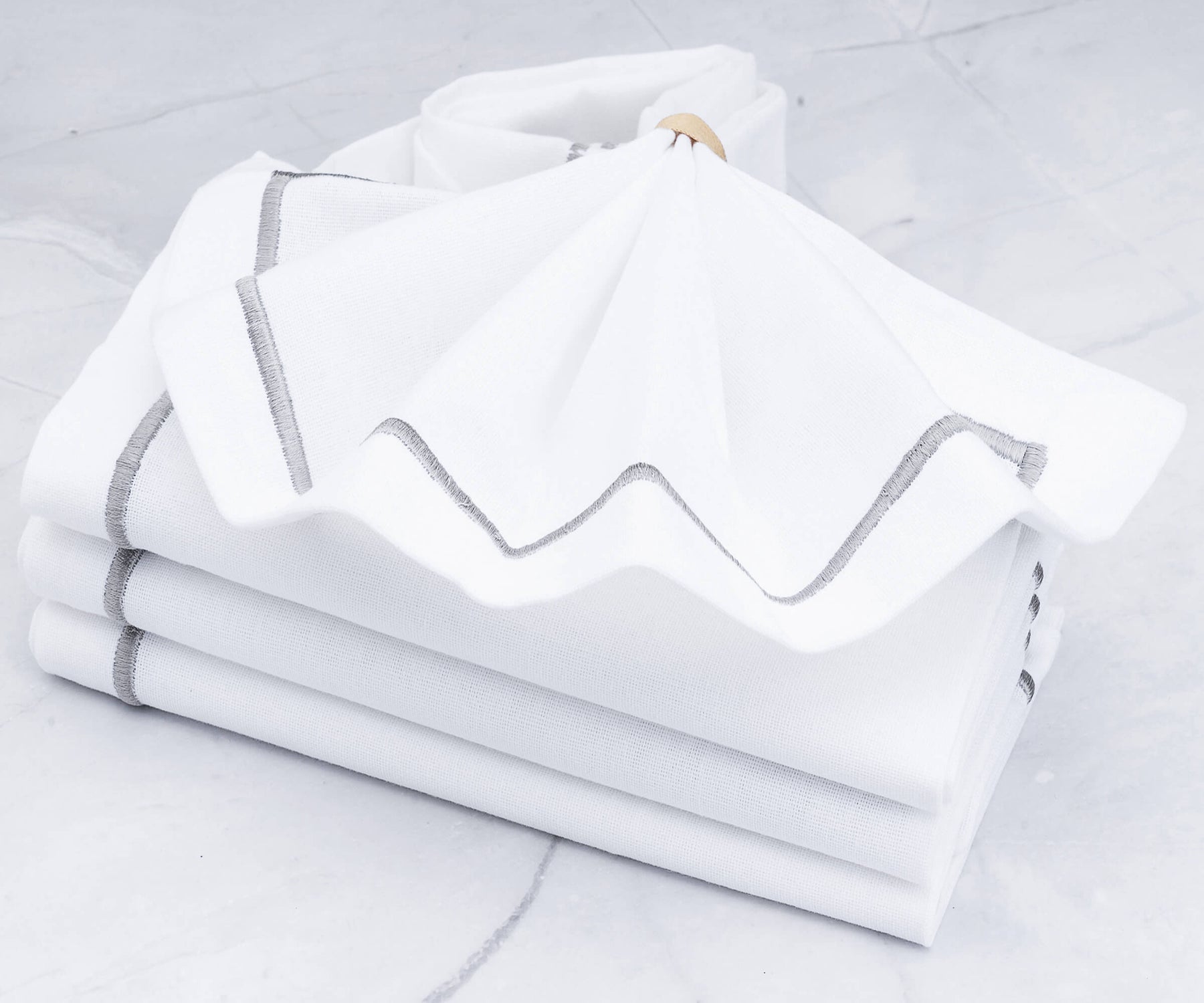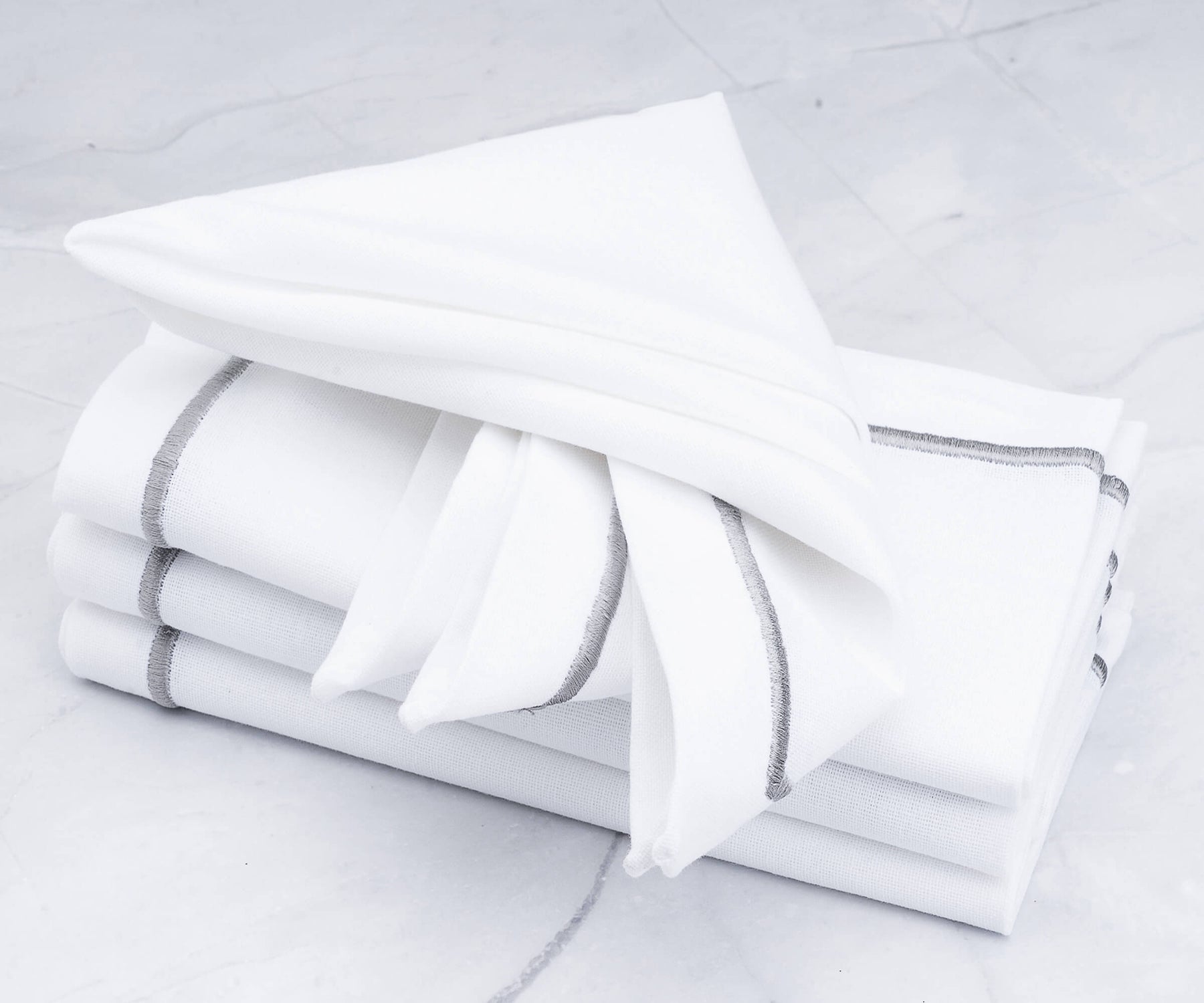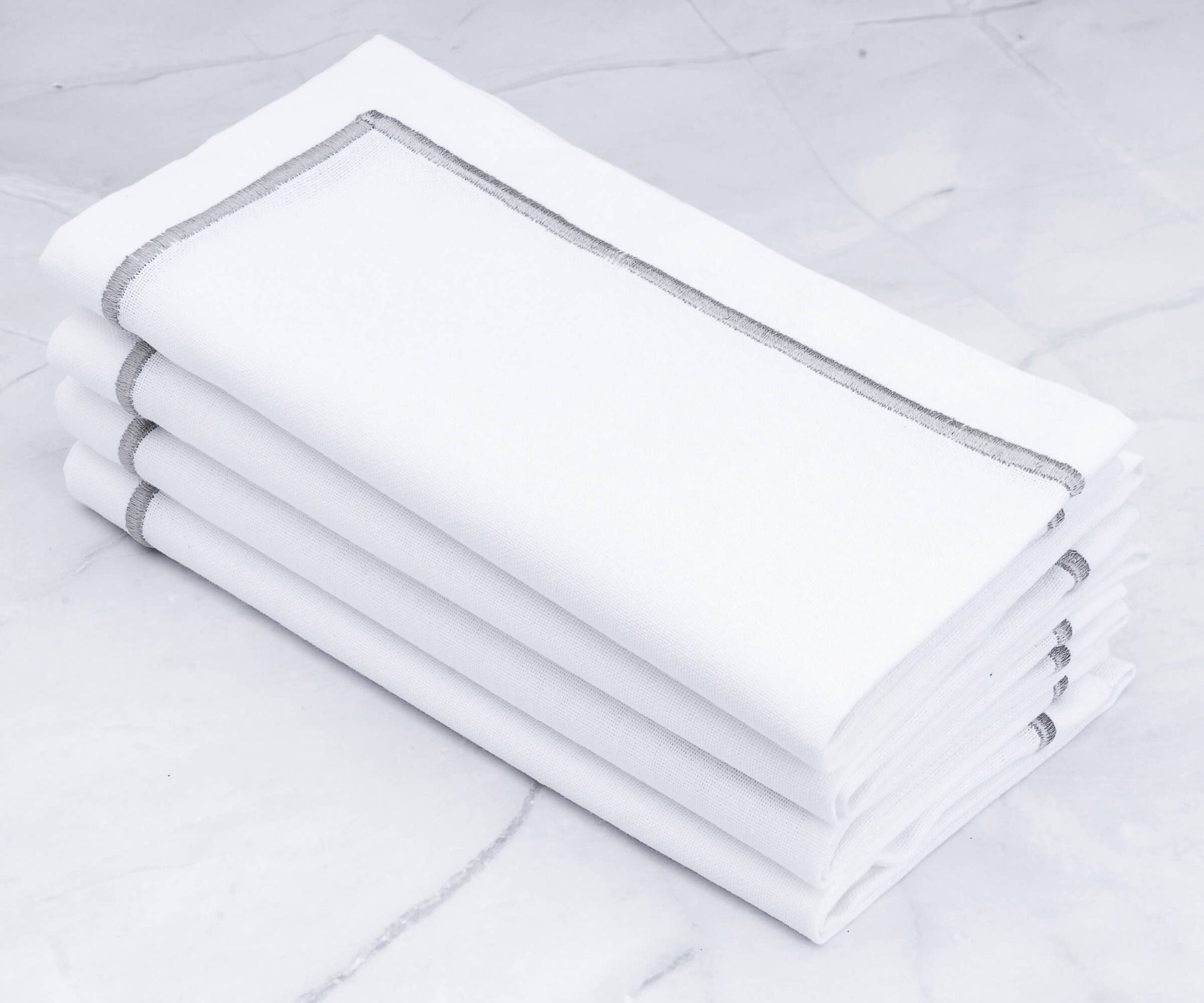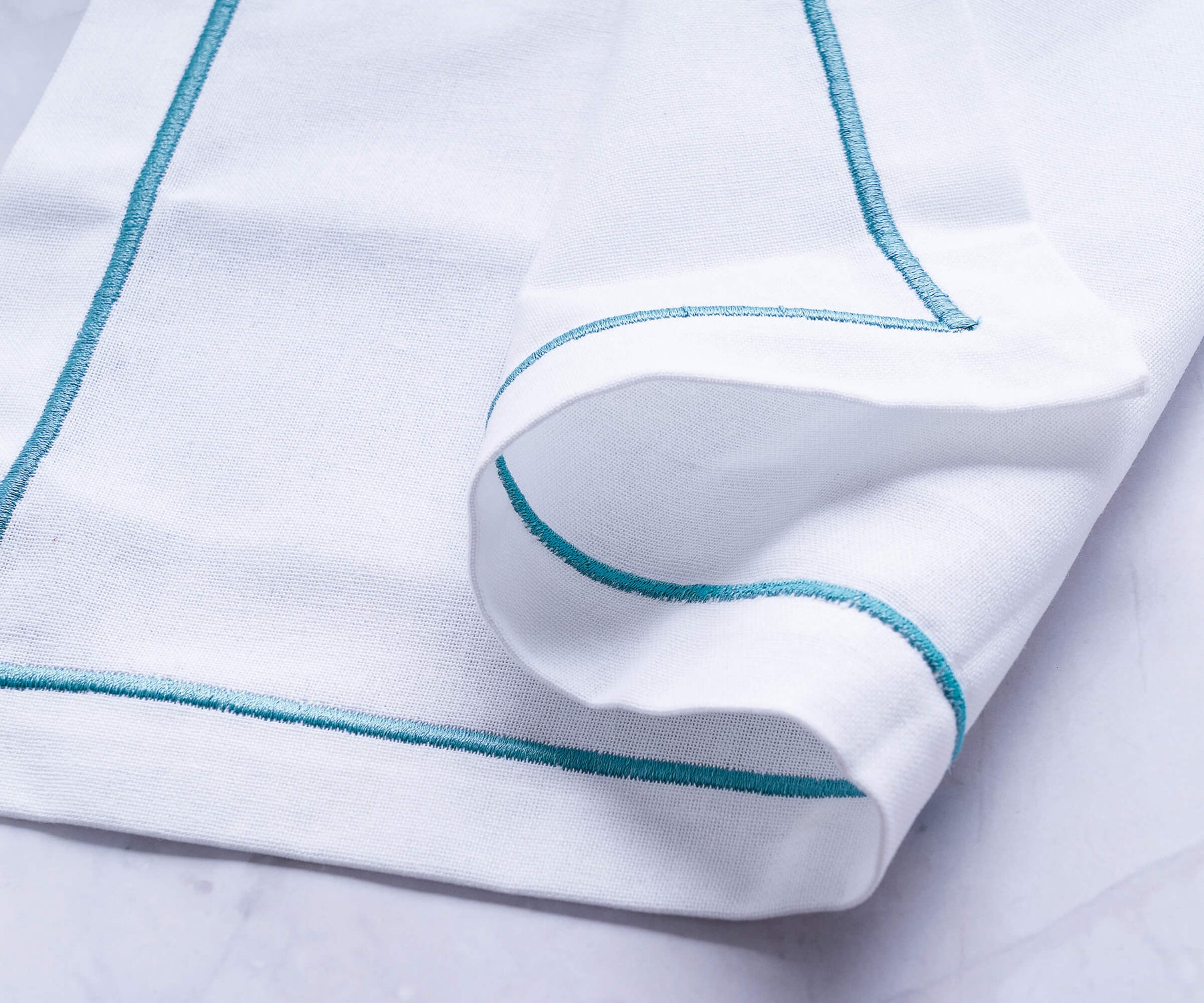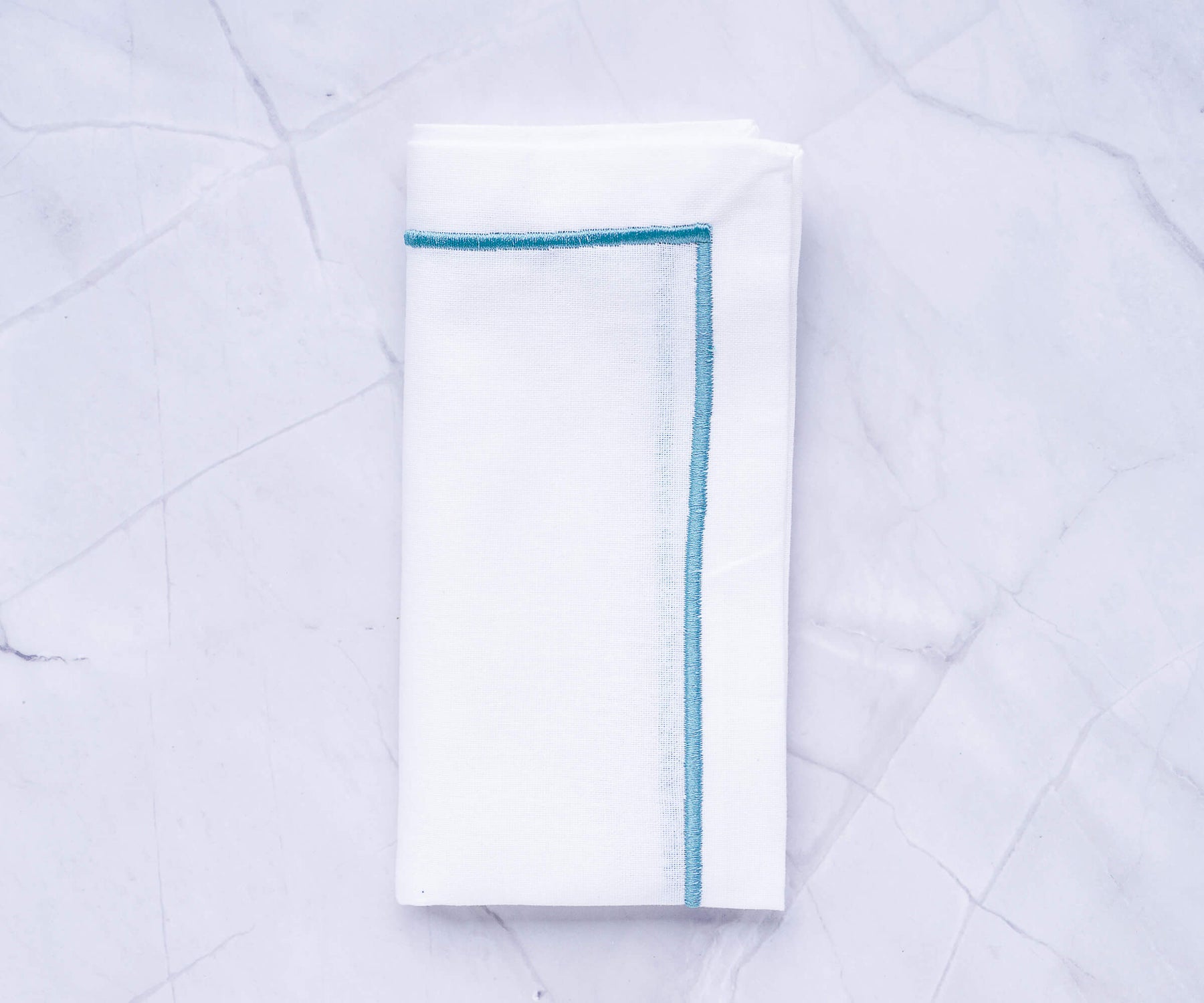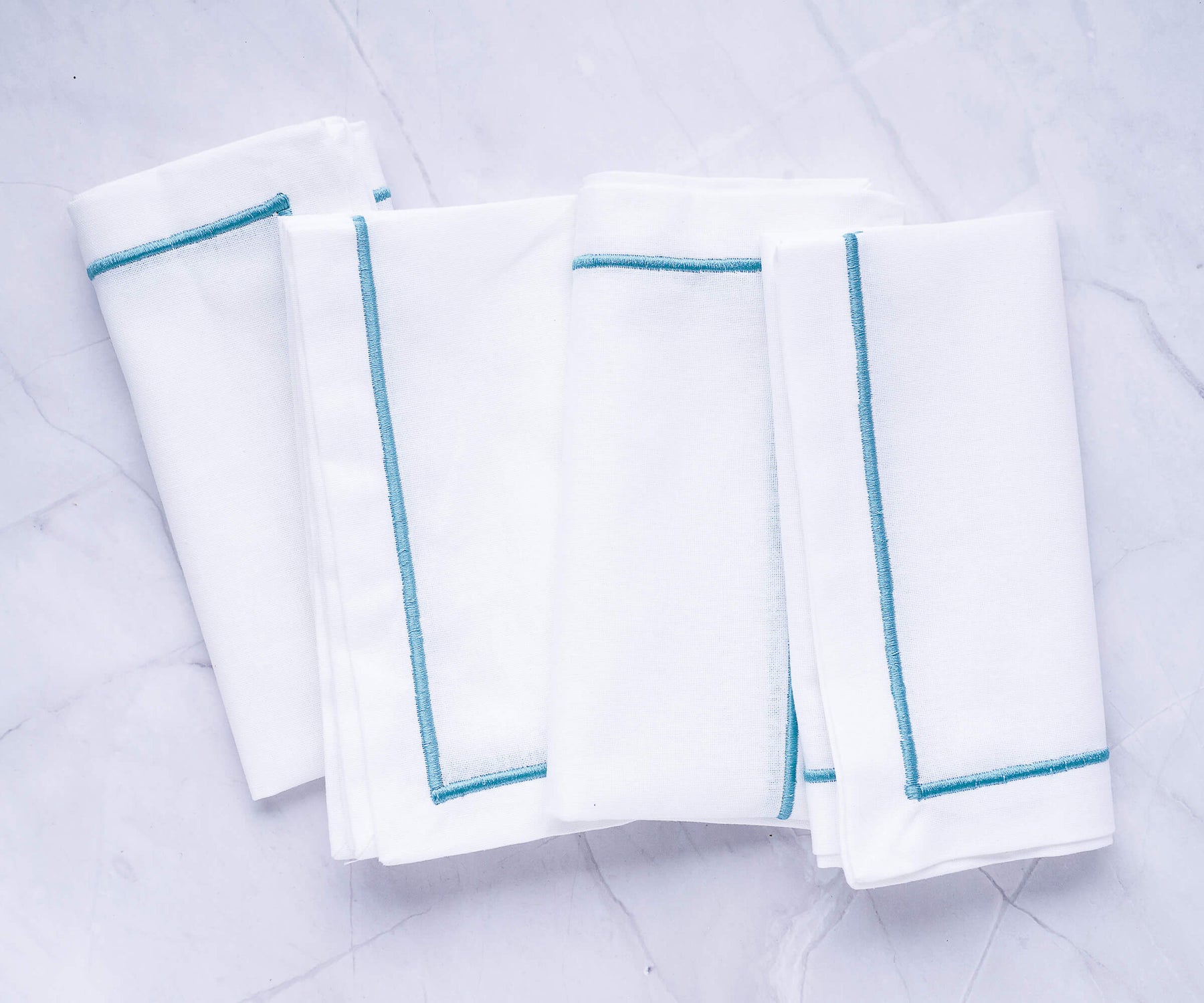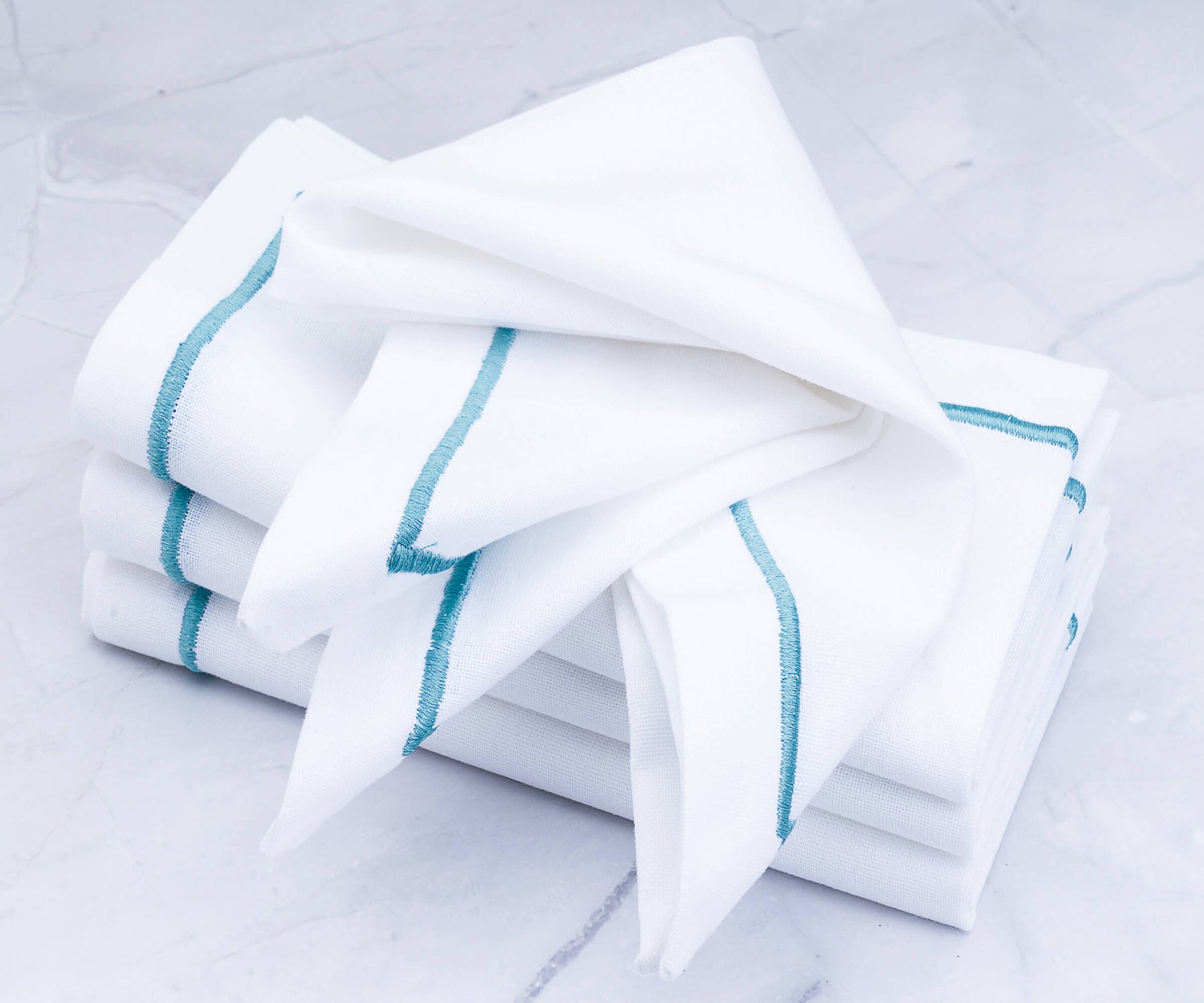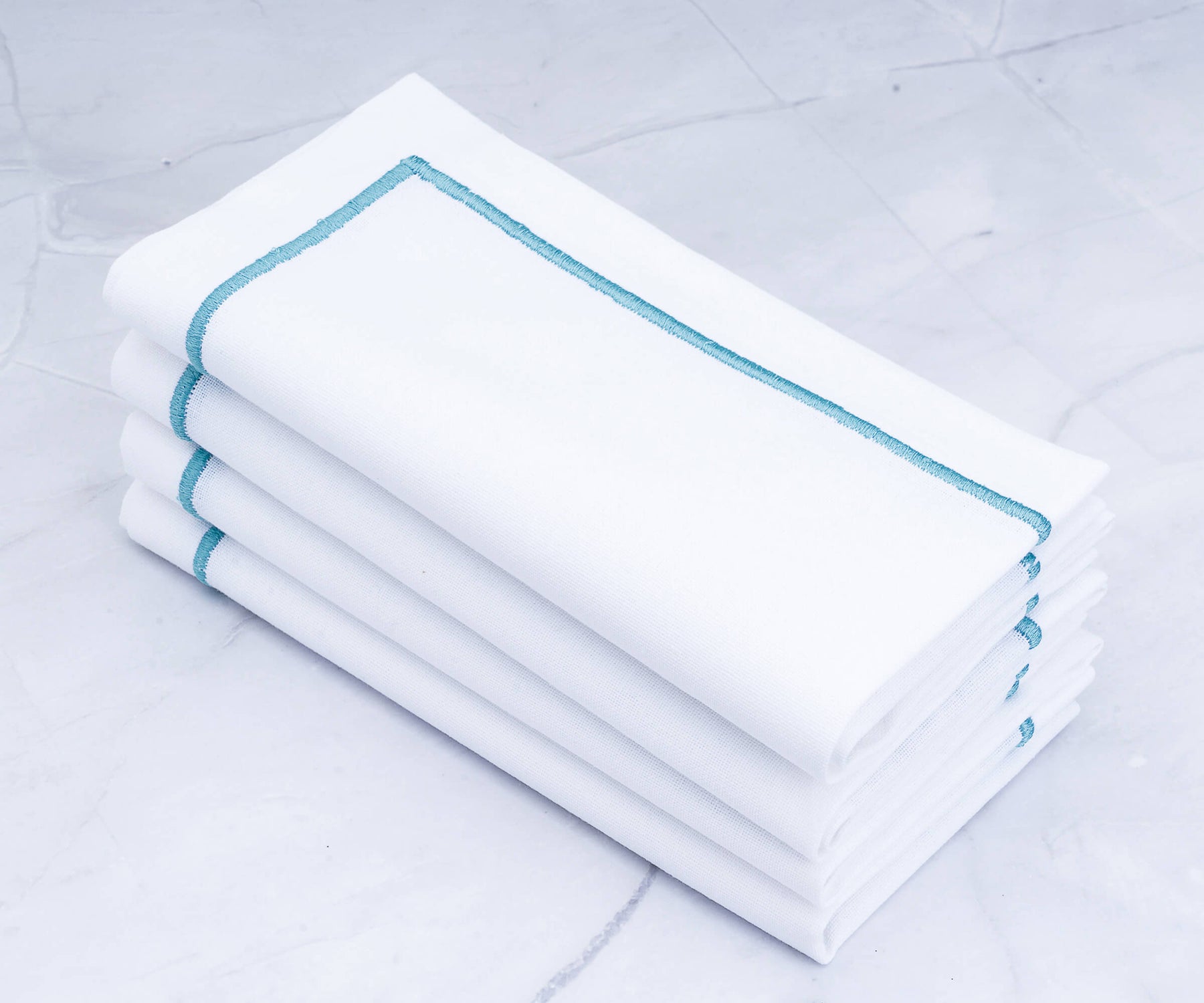 White Cloth Napkins - Dinner Napkins
Product Details
Cloth Dinner

 Napkins - White Wedding Napkins:
Fabric: Cotton 

Size: 18 X 18", Set of 4.

Heighten your dining ambiance with our white cloth napkins: Crafted from soft, absorbent cotton, these 18 X 18-inch dinner napkins come in a set of 4.
Versatile and elegant, our white dinner napkins serve as embroidered cloth napkins, cloth dinner napkins, kitchen napkins, holiday napkins, restaurant napkins, wedding napkins, and party napkins.
Our Pristine white napkins come with embroidered lines in different colors: Red, Black, Magenta, Beige, Light Blue, and Gray.
Elevate your table setting with these exquisite embroidered napkins. Easy to maintain, these machine-washable napkins offer both style and convenience.
Add a touch of sophistication to your gatherings with these timeless cotton napkins that combine practicality and charm. 
Pair these cloth napkins with an embroidered table runner. Explore our table linen assortment featuring buffalo plaid, French stripes, and country stripes designs.
Dimensions & Easy Care
Dimensions
Care and Maintenance
Machine wash at normal temperature

Tumble dry on a gentle cycle

Warm iron as needed

Imported.
Shipping & Return
Shipping

Standard USPS free shipping.
Order processing time: 1 to 2 days. Orders will be delivered within 6-8 days.
Return & Refund

Merchandise must not be worn, washed, or altered.
Returns are accepted within 60 days of delivery.
For any questions contact customerservice@allcottonandlinen.com.
Refunds will be processed within 1-2 business days.
needs for Cloth Napkins Embroidered
Cloth napkins with embroidery add a charming and elegant touch to any table setting, enhancing the overall aesthetics.
Embroidered designs on cloth napkins can be customized, allowing for a unique and personalized dining experience.
Cloth napkins with embroidery are often reserved for special events, such as weddings, anniversaries, or holiday gatherings, adding a sense of luxury and celebration.
Cloth napkins with embroidery make thoughtful and memorable gifts, showcasing attention to detail and a touch of craftsmanship.
Embroidered cloth napkins are designed to withstand repeated use and washing, ensuring long-lasting quality and functionality.
White Table Runner
A white table runner is a versatile and stylish accessory that adds a touch of elegance to any table setting. It provides a clean and crisp backdrop, allowing other elements of the table decor to shine. The white color enhances the visual appeal and creates a sense of sophistication, making it suitable for both casual and formal occasions.
Uses of White Table Runner
A white table runner is versatile and can be used for various occasions, such as weddings, formal dinners, or everyday dining. It creates a visually appealing focal point, drawing attention to the table and creating a cohesive look with other table decor. Additionally, a white table runner can be easily accessorized with different colored or patterned napkins and tableware, allowing for endless creative possibilities in table styling.
Frequently Asked Questions
The dinner napkin traditionally goes on top of the plate or
under the fork. Placing it under the fork enhances the table setting's aesthetic appeal and makes it convenient for guests to access their napkins.
The ideal size for a dinner napkin typically measures around 20x20 inches. However, the choice of napkin size can depend on your table setting preferences and the
overall aesthetic you wish to create.
White napkins made from natural and biodegradable materials such as cotton or linen are indeed compostable. However, it's essential to ensure that the napkin is free from synthetic materials or any chemical treatments that may hinder its compostability.
Folding cloth napkins can add an elegant touch to your table presentation. One classic way to fold them is by laying the napkin flat and then folding it in half to create a rectangle. Afterward, fold it in half again to form a square, then fold the square diagonally to create a triangle. Place the folded napkin on the plate or use a napkin ring with the open end facing away from the guest.
To effectively remove stains from white napkins, follow these steps: gently blot the stain with a clean cloth to remove any excess moisture. For best results, pretreat stains using water and white vinegar or a suitable stain remover. Wash the napkins in cold water with a bleach alternative or an enzyme-based detergent, avoiding hot water as it may set the stain.
Linen napkins require special care to maintain their quality.
When washing white linen napkins, machine wash them in cold or lukewarm water to prevent shrinkage. Wash with a mild detergent and avoid bleach to prevent fabric weakening. To prevent wrinkles, hang or tumble dry on low heat.
When it comes to folding silverware in napkins, follow these simple steps: lay the napkin flat, place the silverware diagonally in the center, fold the napkin in half to cover the silverware, and finally, fold the sides over the silverware to create a neat and compact bundle.
While it's generally safe to microwave cloth napkins briefly,
exercise caution and avoid napkins with metallic threads or embellishments, as they can cause sparks. Use short durations and low-power settings to prevent overheating when necessary.
When setting the table, you have several options for placing
cloth napkins. You can position the folded napkin on top of the dinner plate or to the left of the forks. For added visual appeal, consider using napkin rings or experimenting with unique napkin folds that suit the occasion and your personal style.
Cotton and linen are two popular choices for cloth napkins.
Cotton is favored for its durability and ease of maintenance, while linen offers a luxurious feel and natural elegance. Your fabric choice should align with your style and the level of care you're willing to invest in your napkins.
Beautiful!
Exactly what I was looking for. Delivered on time, great color, beautiful design, very elegant.
Very good quality and value!
The napkins are a deeper green than shown. More of a Christmas green so I was happy about that. The quality is excellent.
Good purchase
It says theyre for holidays but I bought them for anytime. Nice fabric. Good size.Good buy!
Had a very nice Christmas table with these
Had a very nice Christmas table with these, a red tablecloth and white dishes.