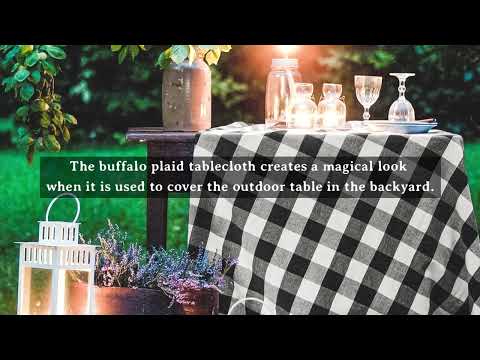 Cotton Tablecloths
Color:
Black Plaid with Red Border
Product Details
Cotton

 Tablecloths

:
Material: The cotton tablecloth is made from 100% cotton, which is soft, durable, and easy to care for. This makes it a great choice for everyday use as well as special occasions.
Size: The tablecloth comes in various sizes 63x88", 63x109", and 63x126" with 2" checkboxes, making it suitable for a range of tables, from small coffee tables to large dining tables. You can choose the size that best fits your needs and complements your dining space.
Design: The plaid tablecloth comes in a range of beautiful designs and colors, from classic solids to modern patterns. This makes it a versatile addition to any dining room, kitchen, or patio.
Eco-friendly: We are committed to using sustainable and eco-friendly practices, This makes it a great choice for those who are looking for eco-friendly and non-toxic products.
Easy to care for: The cotton tablecloth is machine washable and can be tumble-dried on low heat, making it easy to care for and maintain. With proper care, it will last for years and continue to look great on your table.
Dimensions & Care
Dimensions:
Available Sizes & Colors:
Care and Maintenance

Machine wash in normal-temperature water

Tumble dry on a gentle cycle

Iron at less than 40-degree Celsius

To avoid creases do not leave the tablecloth in the dryer for long
Shipping & Returns
Shipping

Standard USPS free shipping.
Order processing time: 1 to 2 days. Orders will be delivered within 6-8 days.
Return & Refund

Merchandise must not be worn, washed, or altered.
Returns are accepted within 60 days of delivery.
For any questions contact customerservice@allcottonandlinen.com
Refunds will be processed within 1-2 business days.
Cotton Tablecloths for Rectangular Tables
The buffalo plaid tablecloth woven with 100% cotton fabric protects the surface of your dining table and gives it a decorative look. The rectangle tablecloth is designed in 3 different sizes so that you can get the one that fits your table. The linen tablecloth can be used as a coffee table tablecloth, a kitchen table tablecloth, and an outdoor tablecloth as well. The reusable tablecloth stitched with strong cotton threads is crafted to last and enhance the aesthetics of your home. The farmhouse tablecloth with the classic buffalo checks gives your home a modern look and creates a beautiful tablescape.