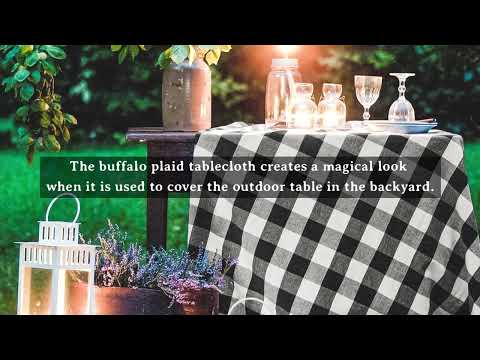 Square Tablecloths - Buffalo Plaid
Color:
Aqua Blue and Cream
Product Details
Square Tablecloths:
The square tablecloth is fabricated with 100% Cotton and the cotton tablecloth comes in 52x52" size with 2 inches checkboxes.
Enhance the table settings with a cotton tablecloth of buffalo plaid pattern. Buffalo plaid square tablecloths enhance the elegance of the dining.
The cotton square tablecloth is available in versatile colors & various designs of square checks that accommodate 3-4 people and provides the right fit for your dining/table top.

Protects the dining surface from spills. Can be used as Christmas, Halloween, and Thanksgiving tablecloths. eco-friendly square tablecloths are prepared based on the global trend.

Pair with buffalo check napkins and placemats. Try the country stripe and French stripe tablecloth and pair it with plain napkins, embroidered napkins, or stripe napkins.
Dimensions & Easy Care
Dimensions:
Care and Maintenance
Machine wash in normal-temperature water

Tumble dry on a gentle cycle

Iron at less than 40-degree Celsius

To avoid creases do not leave the tablecloth in the dryer for long
Shipping & Return
Shipping

Standard USPS free shipping.
Order processing time: 1 to 2 days. Orders will be delivered within 6-8 days.
Return & Refund

Merchandise must not be worn, washed, or altered.
Returns are accepted within 60 days of delivery.
For any questions contact customerservice@allcottonandlinen.com
Refunds will be processed within 1-2 business days.
Pretty tablecloth
Washes great and doesn't wrinkle much. Very cheerful and nice pop of color
Love it!!
Love it!! Even ordered 6 napkins to match!
Best for kitchen dinning table
This is what I am looking for
Nice thickness
Used for an outdoor party and was very pleased with the quality/thickness of the cotton. Haven't washed it yet, but initial quality assessment does not have me worried! black is bright but not tacky bright. Perfect in my opinion..