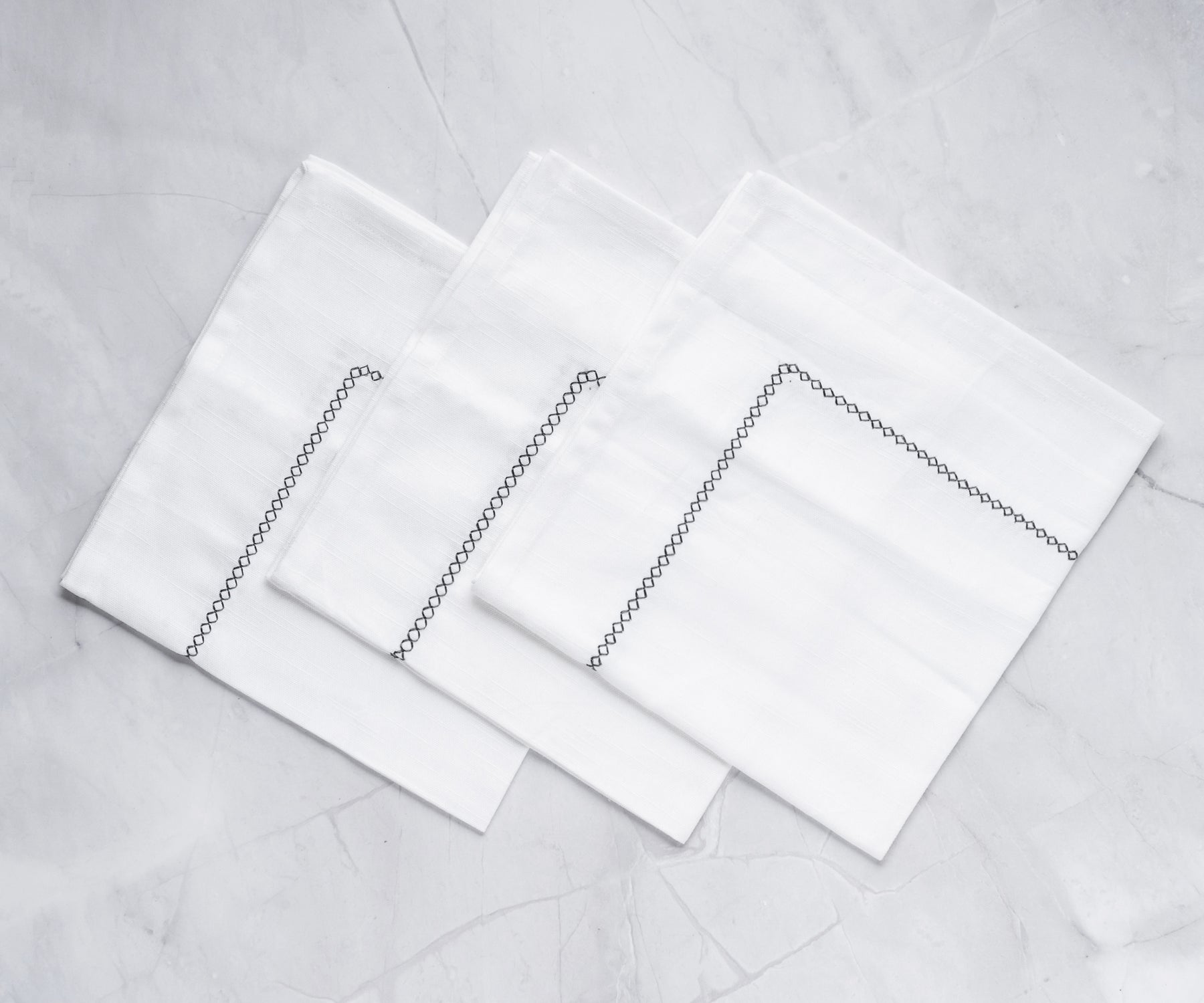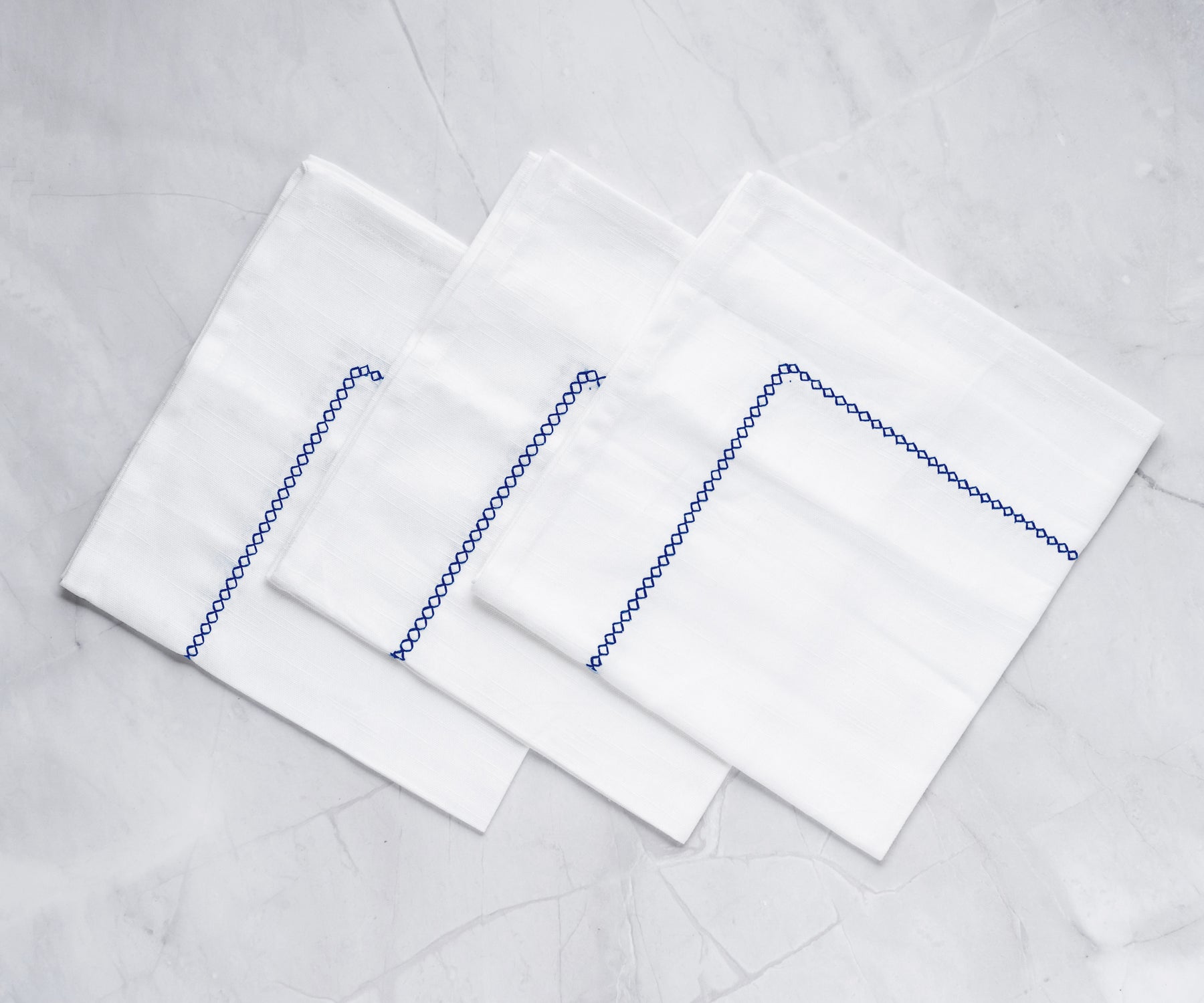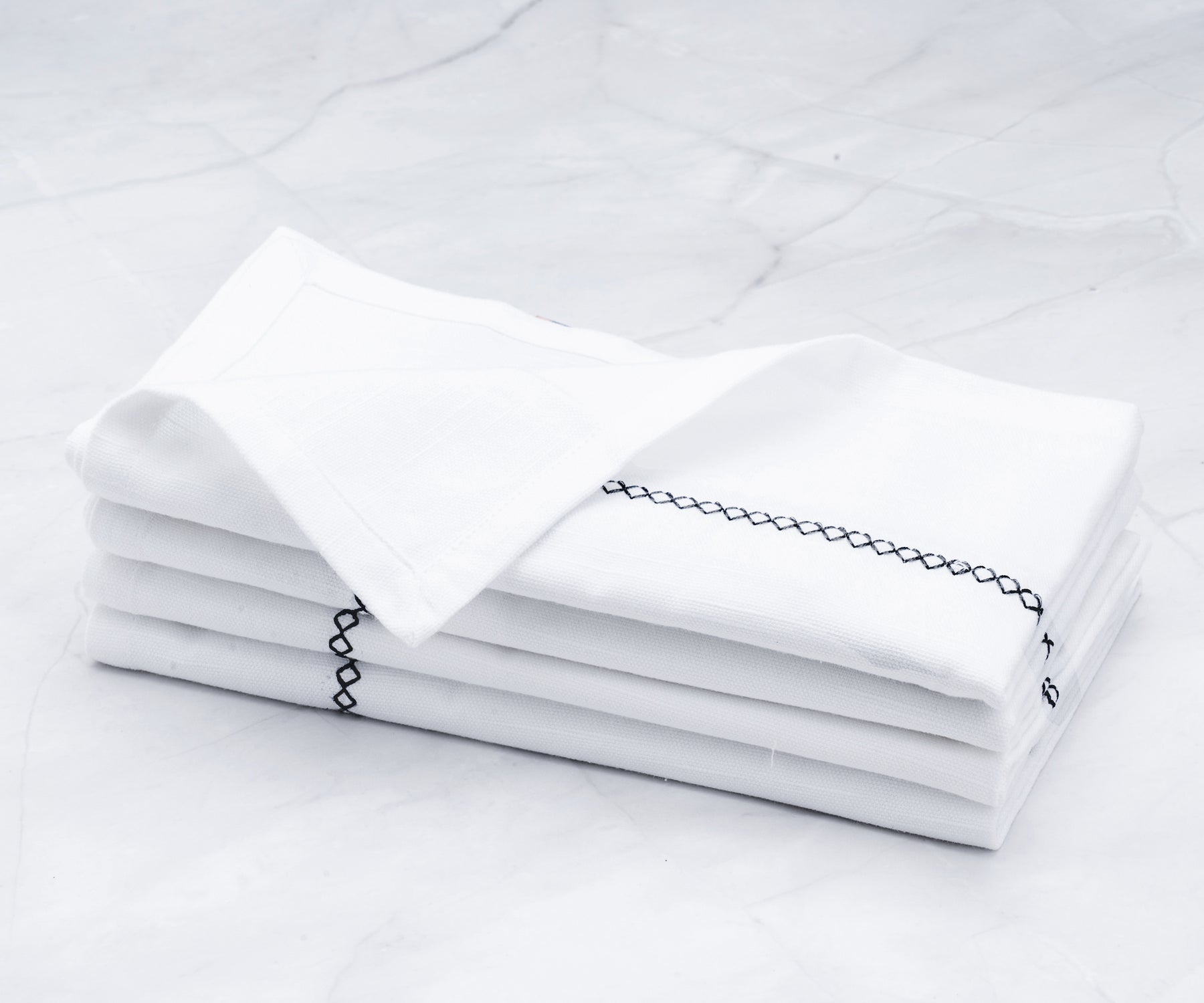 Embroidered Napkins - Cloth Dinner Napkins
Product Details
White Napkins:
Fabric: 100% Cotton
Size: 20 X 20 inches, Set of 4.

The fabric of the cloth napkins or white dinner napkins is machine washable, soft, smooth, and water absorbent, making it ideal for everyday use.

Dinner napkins can be used as embroidered napkins, reusable napkins, kitchen napkins, holiday napkins, farmhouse napkins, white napkins, restaurant napkins, table napkins, wedding napkins, cocktail napkins, and party napkins.

Pair the white cloth napkins with an embroidered table runner, and check table linen collection designed in buffalo plaid, French stripes, and country stripes.
Dimensions & Easy Care
Dimensions
Care and Maintenance
Machine wash at normal temperature

Tumble dry on a gentle cycle

Warm iron as needed

Imported.
Shipping & Return
Shipping

Standard USPS free shipping.
Order processing time: 1 to 2 days. Orders will be delivered within 6-8 days.
Return & Refund

Merchandise must not be worn, washed, or altered.
Returns are accepted within 60 days of delivery.
For any questions contact customerservice@allcottonandlinen.com.
Refunds will be processed within 1-2 business days.
need for Embroidered napkins
Embroidered napkins are not only aesthetically pleasing but also offer a range of practical benefits.
The delicate embroidery adds texture and dimension to the fabric, making the napkins visually captivating and a conversation starter among guests.
Additionally, the embroidery work can provide a subtle color contrast or complement the overall table decor, enhancing the visual appeal.
Functionally, embroidered napkins are durable and long-lasting, ensuring repeated use and enjoyment.
They also bring a sense of tradition and heritage, as the art of embroidery has been passed down through generations.
Whether used for everyday meals or special occasions, embroidered napkins add a touch of elegance and refinement to any table setting, making them a cherished and timeless addition to any home.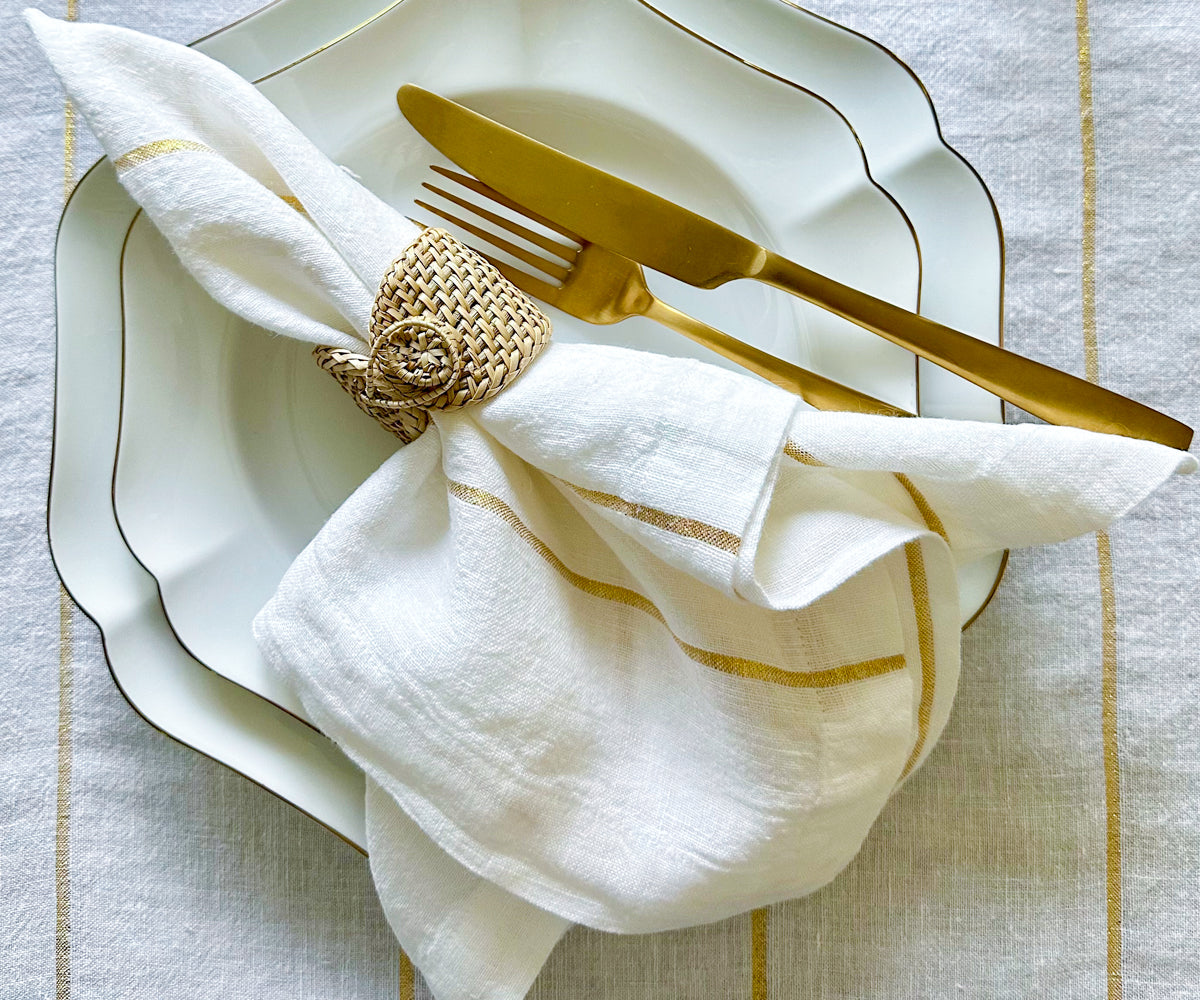 Table Napkins
The table napkins are square-shaped, measuring 20x20 inches, and come in a set of 4 with embroidered patterns. They are designed to create an inviting and elegant look for your dining table. The durable and long-lasting fabric ensures their longevity. Additionally, white cloth napkins can be folded in various shapes, with the triangular folding style adding a formal and sophisticated touch to your tabletop.
Uses of Table Napkins
Table napkins have various uses and can enhance your dining experience in the following ways:
Table napkins are essential for wiping hands and mouths during meals, helping to maintain cleanliness and hygiene. Napkins add a decorative touch to your table setting, complementing the overall theme or style of your dining area. Using table napkins demonstrates good etiquette and is considered proper dining etiquette in many cultures.