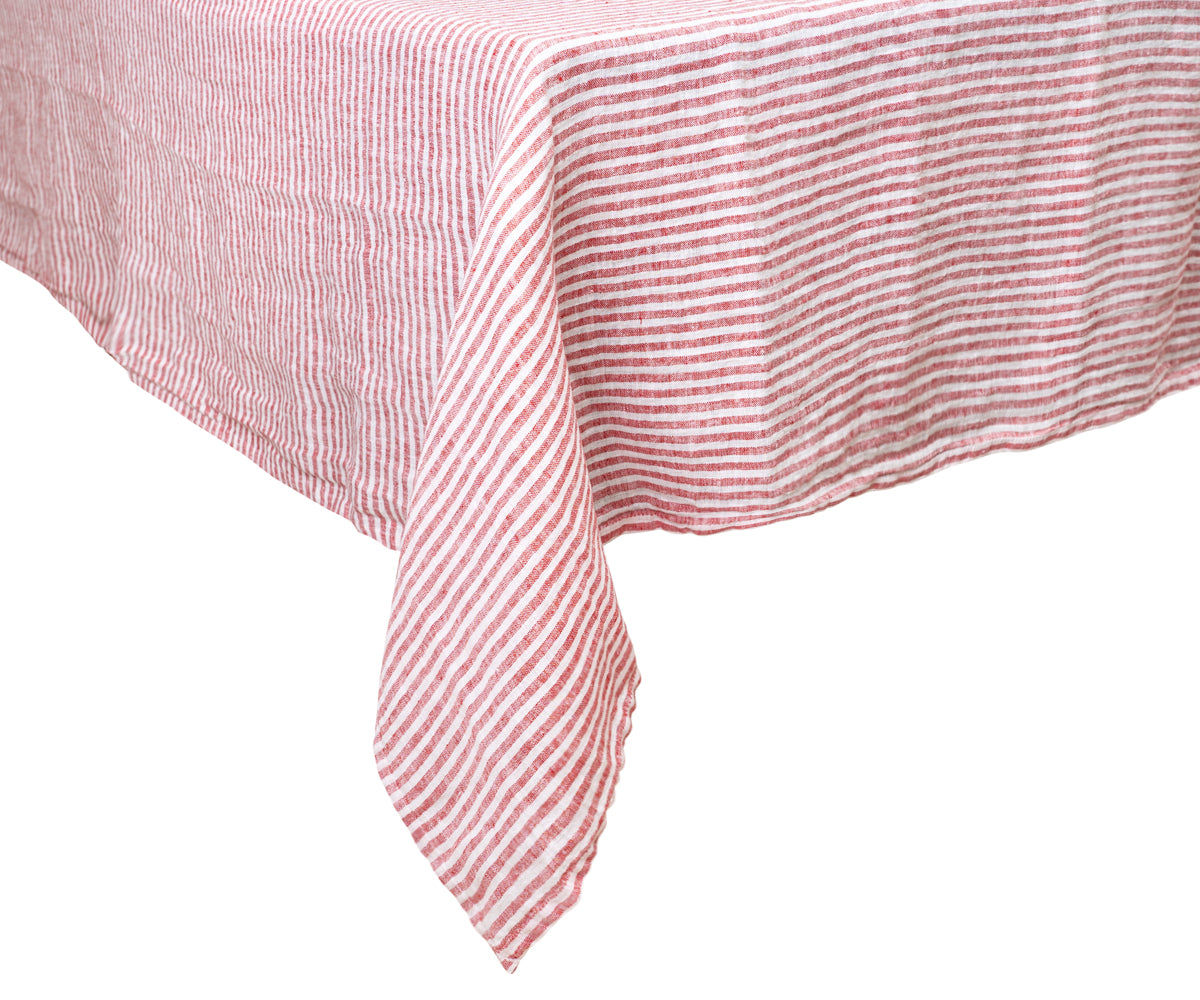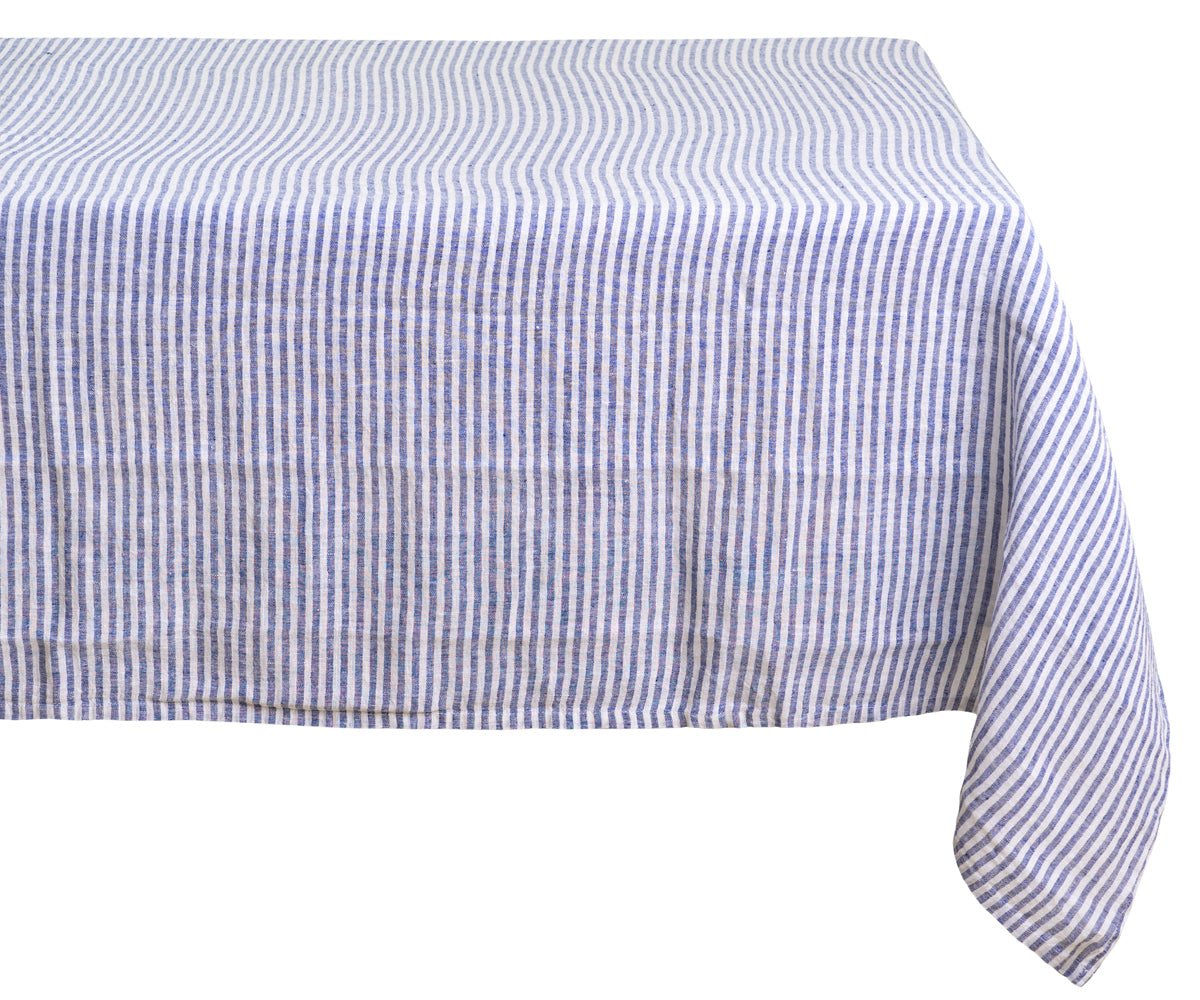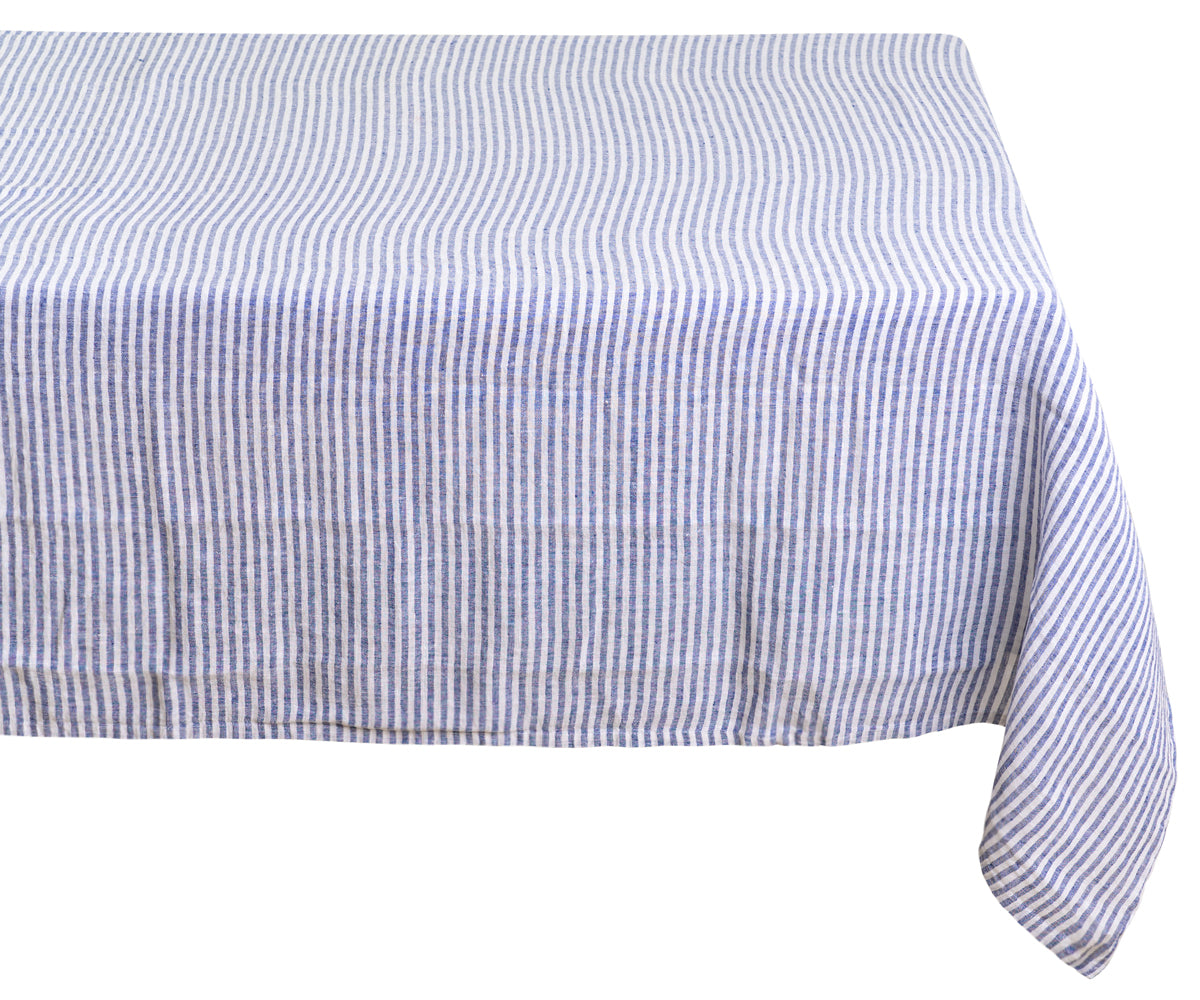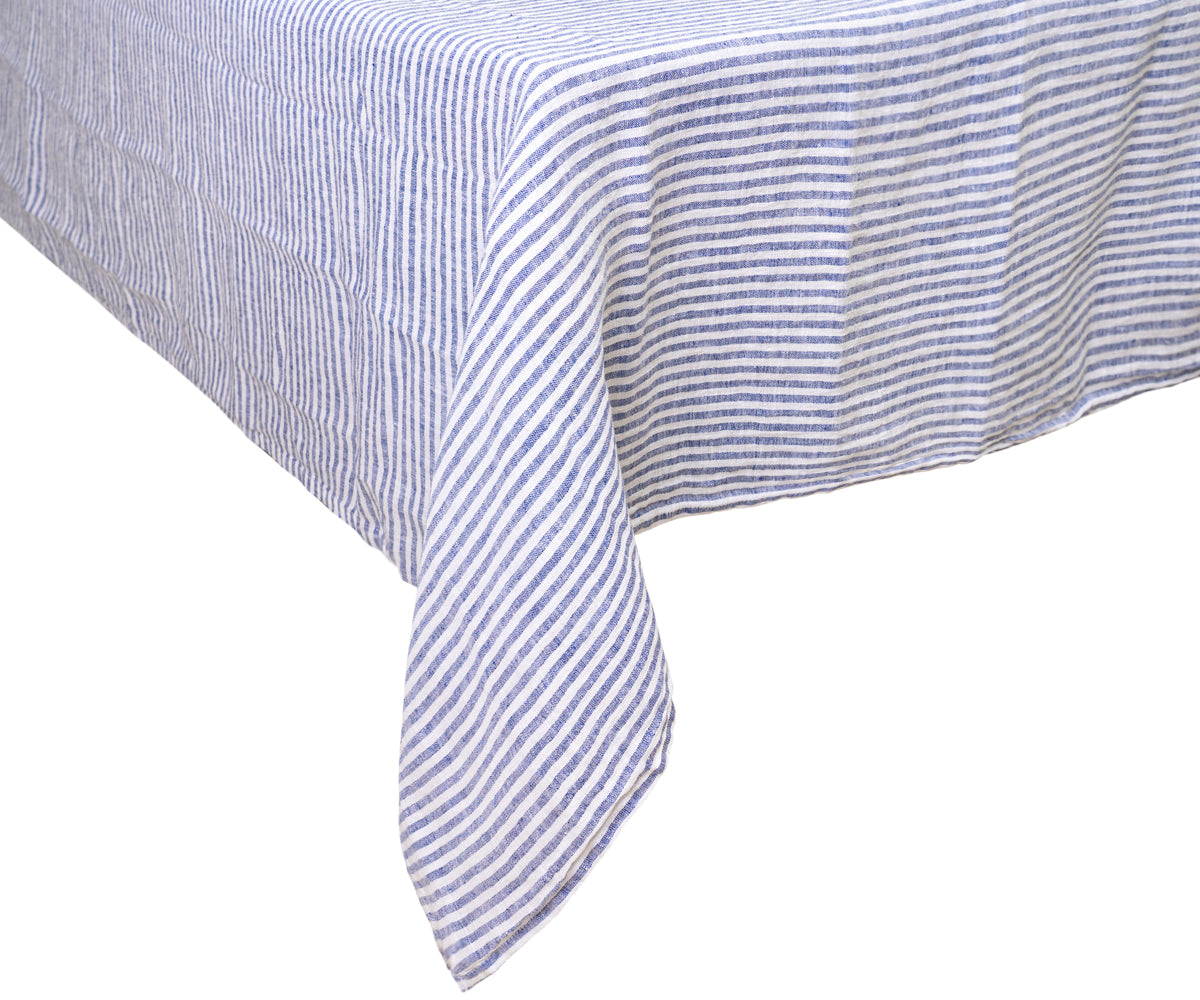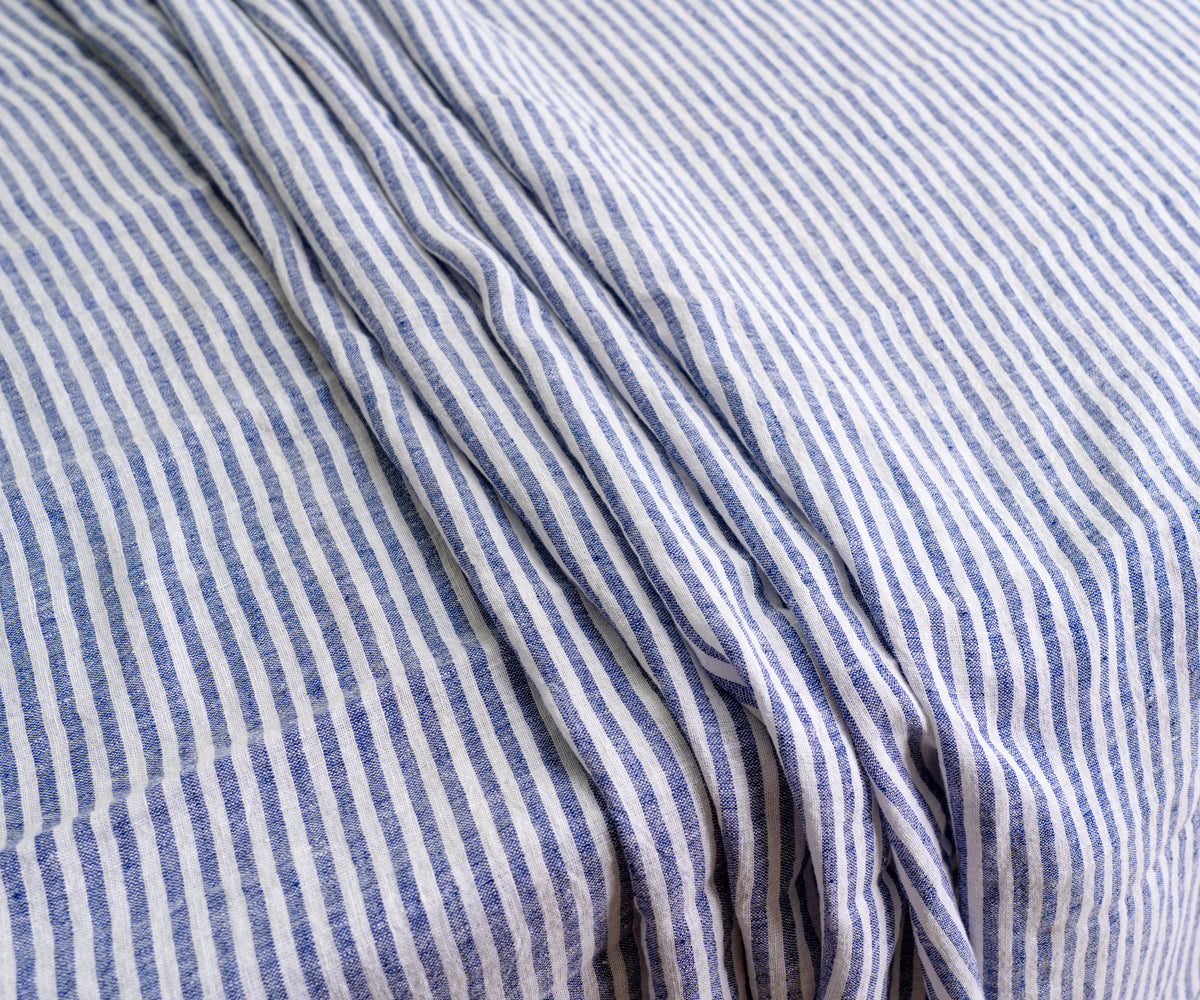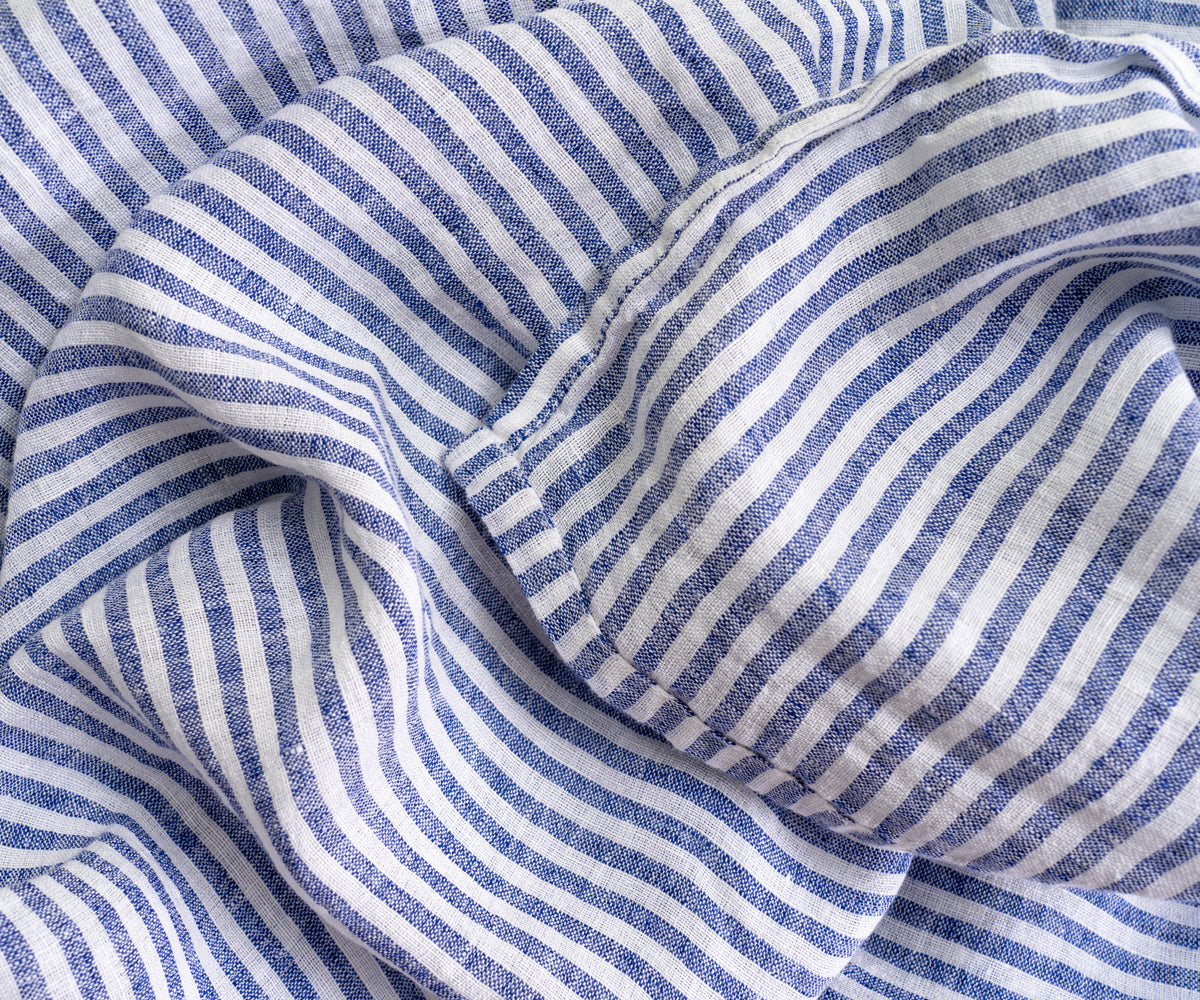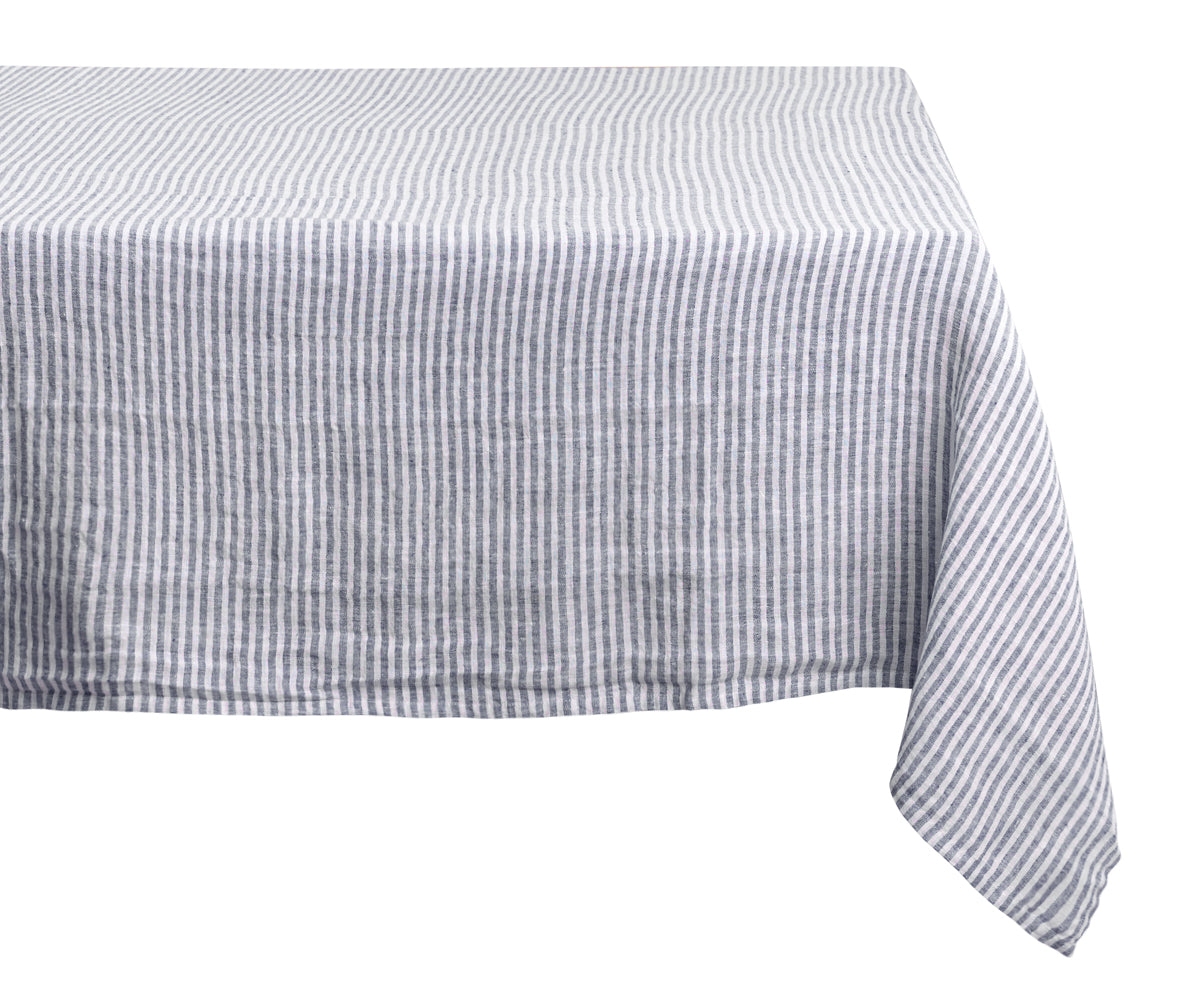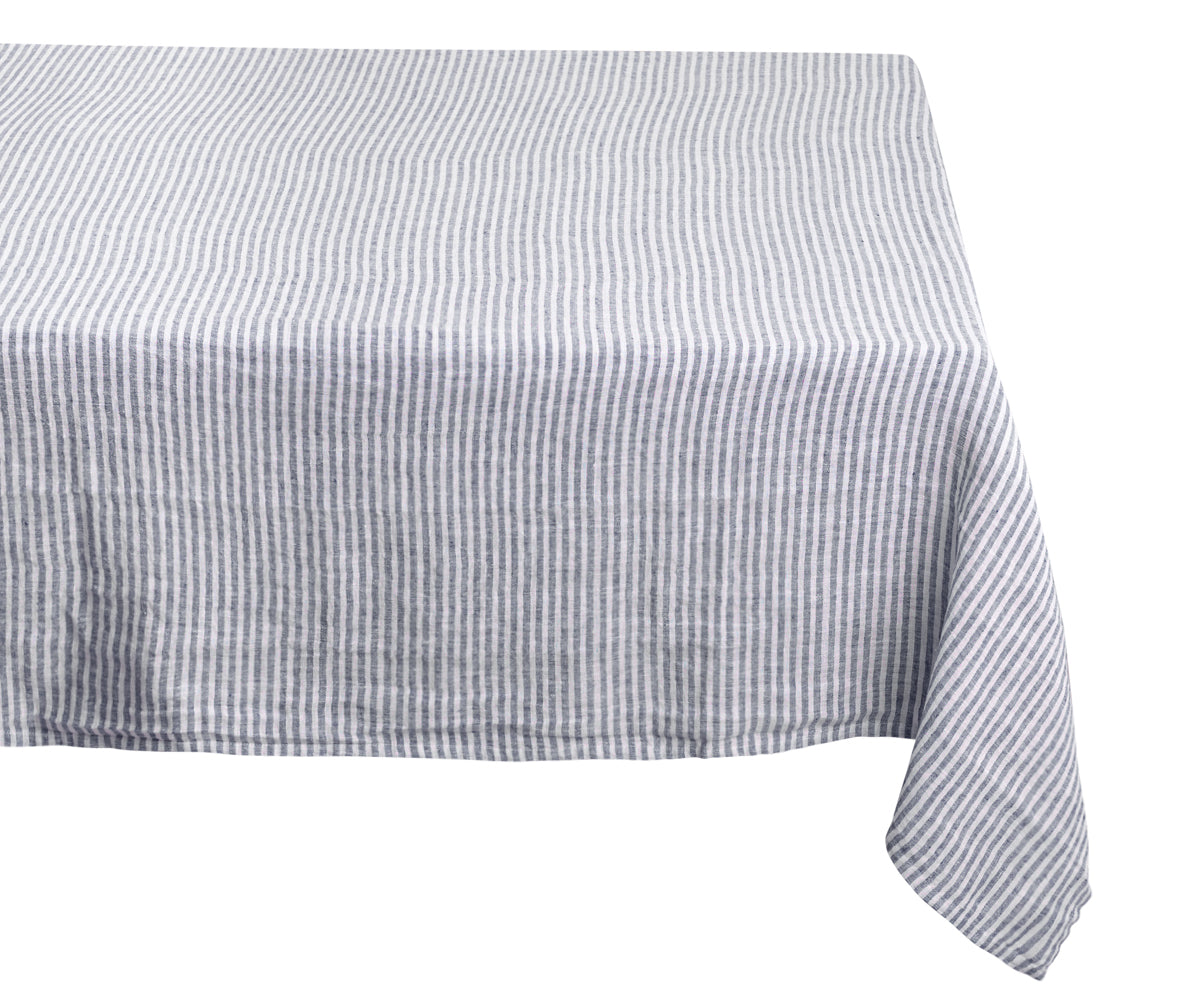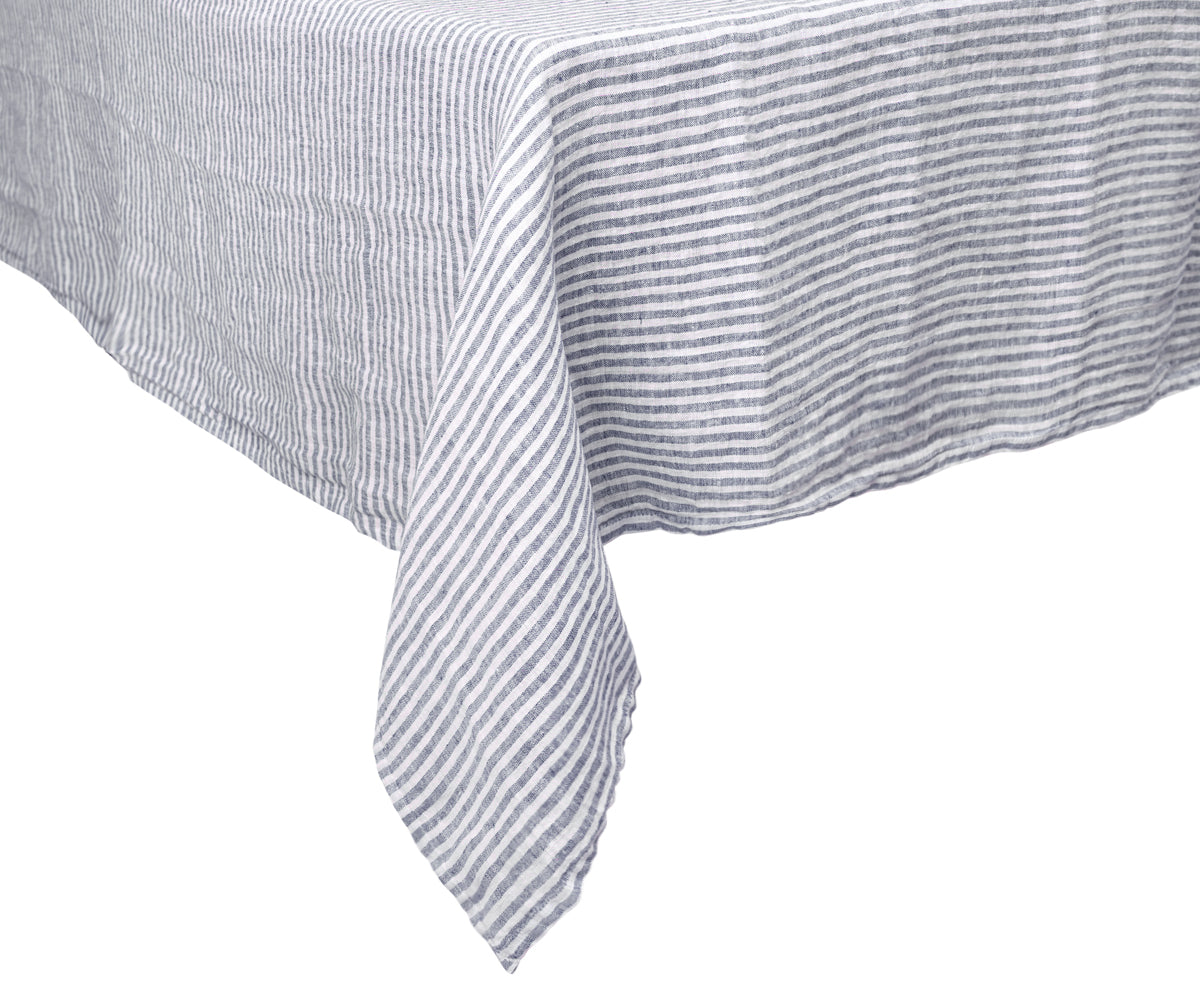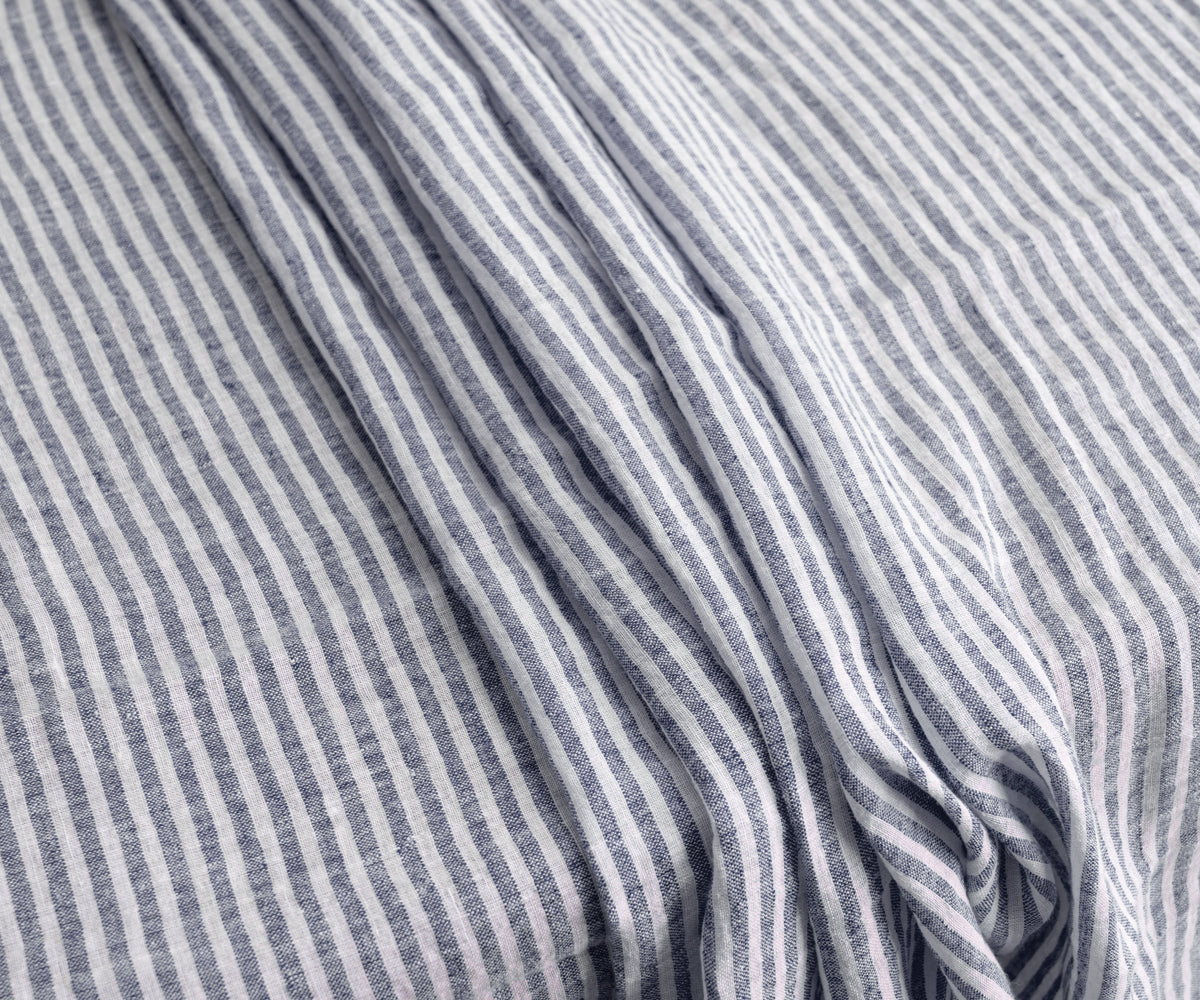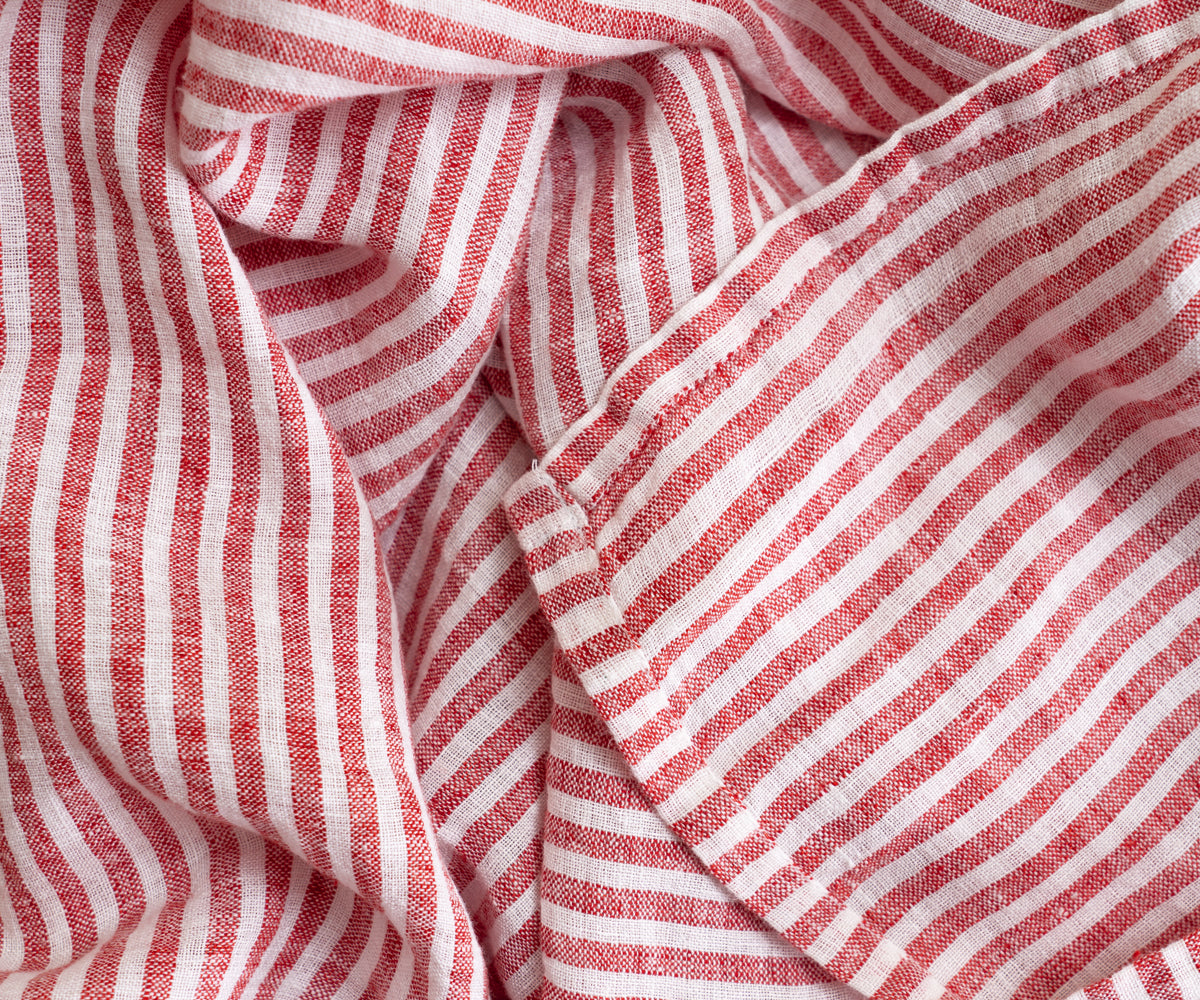 Pinstripe Tablecloth - Linen Tablecloth
Product Details
Pinstripe Linen Tablecloth :
Introducing our Pinstripe Linen Tablecloths, a timeless addition to your dining decor.
Crafted from 100% pure linen, these rectangle tablecloths combine elegance and functionality.
Available in the classic 63x98" size, they effortlessly enhance your space, perfect for weddings and special occasions.
The subtle pinstripe design adds a touch of sophistication, while the durable fabric protects your table from everyday mishaps.
Elevate your dining experience with these exquisite cloth tablecloths, where style meets practicality.
Discover the full pinstripe experience with our exclusive collection, featuring tablecloths and coordinating pinstripe napkins and dish towels.

Dimensions & Easy Care
Dimensions:

Care and Maintenance
Machine wash in normal-temperature water
Tumble dry on a gentle cycle
Iron at less than 40-degree Celsius
To avoid creases, do not leave the tablecloth in the dryer for a long
Shipping & Return
Shipping
Standard USPS free shipping.
Order processing time: 1 to 2 days. Orders will be delivered within 6-8 days.
Return & Refund
Merchandise must not be worn, washed, or altered.
Returns are accepted within 60 days of delivery.
For any questions, contact customerservice@allcottonandlinen.com
Refunds will be processed within 1-2 business days.
need for pinstripe tablecloth
Pinstripe tablecloths are essential for infusing a touch of modern sophistication into your dining experience.
Their subtle stripes create a chic backdrop, perfect for both casual gatherings and formal occasions.
Elevate your table setting with these versatile and stylish linens that effortlessly blend contemporary aesthetics with classic charm.
Crafted for durability and easy maintenance, pinstripe tablecloths bring a refined flair to your home, making every meal a delightful and visually appealing affair.
Explore the fusion of functionality and fashion, enhancing your dining space with the understated glamour of striped tablecloth.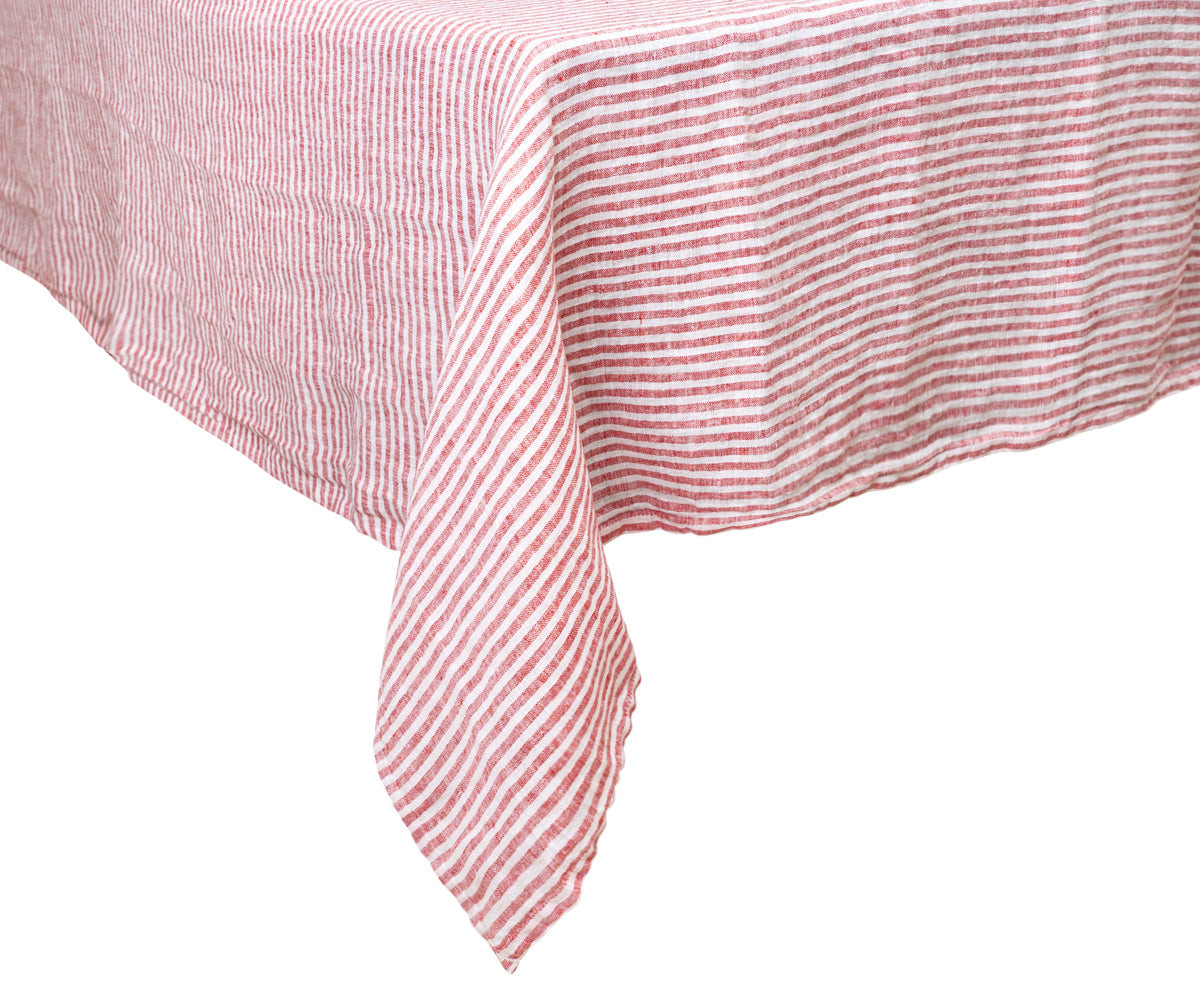 Pinstripe Tablecloth
Pinstripe perfection for your table – an elegant dance of lines, marrying modern style with timeless sophistication. Elevate every meal with the subtle charm and refined grace of our striped Tablecloth, where simplicity meets stunning beauty.
Uses of Pinstripe Tablecloth
Dress your table in the subtle allure of our Pinstripe Tablecloth, transforming every meal into a feast for the senses. Effortlessly blend sophistication and versatility, adding a touch of refined elegance to your dining experience.
Frequently Asked Questions
The classic size available is 63x98", providing an elegant overhang for your rectangle table. This size is versatile and ideal for enhancing various dining setups.
Machine-wash it on a gentle cycle with mild detergent. Follow care instructions to ensure the longevity of the pure linen fabric and the subtle pinstripe design.
Certainly! Explore our collection, which includes coordinating pinstripe napkins, allowing you to create a cohesive and sophisticated dining experience.
Yes, the timeless elegance of the subtle pinstripe design makes these linen tablecloths a perfect choice for formal events, including weddings and special occasions.
The linen fabric does adds sophistication and provides a protective layer against spills and mishaps, they are easy to wash and maintain too.