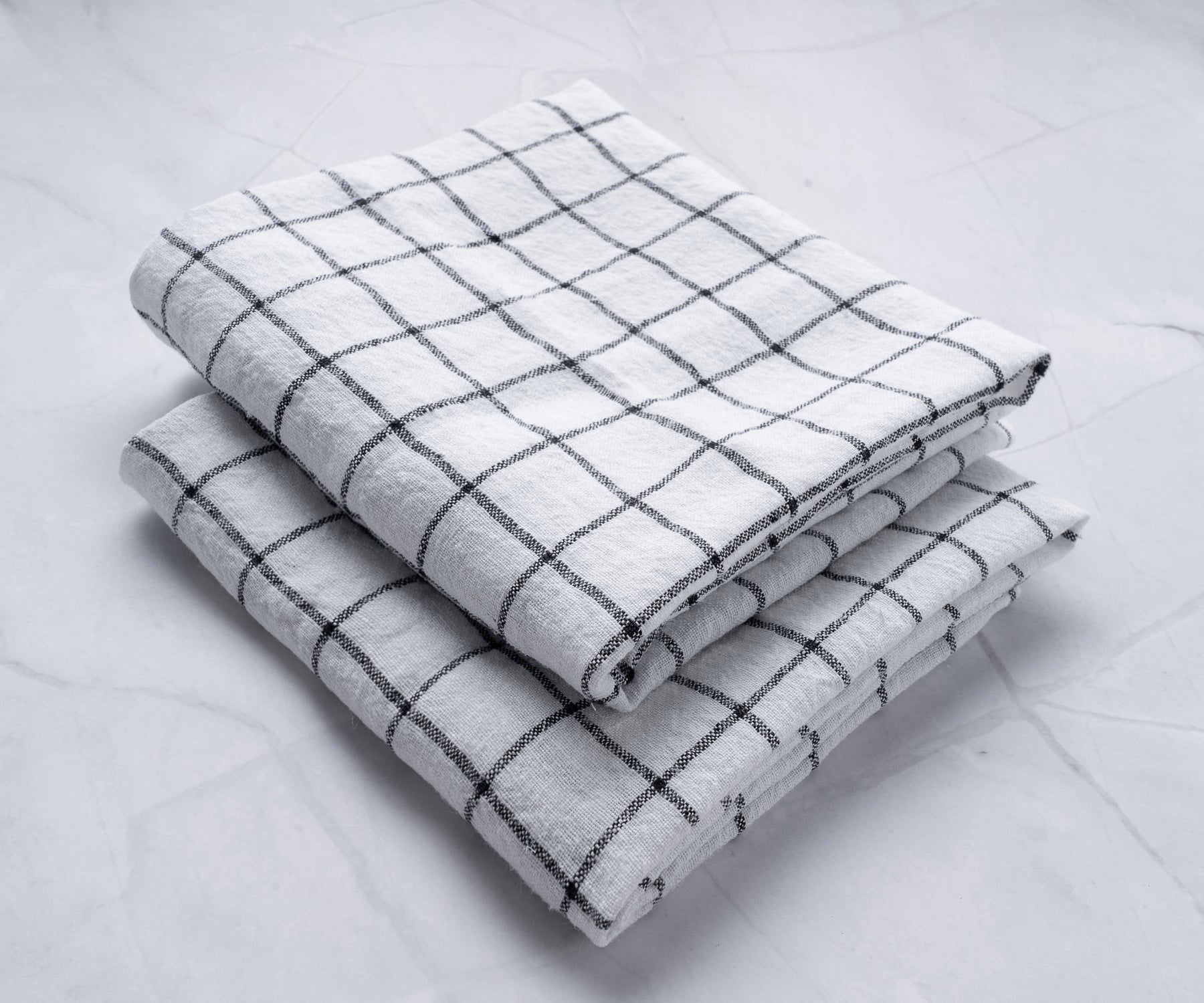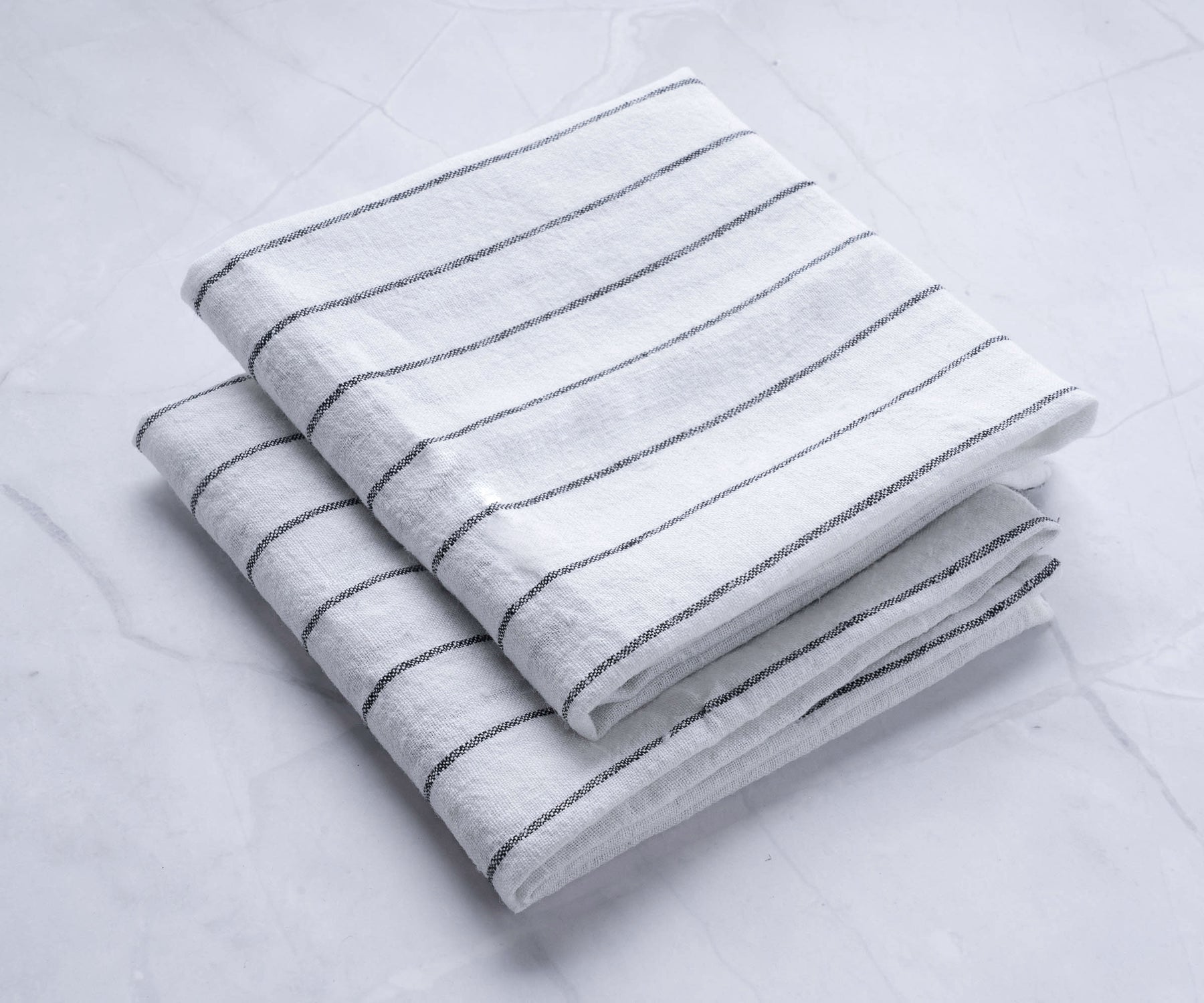 Linen Dish Towels - Kitchen Towels
Product Details
Kitchen Dish Towels:
Elevate your kitchen with our 100% Linen Kitchen Towels, each measuring 18x28".

Whether used as a linen dishcloth or a checkered tea towel, their versatility shines.

Available in black grid, red grid, and black stripe, These tea towels add a touch of elegance to your space.

Crafted for both style and functionality, they seamlessly balance durability with eco-friendliness.

Transform kitchen tasks into moments of sophistication with these exquisite and practical linen tea towels.
Dimensions & Easy Care
Dimensions:
Care and Maintenance
Machine wash in normal-temperature water

Tumble dry on a gentle cycle

Iron at less than 30 degrees Celsius
Shipping & Return
Shipping

Standard USPS free shipping.
Order processing time: 1 to 2 days. Orders will be delivered within 3-8 days.
Return & Refund

Merchandise must not be worn, washed, or altered.
Returns are accepted within 60 days of delivery.
For any questions contact customerservice@allcottonandlinen.com
Refunds will be processed within 1-2 business days.
Need for linen kitchen towels
Our collection of linen kitchen linens includes high-quality linen towels, such as linen kitchen towels, dish towels, and tea towels.
These towels are both visually appealing and practical, with excellent absorbency for drying cutlery and glassware.
The robust linen kitchen towels are durable and reliable for handling hot pots and pans.
Linen tea towels serve as stylish alternatives to placemats and can also be used as basket liners for bread rolls.
Our linen towels elevate any kitchen with their superior quality and versatility.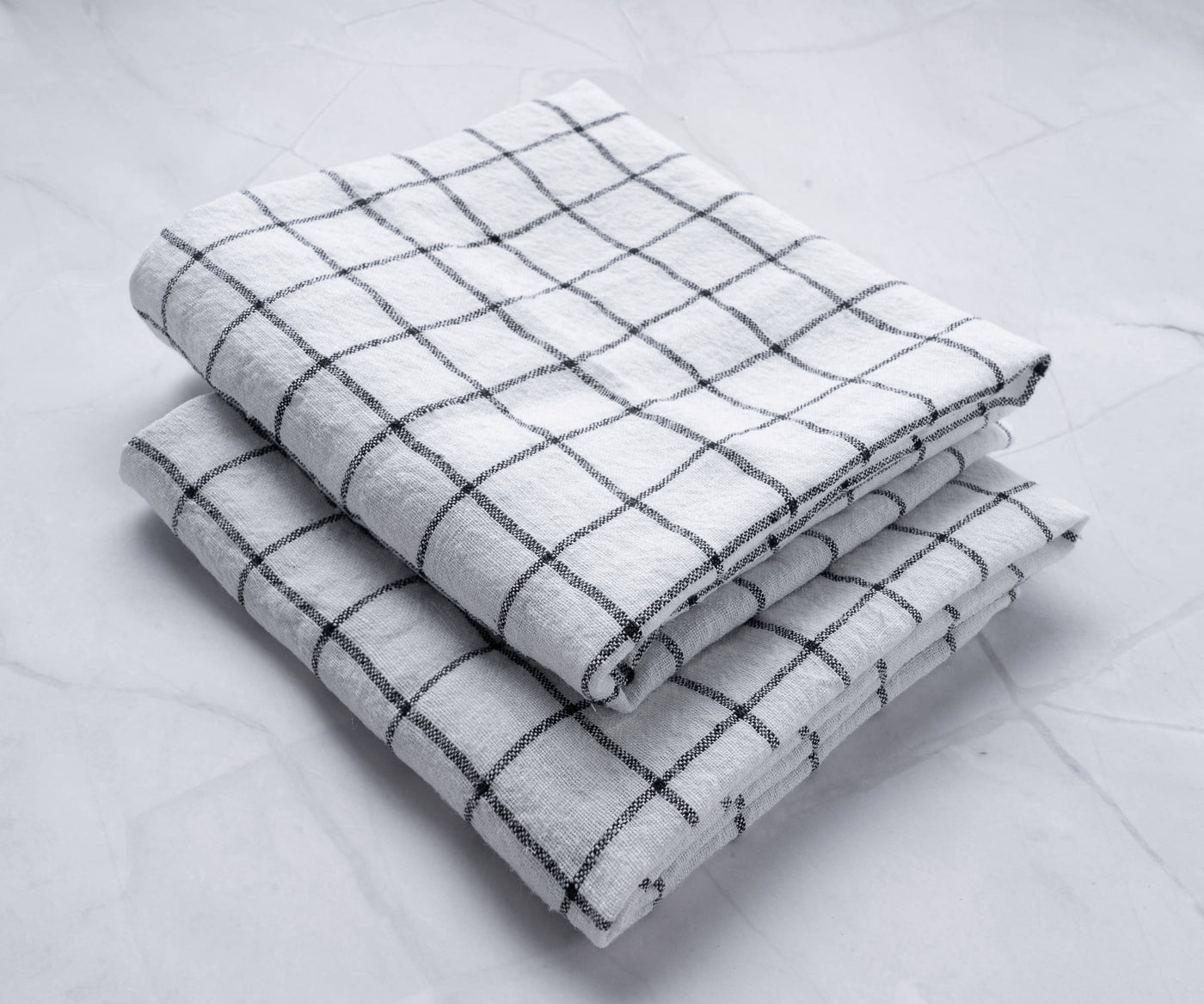 Uses of Linen Kitchen Towels
Elevate your kitchen essentials with our Linen Kitchen Towels, doubling as Dish Clothings for any dining scenario. Check out our Decorative Hand Towels for an attractive accent, or our Dish Wash Cloth for an effortless clean-up solution
Linen Kitchen Towels
Enhance your dining with our Linen Kitchen Towels and Cotton Hand Towels. Stylish and practical, they replace traditional placemats for an upgraded table setting. Invest in these essentials for a delightful dining experience
Frequently Asked Questions
Provide tips on washing, drying, and maintaining linen kitchen towels to ensure cleanliness and longevity.
The unique properties of linen, such as its absorbency and durability, make it an excellent material for kitchen towels.
The terms "kitchen towel" and "tea towel" are often used in the same context, but their usage and design can be subtle differences.
Tea towels, especially those with a tight weave, are also popular among chefs for their absorbency and versatility. Many chefs prioritize functionality and durability.
The versatility of linen kitchen towels is unmatched, suggesting alternative uses like cleaning, covering food, or even as a decorative element.
Great alternative to paper towels
I'm trying to stop wasting money on paper towels so I bought these flour sack towels as an alternative. They are HUGE. I folded them in half and wrapped them around my paper towel holder. So far I'm really enjoying using them.
Cotton dish towels
These are great for drying dishes. Very absorbent and leaves no lint behind. Just wish they were a little bigger.
The towels look great. Exactly as described.
I have not used or washed the towels yet but they appear to be of good quality.
very good quality for the money
We are a big fan of these, this was a 2nd time ordering them
Good Buy
Great kitchen towels. Easy to clean with and absorbent. They aren't bulky and don't take up alot of room in my kitchen drawer. They also wash well.