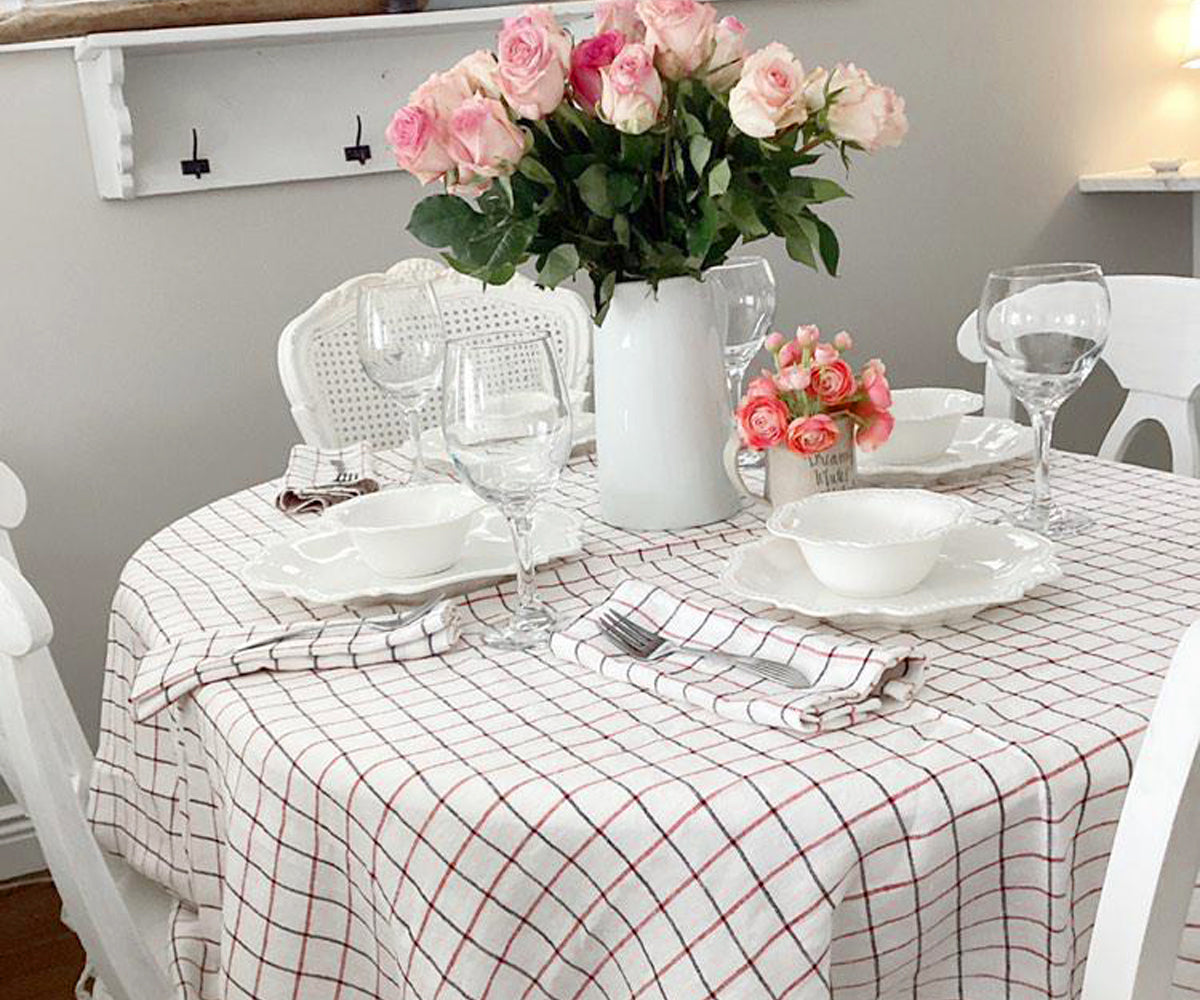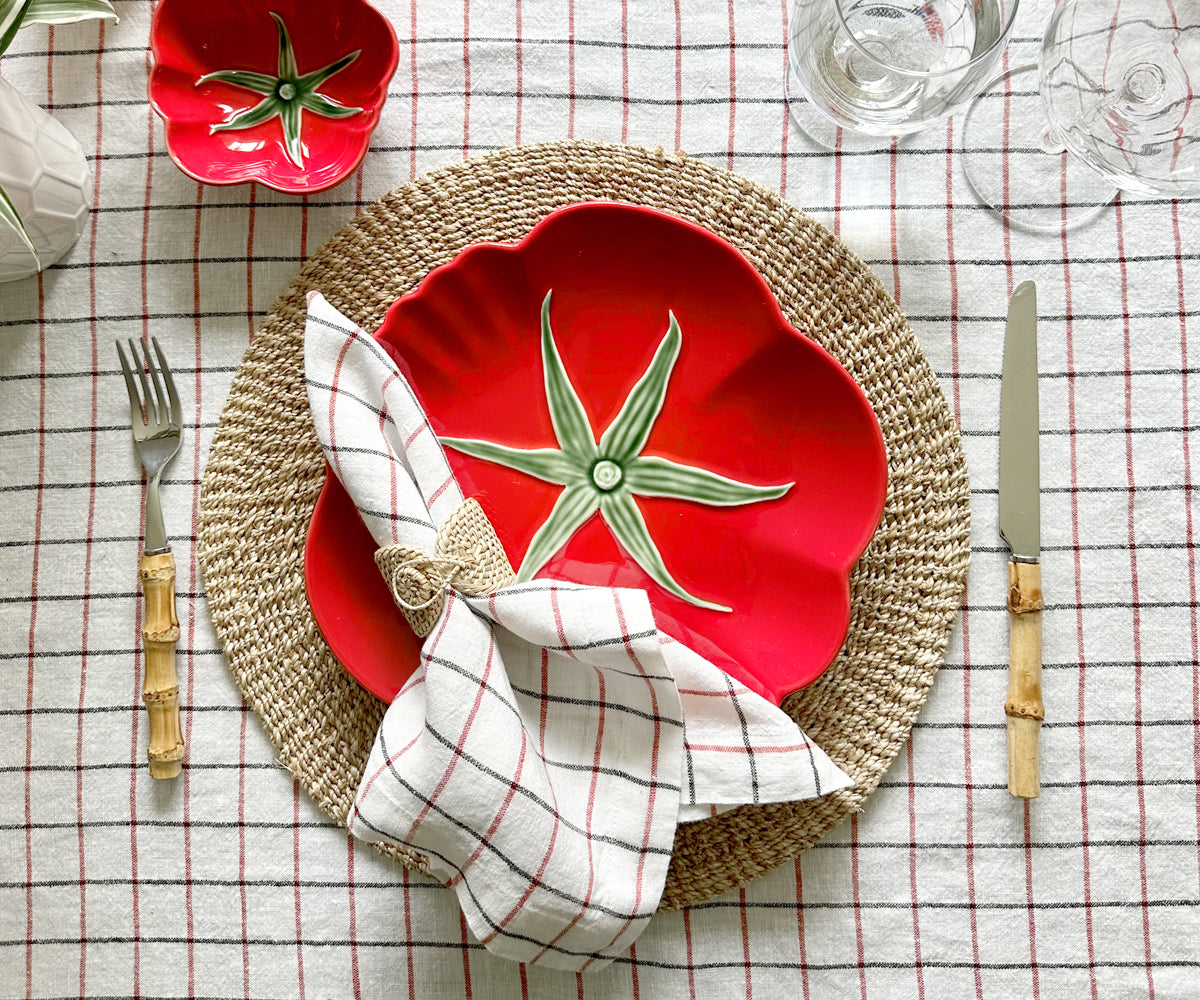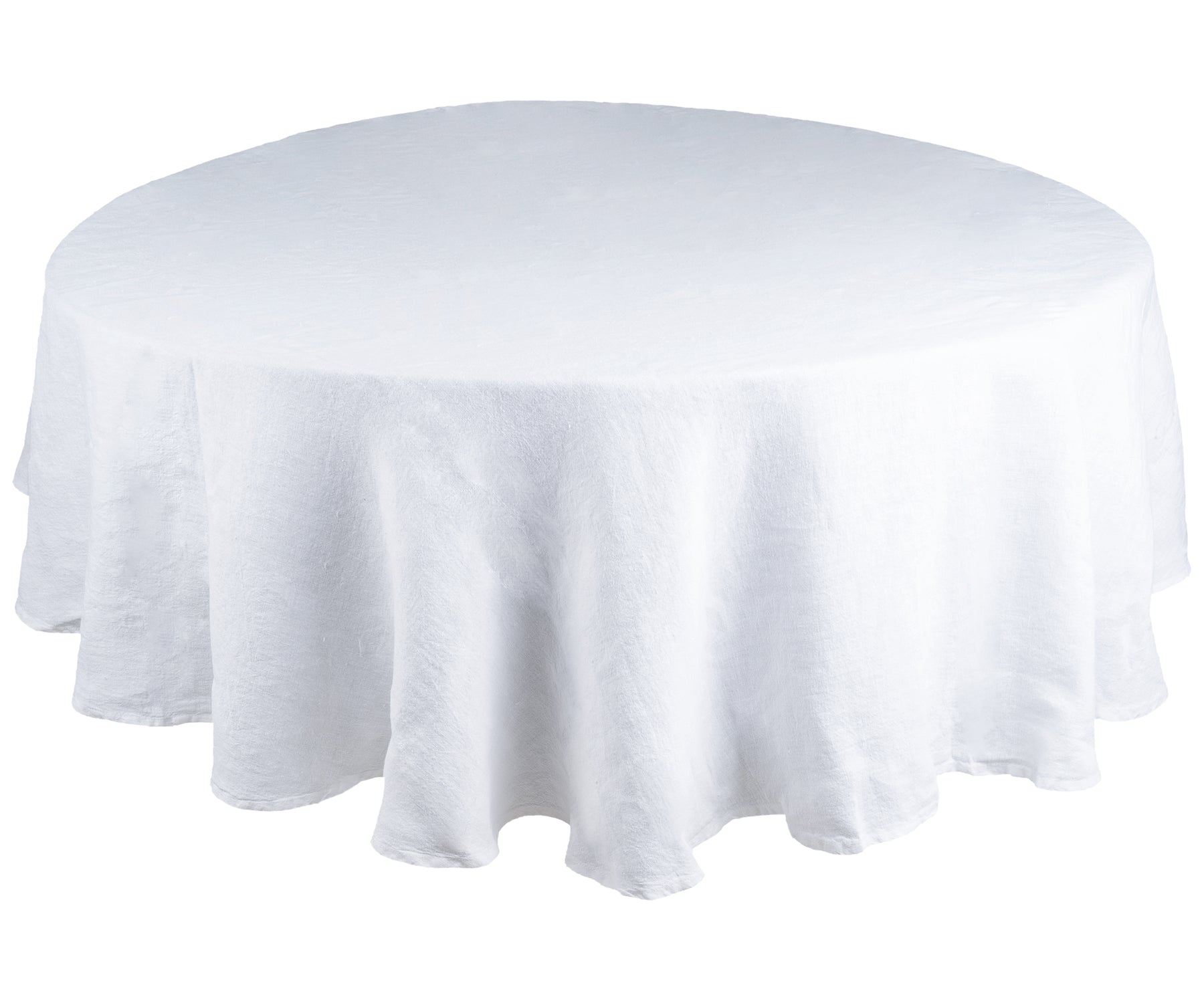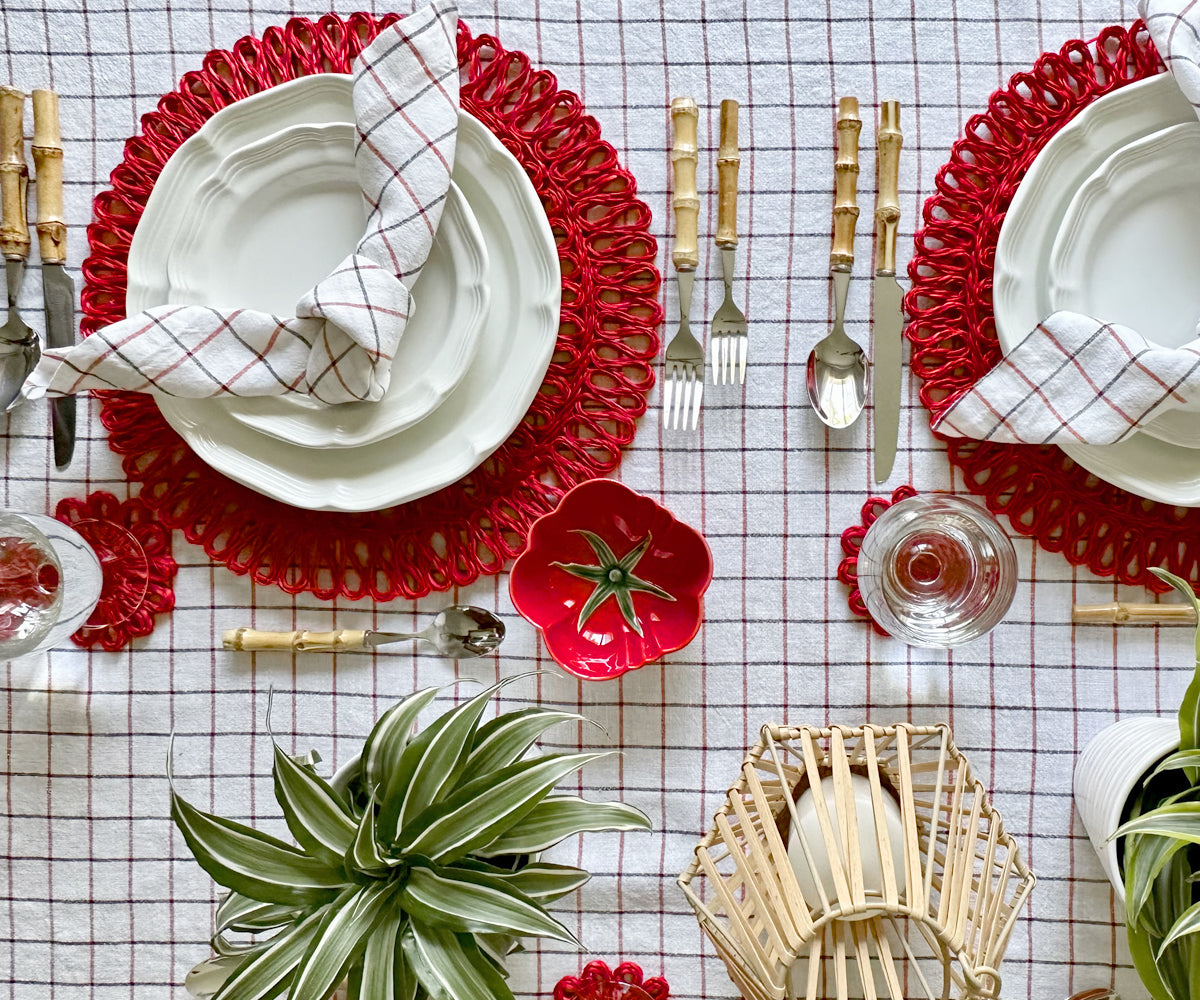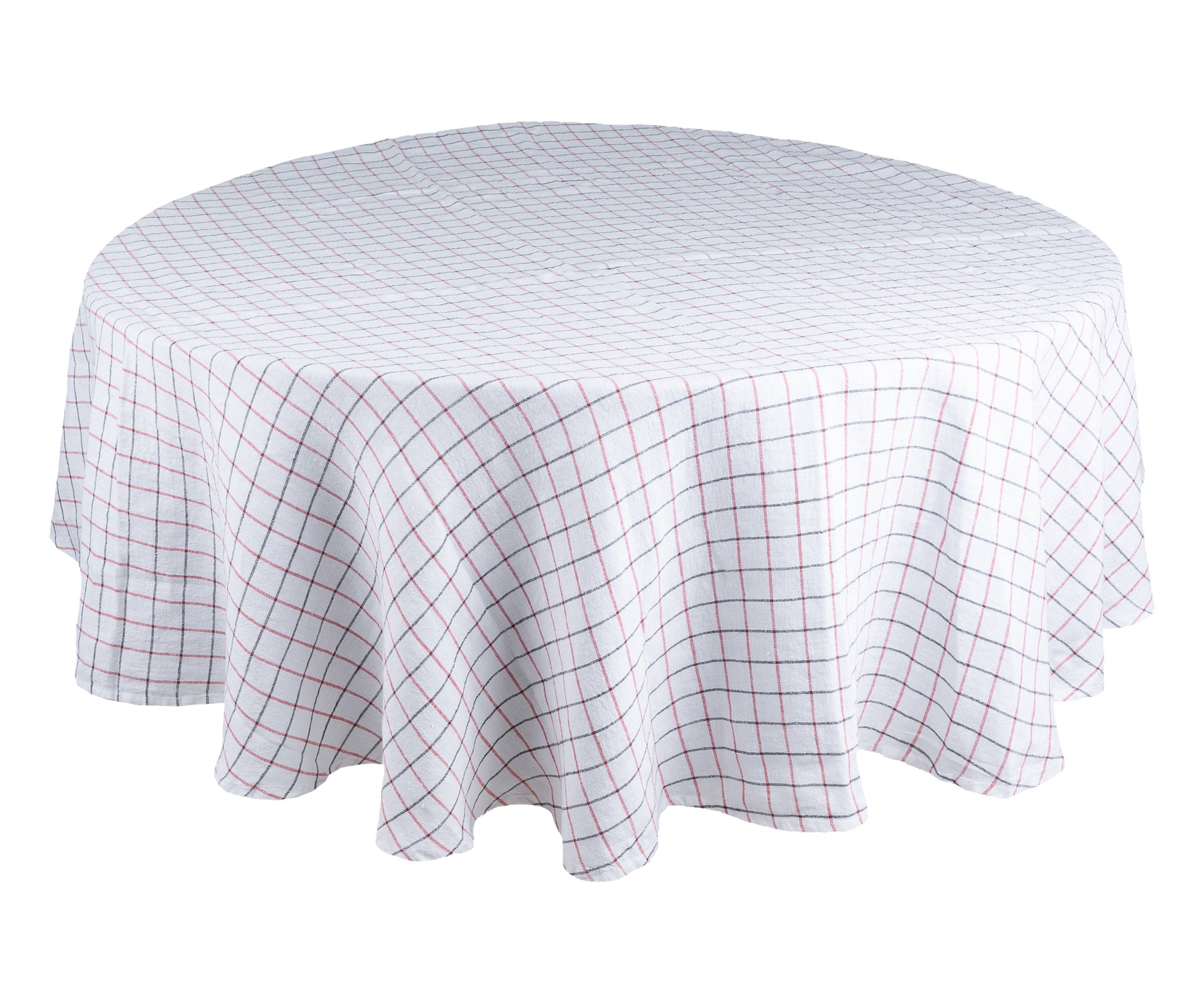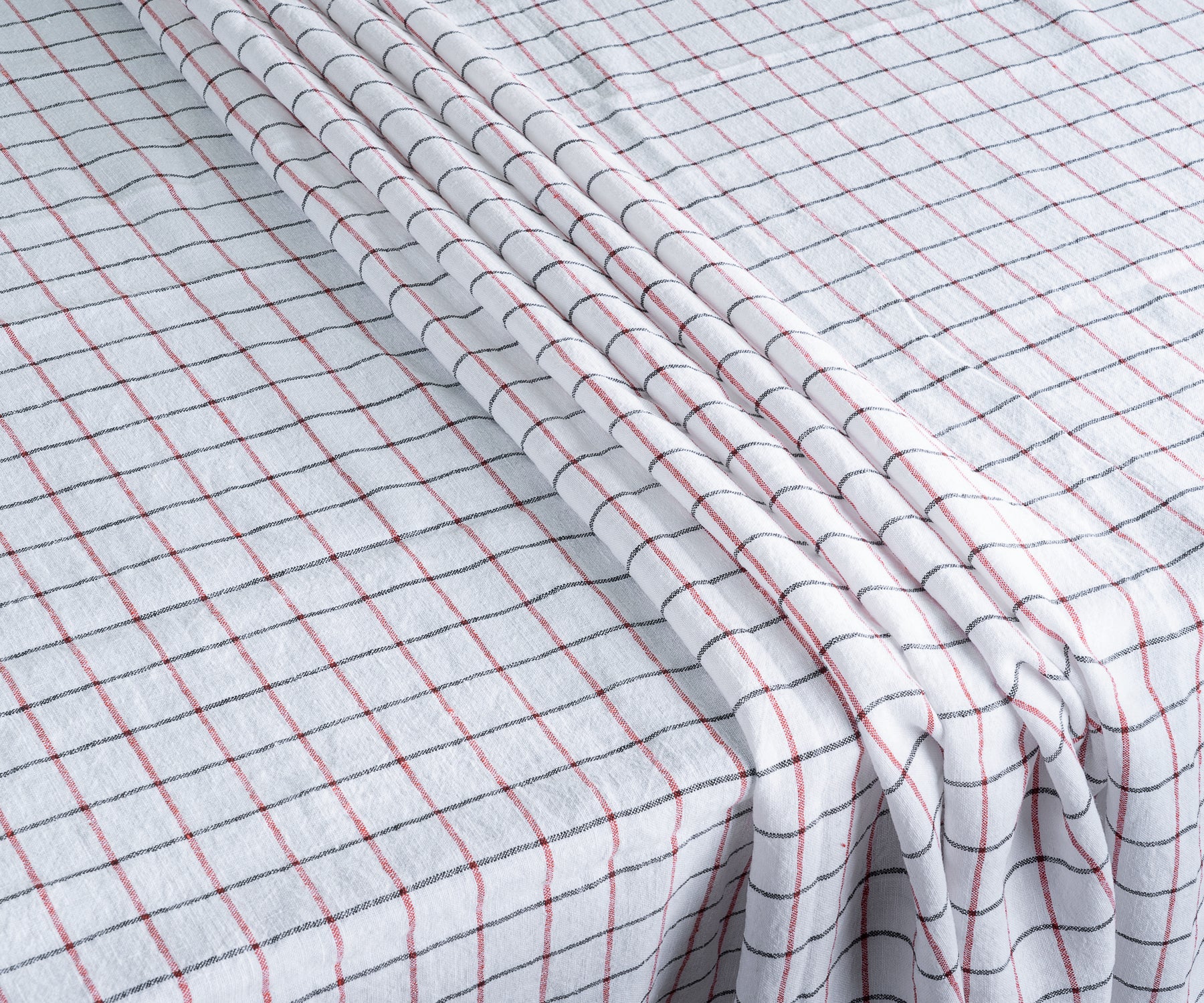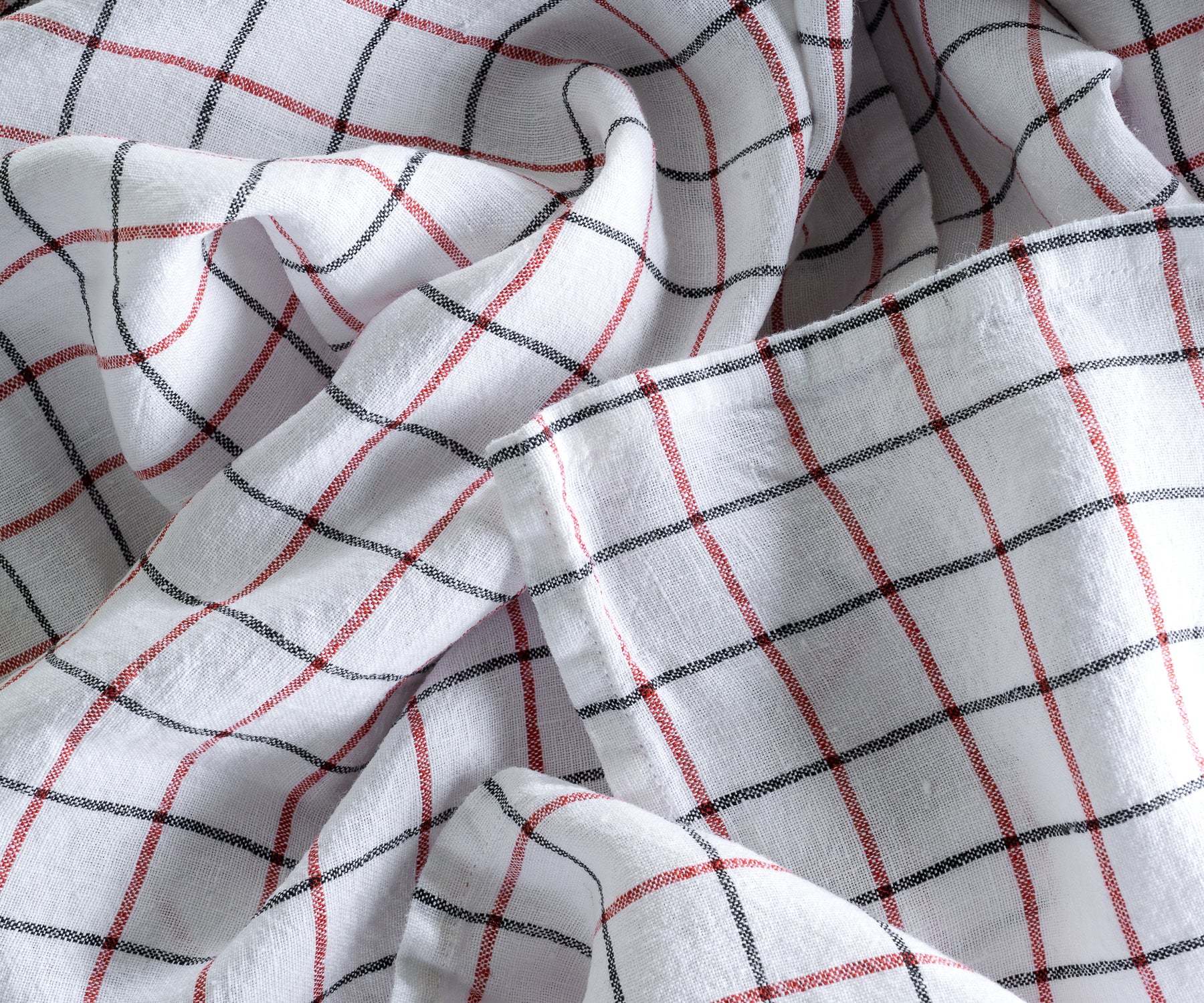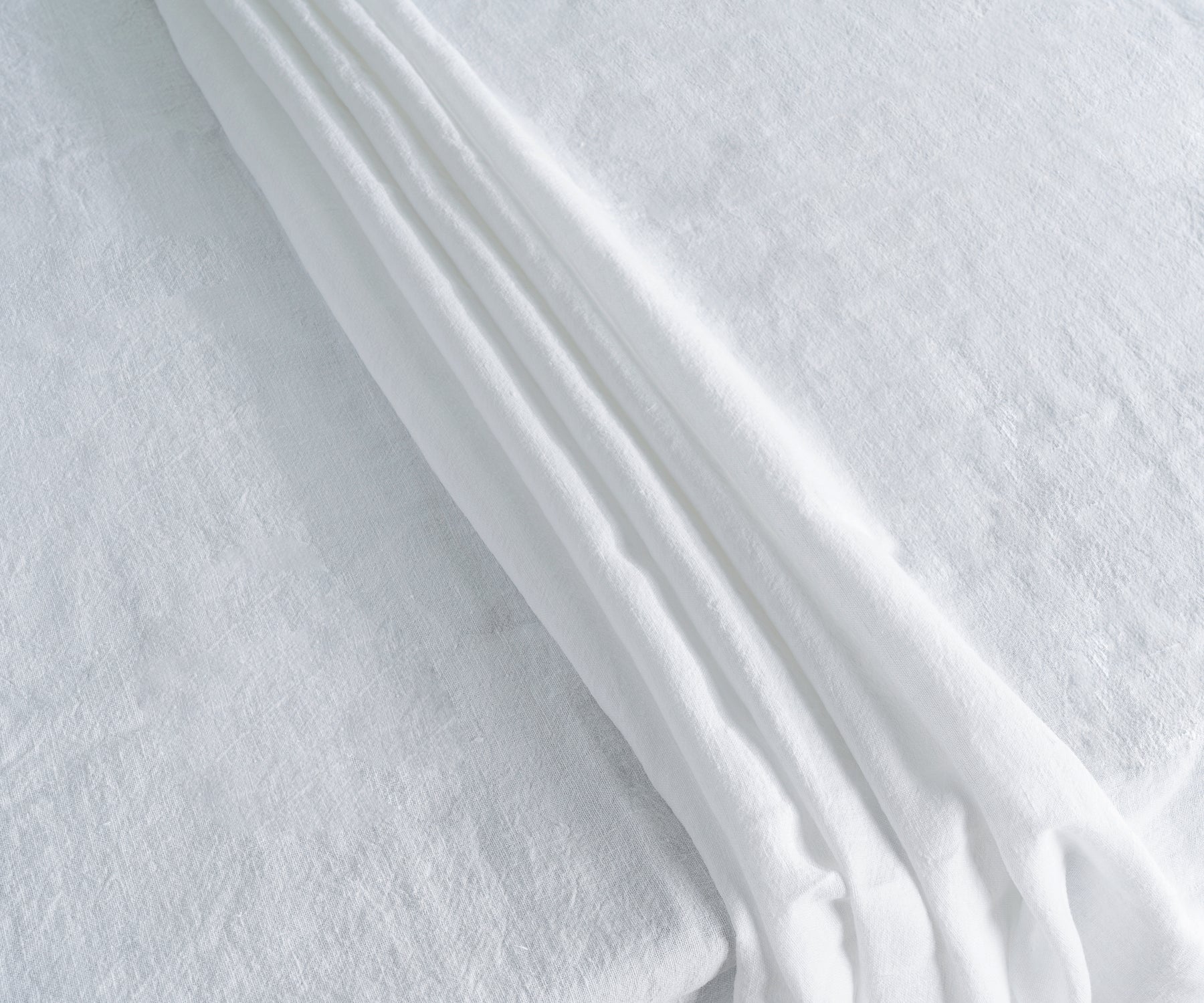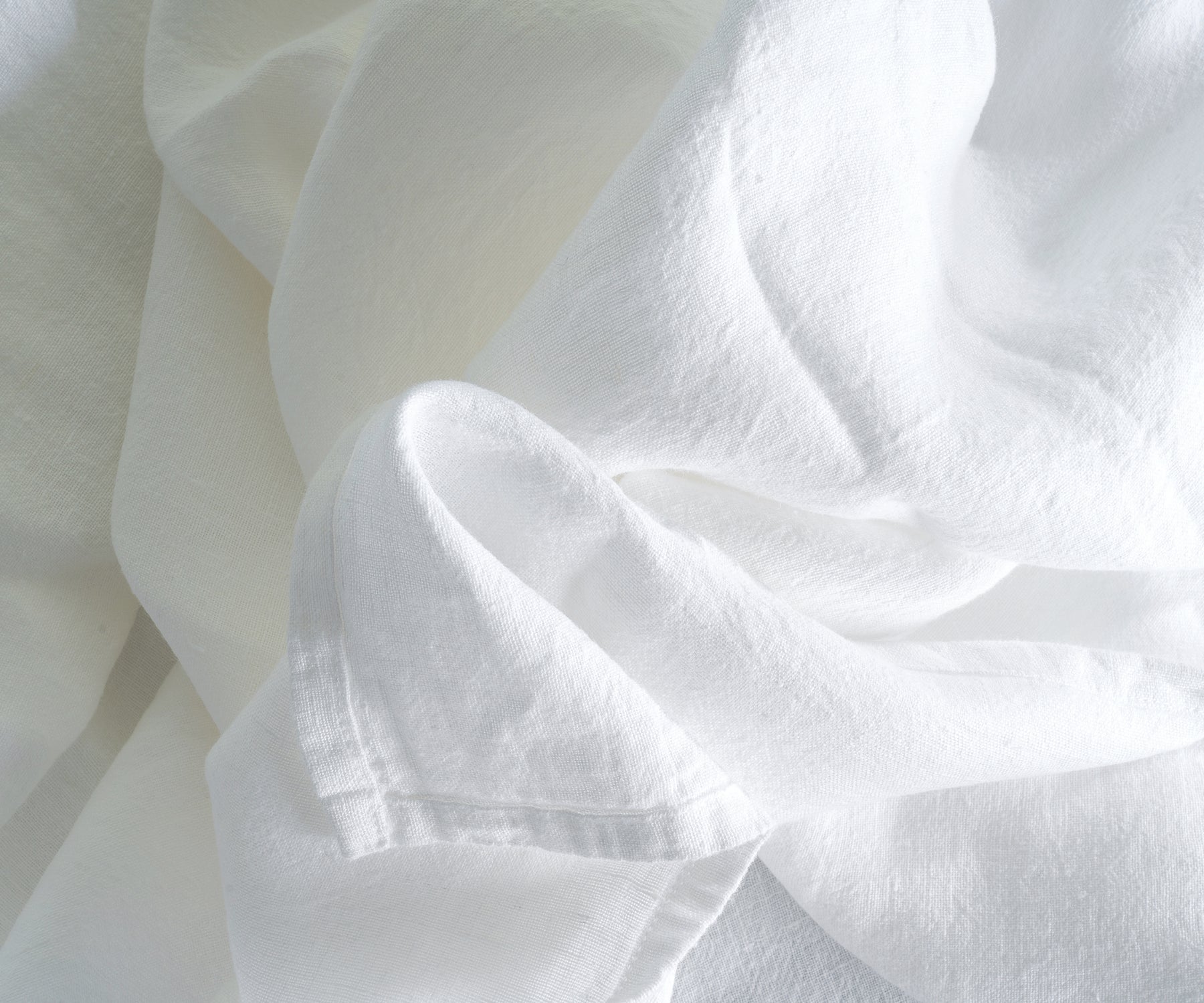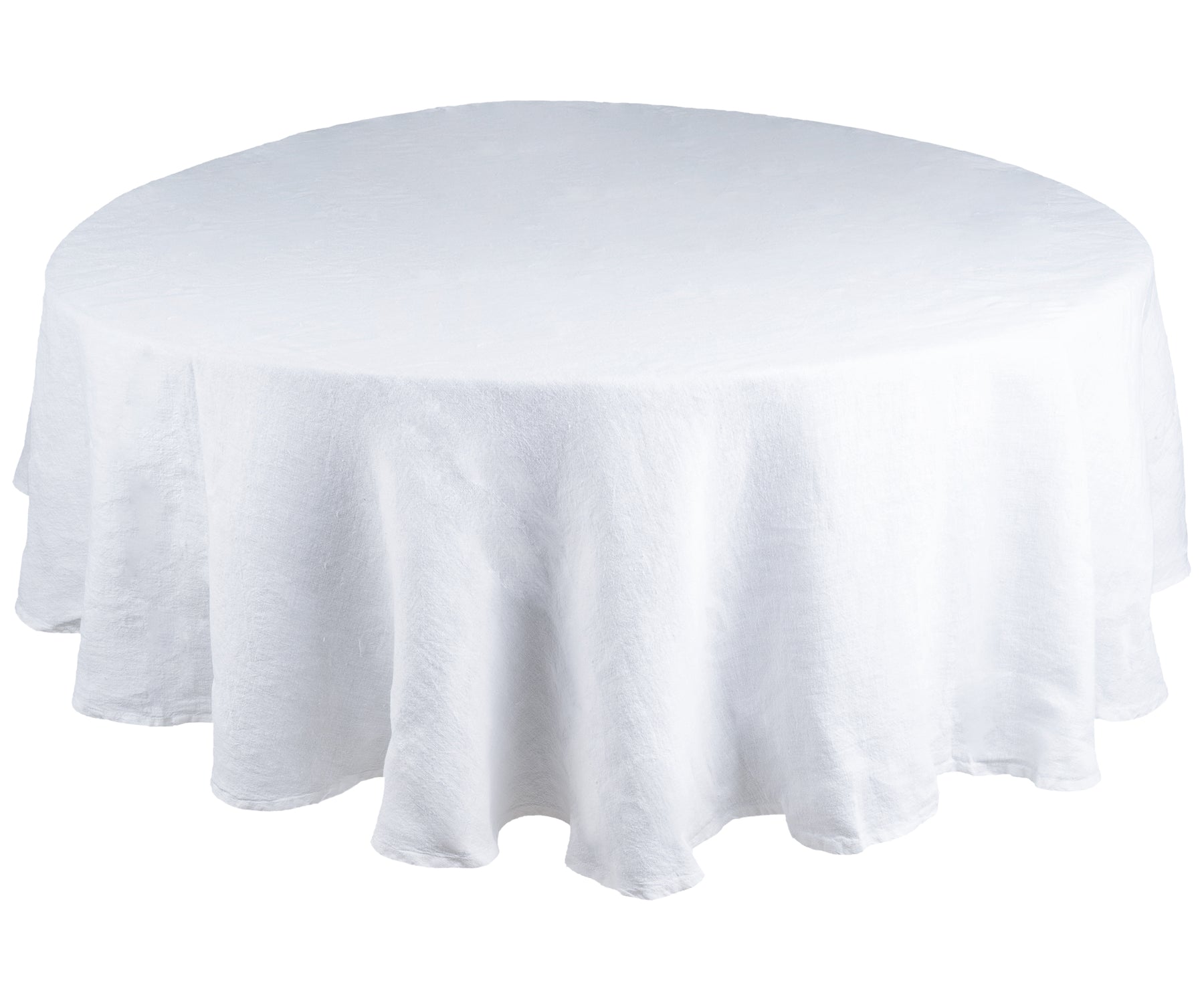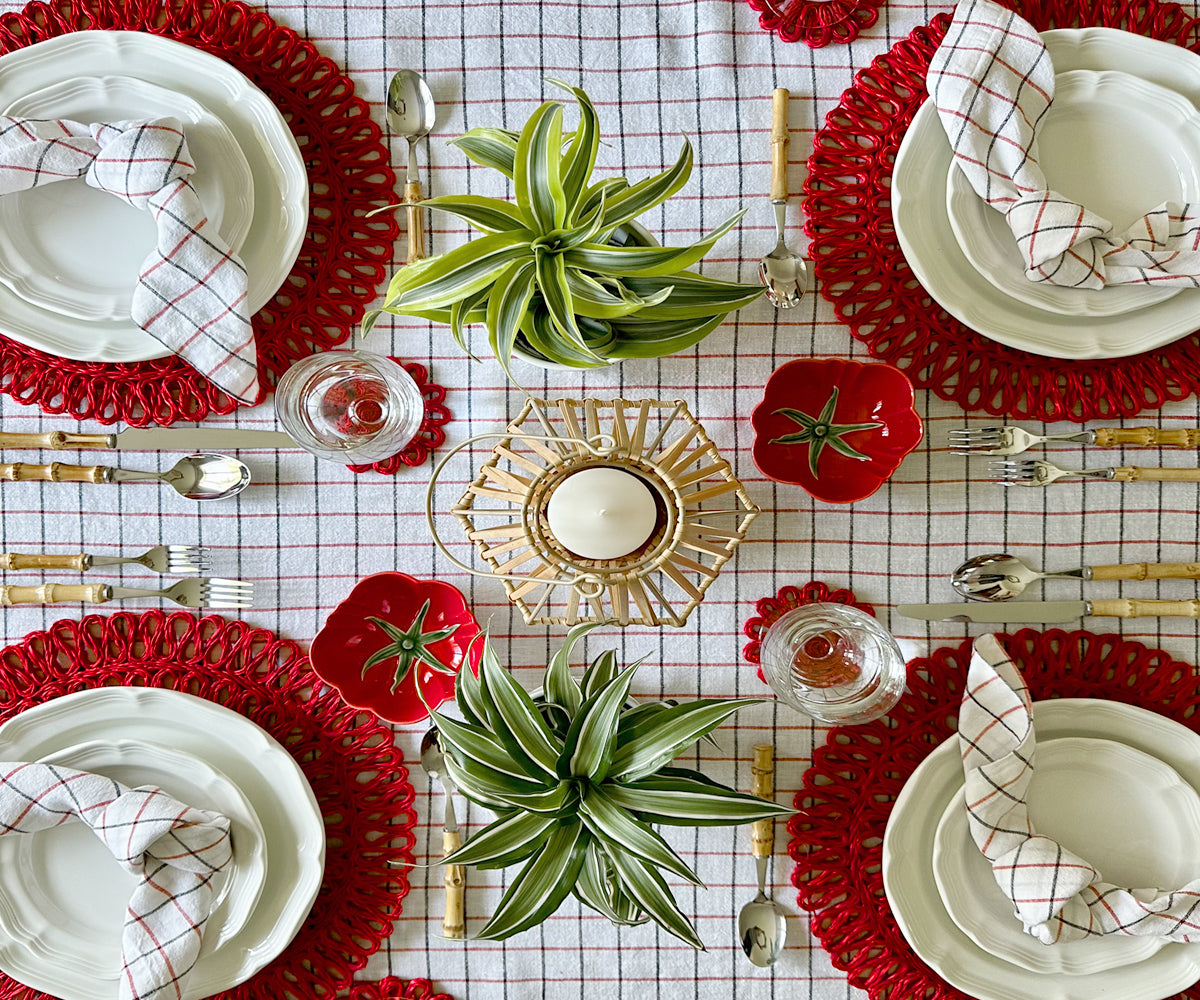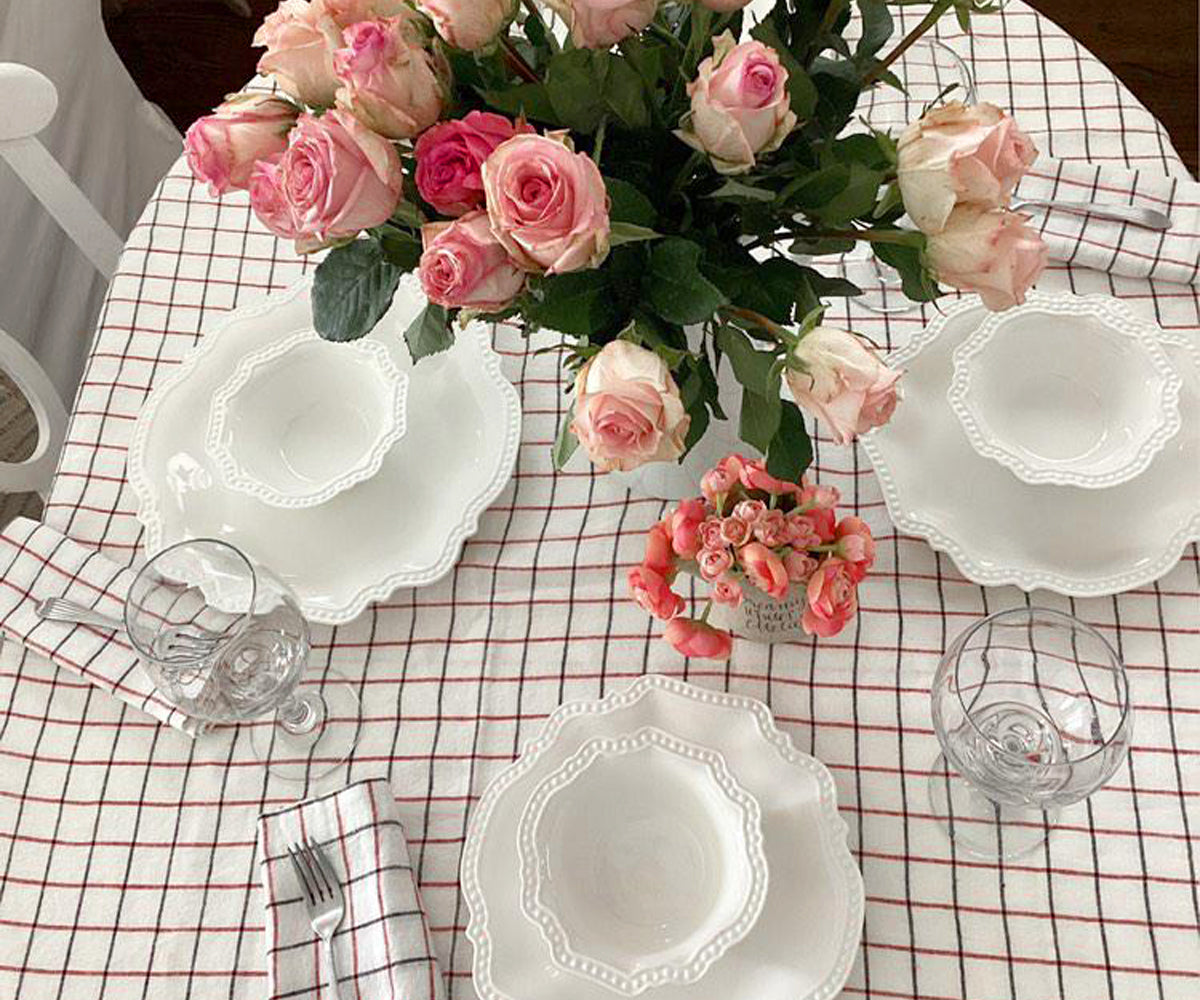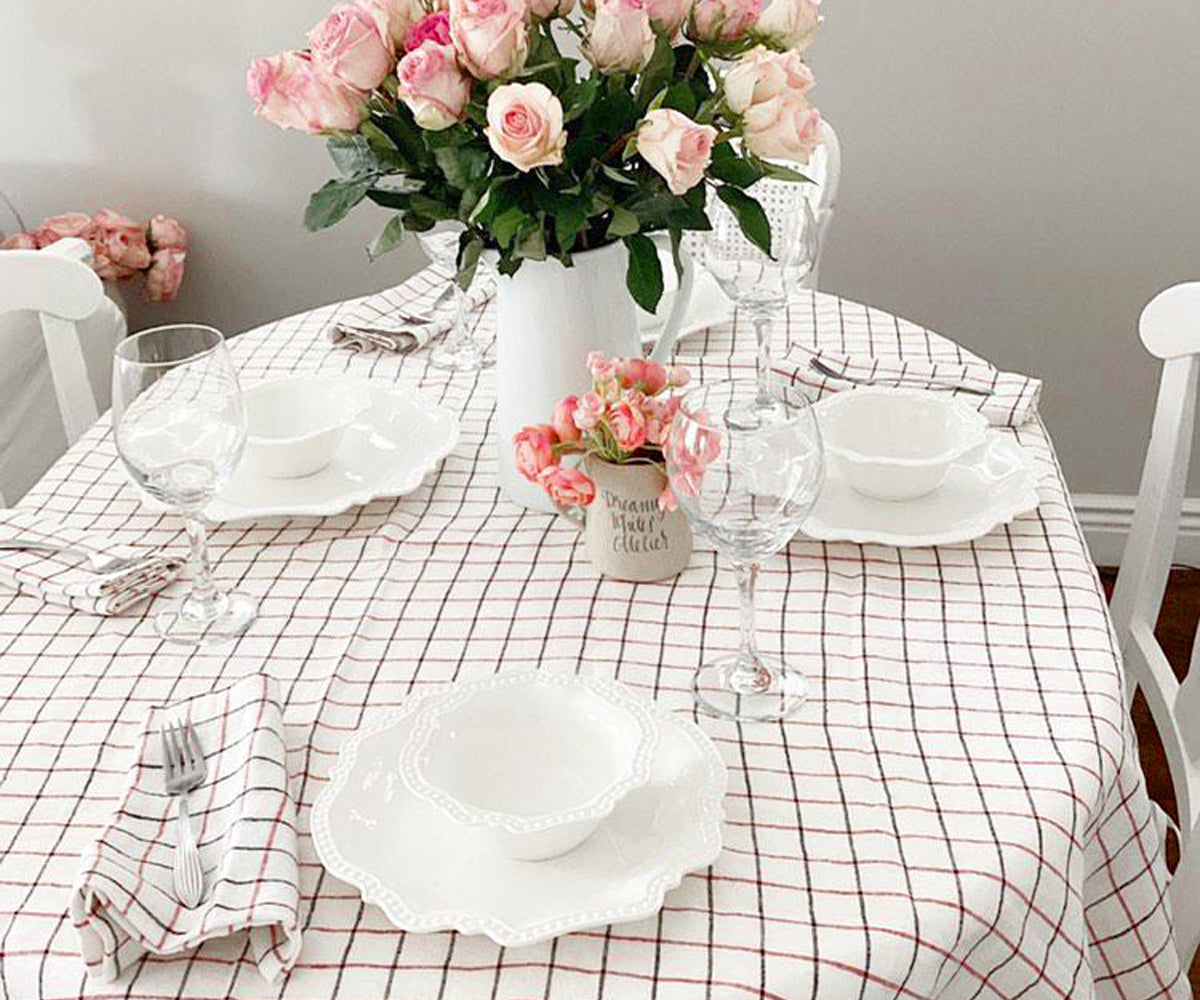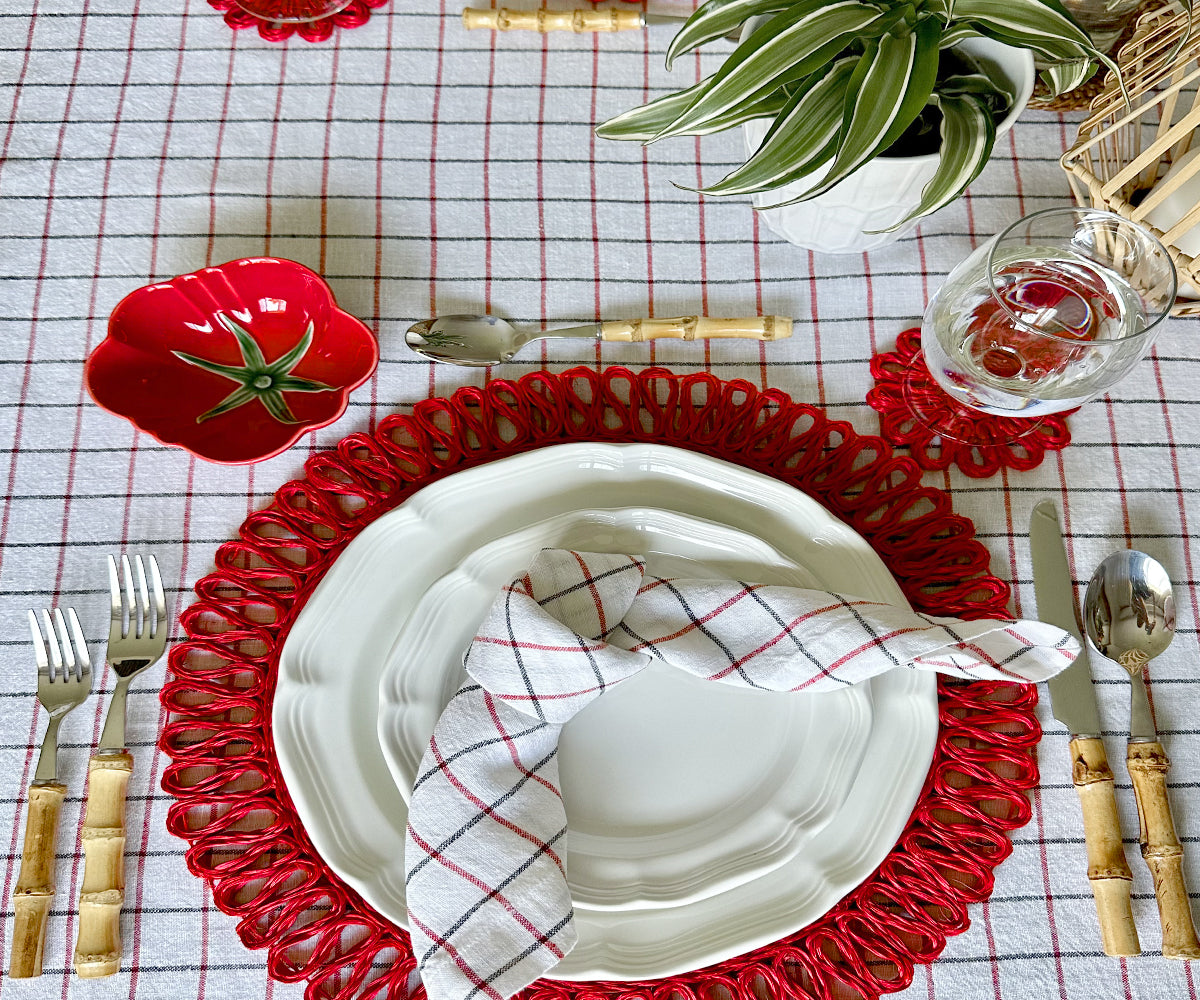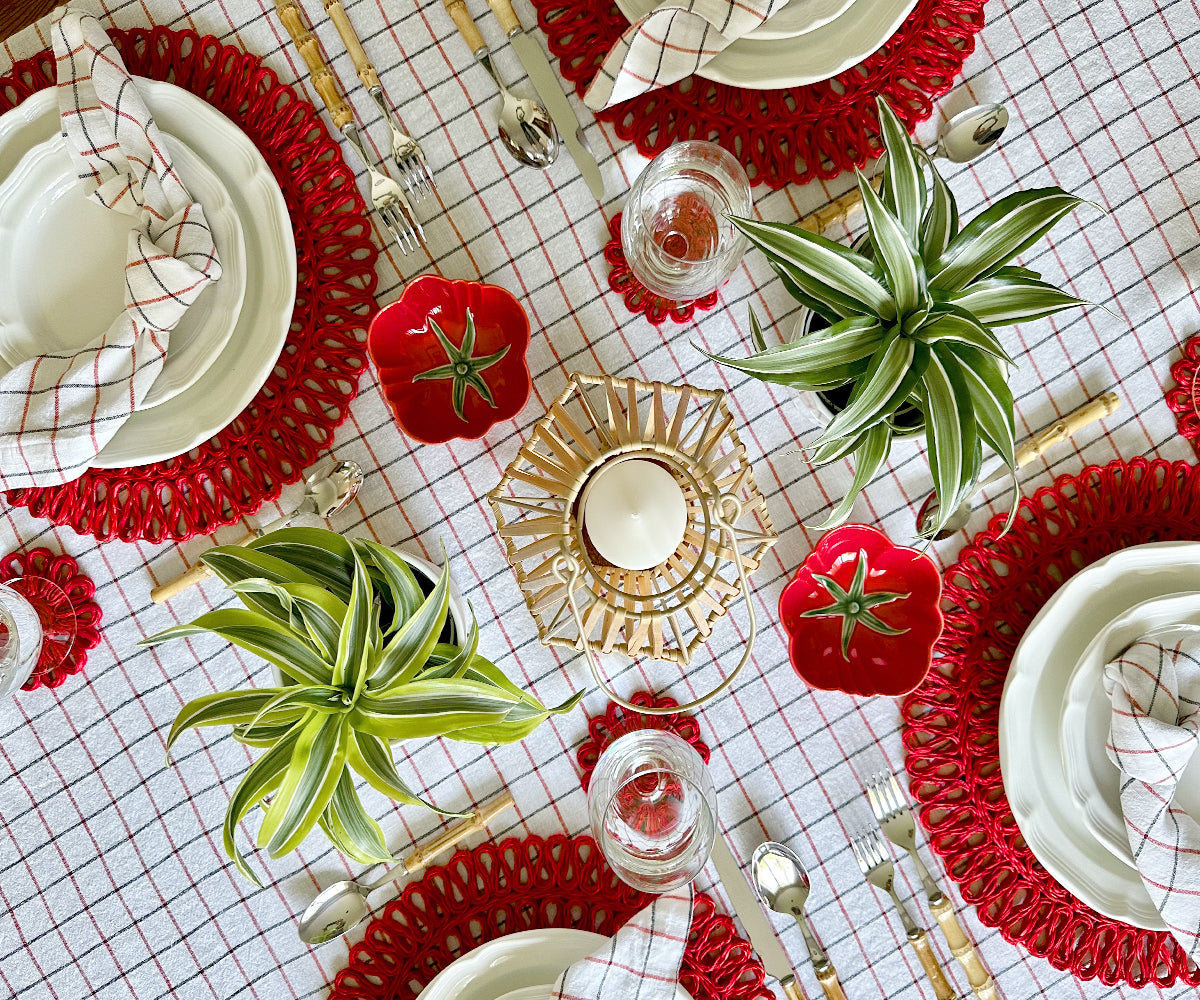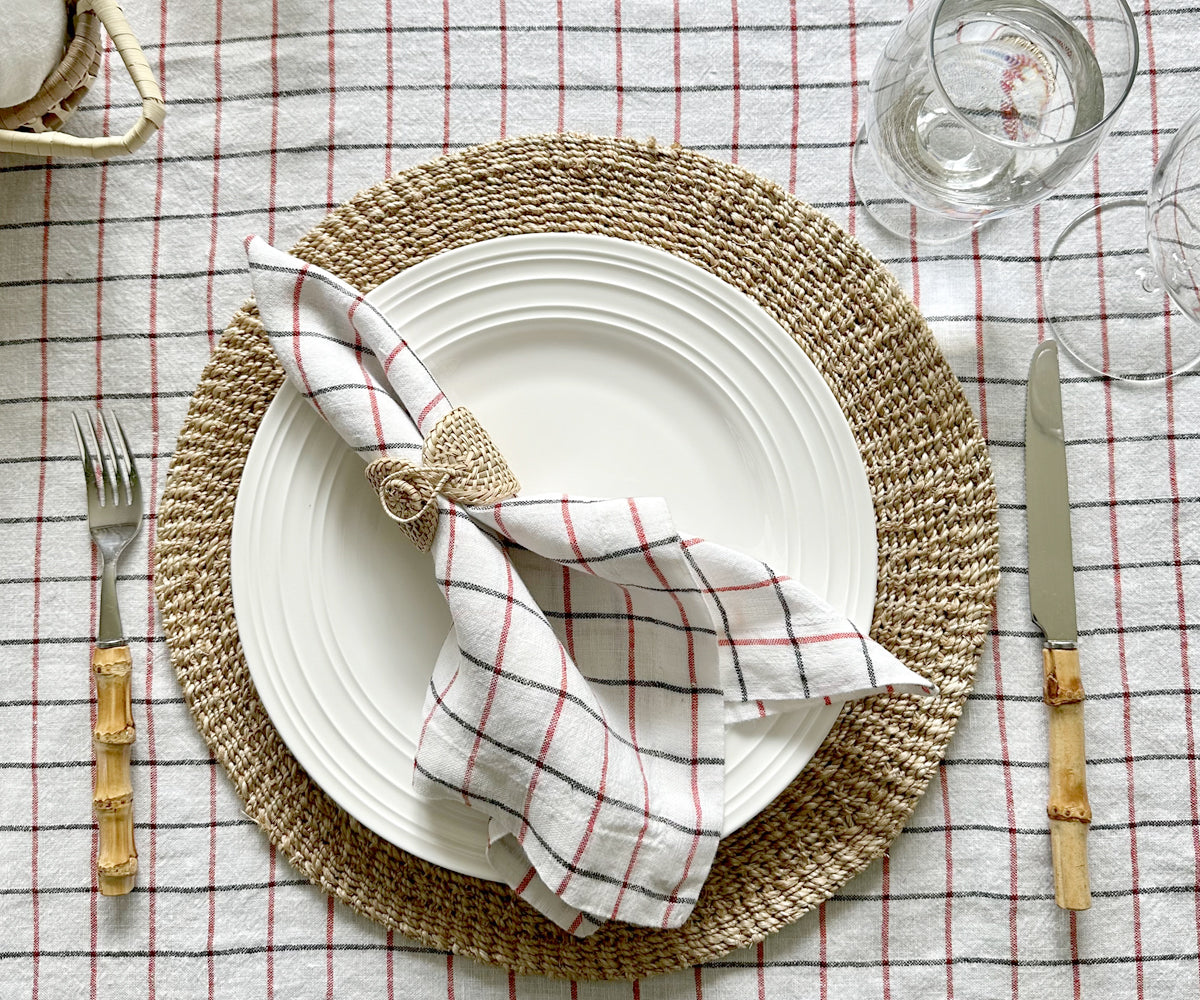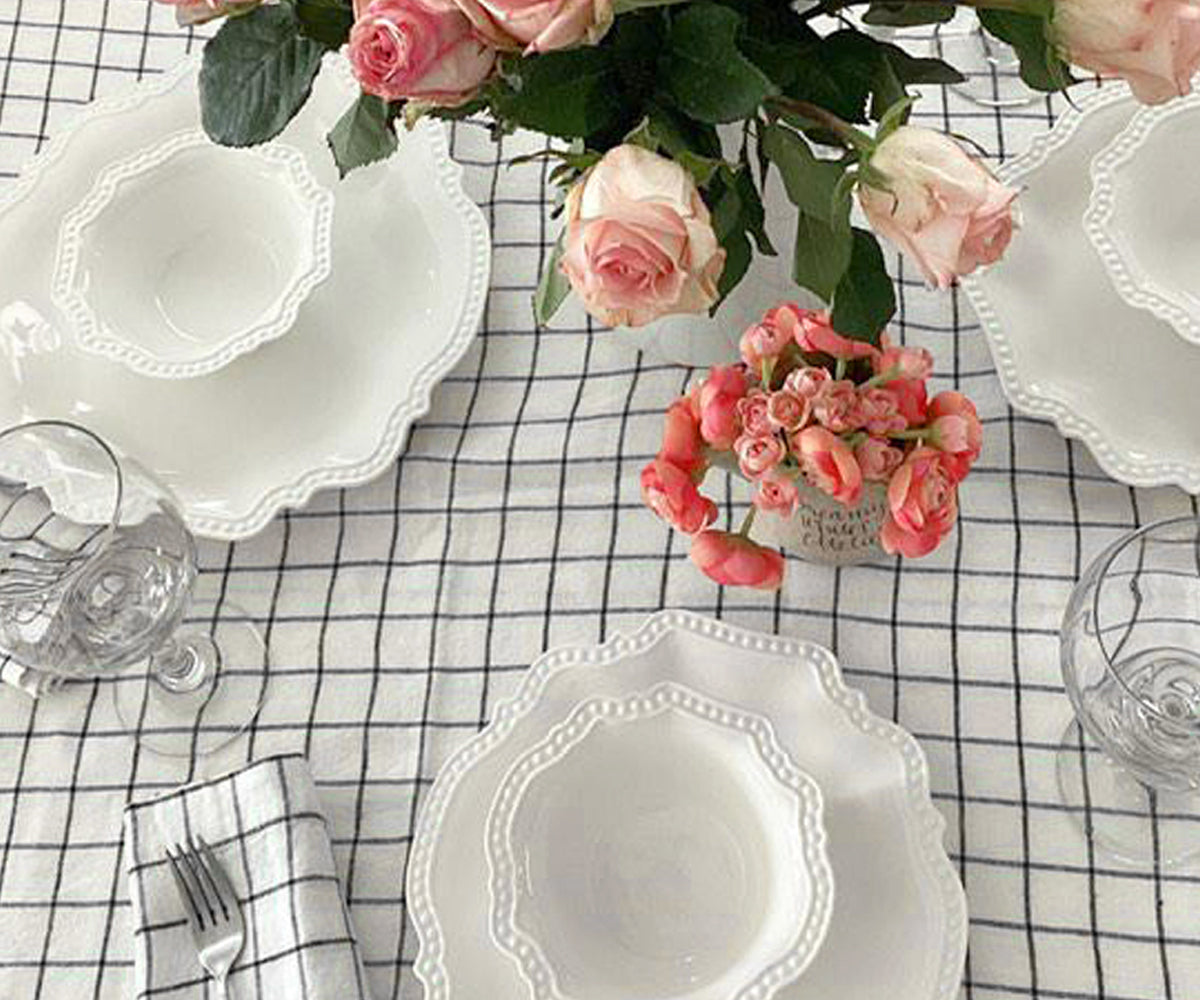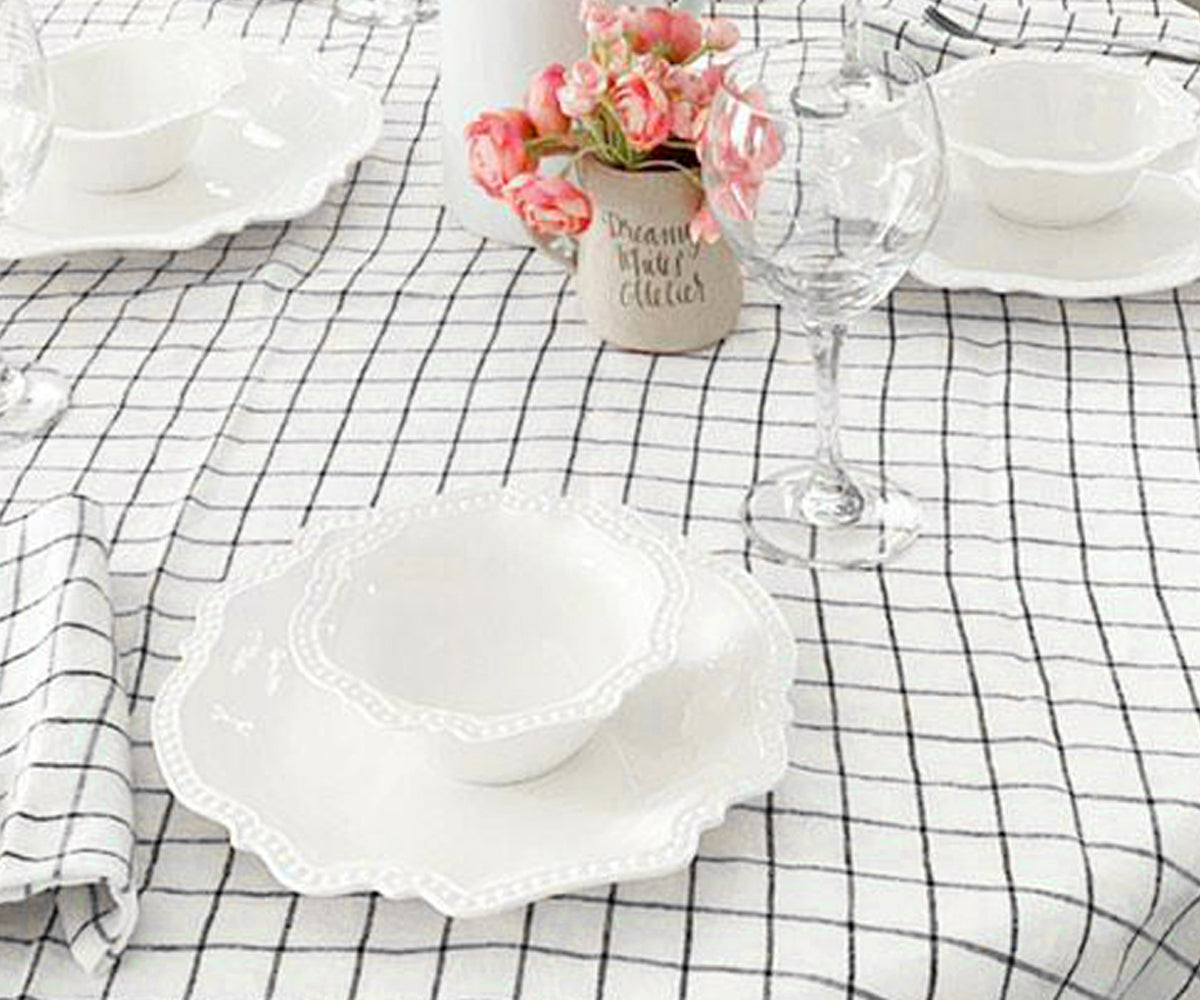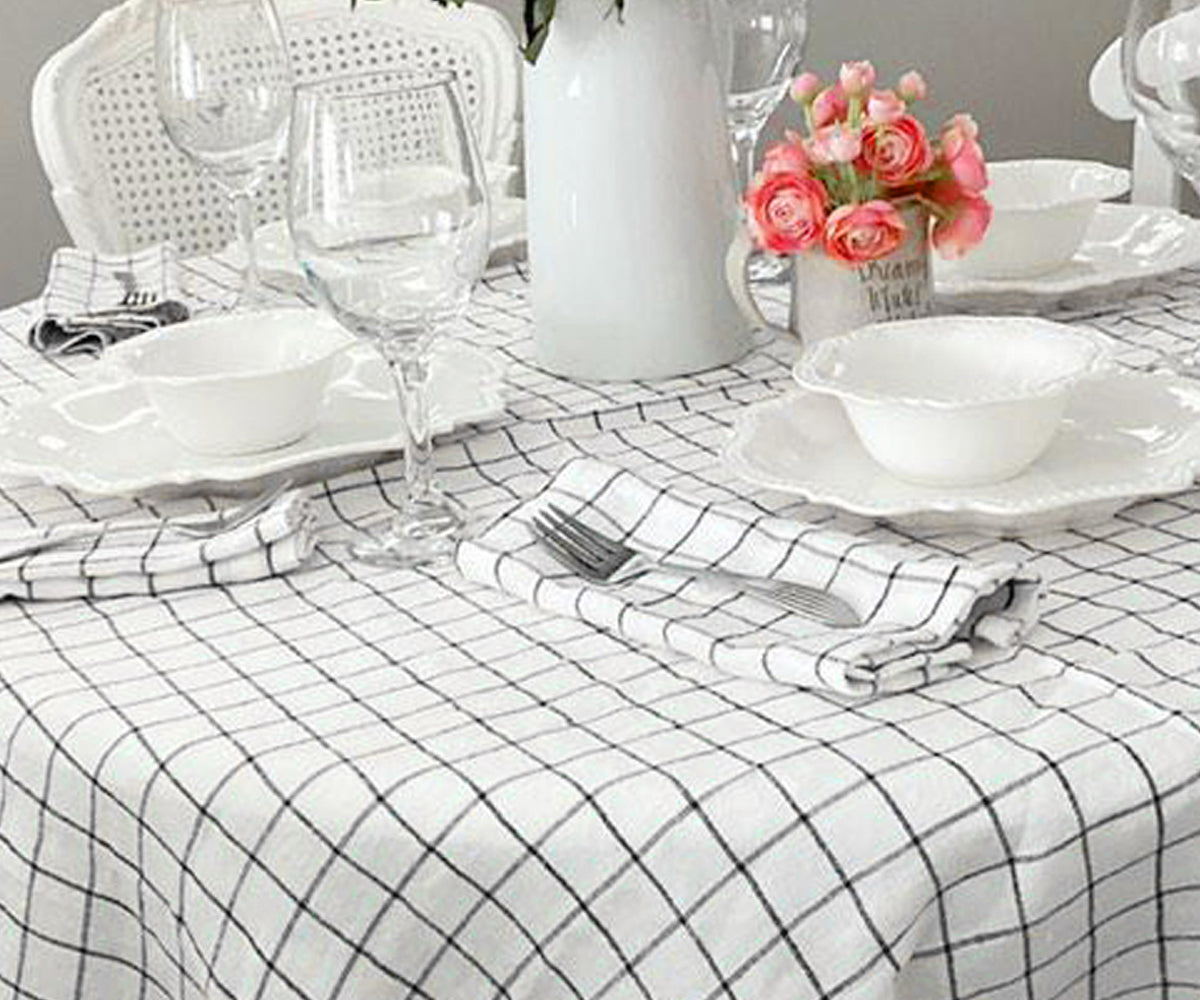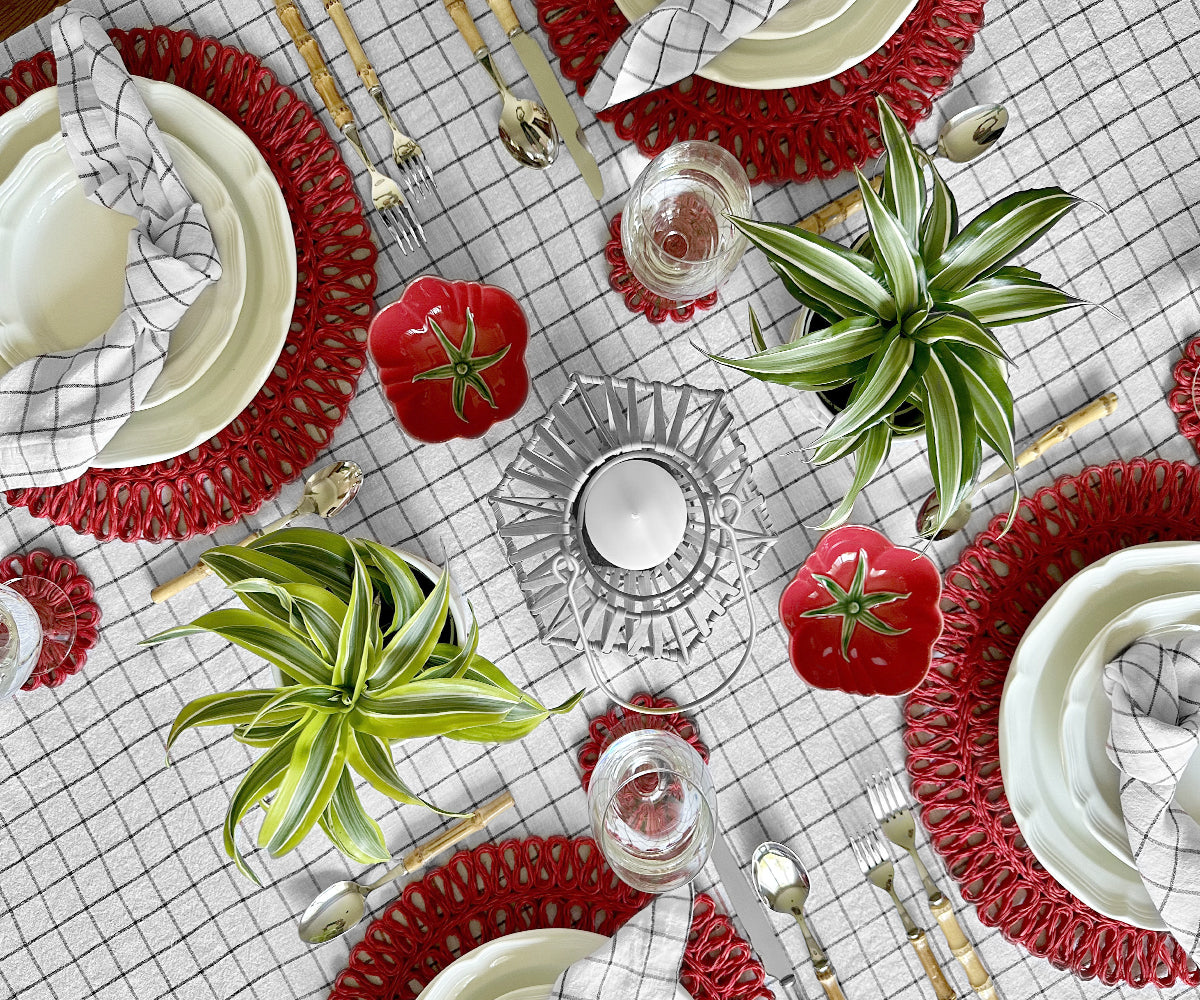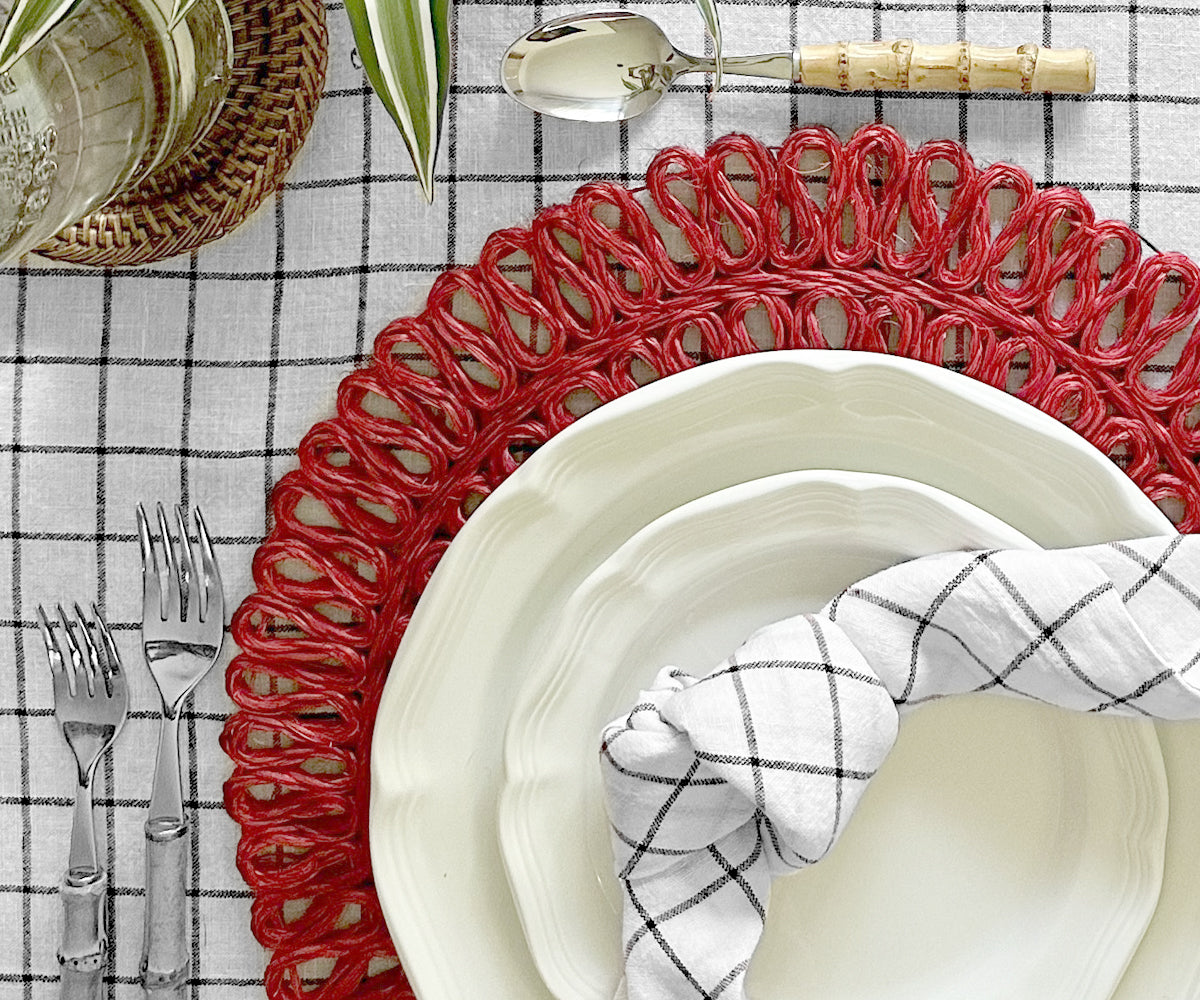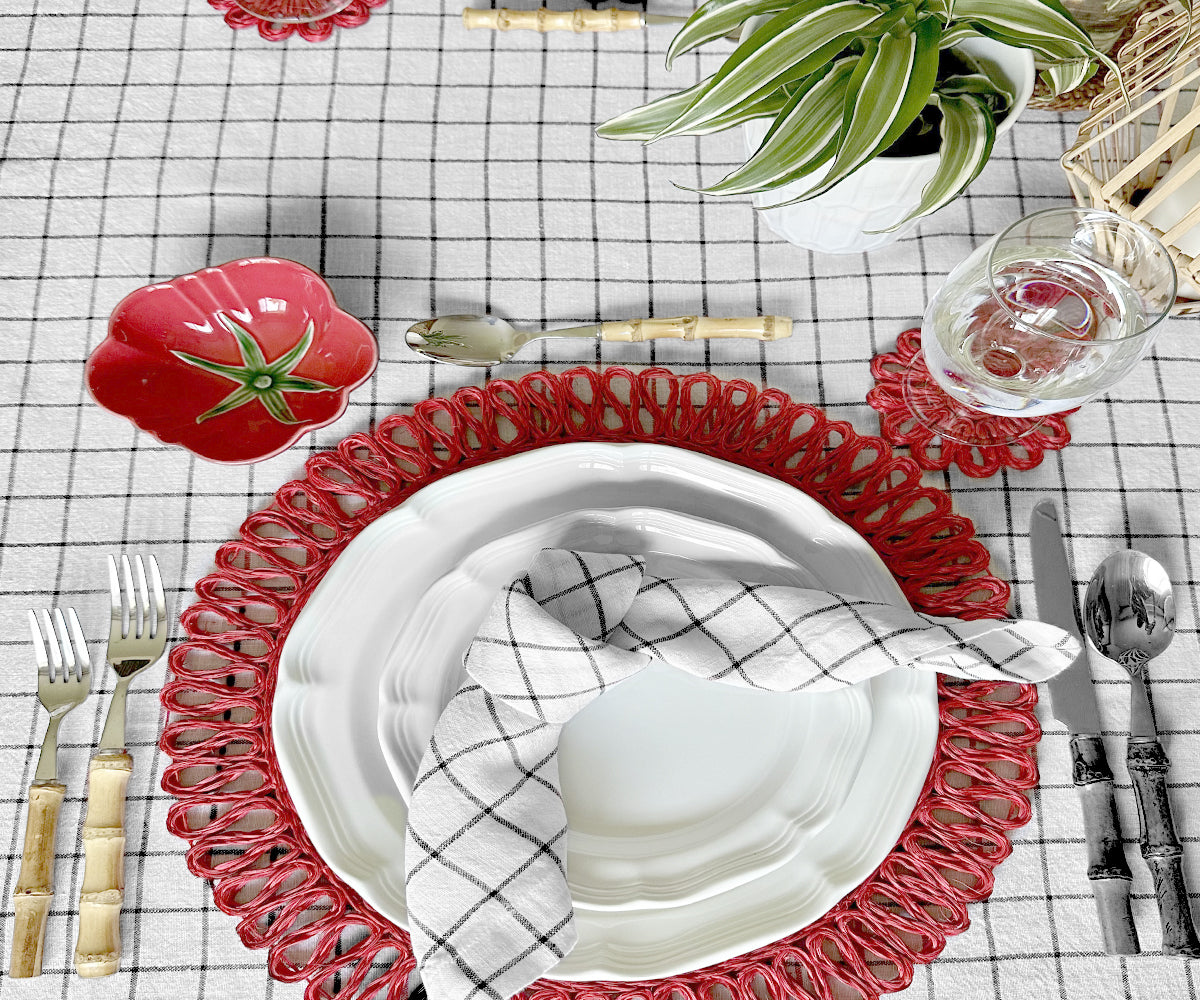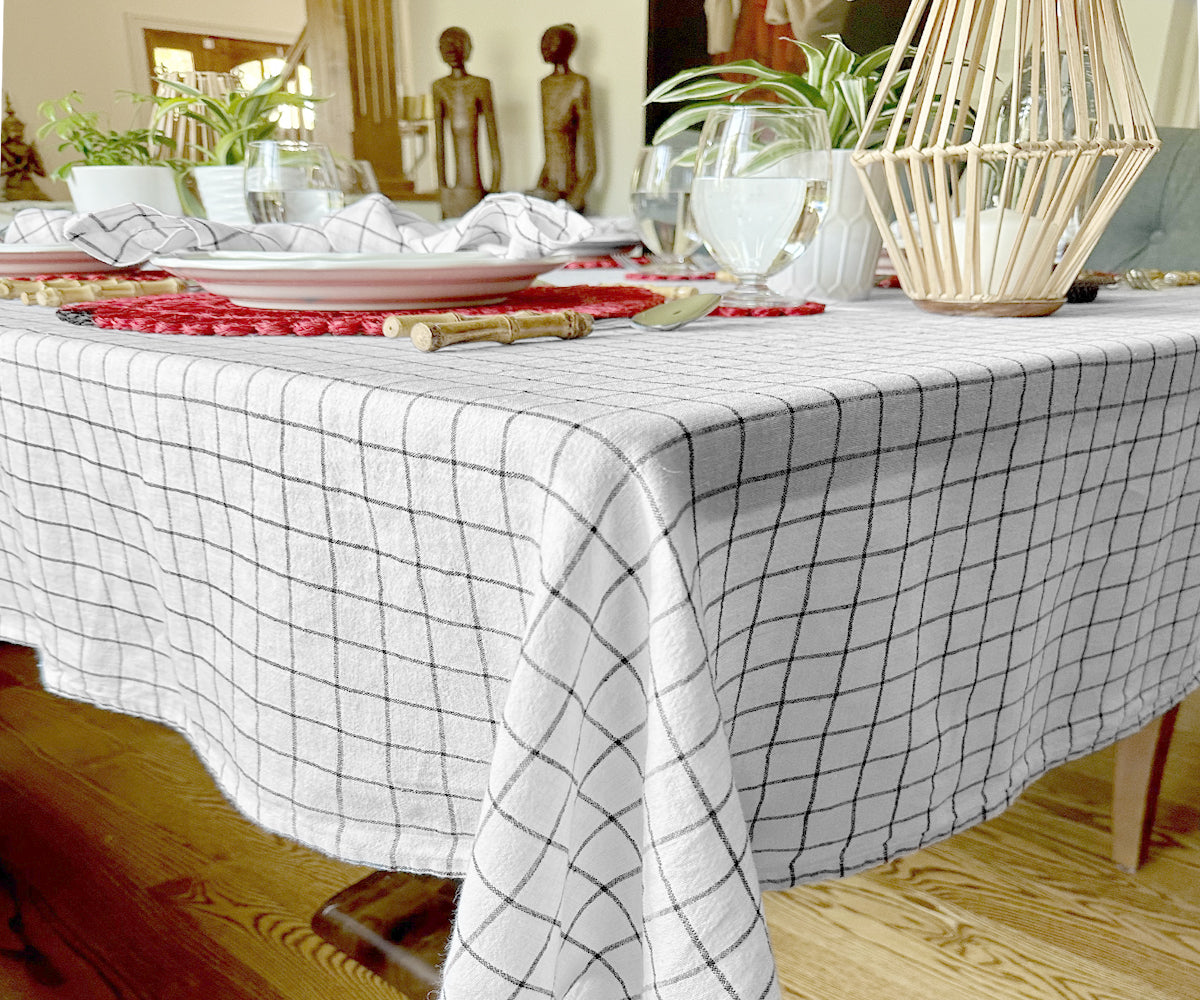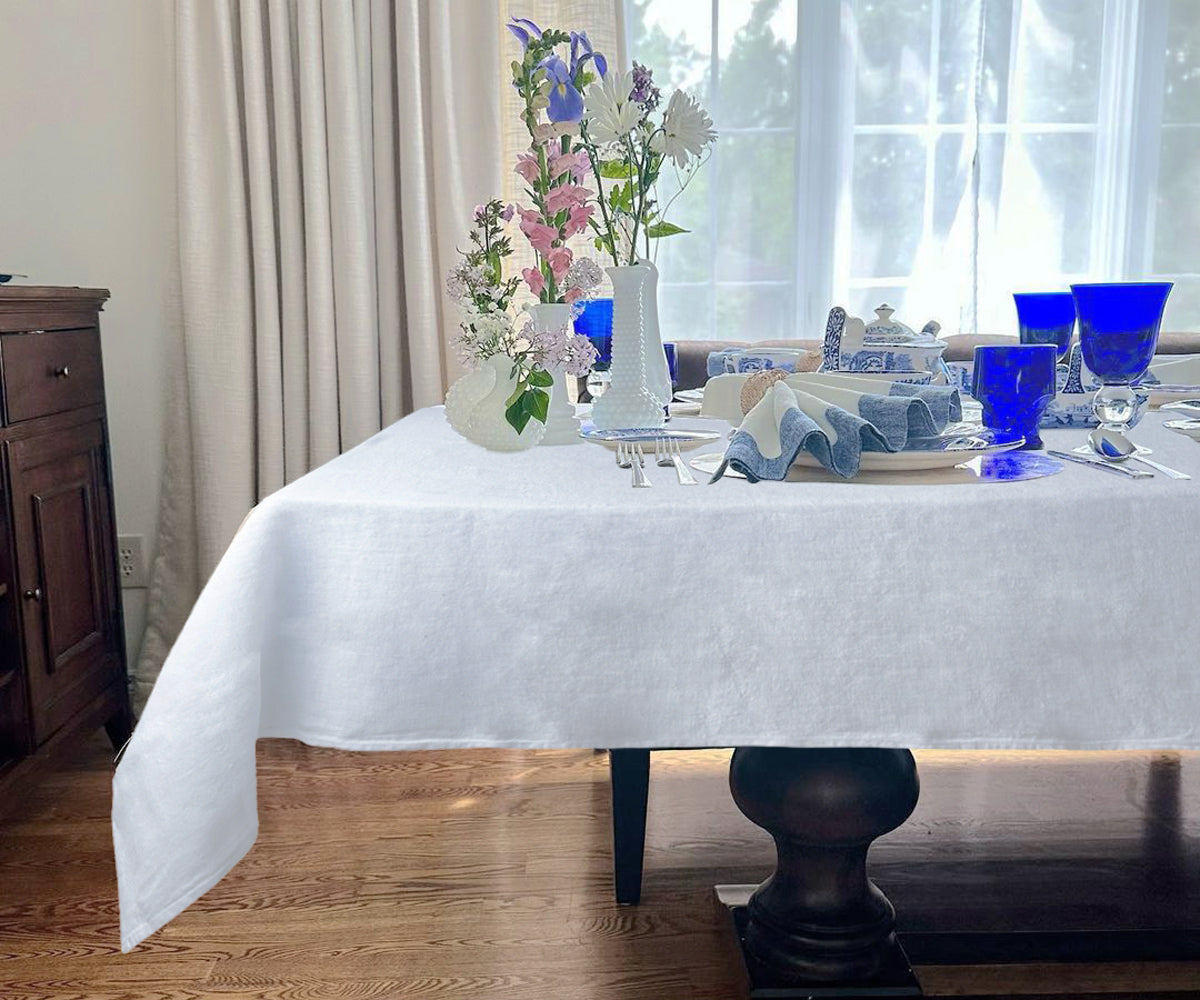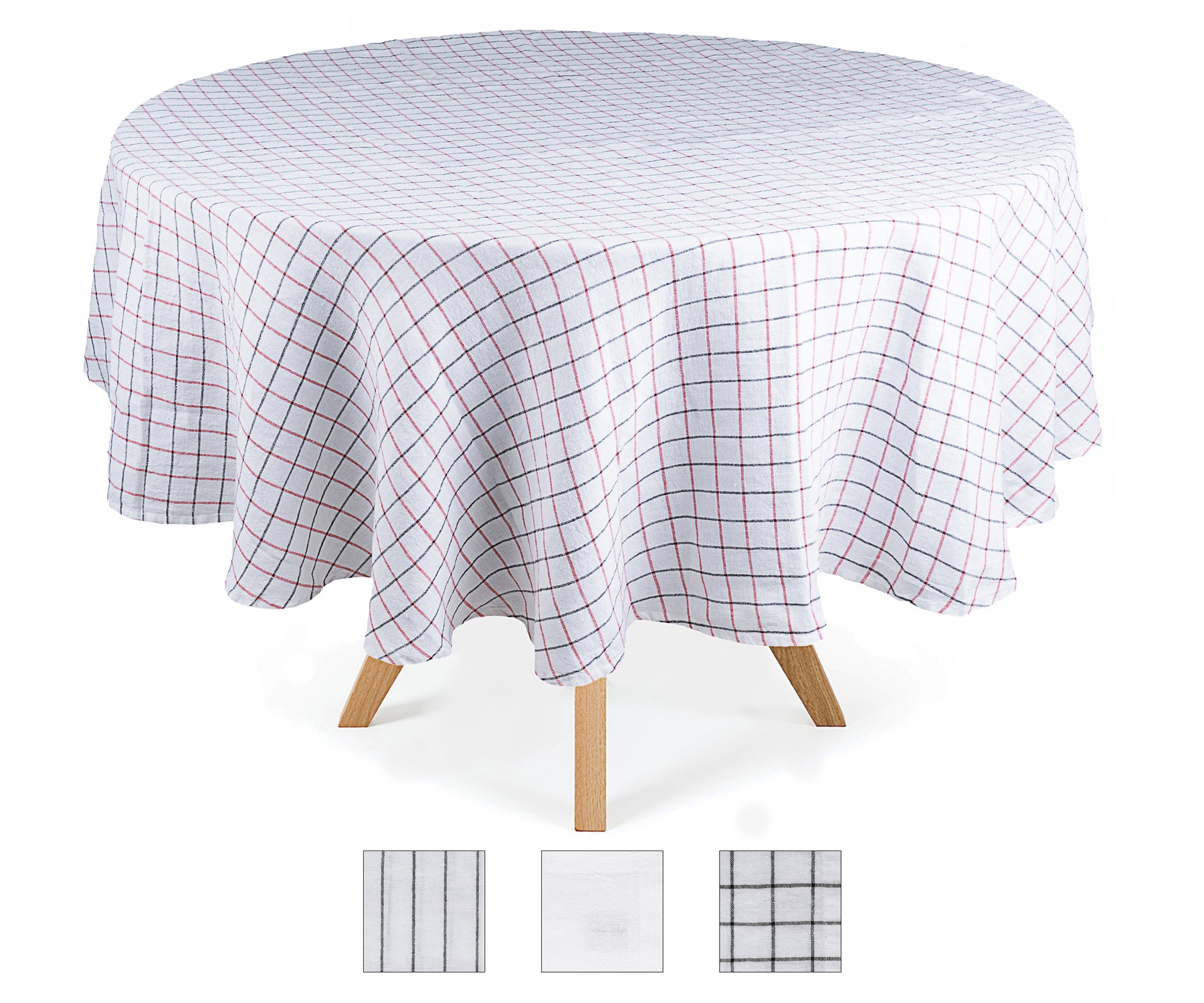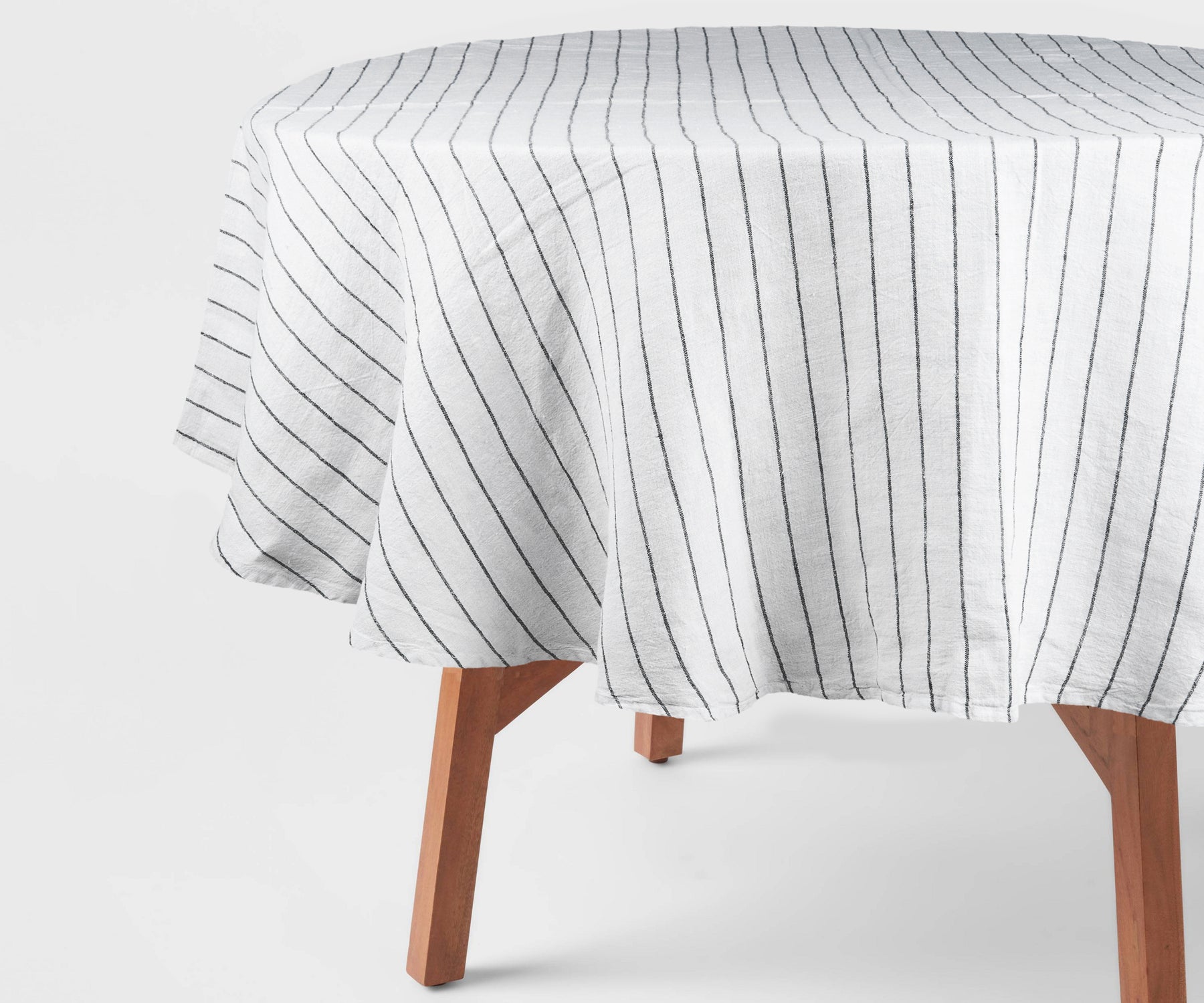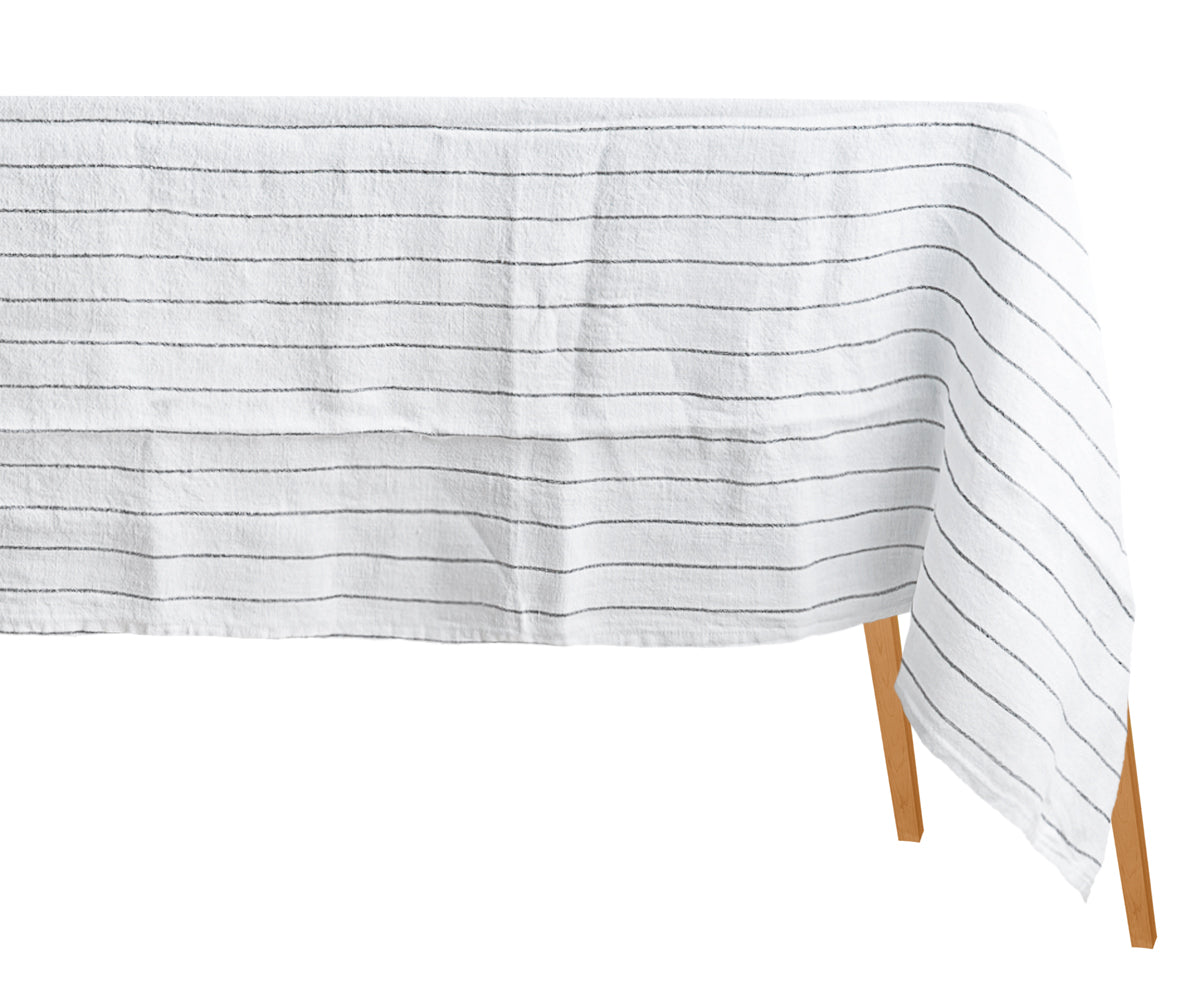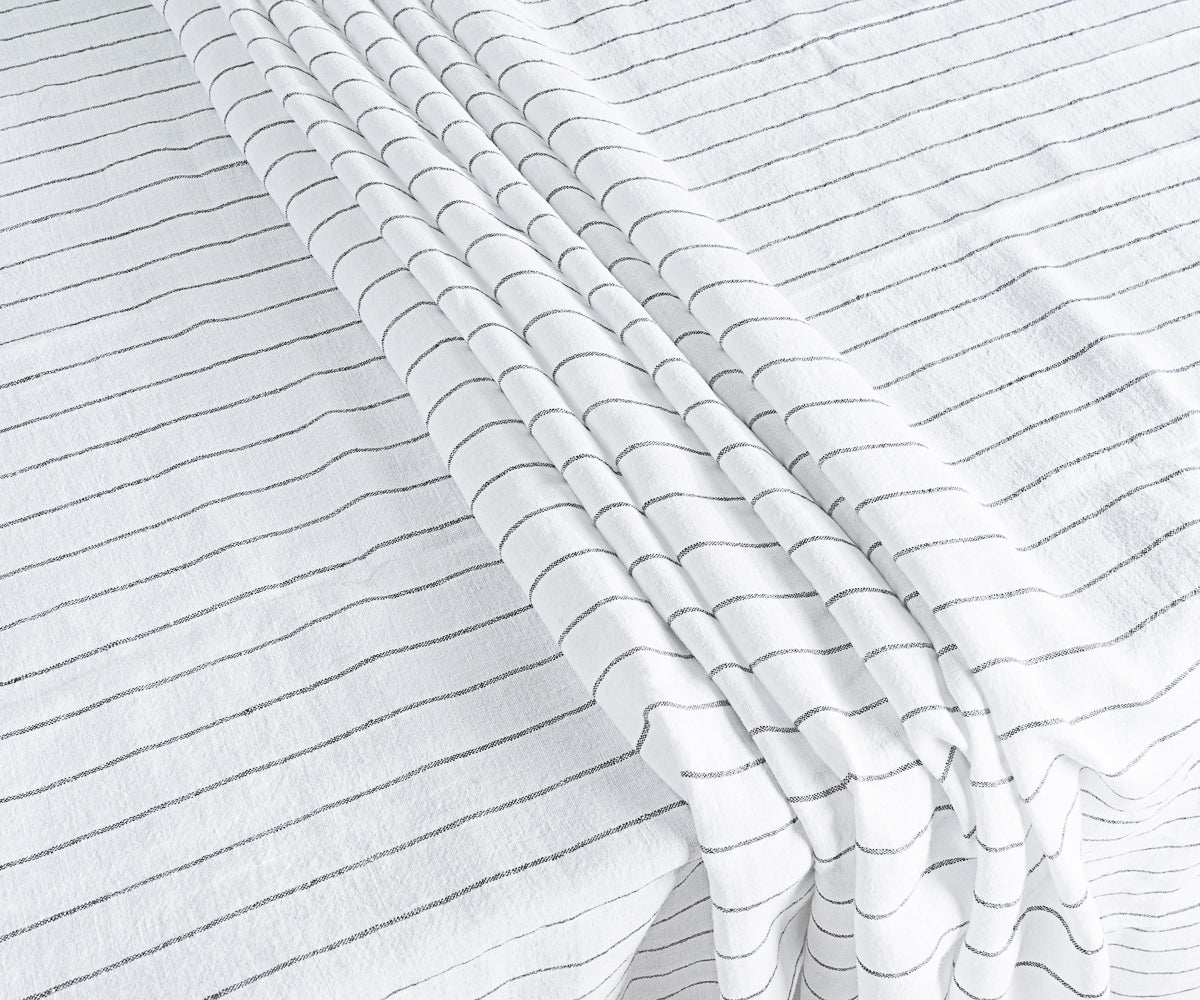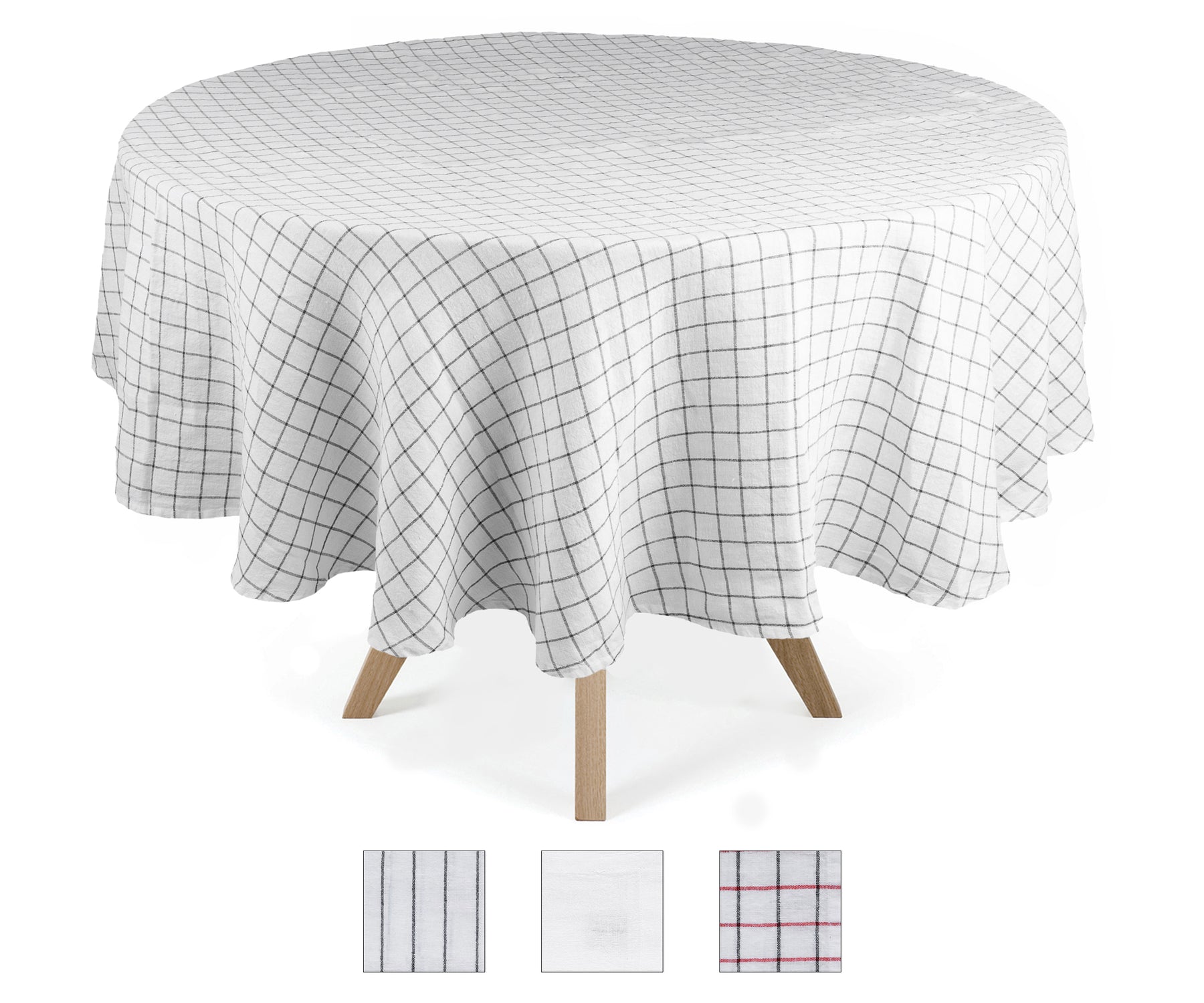 Round Linen Tablecloths
Product Details
Checkered Tablecloth:
Our

round cloth tablecloths

are made from 100% linen.
Our Unique Patterns are available in 63" round white and 63x98" white rectangle tablecloth.
Featuring two distinct designs, Our round linen tablecloths come in elegant black and red grids and classic black stripes.
Our white cloth tablecloth and farmhouse round tablecloth adapt to every occasion, from formal dinners to laid-back gatherings.

All Cotton and Linen's farmhouse tablecloth products are designed for easy care, being machine-washable for fuss-free cleaning and maintenance.

We extend our range to include linen and cotton table runners, and unique striped cotton placemats that pair beautifully with round tablecloths.

Our expansive product variety, which includes timeless white linen tablecloths, versatile round linen tablecloths, and homely farmhouse round tablecloths, caters to everyone's unique style and needs.
Search for the ideal white cloth tablecloth ends with All Cotton and Linen.
Dimensions & Easy Care
Dimensions:

Care and Maintenance
Machine wash in normal-temperature water
Tumble dry on a gentle cycle
Iron at less than 40-degree Celsius
To avoid creases do not leave the tablecloth in the dryer for long
Shipping & Return
Shipping 
Standard USPS free shipping.
Order processing time: 1 to 2 days. Orders will be delivered within 6-8 days.
Return & Refund
Merchandise must not be worn, washed, or altered.
Returns are accepted within 60 days of delivery.
For any questions contact customerservice@allcottonandlinen.com
Refunds will be processed within 1-2 business days.
Needs For Round Linen Tablecloths
Designed specifically for round tables in outdoor settings, white linen tablecloth provide a fitting and stylish touch to your dining area. These round linen tablecloths, finely crafted from durable materials, can resist weather conditions and protect your table from the elements like sun, rain, and wind.
Notably, these white linen tablecloths are effortless to clean and maintain, adding convenience to your outdoor dining experience. Offering a range of colors, patterns, and designs, tablecloths linen can instantly elevate the aesthetic appeal of your outdoor gatherings.
In particular, white linen tablecloths bring an irresistible charm and warmth to any outdoor space. The round farmhouse tablecloth variety fittingly suits any round outdoor table. With these round tablecloths, even a simple outdoor event can turn into an inviting and jovial ambiance.
Lastly, the outdoor tablecloth range is an amalgamation of quality, utility, and style, perfectly balancing the practical and aesthetic needs of any outdoor gathering, ensuring durability without compromising on charm
Round Linen Tablecloths
Elevate your feast with our luxurious round linen tablecloths, perfect for outdoor settings and holiday gatherings, including Thanksgiving. Try our red and white checked designs for an added charm
Uses of Luxury Tablecloth
white cotton tablecloths are instrumental for outdoor dining experiences and holiday celebrations, serving as a decorative and functional cover. Crafted from linen, our round linen tablecloth protects the table from outdoor elements and ups the aesthetic quotient for your al fresco meals. Nothing says inviting quite like our selection of outdoor tablecloths and holiday tablecloths to set the mood
Frequently Asked Questions
The standard tablecloth measurement for an 8-foot table is 60 inches wide and 102 inches long (60" x 102"). With a drop or overhang of approximately 15 inches on each side, this size allows for a neat and formal look. However, it's essential to consider the thickness of the table and the
desired look.
The standard tablecloth measurement for an 8-foot table is 60 inches wide and 102 inches long (60" x 102"). With a drop or overhang of approximately 15 inches on each side, this size allows for a neat and formal look. However, it's essential to consider the thickness of the table and the
desired look.
You can use tablecloth clips, non-slip rug pads, shelf liners, velcro strips, tension rods, or even tablecloth weights.
Traditionally, a linen tablecloth overhangs the table by about 6 to 12 inches (15 to 30 centimeters) on all sides.This allows for a graceful drape and prevents the cloth from hanging too low, potentially touching the legs of the table or interfering with seated guests.
You can dampen the cloth with water using a spray bottle, then gently iron the linen tablecloth on the lowest heat setting while it's still slightly damp, taking care not to press too hard to avoid damaging the fabric.
Tablecloths can be considered traditional or classic, but whether they are old-fashioned depends on personal preferences and current trends. Table cloths have been used for centuries to protect tables, add a decorative touch, and enhance the dining experience.
Luxury Tablecloths are usually made of linen, cotton, silk, damask,
satin, and Velvet. These cotton tablecloths showcase sophisticated looks and are primarily used for dinner parties or special occasions.
To effectively wash white tablecloths with stains, start by pretreating
the stains with a mixture of hydrogen peroxide and liquid laundry detergent, then wash the tablecloths in the hottest water recommended on the care label using quality bleach.
Linen is an excellent fabric for cloth tablecloths due to its natural,
breathable properties and durability, making it resistant to stains and wrinkles, while also lending an elegant and sophisticated touch to any table setting. Its ability to absorb moisture and regulate temperature further enhances its suitability for dining.
Choosing between linen and cotton tablecloths depends on personal preference and specific needs. Linen tablecloths are often favored for their natural elegance, durability, and ability to resist stains. In contrast, cotton tablecloths offer a softer and more affordable option with a broader range of design choices.
Nice.
I use this product for a baby shower. They work great!
Sturdy cloths but not exactly as pictured.
This is a 6ft table I bought 70×120 inches ivory color. Good quality. The size is perfect too just a little long from the sides.
Great Quality
I used this as the base table cloth and added a tulle skirt. Worked great.
Great tablecloth
Great quality tablecloth. Exactly what I was looking for.
I highly recommend!! Great value here!
I bought two of these table clothes for two different size tables and they both fit true to size. I love the mild texture on them. They are wrinkle resistant (most table clothes are a pain to steam) I can drape them right over the table out of the dryer. They will not shrink.