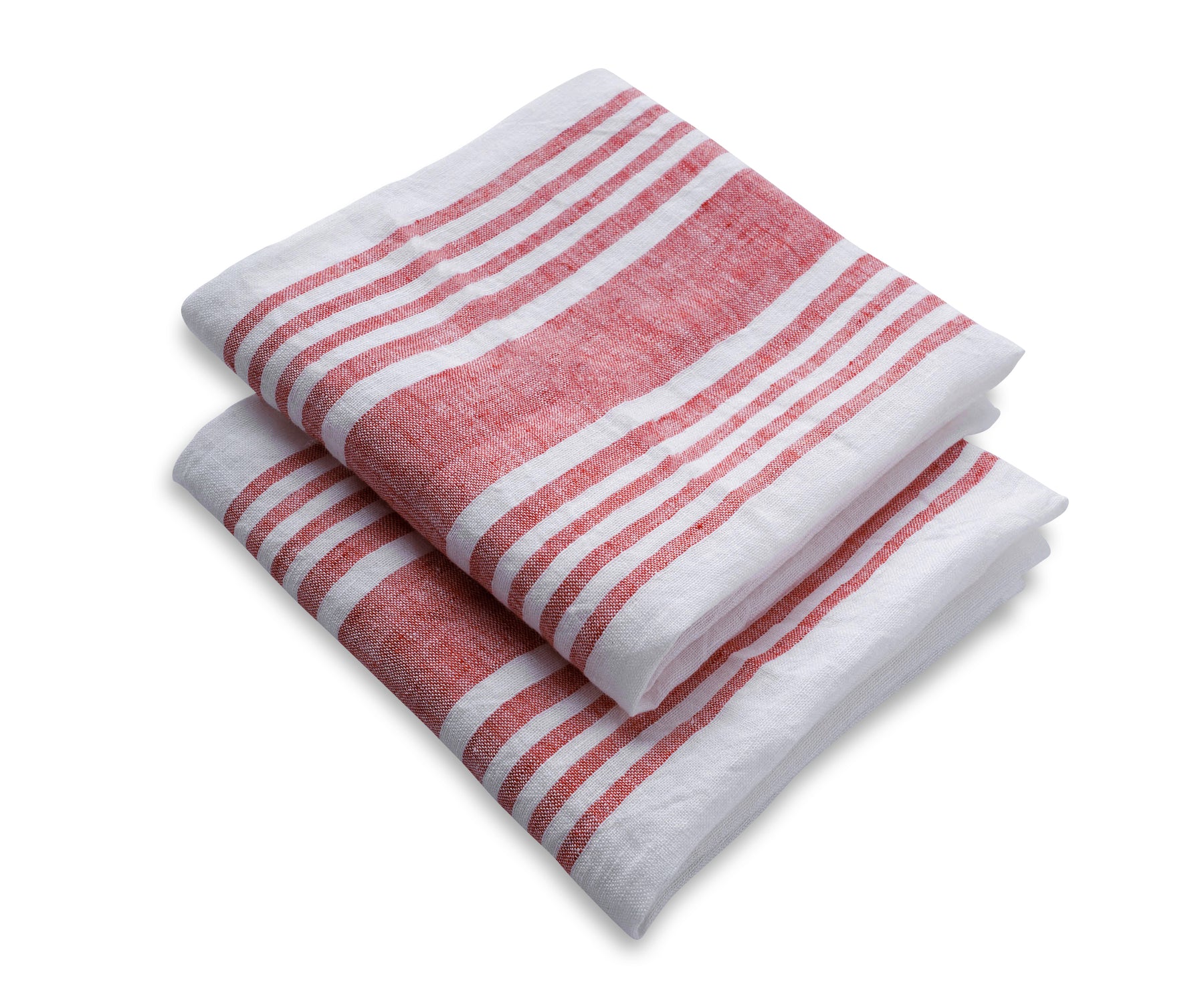 Linen Kitchen Towels - Hand Towels
Product Details
Linen Dish Towels:
Transform your kitchen with our exquisite Linen Towels. Embrace the beauty of simplicity with our pattern-striped towels, each measuring 18x28 inches.
Elevate your culinary space with a set of 2, available in a spectrum of colors - black, terracotta, beige, green, navy, blue, and red.
Crafted from 100% linen, these tea towels blend functionality with aesthetics. Indulge in the luxurious feel and absorbent quality of linen, adding a touch of elegance to your daily culinary rituals.
Immerse yourself in the art of cooking and cleaning with these charming and durable dish towels.
Dimensions & Easy Care
Dimensions:
Care and Maintenance
Machine wash in normal-temperature water

Tumble dry on a gentle cycle

Iron at less than 30 degrees Celsius
Shipping & Return
Shipping

Standard USPS free shipping.
Order processing time: 1 to 2 days. Orders will be delivered within 3-8 days.
Return & Refund

Merchandise must not be worn, washed, or altered.
Returns are accepted within 60 days of delivery.
For any questions contact customerservice@allcottonandlinen.com
Refunds will be processed within 1-2 business days.
Need for linen striped towels
Experience the essential charm of our Linen Striped Towels.
Crafted for both aesthetics and function, these dish towels redefine everyday luxury.
With timeless stripes and the sublime feel of 100% linen, they elevate your drying experience.
Generously sized at 18x28 inches, these towels offer optimal coverage.
Perfect for kitchens and bathrooms, they effortlessly combine style and practicality.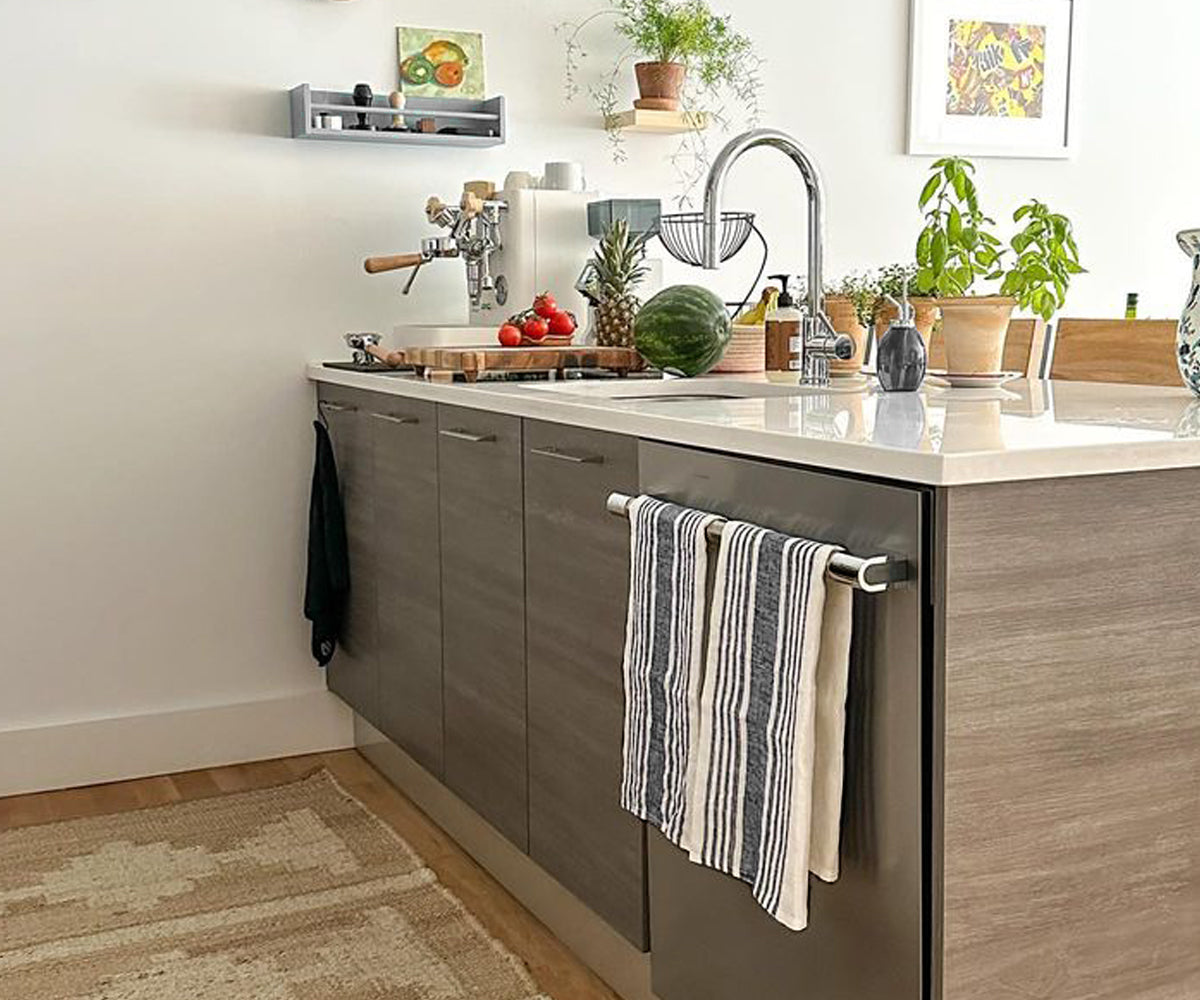 Linen Dish Towels
Adorn your kitchen with our Linen Dish Towels – a blend of elegance and utility. Perfect for homes, restaurants, and culinary spaces seeking refined functionality.
Uses of Linen Dish Towels
Linen Tea Towels: elevate your kitchen with absorbent elegance. Ideal for drying dishes, wiping surfaces, and adding a touch of sophistication to daily tasks.
Frequently Asked Questions
Linen kitchen towels, like cotton kitchen towels, offer excellent absorbency. Whether it's wiping spills, drying dishes, or as kitchen hand towels, linen's qualities make it a top choice.
Yes, linen is suitable for all types of kitchen linen, including kitchen towels and dish towels. Linen is known to be stronger and more absorbent than most materials.
Yes, linen makes for excellent kitchen hand towels. They are gentle on hands, highly absorbent, and dry quickly which is ideal for busy kitchens.
Linen and cotton both have their merits. However, 100% linen is more durable and absorbent than cotton, making it a top choice for the best kitchen towels or dish towels.
As a material, linen is considered to be of better quality than cotton. It's known for its superior absorbency, making it ideal for the best dish drying towels or kitchen towel sets.
Yes, linen is often considered a luxury material. Its longevity, absorbency, and elegant appearance make it an ideal material for high-end kitchen towels, including designer kitchen towels and holiday-themed options like Christmas kitchen towels or Easter kitchen towels.
You might choose linen over cotton for your kitchen towels due to its higher absorbency and strength. Linen also has a unique, luxurious texture that many find appealing.
Certainly! Linen is frequently regarded as a more opulent choice when compared to cotton. This perception extends to everything from dish towels to kitchen towel sets, making linen a popular choice for those seeking a premium option.
Yes, linen is an excellent material for towels. Linen kitchen towels and dish towels are known for their superior absorbency, durability, and luxurious look and feel.
Good product
Nice product. Use it to embroider as a gift with an apron I made.
Works perfectly for camper curtains!
This is our second time purchasing the Utopia kitchen towels to use as camper curtains. We will definitely be buying more in the future (as I don't particularly like this color- too much yellow). I have found washing and hang drying them keeps them dewrinkled! The quality is great.
Absorbant!
I got tired of my kitchen towels not absorbing water. These have a nice quality feel and are very absorbant.
Tea Towels
I love these towels! They work perfectly!
Fantastic Drying/Dish Towels!
I have bought these twice and love them. Classic 'flour sack' softness and absorbency. I especially like the size; they are square and large but not heavy.