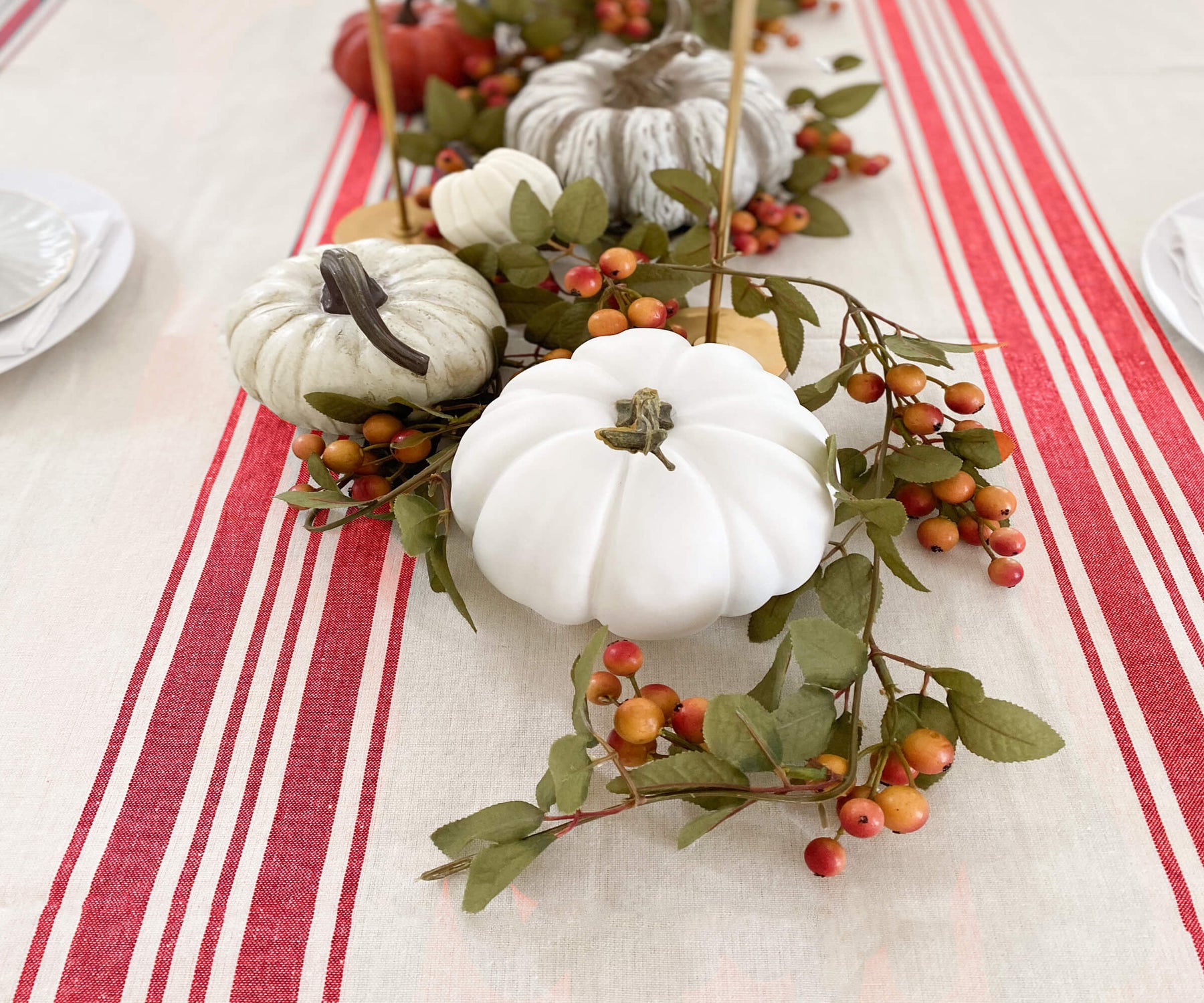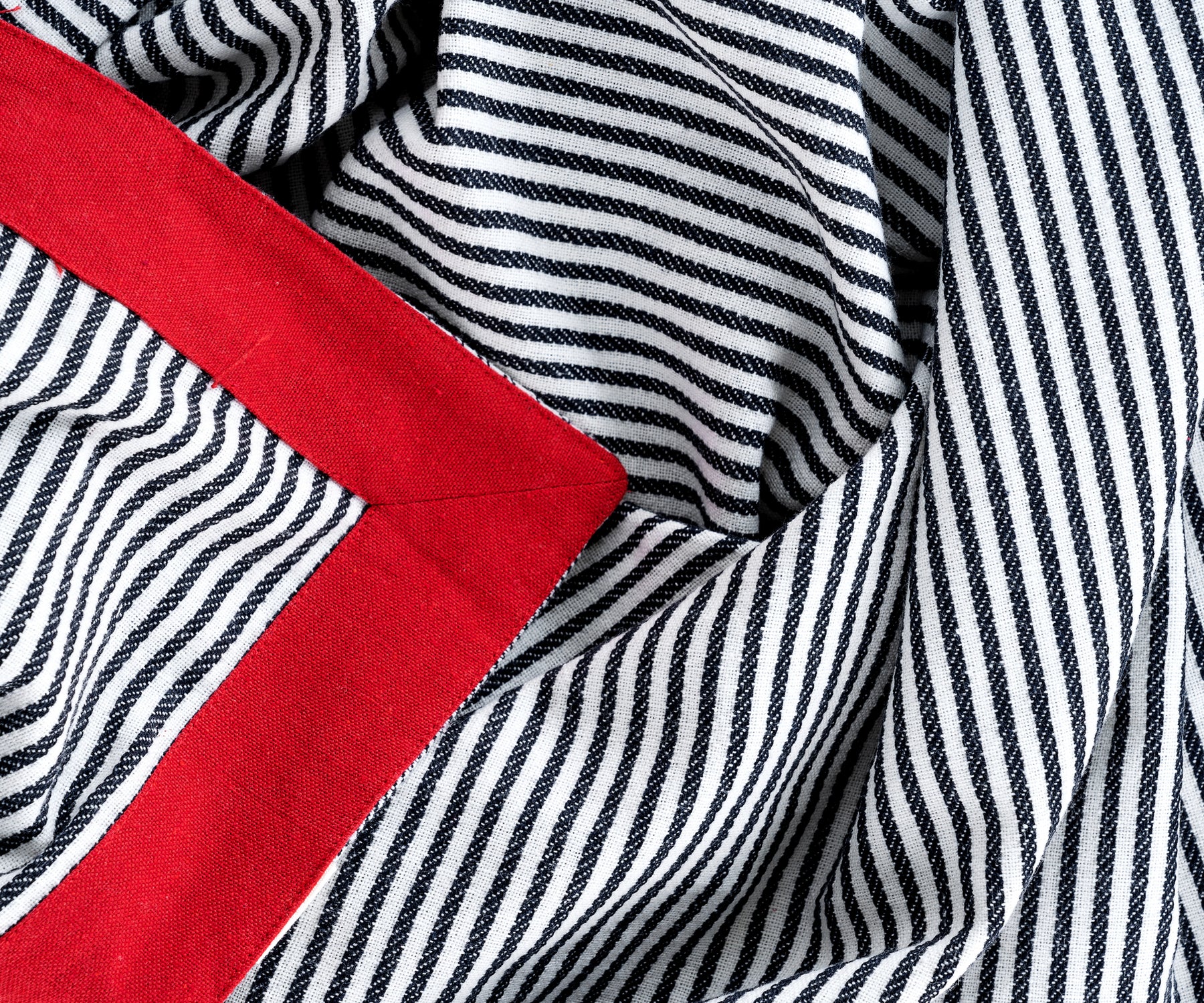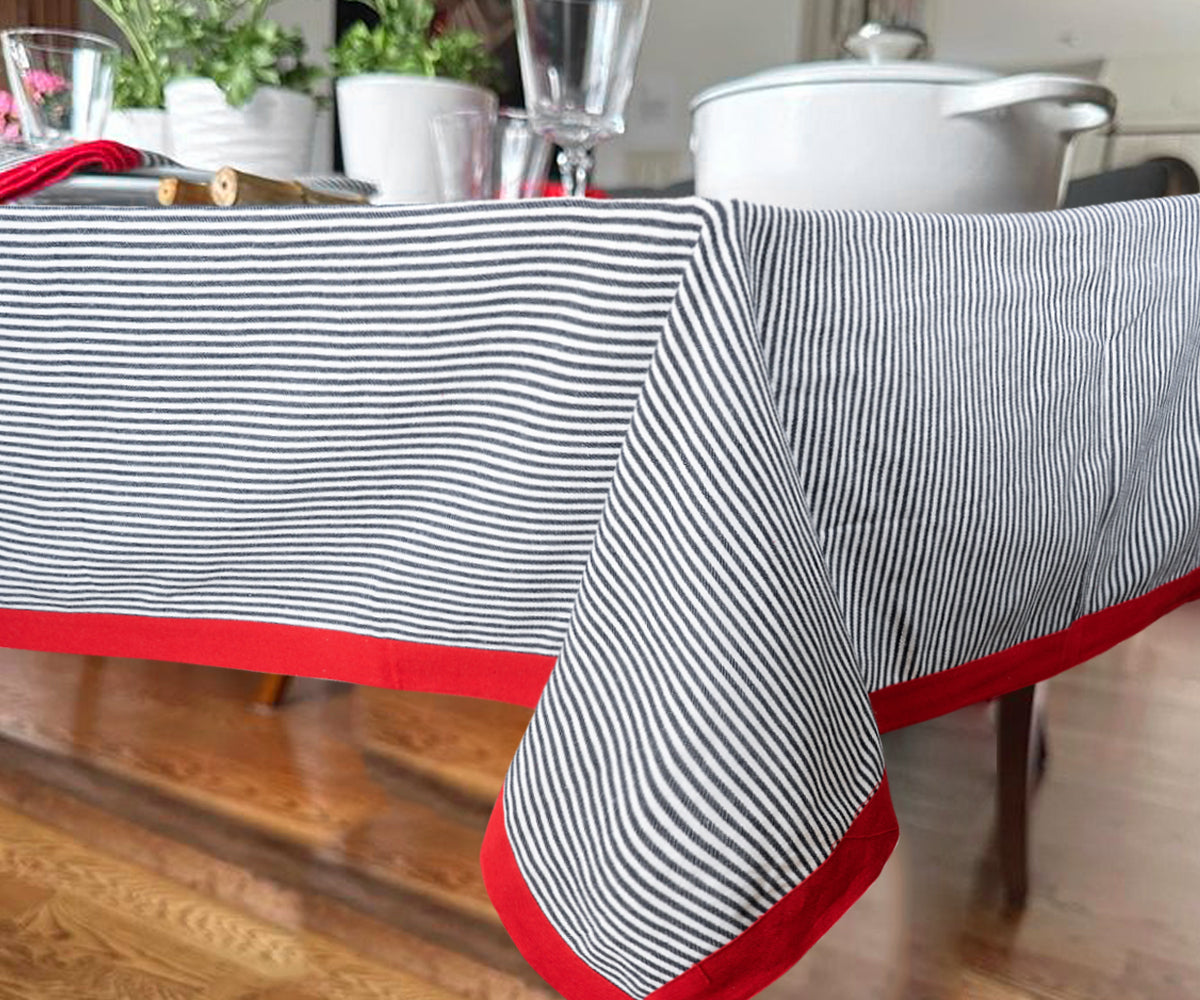 Farmhouse Tablecloth
Product Details
Cloth Tablecloth Rectangle

:
Our cloth tablecloths are woven with 100% Cotton.
 Choose from 63 x 109" inches (beige & cream, red & cream, black & white) and 63 x 126" inches (beige & cream, red & cream) rectangles to suit your style.

Our cotton 

tablecloth sizes

are available in versatile colours & various stripes that accommodate 6-8 and 8-10 people and provide the right fit for your dining.
Our

outdoor tablecloths

are a beautiful and functional addition to any dining table. Made from 100% pure cotton, this cotton 

Day tablecloth

is designed to last and resist wrinkles, making it perfect for everyday use or special occasions.

Wedding tablecloth

- Our holiday tablecloth is comfortable with great absorbency and protects the dining surface from spills. Strong cotton stitches at all corners and is tough and durable.
All Cotton and Linen offers an assortment of quality home and kitchen products including linen tablecloths, table runners, cotton placemats, and striped dish towels.
Dimensions & Easy Care
Dimensions
63x109 inches.
63x126 inches.
Care Maintenance
Machine washable in warm water, a gentle cycle.


Tumble dry on low heat.

Warm iron as needed.
Shipping & Return
Shipping

Standard USPS free shipping.
Order processing time: 1 to 2 days.
Return & Refund

Merchandise must not be worn, washed, or altered.
Returns are accepted within 60 days of delivery.
For any questions contact customerservice@allcottonandlinen.com
Refunds will be processed within 1-2 business days.
Needs for Farmhouse Tablecloths
Farmhouse tablecloths provide a charming and nostalgic touch to dining spaces, reflecting the rustic and vintage aesthetics associated with farmhouse decor.
Our stripedtTablecloths are made from durable materials like cotton or linen, ensuring long-lasting use and the ability to withstand the demands of everyday family meals.
Cotton tablecloths come in a variety of patterns and designs, often featuring checks, stripes, or floral motifs that enhance the farmhouse-inspired look.
These rectangular tablecloth offers both practicality and style, as they protect tables from spills, stains, and scratches while adding a cozy and inviting atmosphere.
Cloth tablecloths are versatile and can be used for various occasions, from casual gatherings to holiday celebrations, contributing to the overall aesthetic appeal of the table setting.
Farmhouse Tablecloth
A cotton tablecloth adds rustic charm to dining spaces, capturing the essence of a cozy and inviting farmhouse aesthetic, perfect for casual gatherings and creating a warm, welcoming atmosphere.
Uses of Farmhouse Tablecloth
A striped tablecloth brings a cozy and rustic touch to dining settings, ideal for creating a warm and inviting ambiance for family gatherings or casual meals, while also protecting the table surface with its functional and decorative appeal.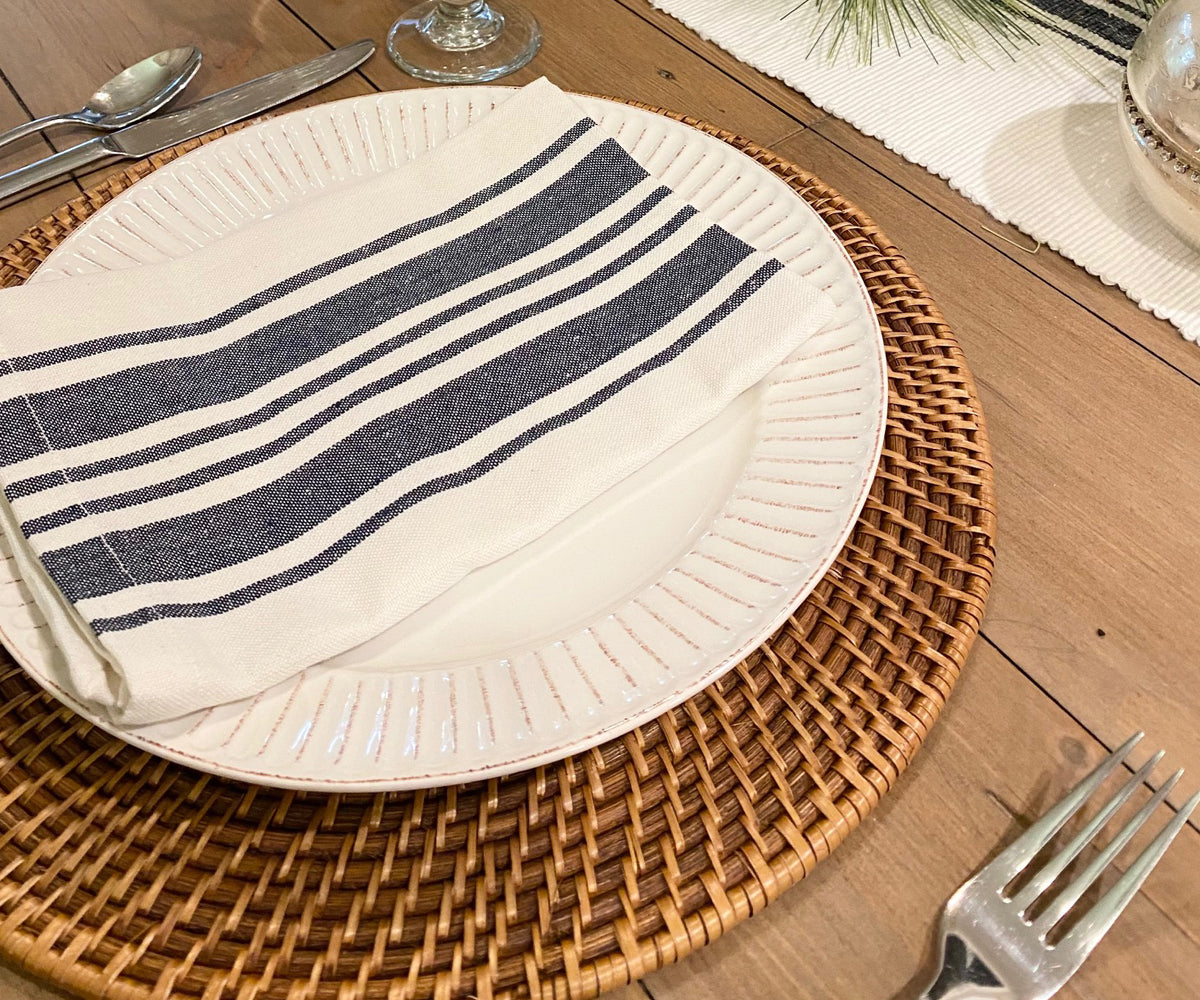 Bistro Napkins
Bistro napkins add a touch of casual elegance to table settings, ideal for enhancing the dining experience with their chic and versatile design, perfect for both casual and upscale establishments.
Uses of Bistro Napkins
Bistro stripe napkins are a stylish and practical choice, adding a touch of sophistication while providing a functional way to clean up during meals, making them perfect for cafes, restaurants, and home dining.
There are two sizes, 63 x 109" inches and 63 x 126" inches, both suitable for 6-8 and 8-10 people.
Beige & cream, red & cream, and navy & cream are options that provide versatile choices to enhance your dining space's aesthetic.
You can contact us through our contact page Our outdoor tablecloths are designed for everyday use and special occasions. Made from 100% pure cotton, they resist wrinkles and are built to last.! We will be happy to assist you.
Absolutely! Our wedding tablecloths are not only comfortable but also boast excellent absorbency, providing reliable protection against spills.
Our tablecloths are easy to care for. Simply machine wash them in cold water and tumble dry on low. Iron, if needed, for a crisp finish.
Beautiful!
Very nicely made and good quality and fast delivery.
This table cloth is a wonderful quality and a very nice weight
This table cloth is a wonderful quality and a very nice weight.Perfect for an evening get together.
Gorgeoussssssss!!!!!!!
Oh my gaaaaaa! I love it. Its exactly like the picture but 100x better. Just got it a few minutes ago and already started playing with my table design!! Thank you
Really nice cotton tablecloth for the price!
Nice table cloth. Looks great on the table. Washes and dries easily. Perfect for daily use. :)
Great quality
Great quality. Lovely for everyday use.