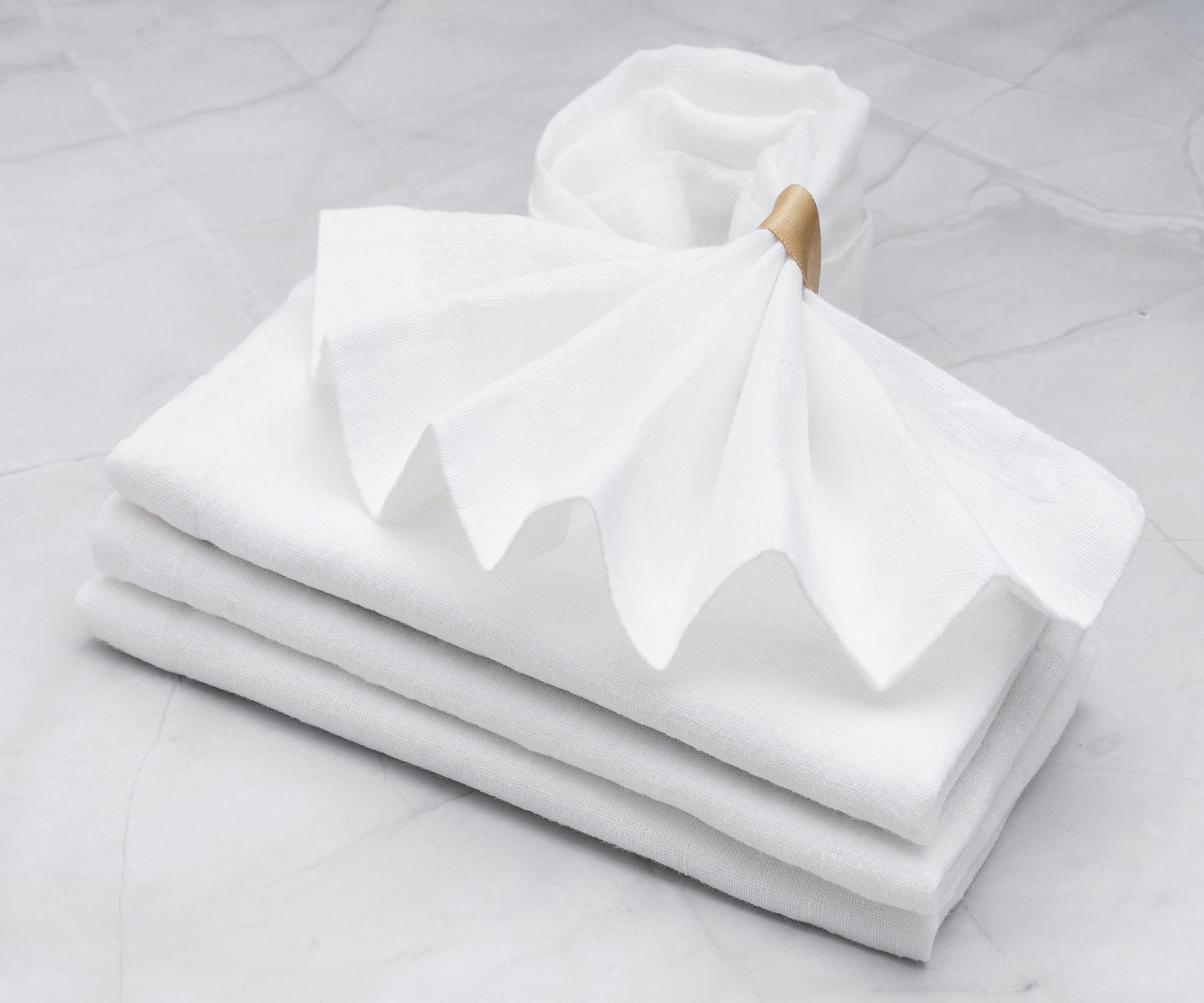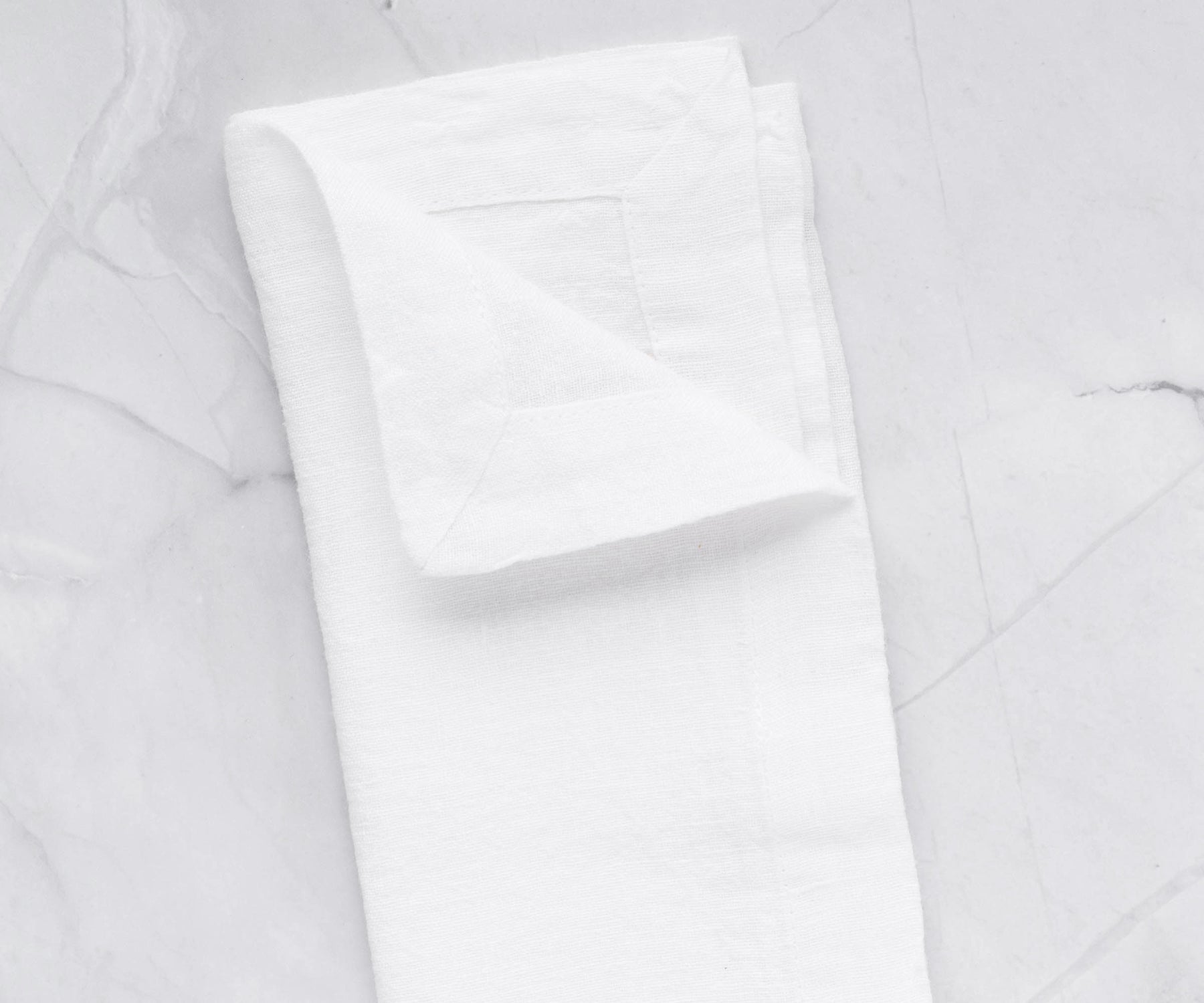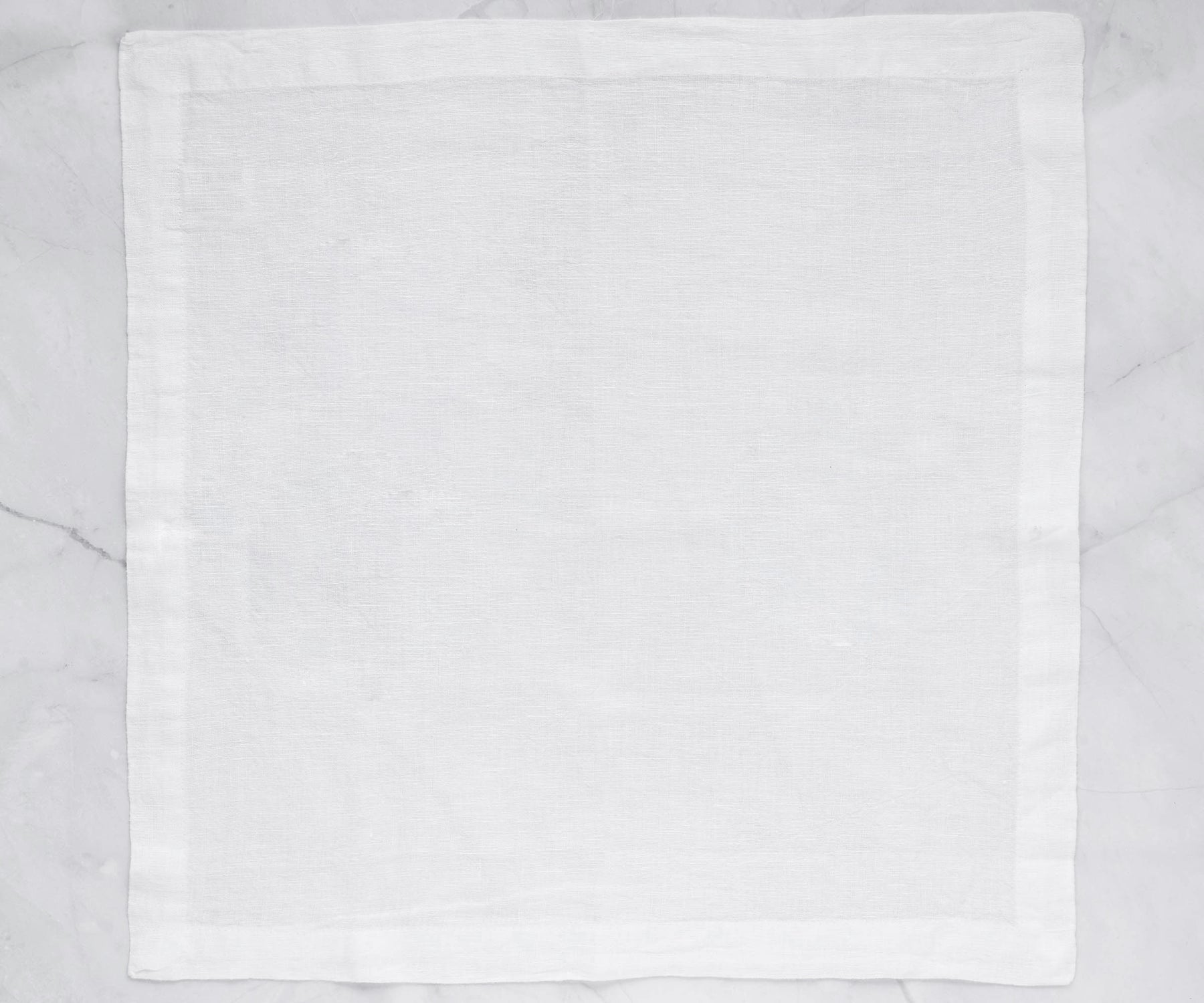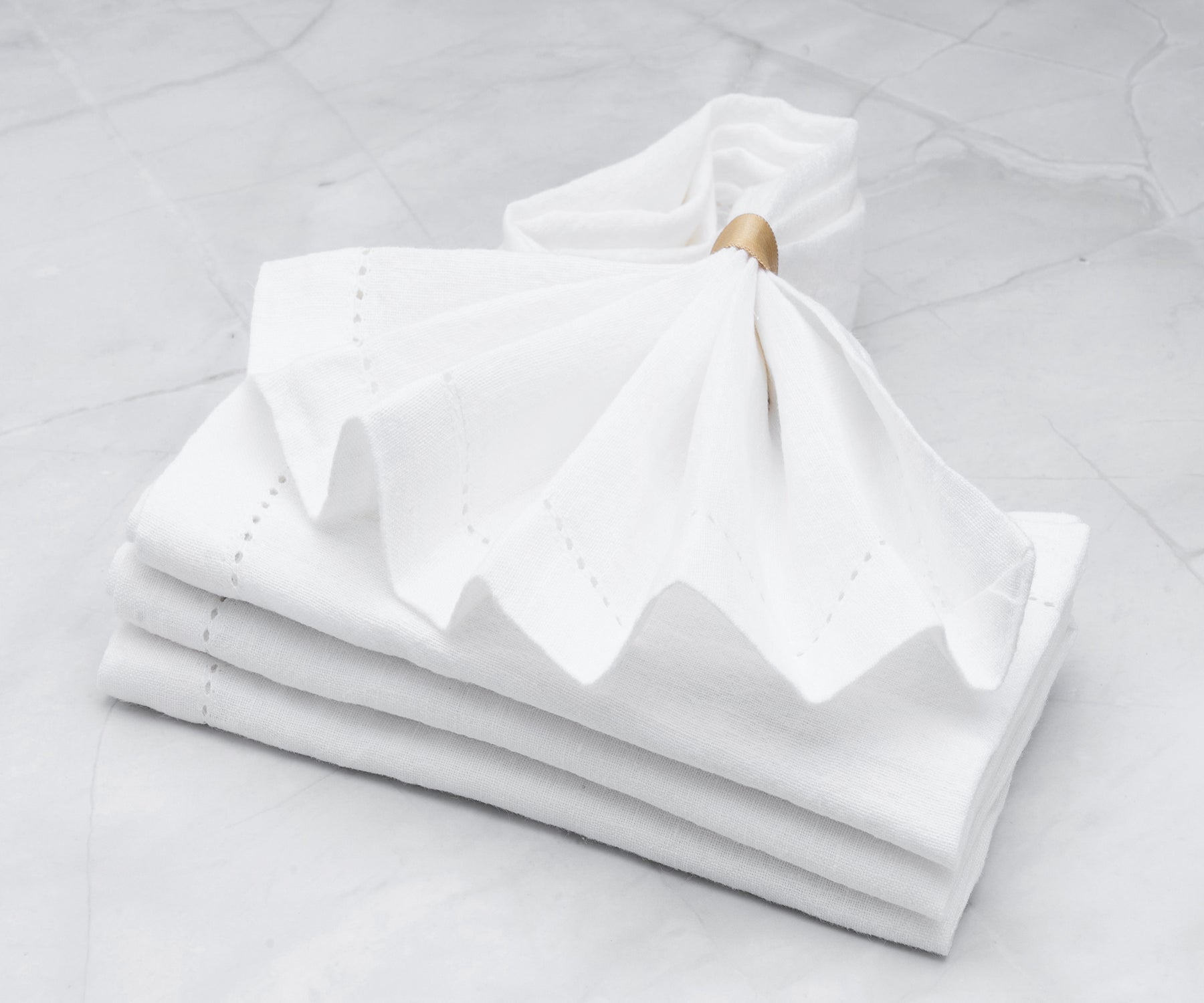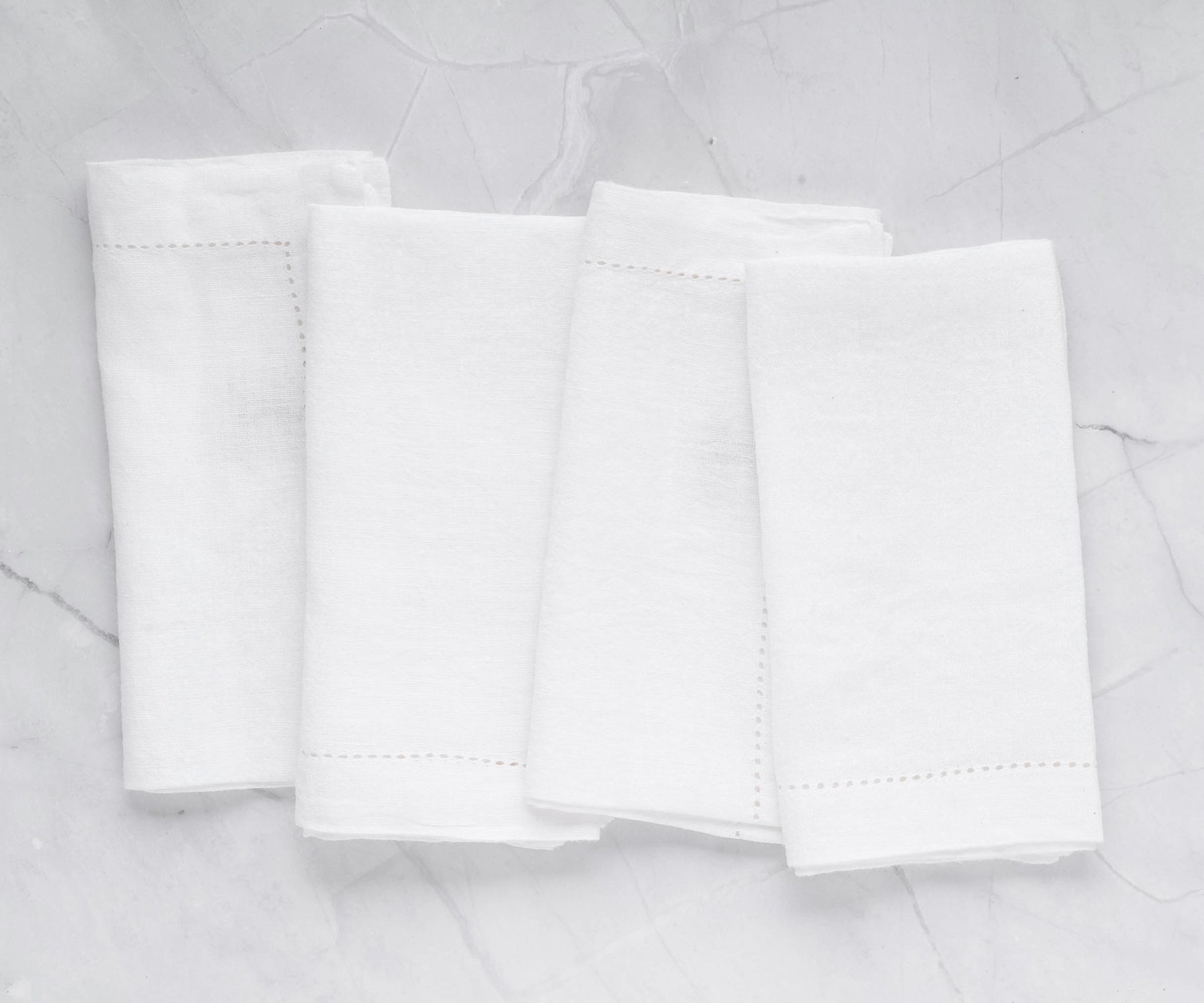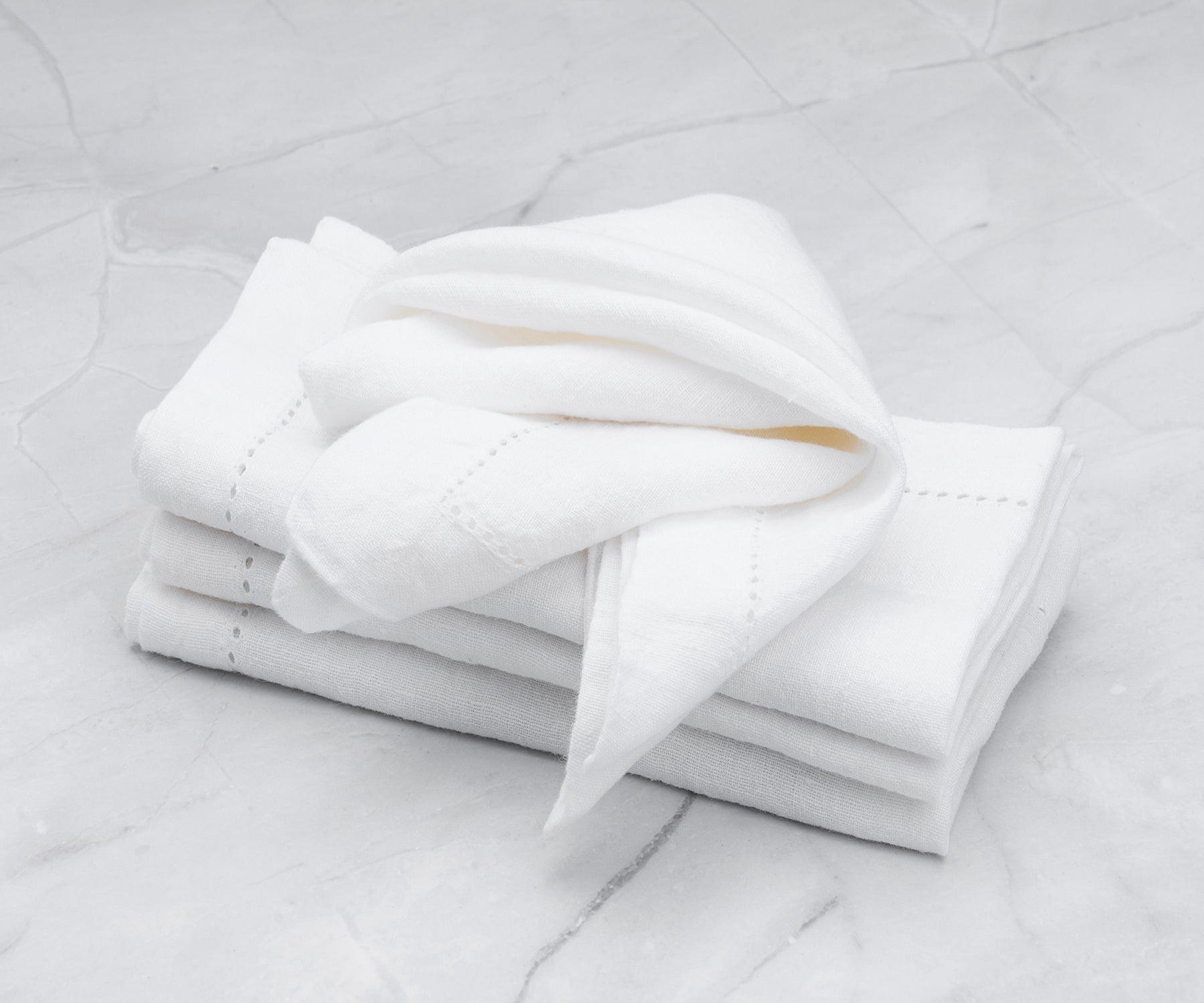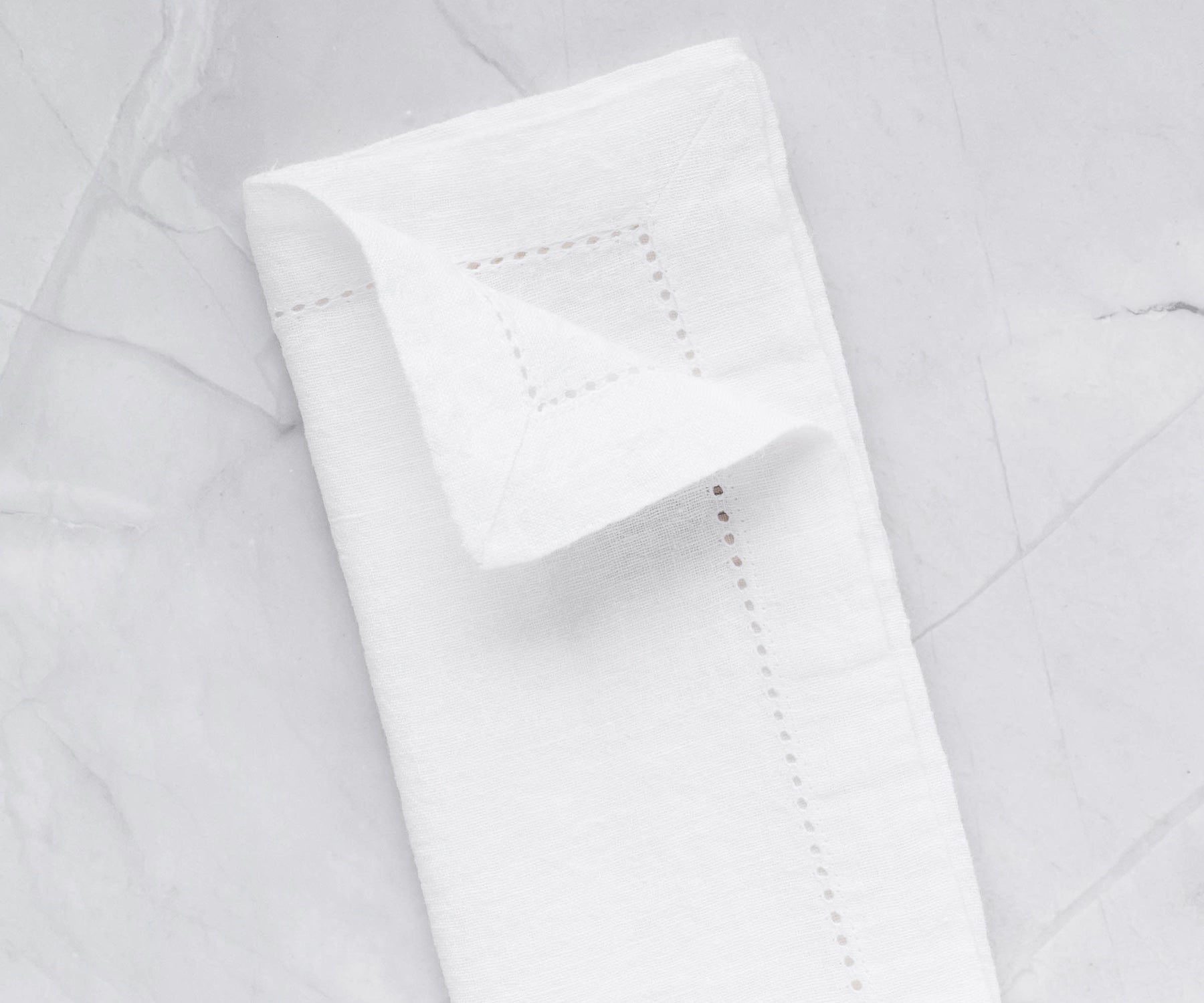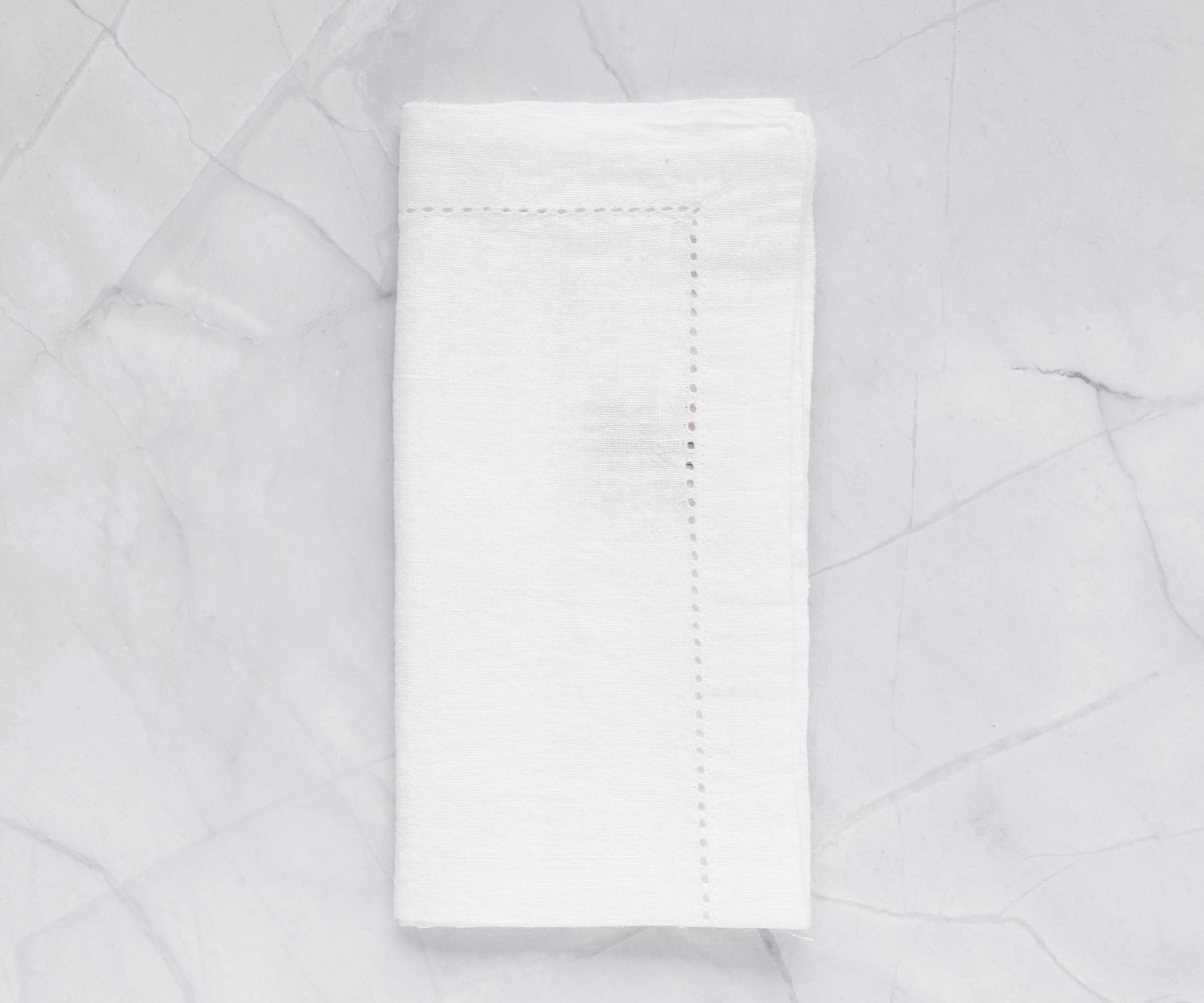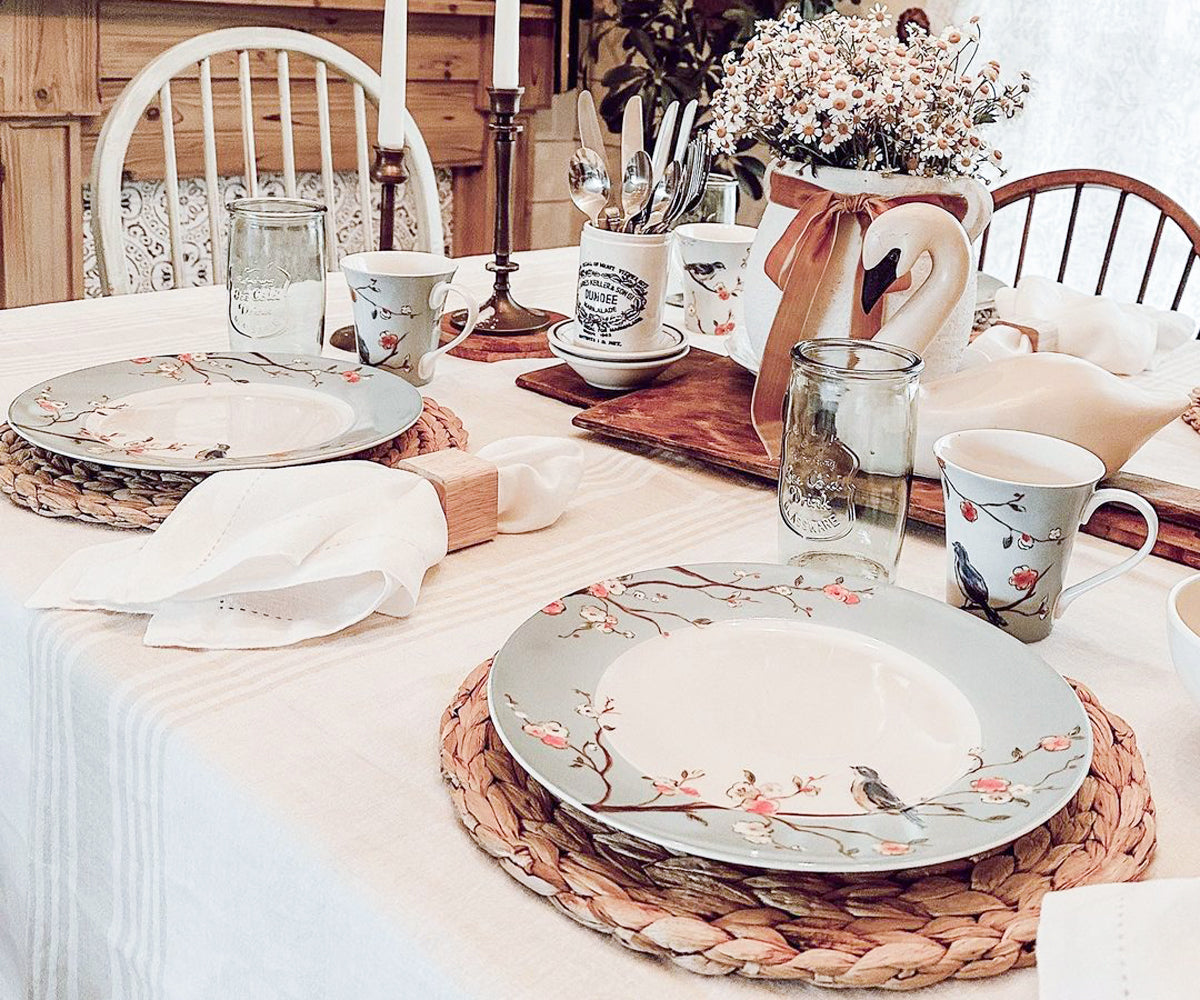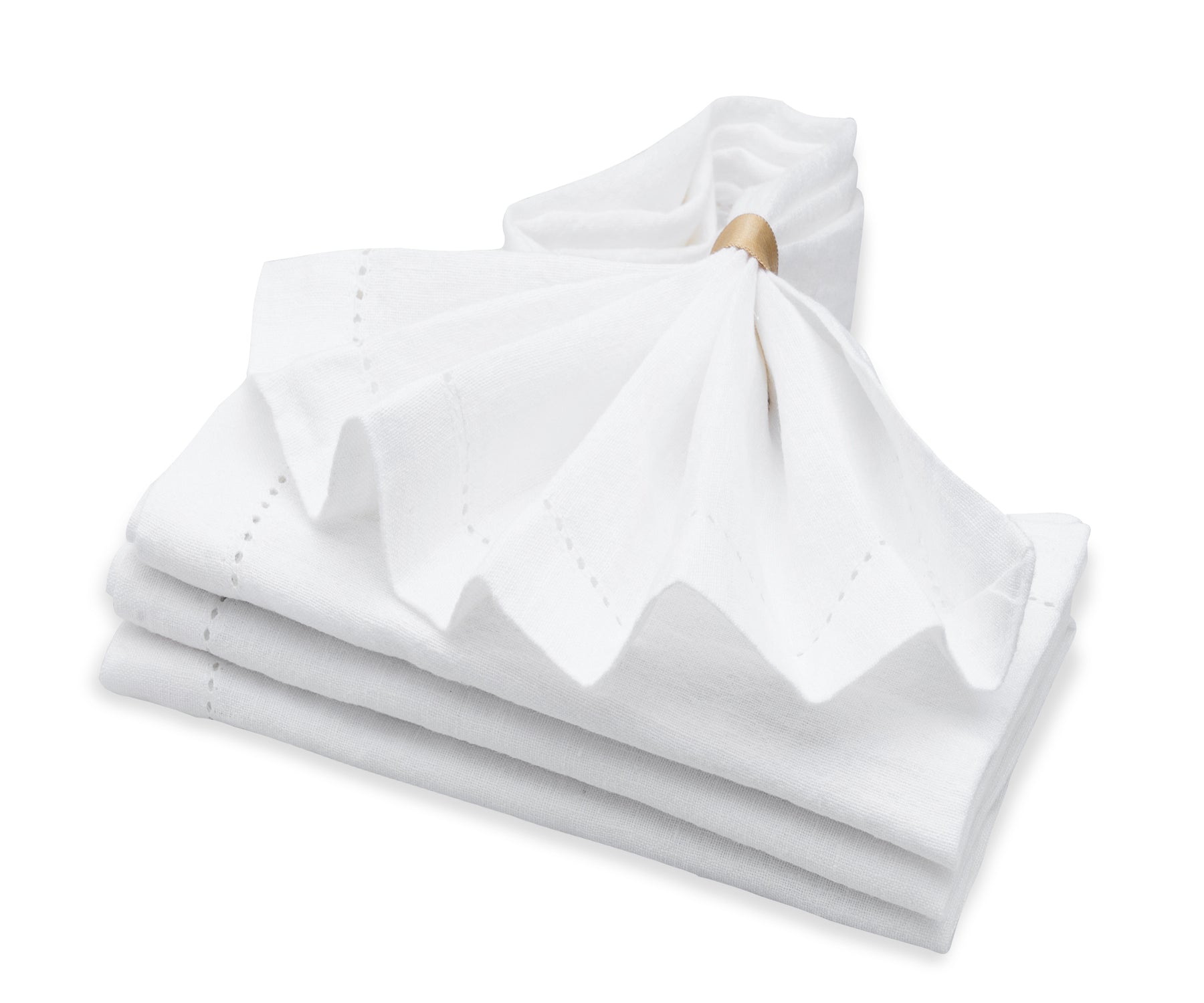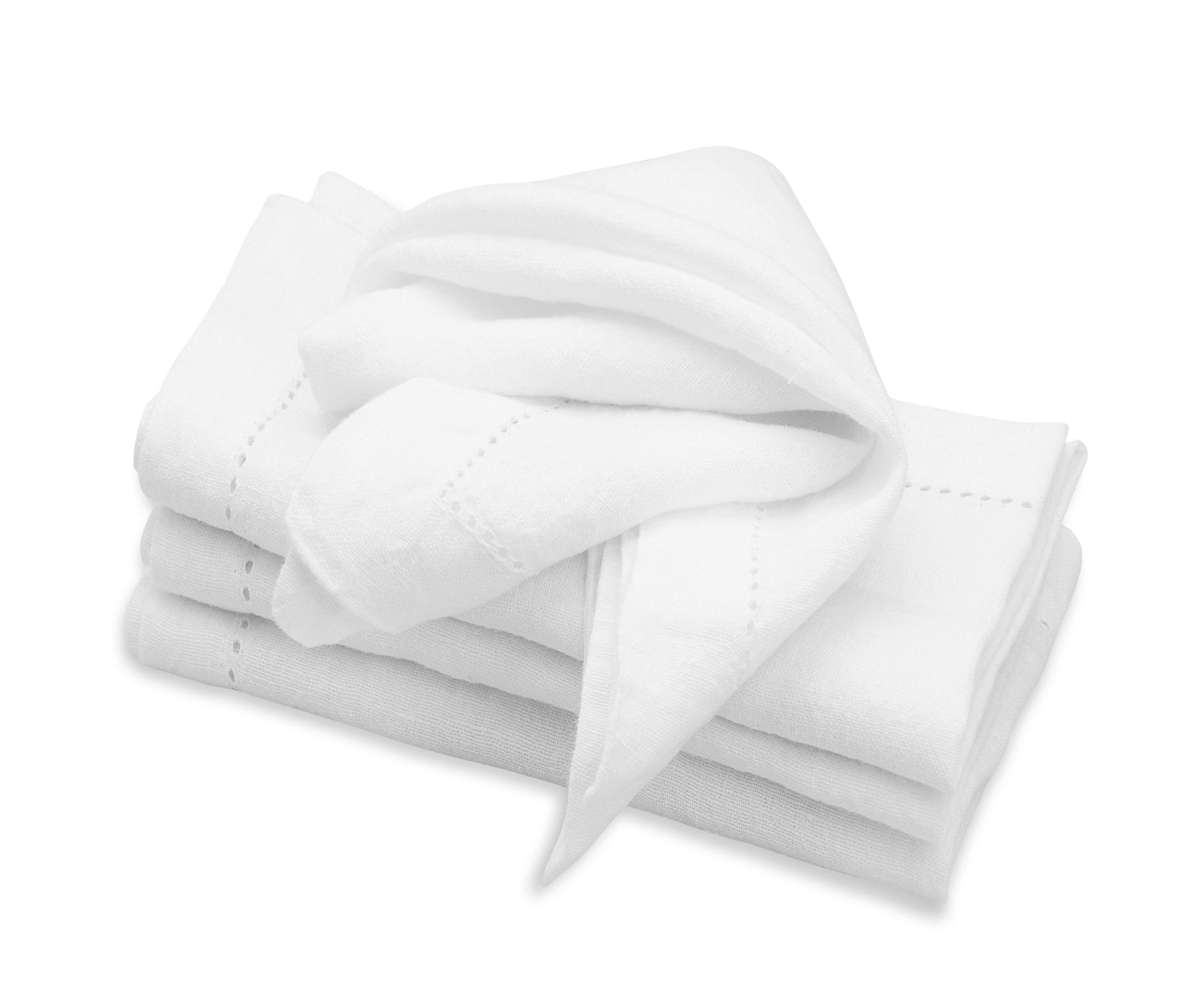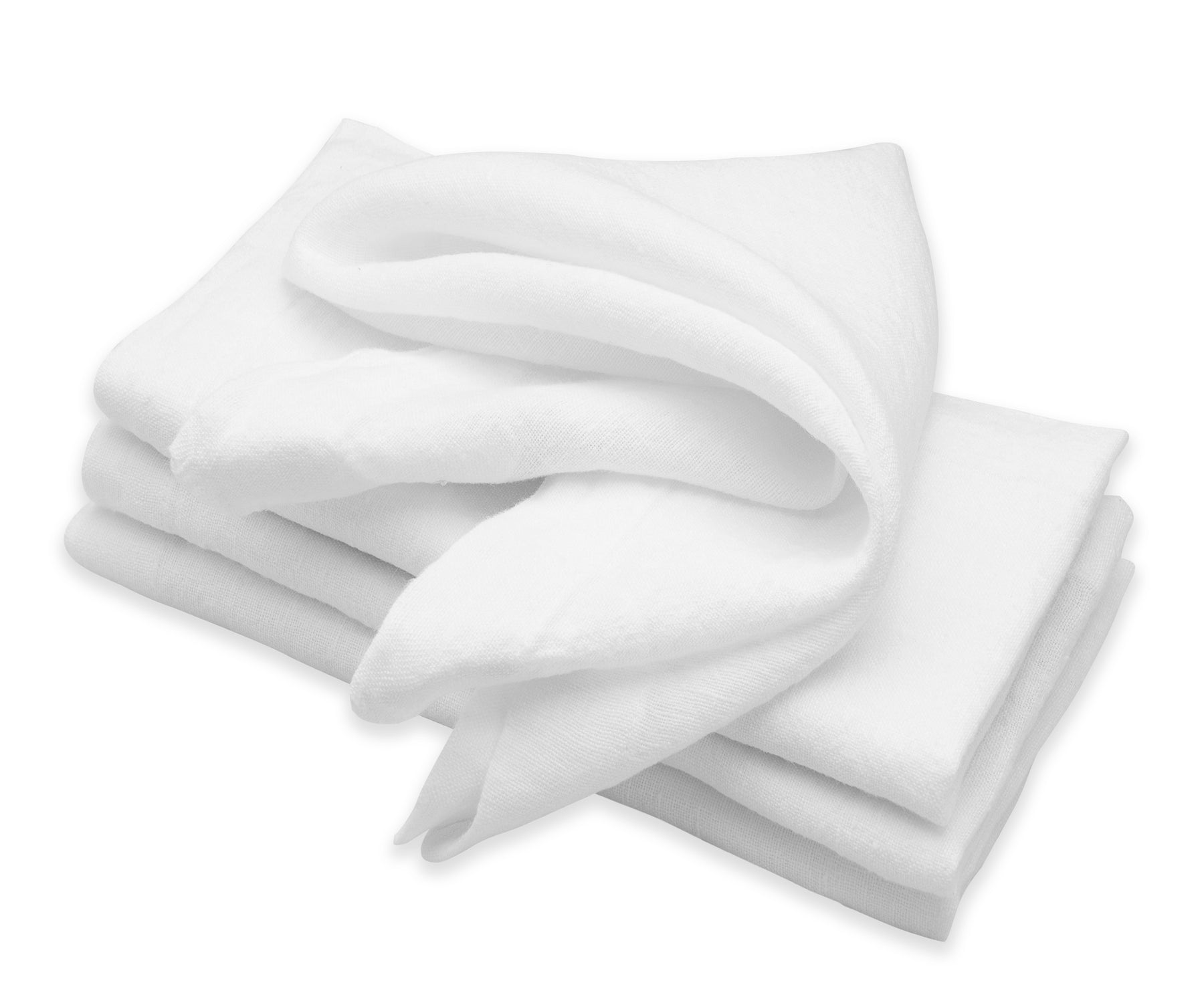 White Linen Napkins
Product Details
white linen napkins:
Made from high-quality linen, these linen hemstitch napkins are durable, soft, absorbent, and easily machine-washable. Available in a Set of 4 $ sizes:18 X 18 inches.

Dinner napkins can be used as embroidered white cotton napkins, dinner napkins, kitchen napkins, holiday napkins, restaurant napkins, wedding napkins, cocktail napkins, and party napkins.

Complete your wedding decor with our white linen napkins or opt for a custom design for a personal touch. Pair our linen placemats, table runners, and napkins for a cohesive look, adding texture and sophistication to your table.
White cotton napkins are soft, absorbent cotton white napkin that are machine washable.

Pair the white napkins cloth with an embroidered table runner. Check table linen collection designed in buffalo plaid, French stripes, and country stripes.
Dimensions & Easy Care
Dimensions
Care and Maintenance
Machine wash at normal temperature

Tumble dry on a gentle cycle

Warm iron as needed

Imported.
Shipping & Return
Shipping

Standard USPS free shipping.
Order processing time: 1 to 2 days. Orders will be delivered within 6-8 days.
Return & Refund

Merchandise must not be worn, washed, or altered.
Returns are accepted within 60 days of delivery.
For any questions contact customerservice@allcottonandlinen.com.
Refunds will be processed within 1-2 business days.
Needs for White Linen Napkins
White linen napkins exude an aura of pure elegance, adding a touch of sophistication to any table setting.
The pristine white color of linen napkins symbolizes purity and simplicity, creating a timeless and beautiful aesthetic.
White linen napkins offer a crisp and clean appearance, creating a sense of freshness and refinement at the dining table.
White linen napkins seamlessly complement any table decor, whether it's a casual gathering or a formal event, making them a versatile choice for all occasions.
Linen Curtains
Linen curtains add an elegant and airy touch to any space, creating a light and natural atmosphere. Their textured and slightly sheer appearance allows soft light to filter through while providing privacy.
Uses of Linen Curtains
Linen curtains bring a touch of sophistication and natural beauty to any room, enhancing the overall decor. They provide privacy while allowing natural light to gently filter through, creating a warm and inviting ambiance. Linen's breathable and lightweight nature also helps to regulate temperature, keeping the room cool in summer and cozy in winter.
White Linen Tablecloth
A white linen tablecloth adds a touch of elegance and sophistication to any dining setting. Its neutral color provides a timeless and classic look that complements a variety of tableware and decor styles. The natural texture of linen enhances the overall aesthetic, creating a refined and inviting atmosphere for special occasions or everyday meals.
Uses of White Linen Tablecloth
A white linen tablecloth is versatile and can be used for various occasions, such as formal dinners, casual gatherings, or even outdoor events. It provides a clean and crisp backdrop that highlights the beauty of table settings and allows the food to take center stage.
Amazing!
These are beautiful! I can't say enough about how beautiful these are. I love them so much I hated to have to put them away and can't wait for next year! I folded the napkins so that I could use them as placemats as shown in the picture. Buy these. You won't regret it!
Everything was perfect
I used for my husband birthday.
Simple and lovely!
I already had the placemats from this collection, so I bought the runner to have the complete set. The material is a soft linen, and the color is a perfectly vintage shade of sage. Item as described, and lookin' great in my "antique chic" dining room!
Love this
Product as described , affordable, and received on time.
Napkins
These are beautiful but they didn't work for me because of the size. I wish they could have worked